We may receive commissions for purchases made through links on our website. We appreciate your support.

Spoofing your Apple device's region is a great way to unblock geo-restricted content and protect your online traffic from outside parties. Learning how to change location on iPhone isn't the hardest thing in the world. A VPN will help you achieve this in a matter of seconds.

It'll change your IP address, which will essentially fake your device's location. This can prove to be useful in several situations. For example, by spoofing your location, you can get access to Netflix Japan's content library.

Similarly, it'll allow you to play Pokemon Go as if you were in a different location, helping you catch region-exclusive Pokemon without getting penalized.

Using a VPN to change your iPhone's location is a straightforward process that takes only a few minutes, if not seconds. In this article, we've broken it down into a few simple steps.
How to change iPhone location with a VPN
First, choose a VPN from our list.
We recommend ExpressVPN because it has a huge RAM-based server network.
Download the VPN on your iPhone.
Connect to a location whose geo-restricted content you want to access.
Start browsing the Internet from a different location!
Why change location on your iPhone?
Changing locations on your iPhone will unblock content from other regions and provide you many other benefits. Let's take a more detailed look at why you should do it:
Accessing geo-restricted content: The most common reason why people change their phone's location is so they can access content that's blocked in their country. For example, by connecting to an Indian VPN server, you can watch Disney+ Hotstar in the USA.

Hiding your data: When you spoof your iPhone's location, your real IP address is replaced with a fake one. This, along with many other advanced techniques that VPNs use, help you become anonymous on the Internet.
Increasing your security: All good VPNs come with military-grade encryption and numerous other security features that help you protect your online traffic.
Beating price discrimination: Changing your location will help you get cheaper tickets and subscription packages. For example, you can get YouTube Premium at a cheaper price if you connect to a Turkish VPN server.
Change your location with a VPN
The best thing about changing your iPhone's location with a VPN is that it doesn't require you to jailbreak your device. Here's a step-by-step guide on how you can do it:
Step 1: Download the VPN from the App Store
After you've decided which VPN to get, download it from the Apple App Store.
There are plenty of free services you can use if you don't want to spend any money, but they have a higher chance of not working. We suggest taking a look at our list of best free VPNs in 2023 to see if there's one that suits your needs.
We recommend getting ExpressVPN because it has some of the best security features you can get in a VPN and you can connect to servers in over 90 countries. You can use it on 5 devices simultaneously and it also has a native router app.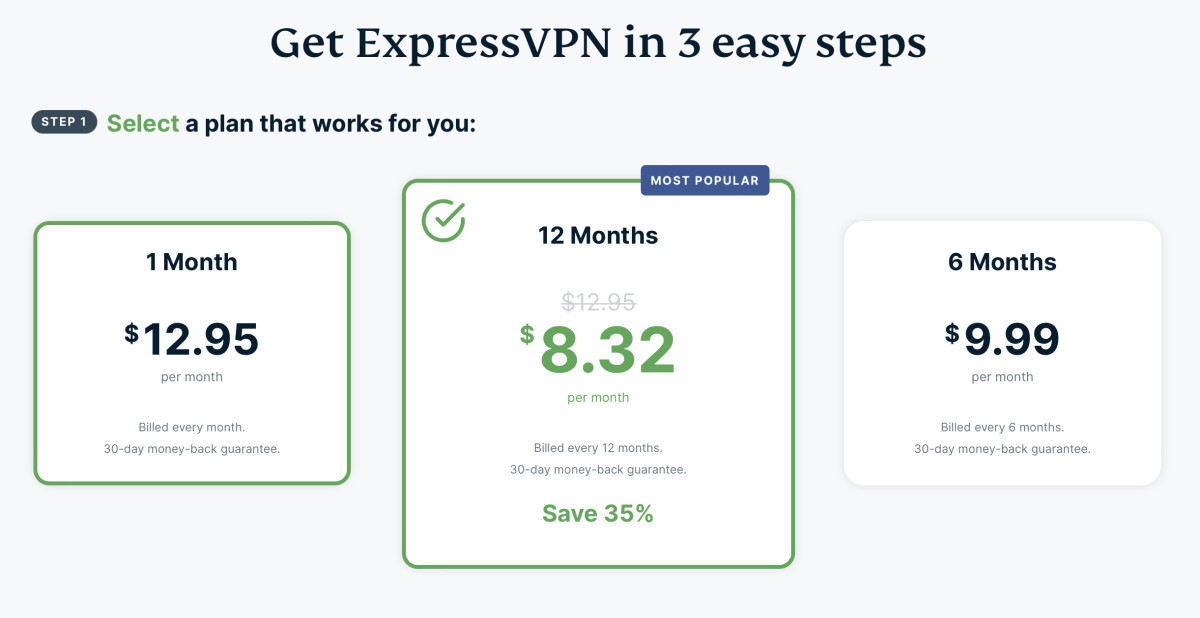 Different subscription plans offered by ExpressVPN.
Once you've downloaded the app, it's time to connect to a server.
Step 2: Connect to a server
Depending on which VPN you've downloaded, you'll either see a big quick connect button or a list of servers you can connect to. In the case of ExpressVPN, it has the same UI on all platforms so the learning curve isn't very steep.
When you open the app, you'll be taken to the main screen where you can quickly connect to a server close to you at the tap of a button.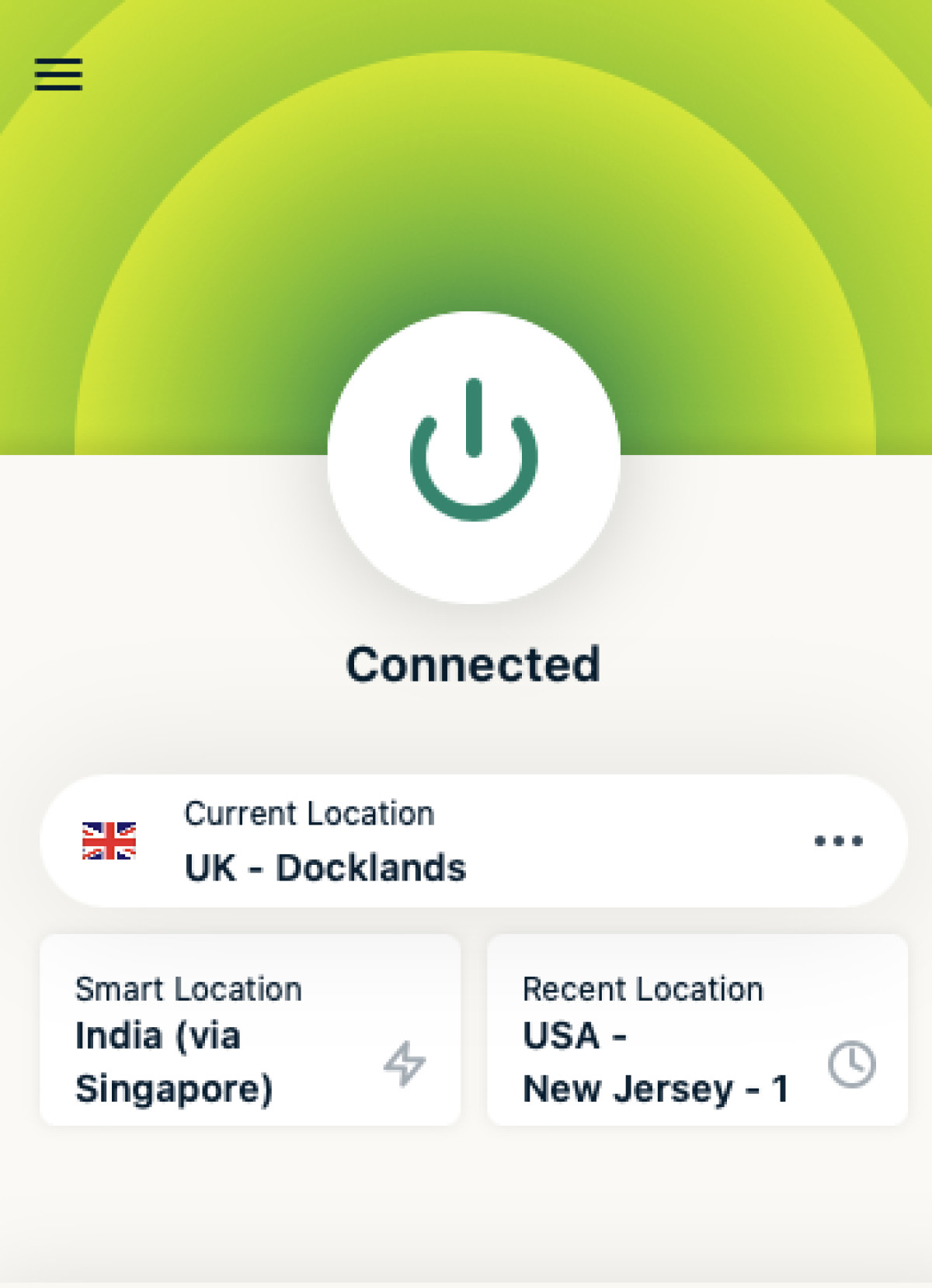 ExpressVPN's iOS app.
If you tap the three dots, you'll be able to browse through the full (or recommended) list of servers. You can add these servers to your favorites by tapping the "Star" icon.
After choosing a server, tap the connect button. Depending on how far away the server is from your actual location, it can take a few seconds to establish a connection.
Step 3: Test the VPN server
To make sure that the VPN is working, it's important to test the connection first. With a premium VPN like ExpressVPN, this won't be a problem. But if you're using a free VPN, then there's a possibility it may have failed to connect.
Simply go to Google and type, "My IP address" or "My location," and it'll show where your current IP is based.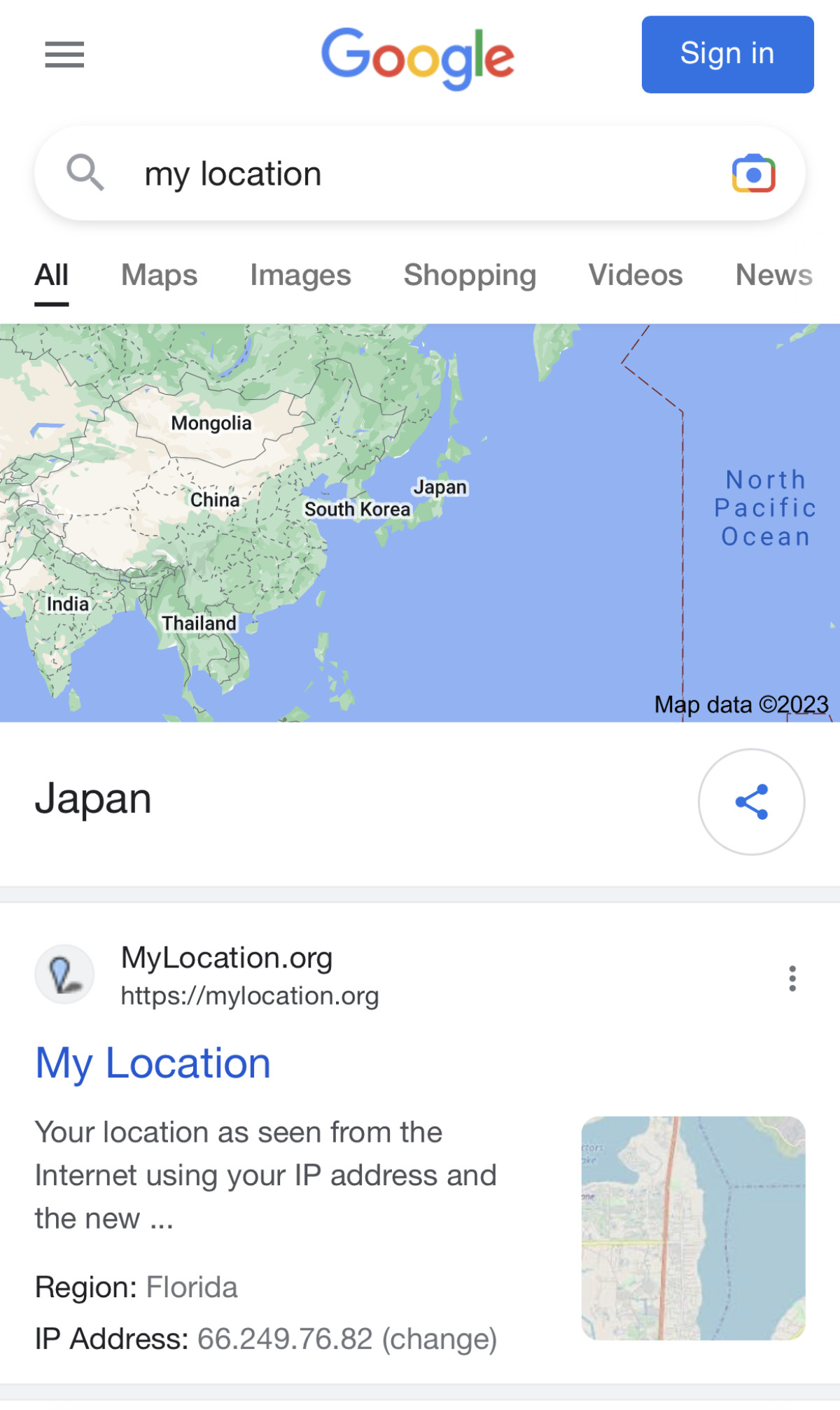 Your location will change after connecting to a VPN.
If it doesn't match the one you connected to on the VPN, then there are a few steps you can take to fix it before you switch to another service.
Reset your browser's cache and cookies as they can leak your actual information. If it still doesn't work, go into incognito mode or try using a different browser which you haven't used before.
Step 4: Start browsing the web
That's it! Once you've changed your iPhone's IP address, you can start using apps or browsing the Internet.
As long as you're using a premium VPN that comes with advanced security features, you won't have to worry about any outside party getting their hands on any of your personal information!
The best VPNs to change iPhone location
For the purpose of finding the best VPNs to change iPhone's location with, we tested several different services based on multiple factors and narrowed our list to 3 top contenders. Here are the results:
1. ExpressVPN – Best VPN to spoof iPhone's location with in 2023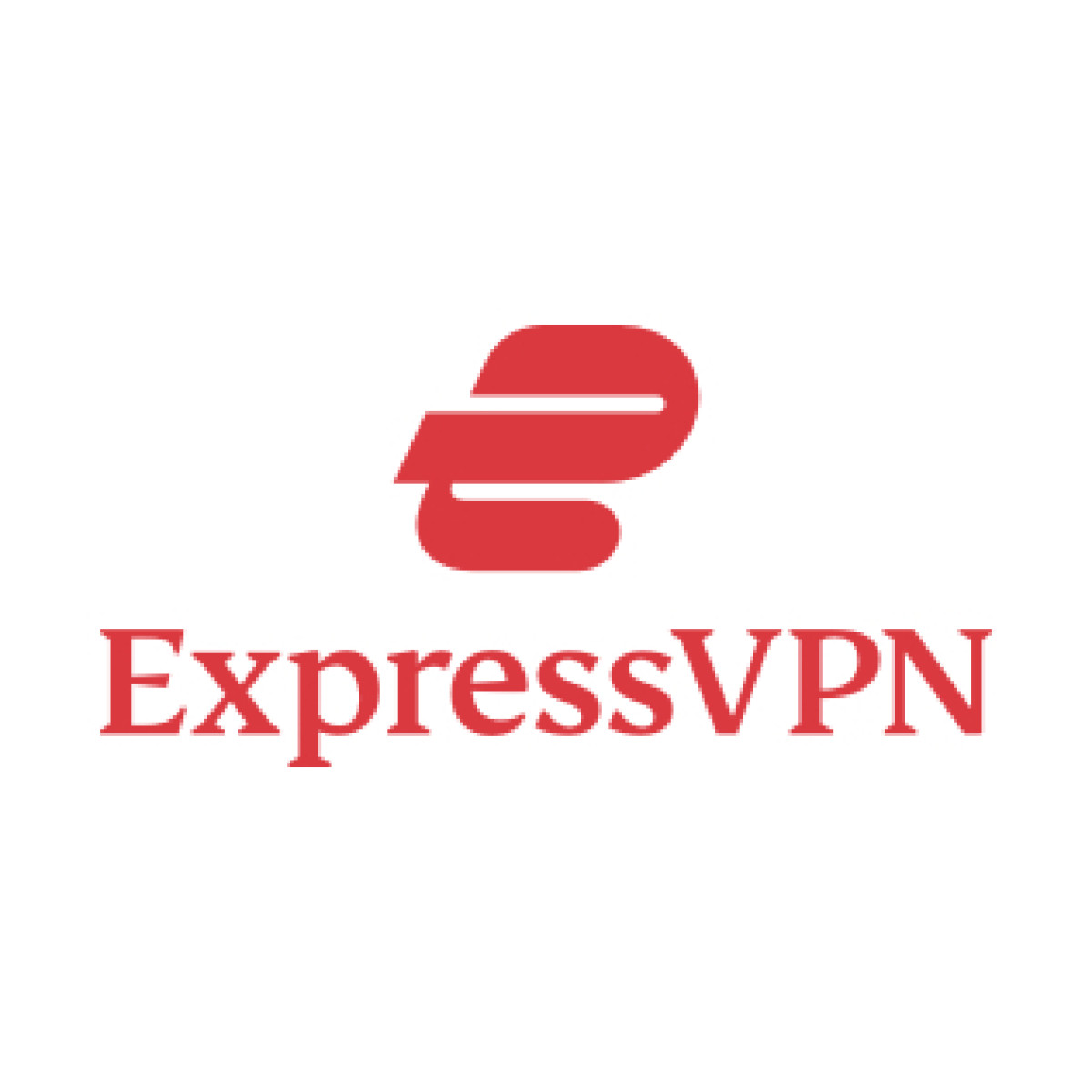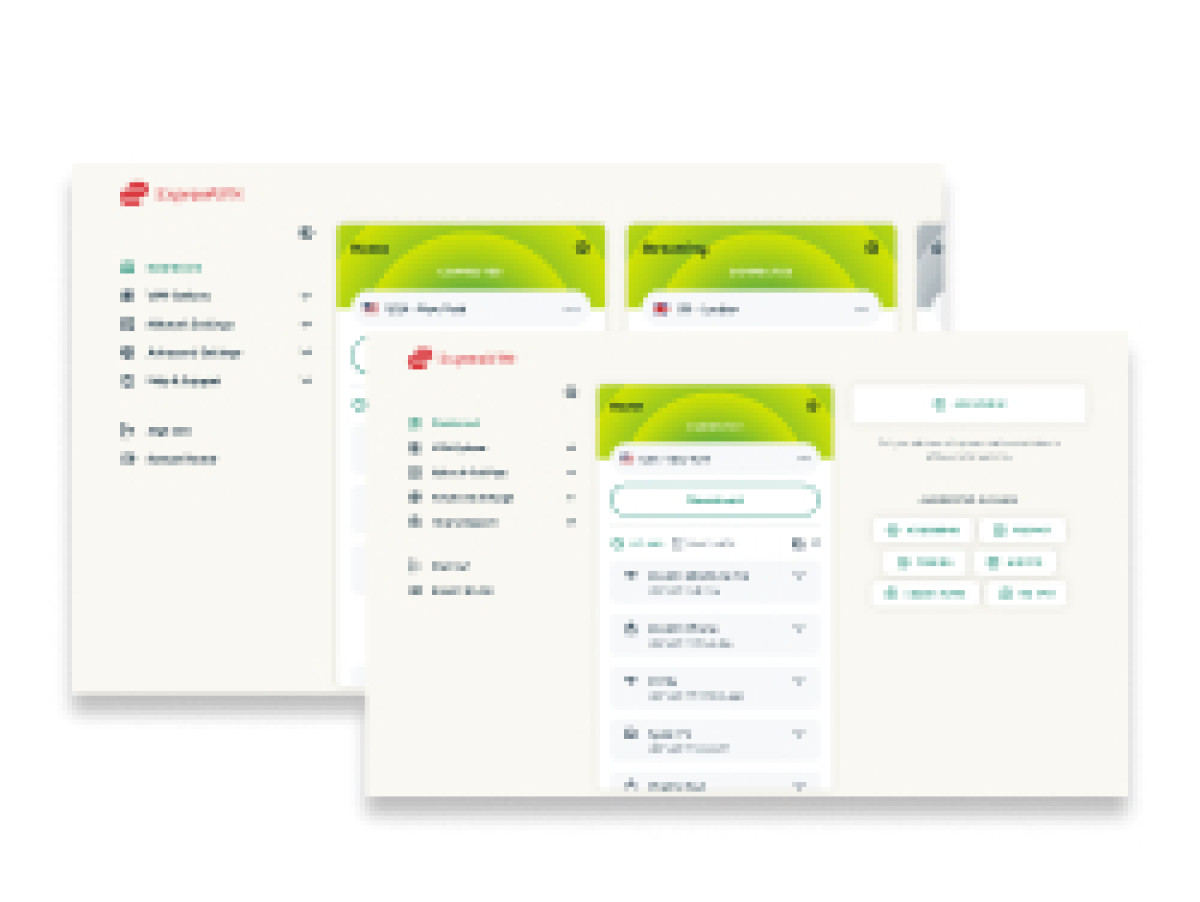 Pros & cons
Get fast speed and top-notch security on iOS with Lightway
Access content from 94 countries on your iPhone
Use its native router app for unlimited simultaneous connections
Expensive
No trial version
As you might have guessed already, ExpressVPN is our top recommendation when it comes to changing your iPhone's location.
| | |
| --- | --- |
| Location | British Virgin Islands |
| Number of servers | 3000+ in 94 countries |
| Price | Starting from $8.32 per month |
It uses a proprietary protocol called Lightway which provides excellent speeds and security. And with over 3000 servers in 94 countries, you have a huge catalog of geo-restricted content to access.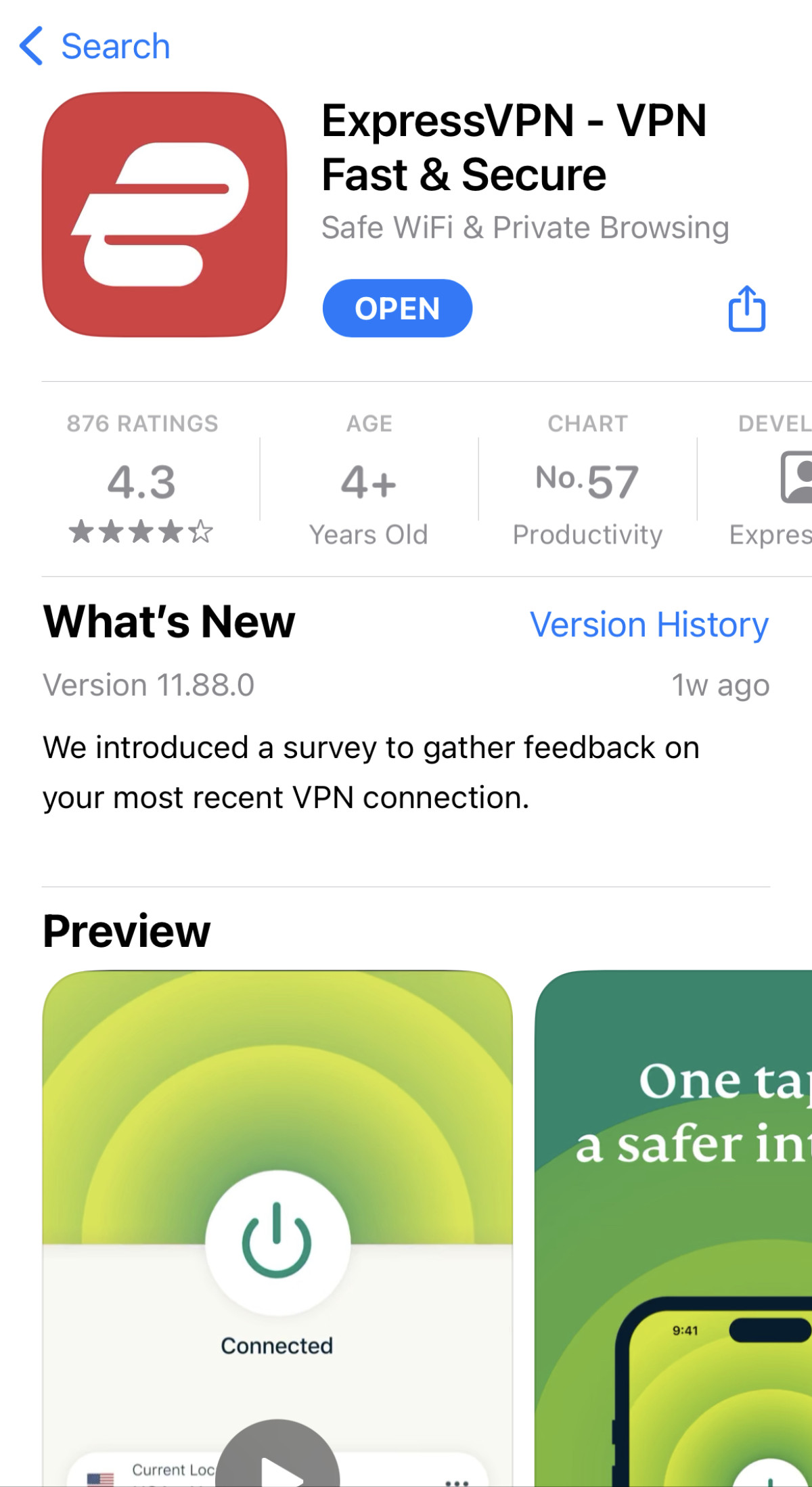 ExpressVPN on the iOS App Store.
ExpressVPN allows for 5 simultaneous connections and uses advanced obfuscation methods to hide your actual data. One of its unique features is that it has a native app for routers which you can use to connect an unlimited number of devices to it.
You can get it for $8.32 per month with a 30-day money-back guarantee. Unfortunately, it doesn't offer a trial version on any platform.
2. NordVPN – Highly secure VPN for faking iPhone's location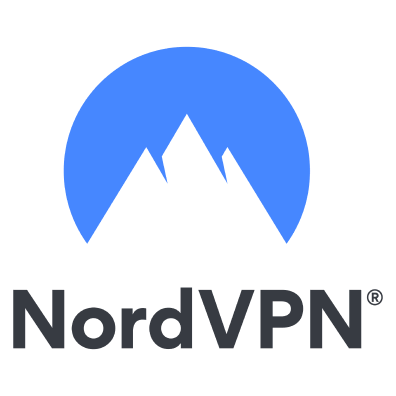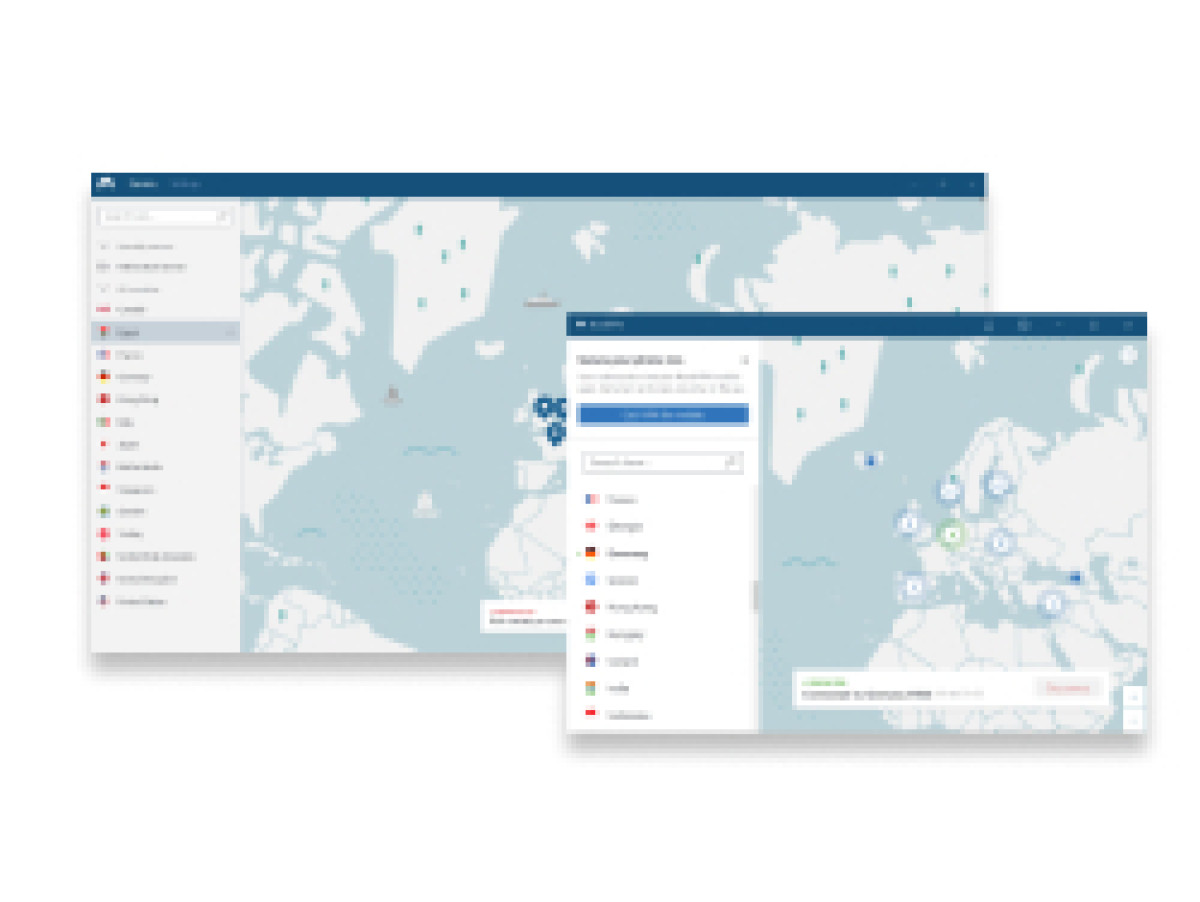 Pros & cons
Has over 5,000 servers you can connect to on your iPhone
Includes multiple features to enhance your iPhone's security
Uses NordLynx protocol to give fast speeds on the iPhone
While NordVPN may not provide as wide a coverage as you get with ExpressVPN, it still offers some neat security features. Remember, one of the main purposes of changing your iPhone's location is to boost your security.
| | |
| --- | --- |
| Location | Panama |
| Number of servers | 5000+ in 59 countries |
| Price | Starting from $3.29 per month |
With this VPN, you can do just that with the help of features like Double VPN, Threat Protection, and dark web monitoring.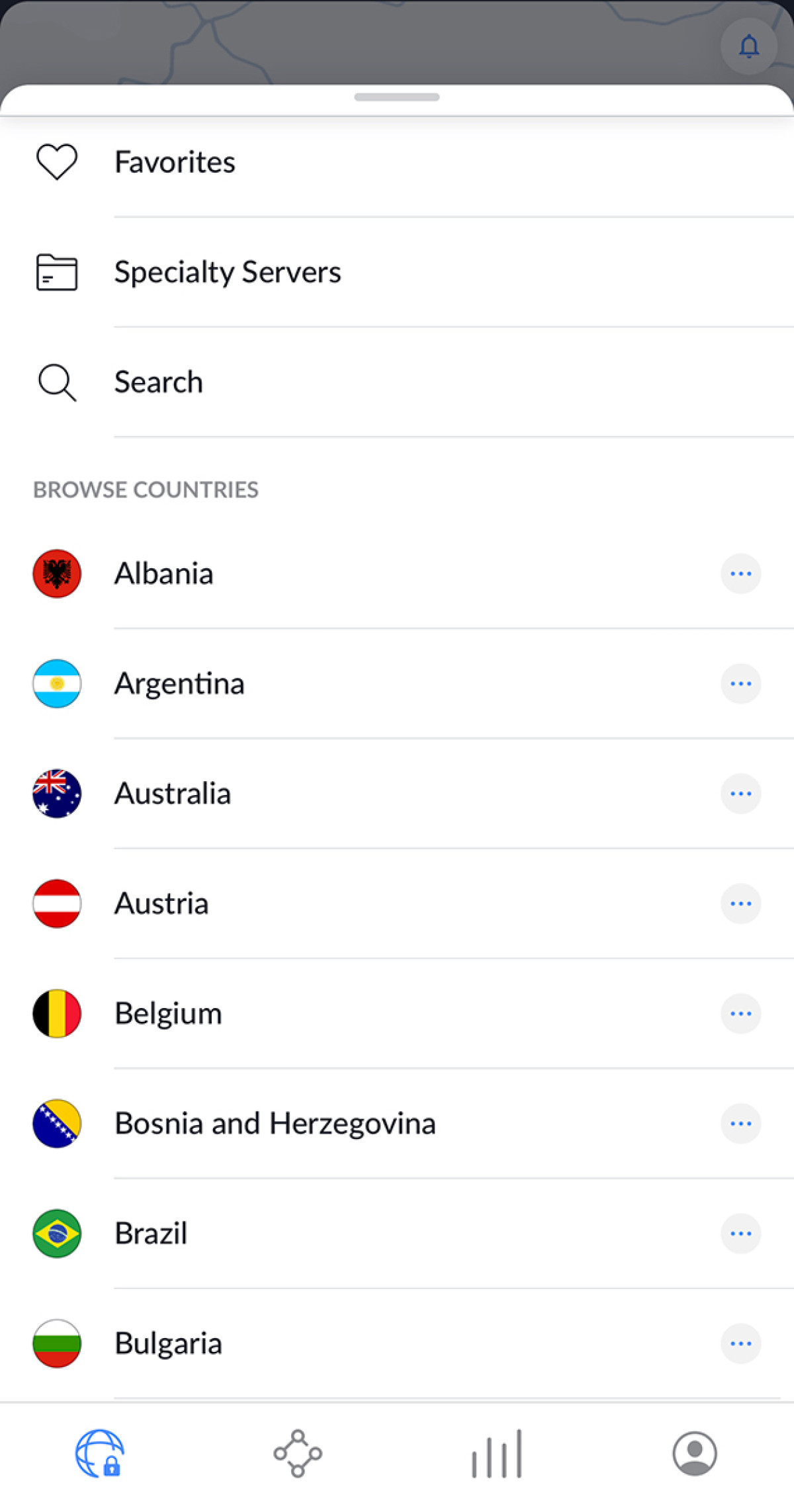 NordVPN's server list on iOS.
All of its servers run on RAM and they erase any data stored during a VPN session as soon as you disconnect from it.
You can get NordVPN for $3.29 per month. It has a 30-day money-back guarantee.
3. Private Internet Access – Affordable VPN with which you can change location on iOS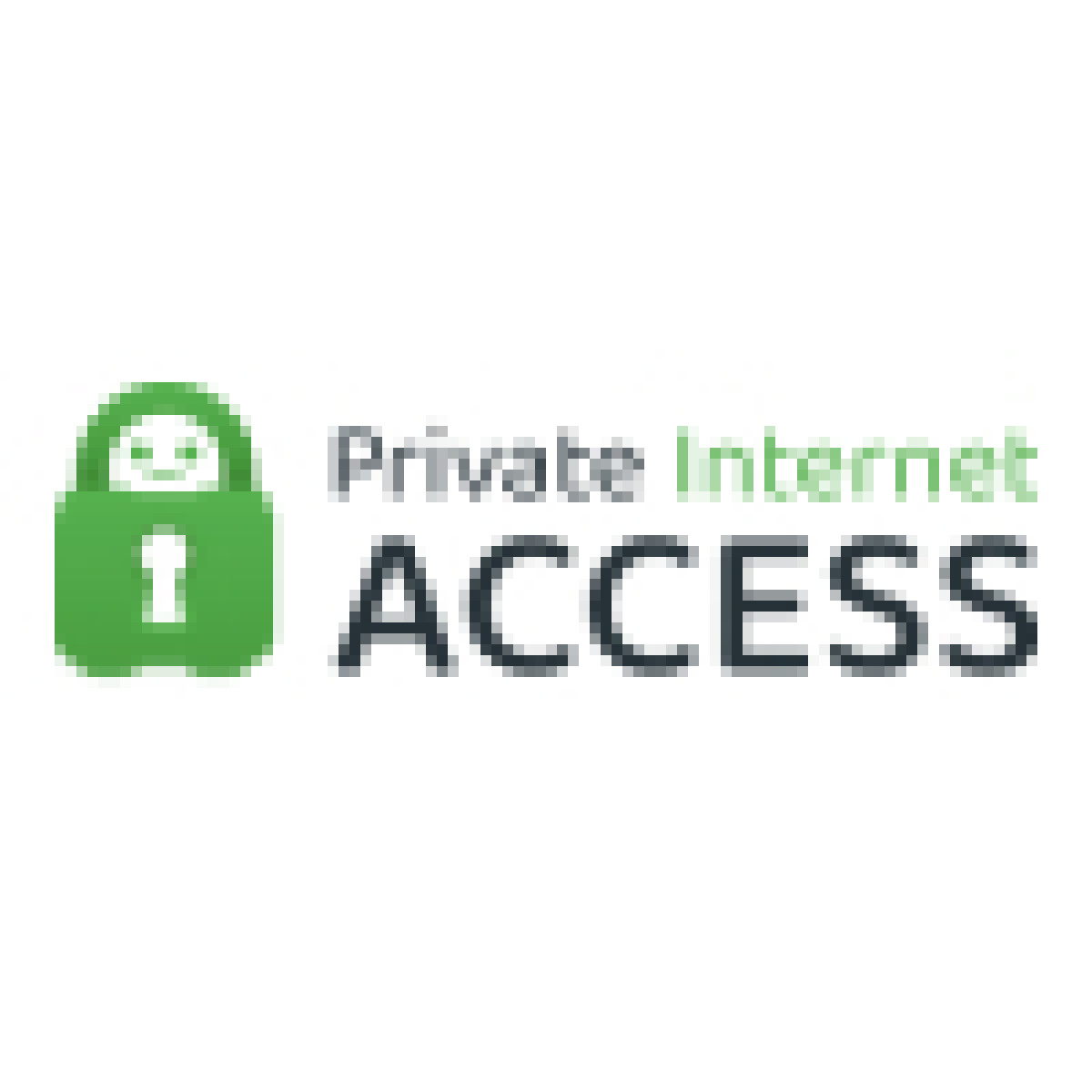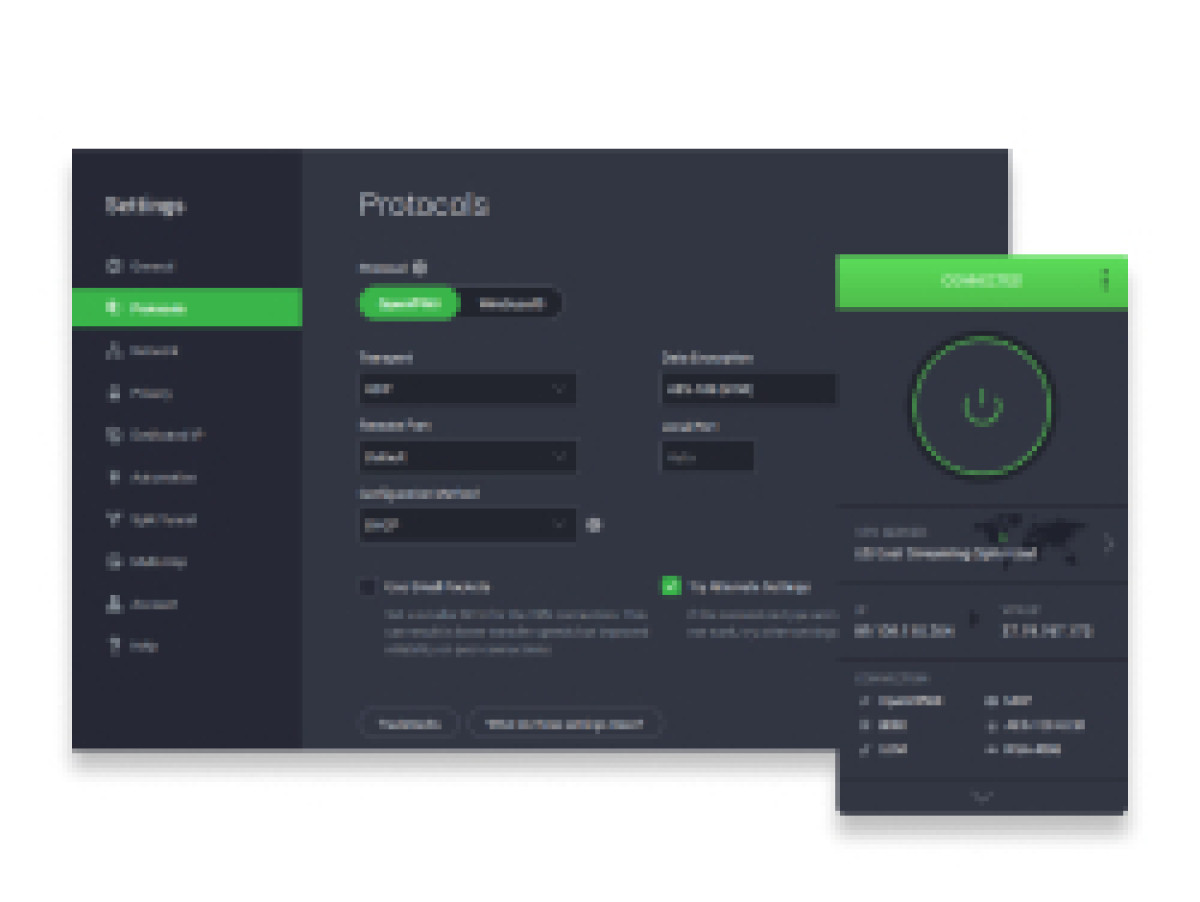 Pros & cons
Cheap VPN for location spoofing on the iPhone
Has a trial version for iOS
Supports 10 simultaneous connections
Comes with over 10,000 servers
Located in a 5 Eyes country
Private Internet Access (PIA) is one of the cheapest VPNs you can use to change your iPhone's location. Despite the low price, it provides a decent level of speed and security with the WireGuard tunneling protocol. In addition to that, it has over 10,000 servers you can connect to on your iPhone!
| | |
| --- | --- |
| Location | Colorado, USA |
| Number of servers | 10,000+ in 84 countries |
| Price | Starting from $2.03 per month |
Just like NordVPN, it's packed with tons of features to give you the best online experience. One such tool is MACE – an ad, tracker, and malware blocker.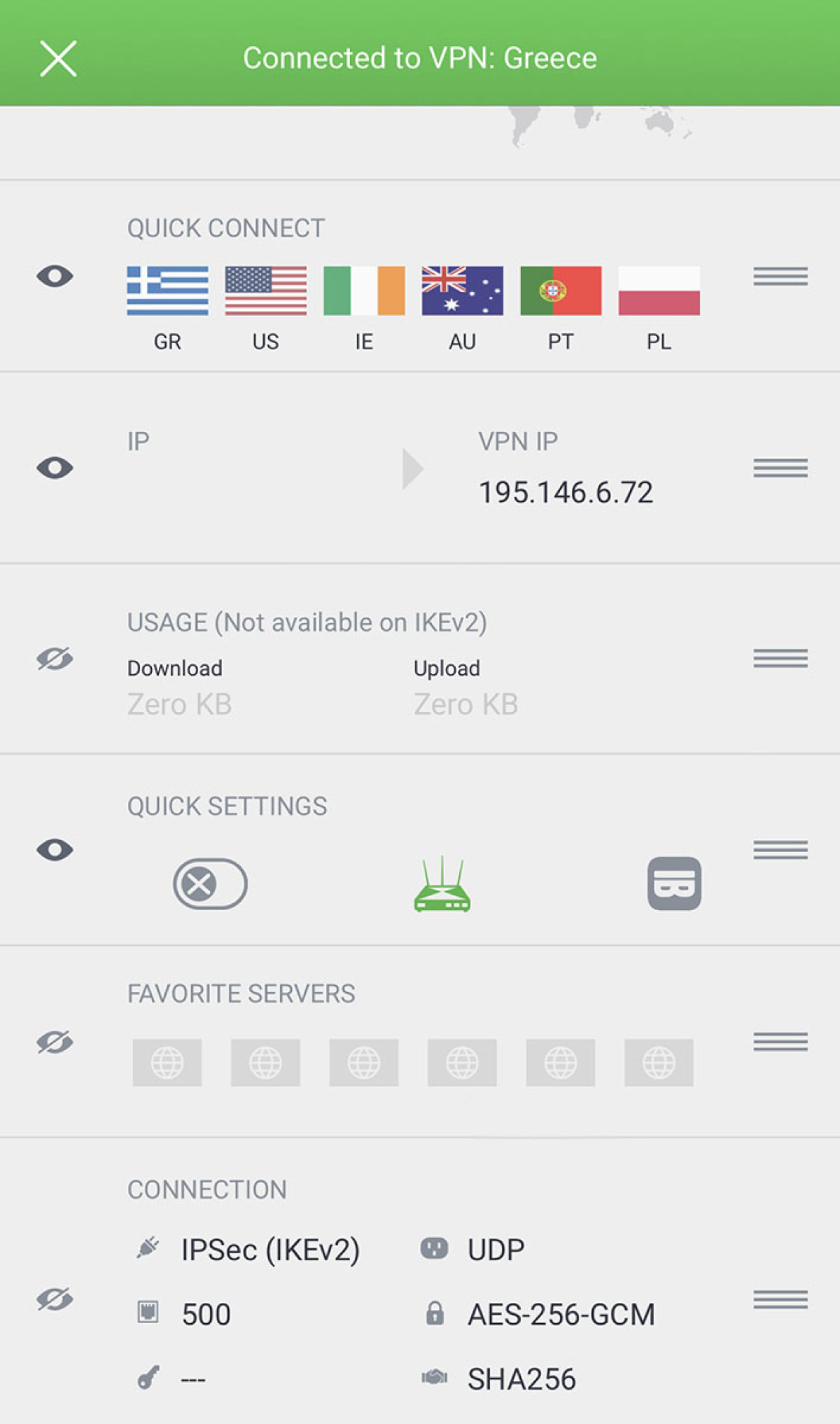 PIA's app on iOS.
You can also get a dedicated IP for an additional fee to reduce your chances of being detected for using a VPN.
PIA is available for $2.03 per month. It has a trial version for both iOS and Android.
How to change iPhone location without a VPN
If you don't want to purchase a VPN, there are a couple of other methods you can use to change your iPhone's location. Let's take a brief look at what they are:
Change your Apple ID's region
This method will only change your location on the Apple App Store. You won't be able to access geo-restricted content on other apps like Netflix and Pokemon Go.
To change your Apple ID's region or country, follow the steps below:
On your iPhone, go to Settings > iCloud > Media & Purchases.
Select View Account.
Tap Country/Region.

In the new screen, tap Change Country/Region.
Now choose the new location from the list that appears.

Read the terms and conditions and tap Agree.
Enter your payment information and tap Next.

You'll now be able to download apps from other countries via the App Store.
Use a location spoofing app
Most location spoofing apps will require you to jailbreak your device, but there are a few that'll work without it. One of them is Tenorshare's iAnyGo. It has a free version, but if you opt for the paid ones, you can use it on multiple devices.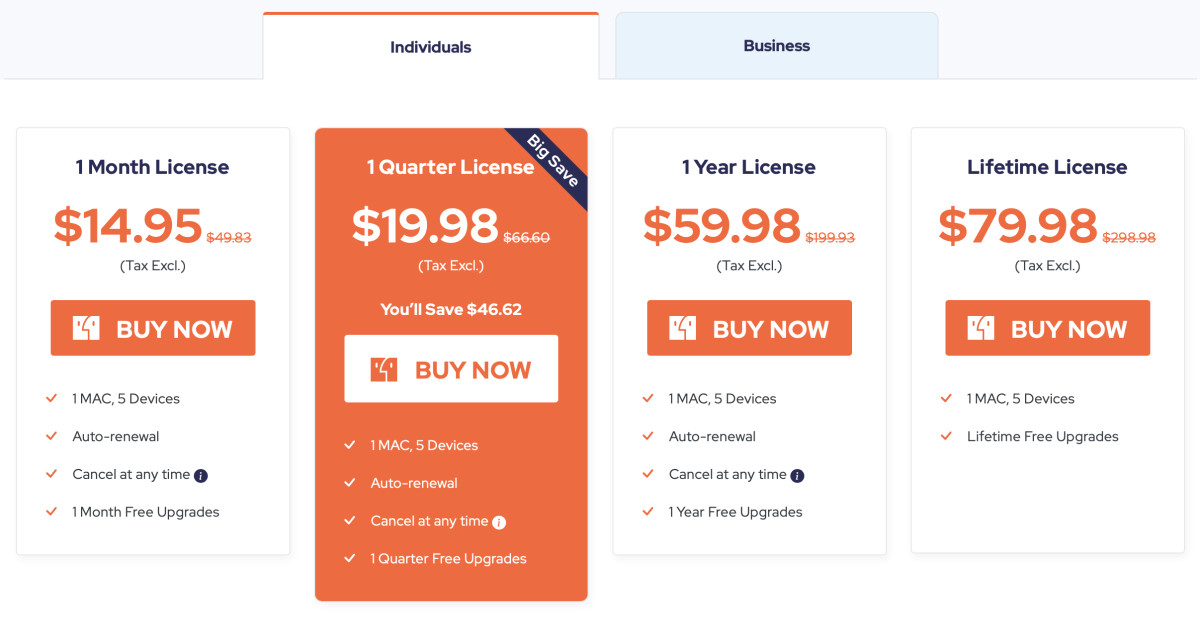 Subscription packages of iAnyGo.
Download the app on your PC or Mac and connect your iPhone via a USB cable. Once connected, you can change your phone's location using the map displayed on the iAnyGo application.
Bottom line
We've tried out different methods to spoof our iPhone's location and found that using a VPN is the easiest way to do it. Yes, it costs money but you get great security and loads of features, which is why it's such a good trade-off.
With ExpressVPN, you can change your iPhone's location to 94 countries without compromising your online security.
You can use a VPN to unblock geo-restricted content and hide your online traffic from outside parties like hackers and even your ISP.
If you want to watch Netflix from other countries while protecting your online data, then we definitely recommend getting a VPN.
Frequently asked questions
Yes, it's okay to change location on your iPhone. It's perfectly legal and you won't get into any trouble for it. Using a VPN may be against some sites and apps' policies, but if you do get caught, they'll just ask you to disconnect from the server and reload the page/app.
You can fake your location on the iPhone by using a VPN. ExpressVPN has servers in 94 countries you can connect to. This method will change your IP address to make it appear as if you're physically present in a different region.
No, you won't lose your apps after changing the region on your iPhone. However, apps that are not available in the new location may not work properly, especially if they have geo-restricted content.
If you change your iPhone's location, all the apps and sites you use will show content based on the new region. For example, the Weather and Map apps will show information that's relevant to the new location you've set.