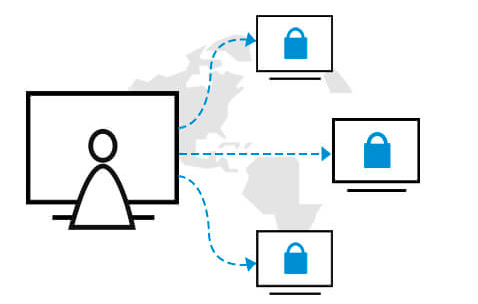 We may receive commissions for purchases made through links on our website. We appreciate your support.

The recent surge in widespread remote workers has caused IT teams everywhere to scramble for ways to maintain the crucial needs for performance, security, and management in-office, as well as out, which many remote access applications now make it easier to help do.

However, they are not all created the same. Hence, some things to look for in a good remote access program include:
It Improves and Maintains Worker Productivity
Traditional remote access applications often lead to network latency and poor service due to their large-scale bandwidth requirements; hence, you want a remote access application that easily overcomes these issues, thus improving and maintaining worker productivity.
Easy-To-Use
Some remote access solutions, such as the Egnyte Desktop App with remote file access, also include mobility built into the service, which makes it easier to use personal devices and access cloud-based services, thus also increasing application and system performance anytime and anywhere for greater collaboration and more.
Security Features/Compliance
Your chosen remote access solution should also prioritize security to help prevent sensitive data from being hacked while accessing or transferring it remotely.
One way that a good remote access solution enables you to do this is by allowing you to store all your data in a central, highly secured data center.
This way, all authorized staff are provided access to your system through a firewall, which highly protects against IP theft while still enabling the smooth collaboration between remote workers and in-office workers.
It is important to ensure your vendor also has extreme security measures in place and that they are compliant with industry standards.
Some remote access security features to look for include SSO/2/MFA and device authentication that aligns with your organizations security policies.
The solution should also be at least ISO, PCI, SOC2, SCC, GDPR, and ISO compliant to support your businesss compliance program, and it should also be capable of fixing current deficiencies in your business.
It should also require every request to be authenticated before it is authorized, regularly validate security configurations, and constantly updated for improvement.
A solution that is auto-scaling with high availability and self-repairing capabilities also helps ensure you never experience service outages.
Centralized Management
A centralized management remote access solution allows you to consolidate thousands of desktops and application servers into a single, centrally managed environment, thus helping to eliminate various workstations and data center operations, which helps save costs.
It also enables your IT team to streamline their management capabilities to maintain the proper work environment for users no matter where they are located or what device they use.
Overall, to find the best remote access solution, begin by first determining the specific needs of your remote employees and work environment, and then use it as a guide for selecting a solution with the right core functions and capabilities to help you maintain success.
Your IT team should also be involved to ensure the solution has the appropriate security features and more for added confidence.