Crypto
Bitcoin plummeted again on November 25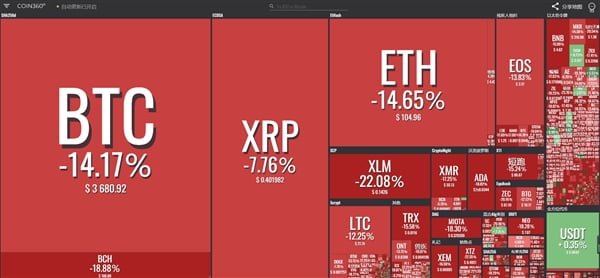 As of 11:00 on November 25th, bitcoin prices plummeted again, and the virtual currency market was full of red.
Recently, the bitcoin and virtual currency markets suffered consecutive losses. On November 14, Bitcoin fell 11%, and the price fell to 5,500 US dollars, creating the lowest price of Bitcoin in 2018.
On November 20th, Bitcoin fell more than 17% within 24 hours. The price once fell below $4,300. The price fell below the cost of mining machines, and small and medium-sized miners were on the brink of collapse.
As of press time, Bitcoin prices fell 14% again within 24 hours, falling below $3,700 and closing at $3,680 .
Also Read: Bitcoin plunged again and fell to $4,315
The second largest virtual currency XRP fell 7.76% in 24 hours, closing at 0.4 US dollars;
As for the (the second largest virtual currency), the third largest virtual currency ETH (Ethereum) plunged 14% to close at $105. Before the big fall on November 14, the ETH price remained above $200, just short. In 10 days, the price of ETH is almost wavy.
Among the top 20 virtual currency, XLM fell the most, plunging 22% to close at $0.14.
At present, the total market value of the virtual currency market is 121.1 billion US dollars, plummeting 14.35% within 24 hours, falling to the lowest level since September 2017!