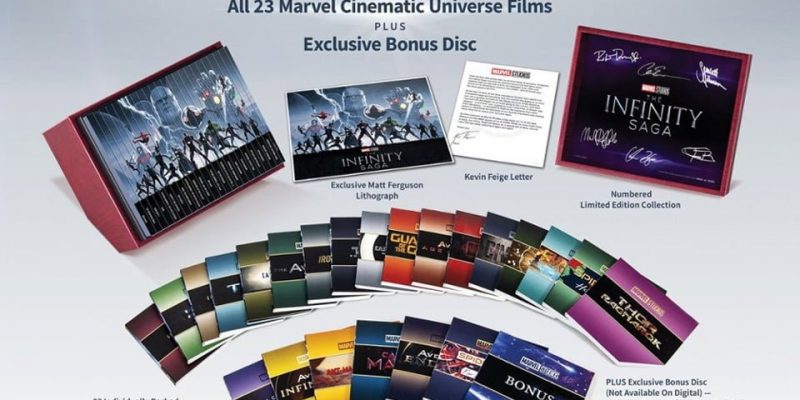 The most sought after box for Marvel fans, known as Infinity Saga Box has been accidentally revealed by Best Buy. Now there are new details to the collection of the so-called "Infinity Saga" – for the fans have to dig deep into their pockets.
The Infinity Saga Box, or the box that will contain all the 23 films of the Marvel Cinematic Universe together with a lot of unpublished material dedicated to the first 3 Stages of the franchise.
What will the box contain?
The other features of the Blu-ray set seems to be not too lush. The box itself is – unlike the US boxes for the MCU phases 1 and 2 – held quite simple. For each bonus material there is no information yet, but it is likely that this will coincide with the somewhat thin features of the previous Blu-ray releases and will consist mainly of audio commentaries, outtakes and short making-ofs.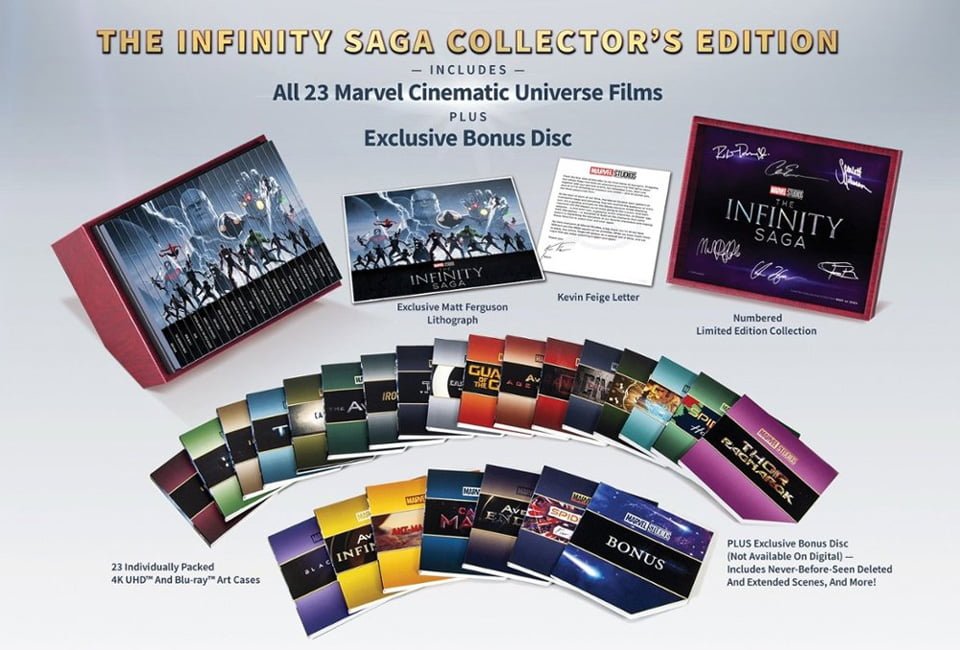 On the other hand, an exclusive bonus disc, which Kevin Feige already promised when announcing the box, is completely new. On it will never be seen shown cut material, which should be according to Feige partly unfinished, especially oblique or just horribly bad. In addition, the box also has a letter from the MCU mastermind.
In Short, The Infinity Saga Box consists of:
All 23 UCM films in 4K and Blu-ray, starting with the first Iron Man up to Spider-Man: Far From Home
A letter from Kevin Feige
A lithograph signed by Matt Ferguson
A disc that will contain numerous cut and extended scenes never revealed to the public
A certificate of authenticity (it will be a limited and numbered edition) complete with
autographs of the original Avengers
How much will the infinity saga cost
Disney does not yet have official information about Disney's preliminary MCU complete box, but US retailer Best Buy is now listing the set on its website – and is also providing some new facts there, that it will cost $550.
That's a staggering price of $24 per movie – which may seem like a lot, but the first MCU adventures are around ten years old. However, the films of the box are not only as standard Blu-ray, but also in higher resolution than 4K UHD. In addition, the collection will probably be limited to comparatively few copies, but how much is still unknown.
Release Date of Infinity Saga Box
Infinity Saga box will be released in the US on November 15, 2019.