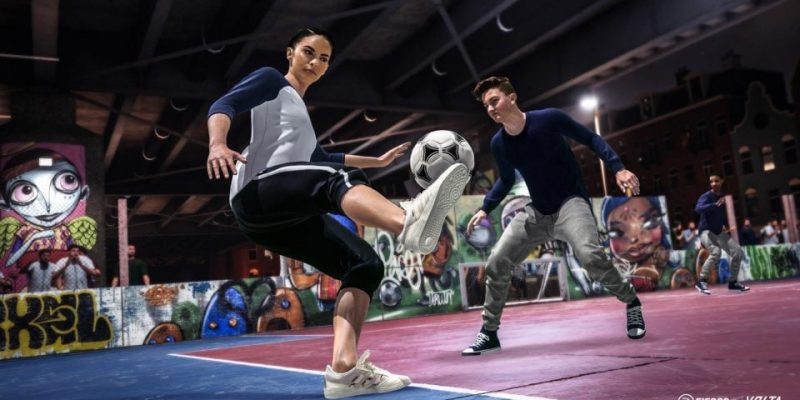 Today, at EA PLAY, Electronic Arts Inc announced a new EA SPORTS FIFA 20, VOLTA Football. A small-format football-inspired mode played on the streets, cages and futsal courts around the world, scheduled for September 27th for PlayStation 4, Xbox One, and PC.
VOLTA Football allows players to build their own character, express their individual style and immerse themselves in a real, realistic football experience. A new style of gameplay created from the realism of football that will transport players in the flow of the urban game, with new tools like simplified moves and better skills, new animations or the possibility of using the wall as an ally in the game.
[penci_blockquote style="style-2″ align="none" author="Aaron McHardy, Executive Producer of EA SPORTS FIFA"]"This year, we are incorporating a whole new experience in the game with VOLTA Football, which mirrors the amount of players who started their journey on the streets. This is a unique aspect of sport that offers players an experience like they've never lived before in EA SPORTS FIFA"Commented . "We also focused on delivering important gameplay updates that will raise the level of reality and the quality of the game. And with the reduced format of integrated football in FIFA 20, players can learn from street football to apply at the stadium, and vice versa".[/penci_blockquote]
In addition, Football Intelligence offers a new approach to gameplay that elevates the quality of FIFA 20, taking the player to an authentic experience in the virtual field. The Authentic Game Flow provides a greater emphasis on player control by giving greater awareness of the player's time, space and position in the field with Artificial Intelligence.
Decisive Moments integrate the new Composed Finishing that provides revisions in backtack features by giving players more consistent and clinical finalizations, and Controlled Tackling uses the Active Touch system to offer a wider variety of attack animations. Finally, Ball Physics provides a higher level of reality with a series of trajectories, more realistic attack interactions, and more human behaviors.
Players who pre-ordered the FIFA 20 Ultimate Edition for PS4, Xbox One and PC will receive a three-day advance access to FIFA 20, a loan of 5 ICON Player Pick (mid version) for your FIFA Ultimate Team team, up to 24 rare Gold Packs, and special editions of FUT kits.
As a bonus, for all those who book before August 5th, they will receive non-tradable items from FUT 20 Ones To Watch Player.