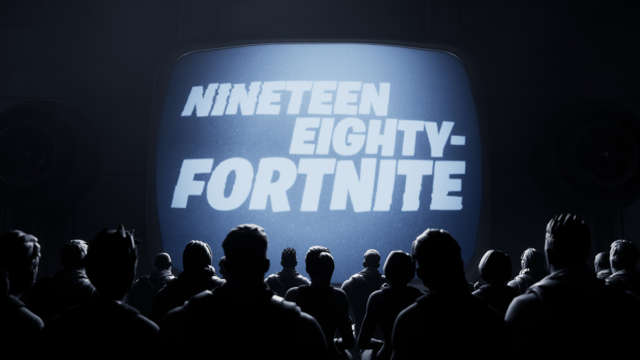 New episode in the case between Apple and Epic Games. After Fortnite's update allowing players to avoid Apple's 30% commission and the subsequent removal of the game from the App Store, it's Epic Games' turn to fight back.
The company said very officially and using Fortnite's Twitter account which has more than 11 million subscribers, initiated legal proceedings against Apple regarding the App Store policy.
"APPLE IS BIGGER, MORE POWERFUL, MORE ESTABLISHED AND MORE PERNICIOUS THAN THE MONOPOLIES OF YESTERYEAR"
Epic Games has defied the App Store Monopoly. In retaliation, Apple is blocking Fortnite from a billion devices.

Visit https://t.co/K3S07w5uEk and join the fight to stop 2020 from becoming "1984" https://t.co/tpsiCW4gqK

— Fortnite (@FortniteGame) August 13, 2020
Epic Games released a 65-page legal document within minutes of removing Fortnite from the App Store, which shows how prepared the firm is for this new clash.
In this document, Epic Games does not hesitate to judge that Apple is "is bigger, more powerful, more entrenched and more pernicious than the monopolies of yesteryear" by recalling that the firm has reached almost 2000 billion dollars stock market listing. The reference to "yesteryear monopolies" implicitly refers to the condemnation of Microsoft in the early 2002s. Microsoft itself made this comparison to openly criticize Apple, and support the investigation opened in Europe and the United States. The developer of Fortnite obviously calls into question the anticompetitive practices of Apple concerning the App Store.
This case concerns Apple's use of a series of restrictions and monopoly practices in the markets for the distribution of software applications ("apps") to users of mobile computing devices such as smartphones and tablets, and in the consumer payment processing market for digital content used in mobile applications on iOS ("in-app content"). Apple imposes unreasonable and illegal restrictions to completely monopolize both markets and prevent software developers from reaching the over 1 billion users of its mobile devices (e.g. iPhone and iPad), unless they go through a single store controlled by Apple, the App Store, where Apple exercises an oppressive 30% tax on the sale of each app.
It should be noted that Epic Games is not asking to be compensated, but very seriously wishes in its legal attack "to put an end to the unfair and anti-competitive policy of Apple and the actions that Apple takes to illegally maintain its monopoly".
Epic Games Simultaneously Launches #freefortnite Movement
At the same time, Epic Games released on Fortnite as part of a surprise event a video featuring Apple's iconic ad – itself based on George Orwell's 1984 – to publicly denounce the brand's apple-brand practices. In front of the millions of Fortnite players. The publisher calls on them to mobilize with the hashtag #FreeFortnite on social networks to encourage Apple to change its policy.
As of this writing, #FreeFortnite is one of Twitter's trending topics.