Gaming
Microsoft announces new Xbox One bundle with Star Wars Jedi: Fallen Order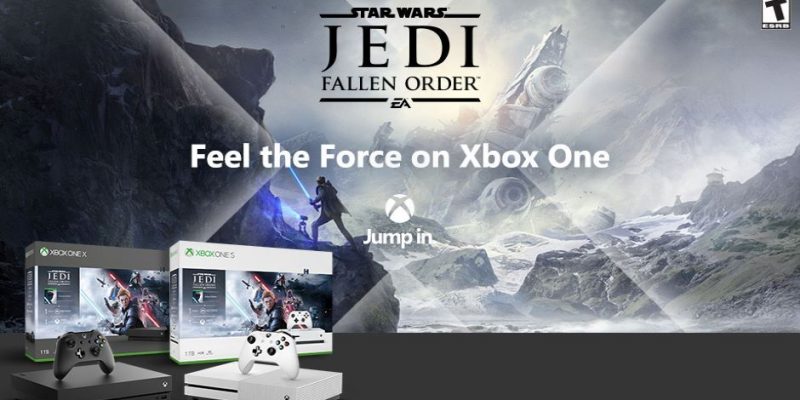 A great way to reinvigorate sales is by creating special bundles that bring together the latest and very popular consoles and games. In this regard, we point out that Microsoft has just announced a new bundle consisting of Xbox One S or Xbox One X with Star Wars Jedi: Fallen Order.
The two-Star Wars Jedi: Fallen Order bundles with Xbox One contain the Deluxe Edition of the game (market value of 79.99 euros), the console, a wireless controller and a promotional code to get 1 free Xbox Live, Xbox Game Pass or even EA Origin.
Star Wars Jedi: Fallen Order – Price and Availability
Already in pre-order, the actual launch of the new bundles will take place on November 15, the same day as the launch of Star Wars Jedi: Fallen Order. In the USA, the bundle with the Xbox One S will cost $299 and the one with the Xbox One X $499.
Read also: Microsoft Blacklists CCleaner Application
Developed by the software house Respawn Entertainment, Star Wars Jedi: Fallen Order sees a third-person action gameplay starring padawan Cal Kestis. In the Star Wars universe timeline, the game takes place after Star Wars: Revenge of the Sith (Episode III), with the padawan Cal Kestis who is one of the few survivors who try not to make the Jedi disappear and put a halt on the Empire
Unlike the titles we've been accustomed to lately, Star Wars Jedi: Fallen Order is a single player adventure with a strong narrative component in which to fight intense and spectacular lightsaber duels and unleash the powers of the Force.
Finally, remember that despite the bundle created by Microsoft, Star Wars Jedi: Fallen Order is not an Xbox exclusive. It will in fact be available, also starting from November 15th, also for PC and PS4.