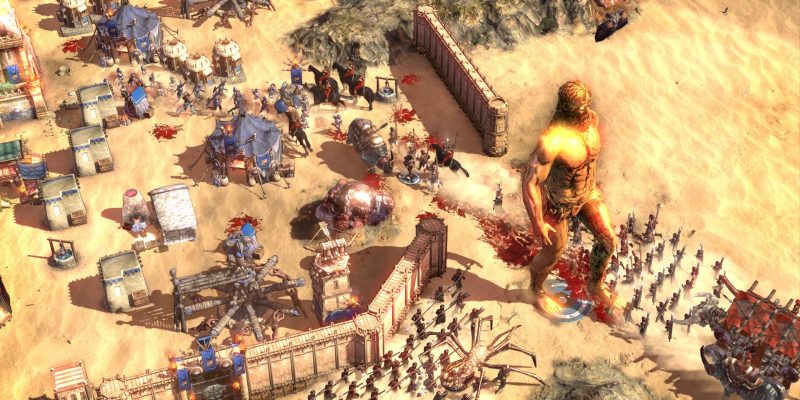 The gamer community is always innovating and creating new trends. This time we are talking about Petroglyph Games' promising "RTS of Survival", Conan Unconquered. This particular, will be being released to the PC on May 30. With this the fans are getting more and more excited. After all, many were waiting for this.
If you do not know the game, better give a researched to find out about this new trend of the gamer community. And if you're not following the progress of Conan Unconquered, you may be wondering where this element of "survival" comes into play.
The basic idea is that along with the usual routine of real-time strategy tasks – pooling resources, expanding your fortress and increasing your military power – you have the constant threat of environmental challenges, such as diseases, sandstorms, fire.
In addition to endless attacks by enemy looters, they attack in huge waves, progressively more difficult. Anyway, anything that takes you to extreme situations you have the task of surviving.
The goal, then, is to last as long as possible against the brutal enemy hordes. And if you're not fully up for the challenge, you have the option to try through a cooperative two-player game with each challenger able to manage separate elements of play while they work together.
Price
Yes, the game is not free as opposed to what many think or may think. When Conan Unconquered arrives in May of this year, it will be available in the Standard and Deluxe editions. The first one costs £ 24.99 / $ 29.99 USD and includes the base game, while the second one costs £ 34.99 / $ 39.99 USD.
For this extra tenner, the Deluxe Edition includes the base game, a digital version of the soundtrack, an eBook based on the Black Colossus tale (which sets the stage for Unconquered), and the hero in the Kalanthes game, which is focused on spells.
Funcom says a second hero is also included, although details about that are revealed later. Interested parties can pre-order Conan Unconquered from the official website.