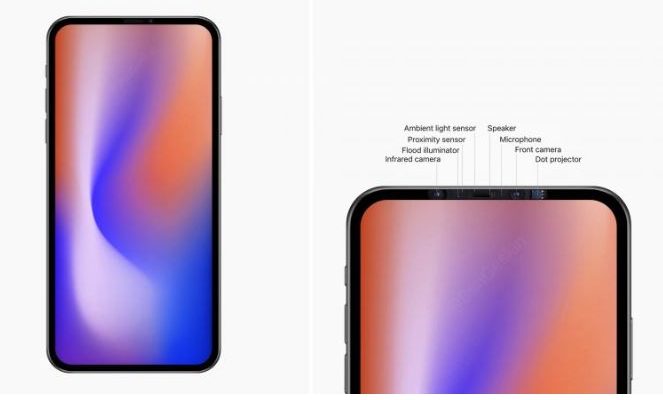 The first information about the 2020 iPhone  or iPhone 12 is already starting to leak online. In fact, a rather well-known tech-analyst has already published the first information about the device that should come out in 2020.
In particular, Ben Geskin, who in the past circulated rumors that later turned out to be true, leaked the first information on iPhone 12 through his Twitter profile, also accompanied by two alleged renderings. The scenario envisaged by the latter is fascinating: Apple's 2020 iPhone could mount an all-screen display.
Apple's 2020 iPhone could mount an all-screen display
We are therefore talking about a solution already widely adopted by the Android market, but there seems to be a rather succulent novelty. In fact, the Cupertino company would plan to implement all the appropriate sensors in the narrow upper frame of the iPhone 12. Here the front camera and the speakers should also be present.
In practical terms, this solution would eliminate the classic pop-up mechanism, allowing the smartphone to maintain a thickness similar to other devices on the market. Furthermore, the user should not forgo the Face ID, as all the necessary sensors would still be present.
The iPhone 12 display will be 6.7 inches
According to Geskin, the iPhone 12 display will be 6.7 inches. In short, the time has already come to discuss the possible choices that will be adopted by Apple for its smartphones released in 2020.
According to analyst Ming-Chi Kuo, the design of the 2020 iPhone, or iPhone 12, should have a metal frame, identical to what we saw on the iPhone 4. Kuo, who has a good history of forecasting the company's ads long before the company made them official, had already indicated what the brand's current smartphones would look like.
This time, however, he didn't offer much detail about exactly what the coming model would look like. It's good to remember that Apple has kept the same case since iPhones launched in 2017.
Read also: iPhone 11 Pro Max battery beats Galaxy Note10, Huawei Mate 30