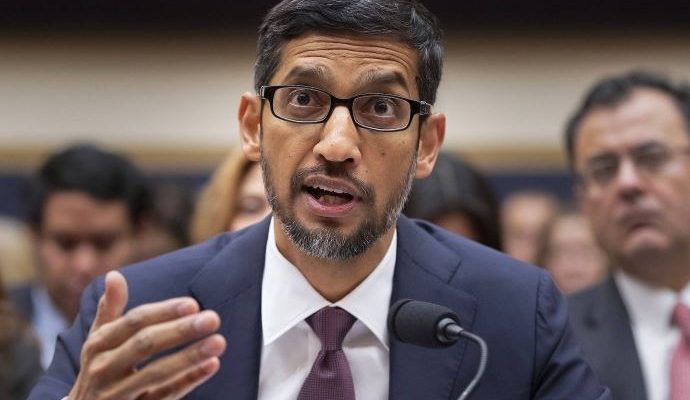 Sundar Pichai was promoted a few weeks ago. He was previously CEO of the Internet company Google, now he also runs the Google parent holding Alphabet, which includes a number of other and very different companies, including Waymo, a specialist in autonomous driving. The two Google founders Larry Page and Sergey Brin have withdrawn from the management of Alphabet.
For Pichai, the rise will also pay off financially. How much, Alphabet published on Friday in a message to the SEC. According to this, Pichai will receive a huge share package in addition to an increase in his basic salary, the value of which was set at $240 million, but which in the best case could even be worth $330 million.
In the worst case, it goes empty-handed
Pichai's annual base salary will increase to $2 million as of the new year, "in recognition of its expanded role", it says. In the current and in the past two years, it was $650,000 each. The share package consists of two components: one part is linked to the development of Alphabet's share price, the other only to Pichai's remaining in the company.
The part linked to the share price in turn has two tranches, each with a target value of $45 million, that is, a total of $90 million. Depending on how the share price develops, Pichai should get between zero and 200 percent of this target value. In other words, in the worst case, it would go away empty-handed, in the best case it could even be $180 million.
The purely time-based part of the package also has two components. First, Pichai will receive subscription rights for shares worth $120 million, which he can redeem every quarter from March next year over a period of three years. In addition, he was awarded a $30 million "transition" package that he can redeem over the next year.
Sundar Pichai has been heavily paid in the past
Sundar Pichai has been heavily paid in the past. In 2016, he received a $200 million share package, compared to $100 million and $250 million in the previous two years. Only in the past two years has his wages been comparatively narrow. In 2018, it was $1.9 million, and besides his base salary of $650,000, almost all the rest was spent on personal security. According to a report by the "Bloomberg" news agency, he voluntarily refused another share package last year because he already felt he was paid well enough.
Alphabet has earned $1.3 million in 2017. With all of his stock packages, payroll of Sundar Pichai is set to near billions over time, and he is no doubt one of the highest paid managers in the American technology industry today. His fortune still falls far short of the wealth of the founders Brin and Page , who still hold a large part of the Alphabet shares. The magazine "Forbes" puts their assets at around $60 billion each.