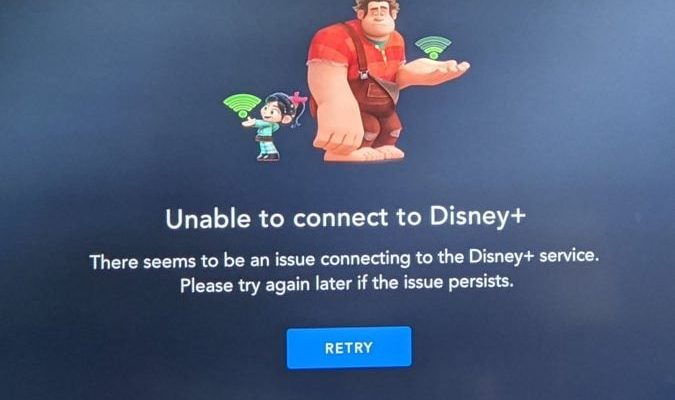 #DisneyPlusDown. In the US, the Netherlands, New Zealand, Puerto Rico, Canada and Australia, Disney's streaming service was launched today. Many users are frustrated, as the most anticipated Service Disney Plus's servers are overloaded.
The disruptions at Disney + start early
There should be disruptions in all functional areas of the apps: When logging in, and also when streaming the content. American users registered and paid for access to the PC. The glitches then began when downloading and starting the app on the relevant devices, such as the Playstation or smart TVs.
Read also: Disney+ is live in US – Start Streaming!
Frustrated Users
During the last 1 to 2 hours, A barrage of complaints stormed twitter with trends #DisneyPlusFails and #DisneyPlusDown
Honestly not surprised about the #DisneyPlusfail. Even the best servers in the world can't prepare for millions of Americans trying to stream Hannah Montana at once.

— Sarah Elizabeth Parker (@ashayamsarah) November 12, 2019
The other influencer Jason Moore stated that $13/mo subscription to an evil corporation is down.
Hey remember like 3 weeks ago when everyone hated Disney because they are actively propping up an Authoritarian regime and suppressing free speech?

Now they're sad because their $13/mo subscription to an evil corporation is down.

Buncha fuckin' morons. #DisneyPlusFail

— Jason Moore (@jasonkmoore88) November 12, 2019
While Bojangles Bananas criticizes Disney Plus servers in his tweet.
Really Disney? Y'all didn't plan for your servers to handle all these users? @disneyplus #DisneyPlus #DisneyPlusfail pic.twitter.com/VzbRE1lEfd

— Bojangles Bananas🍌 (@Bojanglesbanana) November 12, 2019
When did the issue arises with Disney +?
Since 7am New York time, Downdetector.com is reported to have received over 12,000 error messages.
Perhaps the onslaught of the interested parties is bigger than expected, which led to the overload of the server. That would explain the difficulty of logging in as well as the stoppage of traffic on the streams.