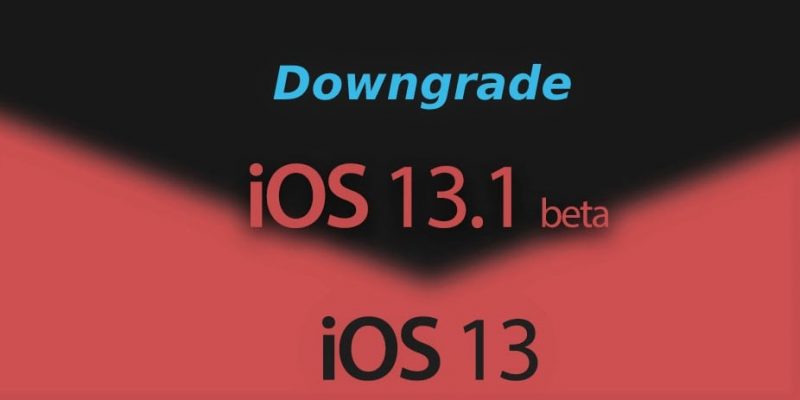 A few hours ago the official iOS 13 came out. The final version was promised and brings a lot of news. However, as we know, many users were already using iOS13.1 beta. Can you remove the beta and install iOS 13 cleanly?
The guide will teach you how to downgrade iOS13.1 beta to enjoy the official version of Apple's operating system.
Removing iOS 13.1 beta and installing final version of iOS 13
You can now download iOS 13 final versions IPSW links and install on iPhone XS, XS Max, XR, X, 8, 7, Plus, 6s, SE, and 7th generation iPod touch. IOS13 is Apple's latest major update for iPhone and iPod touch devices.
In the post below, we basically detail two methods by which you can install iOS13 on your iPhone or iPod touch today. The first is the easiest and recommended method for most users, where you simply have to download the OTA Update file and install it. On the other hand, we can use a different method.
We'll teach you how to do a clean installation via iTunes if you want to start from scratch to optimize performance and battery life.
Download and install the new operating system
So, without further ado, see how to install iOS13 on your device.
How to download and install iOS 13 [OTA Update method]:
Step 1: Connect your device to Wi-Fi and go to  Settings > General > Software Update.
Step 2: Once there, wait for the iOS13 OTA update to appear.
Step 3: Once the update appears, just tap  Download and Install  to begin installing it.
How to download and install iOS13 [clean install method]:
Before proceeding with this method, you should of course ensure that your device is fully stored in iCloud or locally on a computer using iTunes. However, if you haven't already done so, follow our guide on getting ready for iOS13 before installing the right one here:  Is your iPhone ready for iOS 13 coming today?
To easily install the final version of iOS13, you first need to have the final version IPSW file for your specific device, which can be done from the list below.
iOS 13 17A577 IPSW Download Links:
Later, after downloading, simply restore it (not upgrade) using the latest version of iTunes on a Mac or Windows PC.
Finally, to take this step, on your Mac press the OPTION (or ALT) key and click Restore iPhone. Then, as you will be prompted for the location of the IPSW file, just click above and wait.
Read also: New iOS 13 has arrived! Install now on your iPhone / iPad