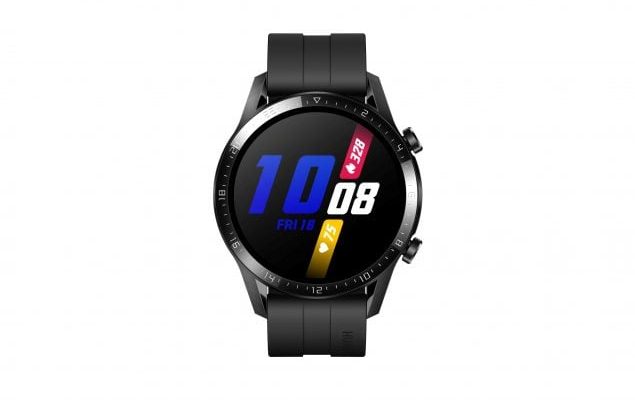 Together with the Mate 30 Pro, Huawei officially announced the Watch GT 2 in Munich today. Two main innovations compared to the previous series, the use of a home-made SoC the Kirin A1, which according to the company Chinese has led to an appreciable increase in autonomy, and the use of a 3D glass screen. The Watch GT 2 runs Huawei's homegrown LiteOS
The previous generation had already shown that it didn't particularly suffer the distance from the charger, but the Watch GT 2 line promises to do better. The merit, as mentioned, is of the Kirin A1 chipset which was designed to improve battery life. Huawei says that the 46 mm case version can go up to two weeks without recharge even with the Smart heart rate monitor and active notifications, and 30 minutes of Bluetooth talk time. Data naturally to be verified, but that bodes well.
The other focus is on the 1.39-inch and 454 × 454 pixel AMOLED display. Huawei Watch GT 2 has broadly maintained the predecessor's design, improving it. The surface of the all-in-one 3D glass, made with a series of techniques that required the use of precious stones, gives a feeling of greater amplitude at first glance, and this contributes to the reduction of the frames and the thinness of the panel.
As for the smart environment, Huawei Watch GT 2 is able to guarantee voice calls via Bluetooth up to 150 meters away from the smartphone, from which it reaches a good degree of independence thanks to the possibility of storing the phonebook contacts and up to 500 songs music in MP3 format for use during training.
In this regard, Huawei Watch GT 2 manages 15 sports activities: eight outdoor, including running, walking, cycling, triathlon, and seven indoor, such as swimming, elliptical machine, rowing machine. Within these, the smartwatch is able to keep track of almost 200 different types of data by which it can advise the user on aspects to be improved just like a real coach. In addition, the Watch GT 2 helps to monitor bradycardia and heart failure, and alerts the user when the frequency exceeds the threshold of 100 beats per minute or, on the contrary, falls below 50 bpm.
Equally advanced is the sleep monitoring mode called Huawei TruSleep 2.0, which uses artificial intelligence to analyze sleep problems and advise the user through customized reports how to improve the quality of rest. Finally, the TruRelax feature that takes care of tracking stress levels.
Huawei Watch GT 2 will begin shipping in October the prices starts with 99 euros for Titanium Gray coloring and 229 euros for Matte Black.