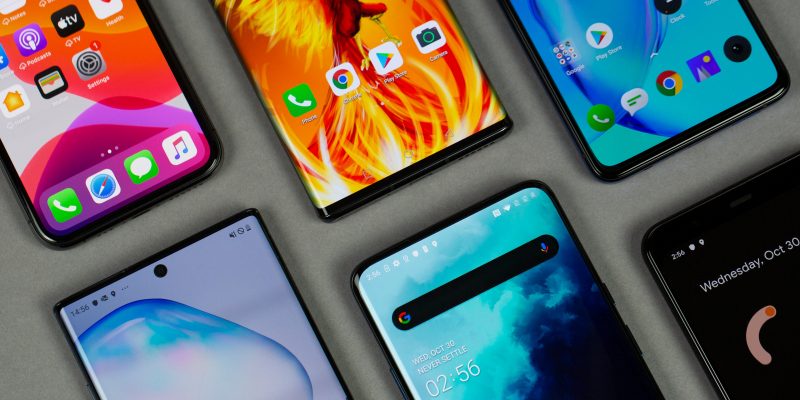 The choice of smartphones is always based on the evaluation of several factors, especially by performance and its position in relation to the competition.
To evaluate the performance of smartphones, Antutu has collected useful information. The data for December comes now and shows the smartphones dominated positions the market in December, last year.
Every month Antutu reveals to the world useful information about the data it has been collecting. The most important of these is even the TOP 10 of the performance of Android smartphones, where we can see who stands out from the extensive list of existing equipment.
Top most powerful smartphones of December 2019
The top 10 range revealed the Rog Phone 2, a smartphone with 12 GB of RAM and 512 GB of storage, achieving a score of 506832. Inside, there is a Snapdragon 855 Plus and the UFS 3.0 flash memory. In the second and third position we have the OnePlus 7T and 7T Pro, with 493298 and 491914 points.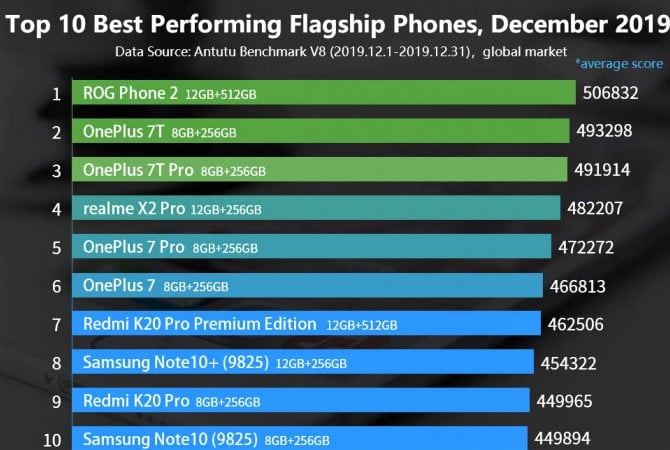 The list goes on with Realme X2 Pro, Oneplus 7 Pro, Oneplus 7, Redmi K20 Pro Premium Edition. Finally, we have the Samsung Galaxy Note 10+ (with the Exynos 9825), the Redmi K20 Pro and the Galaxy Note 10, with the SoC Exynos 9825, which had a score of 449894 points.
Mid-range phones
In the middle range of smartphones, there are Top 10 again, by the Redmi Note 8 Pro with 6 GB of RAM and 128 GB of storage. With the MediaTek G90T SoC, user can collect 290093 points. The second position occupied by the Mi Note 10 (6 GB + 128 GB), which has a score of 264896.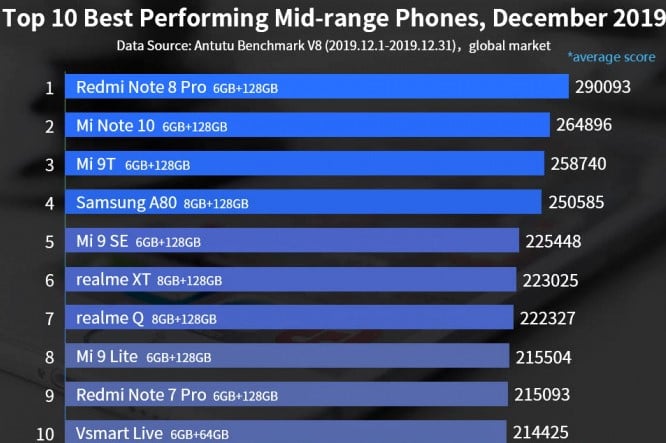 The list goes on with Samsung A80 (250585 points), Mi 9 SE (225448 points), realme XT (223025 points), realme Q (222327 points), Mi 9 Lite (215504 points), Redmi Note 7 Pro (215093 points) and Vsmart Live (214425 points).
Interestingly, this list of intermediaries is very similar to what the previous month had already brought. The list of top is also full of smartphones that were already known, lacking some important brands.