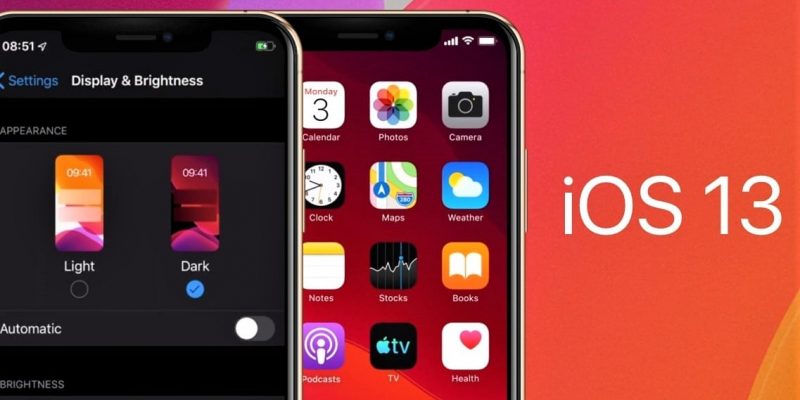 After several betas and the GM version, behold, the long-awaited final version of iOS 13 has arrived. The news by this time are not many, as Apple has been lifting the veil of new features with each beta.
Find out what's new about what is considered one of the best mobile operating systems in the world.
After a long wait, iOS 13 has finally arrived for all users. Apple introduced this new version on June 3 at its developer conference. Focusing on optimization, the Cupertino giant aims with iOS 13 to ensure the best performance and the best user experience.
What's New in iOS 13
The system update function has been improved as well as running apps twice as fast. The Face ID is now 30% faster and the size of downloads of apps has been reduced by 50%.
Following the trend and ensuring better autonomy, iOS 13 comes with a Dark Mode option. All native apps support this dark mode.
The Apple renewed the Photos app, including features that allow you to easily organize the library. In addition, various highlights of our lives (in photos), by day, month and year are also presented. Videos are intelligently organized, making it easy to navigate and allowing you to relive your memories. Photo editing tools have also been improved.
Apple has added a new privacy feature at Sign In with Apple. Thus, there is a safer way for users to authenticate to apps and websites.
The Health App has been completely revamped and now includes a host of new features. It is now possible to have women's menstrual cycle data as well as noise index, if you have an Apple Watch.
Read also: iOS 13: Features that can make Android users jealous
The CarPlay 13 iOS also gained new features and a new interface. There is now a dashboard for music, maps, and more, and a new calendar app. The CarPlay app also gets Siri support for third party audio and navigation app.
There are even new controls for managing apps access to location. This way you can have better privacy protection. The Maps App has also been revamped and improved.
The final version of iOS13 is now available to everyone.
How to upgrade your iPhone / iPad?
Must have at least 50% battery or have the charger plugged in. Otherwise, it will not be possible to upgrade. Also, as this is a new version of iOS, it will take a little longer than usual to install (10 to 30 minutes).
To upgrade, go to Settings > General > Software Update.
Read also: iOS 13 arriving 19.9. – Everything you need to know about the new iOS 13