Global
Samsung launched Galaxy S10 Series: In-Depth Details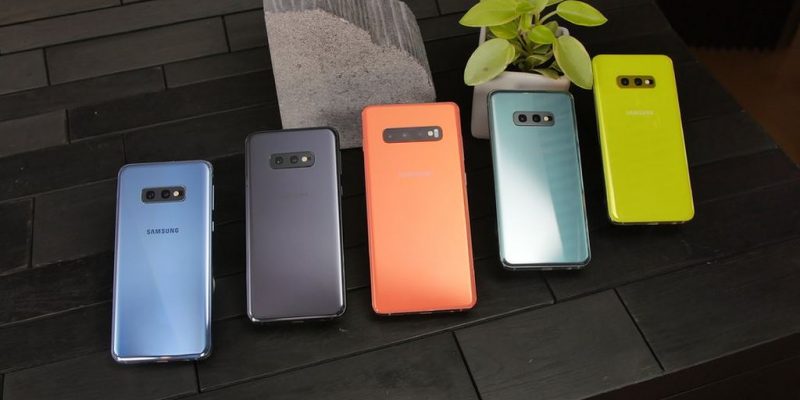 February 21 at the Galaxy Unpacked event 2019, Samsung introduced Galaxy S10 series users including Galaxy S10, Galaxy S10 +, Galaxy S10e and Galaxy S10 5G models that fully converge with the current top trend technologies.
Galaxy S10, S10 +
Design:
Galaxy S10 and S10 + was born to commemorate the 10th generation of the successful Galaxy S product line, 2 billion Galaxy S sold out to prove it. This is considered to be two key products to help Samsung win the 2019 smartphone war.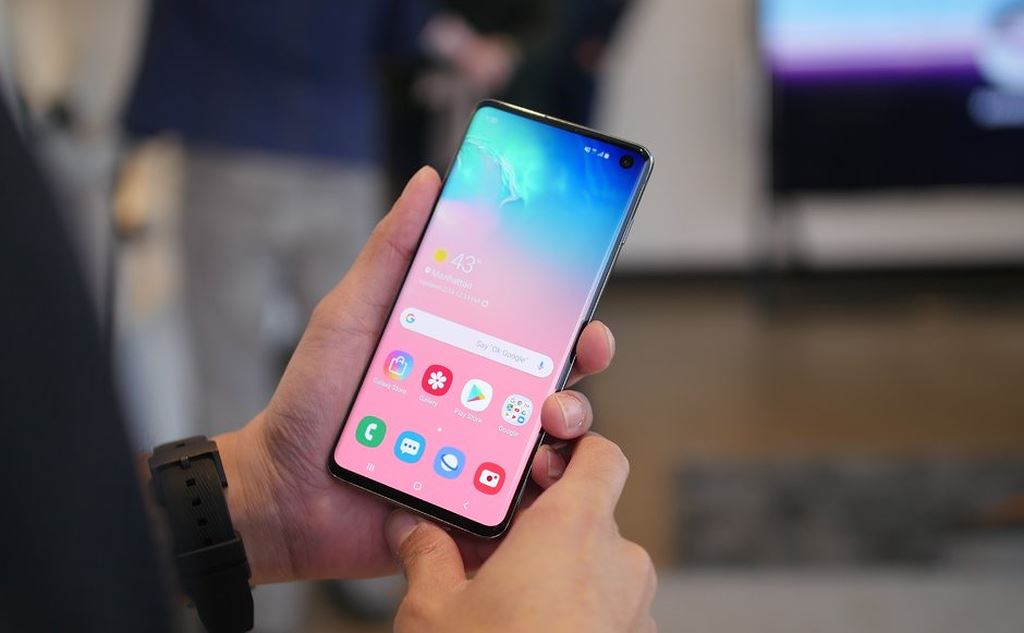 Both machines will still use high-quality materials such as aluminum and glass but have been completed, more polished but there is no gradient transition effect like some rival devices. The screen border on the new generation is further optimized to bring the screen ratio to the front up to more than 93%. The selfie camera integrates into an on-screen hole, but Samsung claims this will not affect the excellent display quality of the Galaxy S10 and S10 +.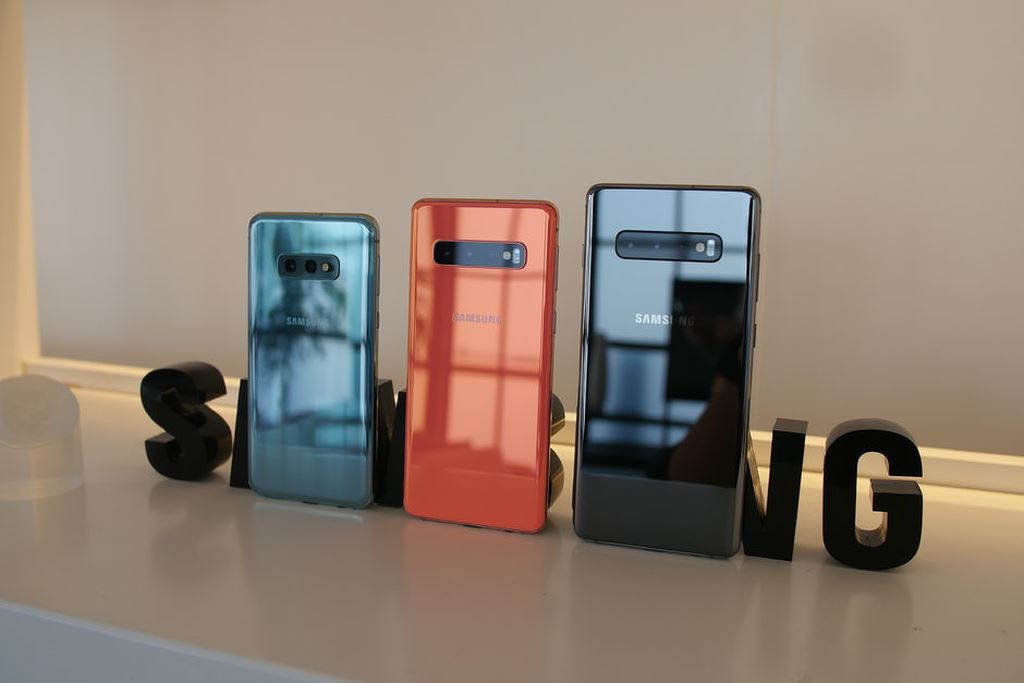 Samsung also removed the fingerprint sensor on the back and replaced it with an ultrasonic fingerprint sensor right on the screen that has higher accuracy than the optical fingerprint sensor on Mate 20 Pro and OnePlus 6T.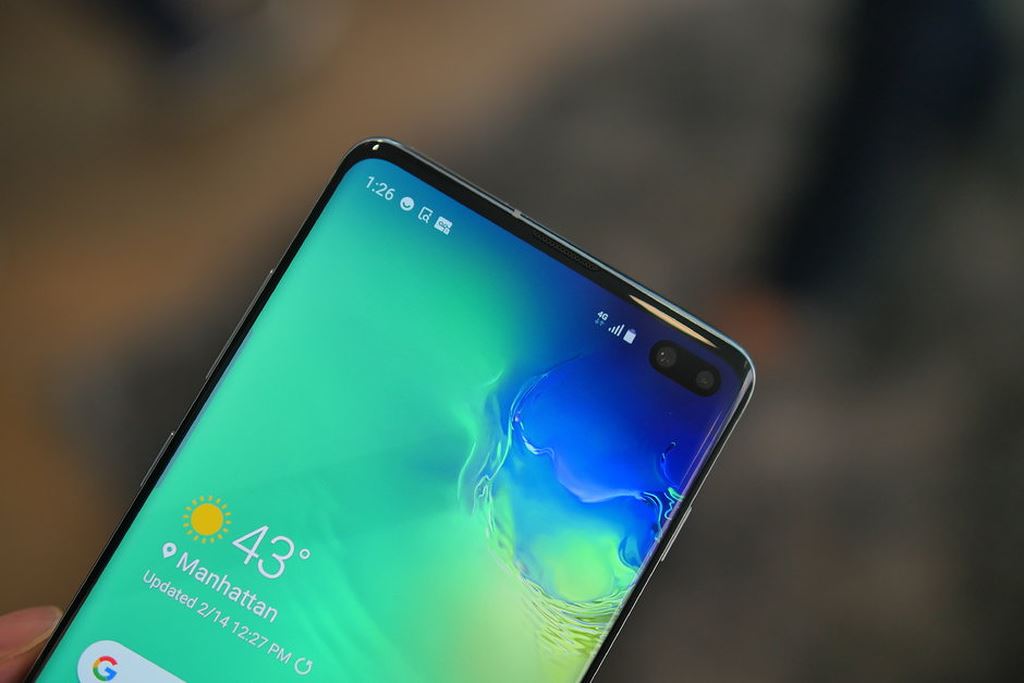 Hardware: 
Galaxy S10 is the first smartphone to use Dynamic AMOLED screen and achieve HDR10 + certification. Galaxy S10 screen has the ability to adjust the range of color shades, to help reproduce colors fully and accurately, giving a true, brilliant, vivid visual experience. The Galaxy AM10's Dynamic AMOLED screen also achieves VDE certification with its impressive bright colors and outstanding contrast ratio, showing darker colors and brighter white colors.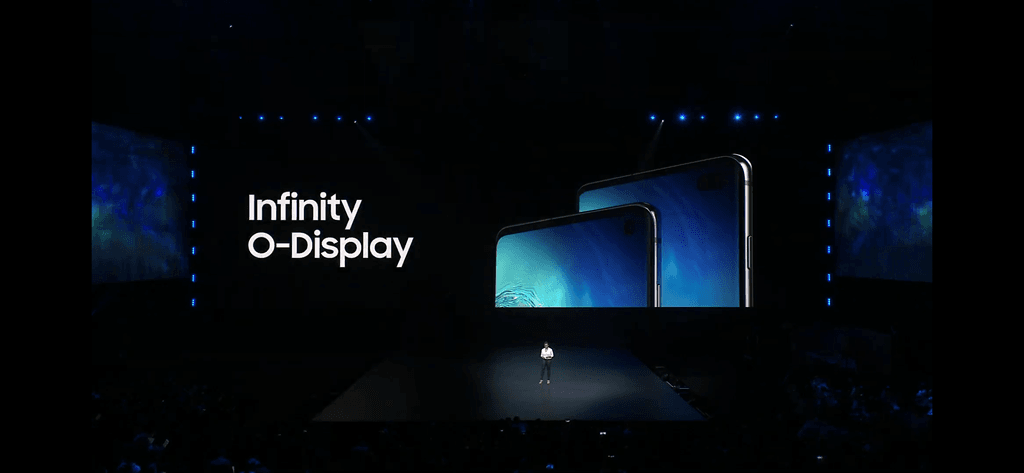 With the Galaxy S10 + larger version of the S10 with a 6.44 inch screen (compared to 6.1 inch), QHD + resolution (3040×1440) with a 19: 9 ratio. Differential additions from the S10 + have a 4.100mAh battery (S10 3,500mAh battery), although the reverse wireless charging feature is available on both 2. Samsung said wireless charging speed for S10 is 36% faster than previous generation.
Galaxy S10 and S10 + are equipped with the latest Exynos 9820 or Snapdragon 855 chip from Samsung and Qualcomm. The CPU speed according to the company said it increased by 29% while the GPU was 37% faster but it is likely that this is just the spec of the Exynos processor because the Snapdragon 855 will be even faster. 6/8 / 12GB RAM capacity, 128 / 512GB and 1TB internal memory, this is the largest number ever on a smartphone.
Camera: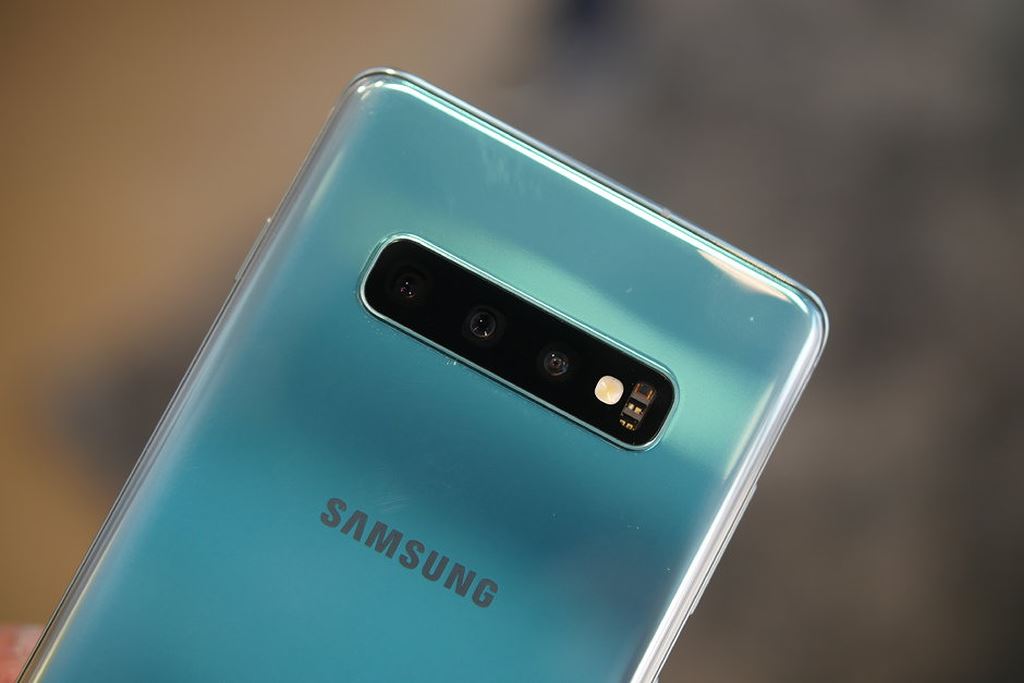 Both the Galaxy S10 and S10 + have a rear-facing 3 camera system including a 12MP sensor, F1.5 / F2.4 aperture aperture, a telephoto lens with 2x 12MP resolution, aperture F / 2.4, The same is a 16MP ultra wide angle sensor of 123 °, aperture of F / 2.2. This is the first smartphone in the world that has the ability to record HDR video with super anti-shake mode that promises to serve the needs of movies with smartphone professionally. The Galaxy S10 camera app has Instagram mode, which helps users capture and post photos and stories directly to Instagram. It also comes pre-installed with Adobe Rush CC editing software version for Samsung Galaxy.
AI of Galaxy S10 camera can identify more scenes. The length of super slow-motion 960fps video is now twice as long, reaching 0.8 seconds from the previous 0.4s.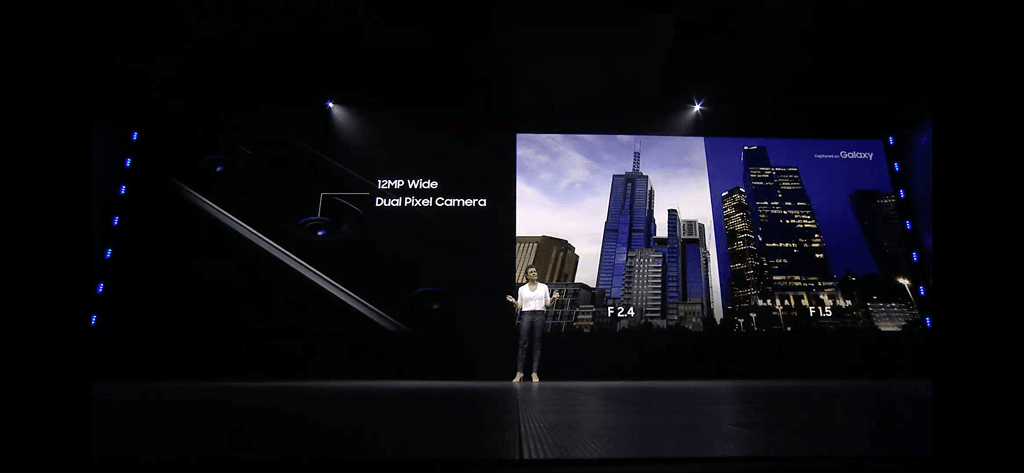 A little difference here is that Galaxy S10 owns a selfie camera and S10 + is a selfie dual camera. Both have 10MP f / 1.9 resolution and 4K video recording capability. The second selfie camera of Galaxy S10 + is 8MP f / 2.2, with a distance measurement function for selfie to remove fonts. The AR Emoji feature has been available on Galaxy S9 for the first time and has been upgraded significantly on Galaxy S10 to become more natural and beautiful.
Connect:
Galaxy S10 is the first smartphone in the world to support Wi-Fi 6 (802.11ax), giving theoretical speeds four times higher than the old standard, especially where there are many Wi-Fi devices in operation.
The device retains a 3.5mm audio port, IP68 water resistance and dedicated Bixby button. Regarding colors, S10 and S10 + will be available in Prism White, Prism Black, Prism Green, Prism Blue, Canary Yellow and Flamingo Pink. In addition, Galaxy S10 will have ceramic version with 2 colors White / Black to improve durability and scratch resistance.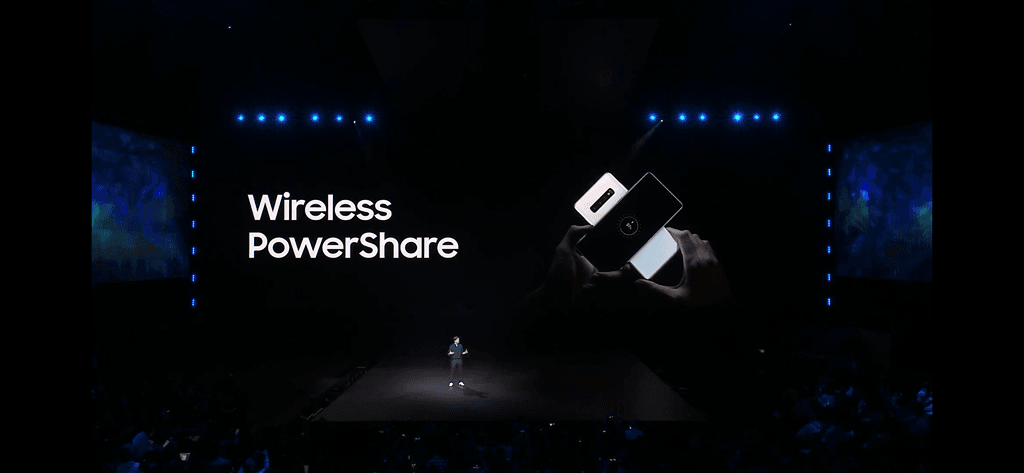 Price:
Is your pocket big enough for Galaxy S10 or S10+?
In the international market, Galaxy S10 will cost 899 USD and S10 + is 999 USD.  On March 8, the Galaxy S10 and S10 + will be officially available at retail systems in the country and start to reach users.
'
---
Galaxy S10e: compact but top performance
Design: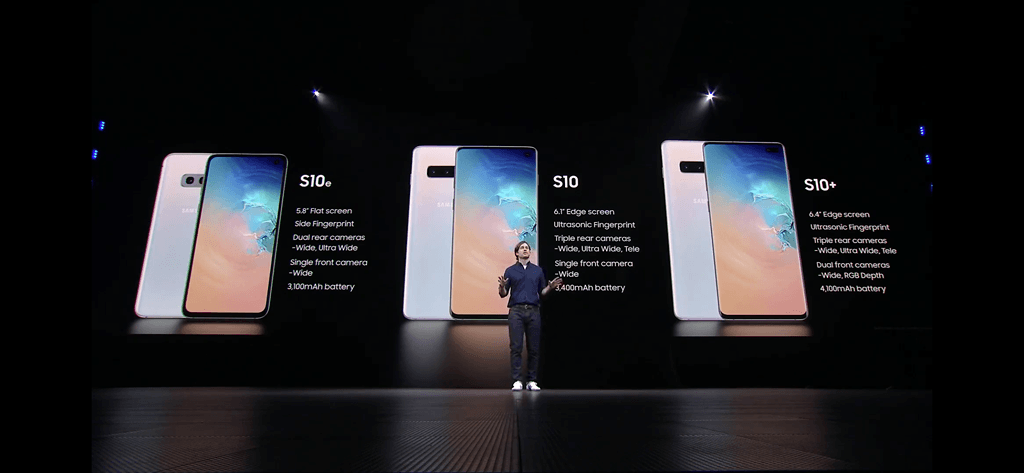 This is the cheapest device of the three newly launched machines. The technology that assesses S10e's role with Samsung will be similar to the role of the iPhone XR, targeting those who like small screens, youthful colors, peak performance but very accessible prices. Unknown to the new S10e is the device that gives Samsung high sales similar to what iPhone XR can do in the big Apple family.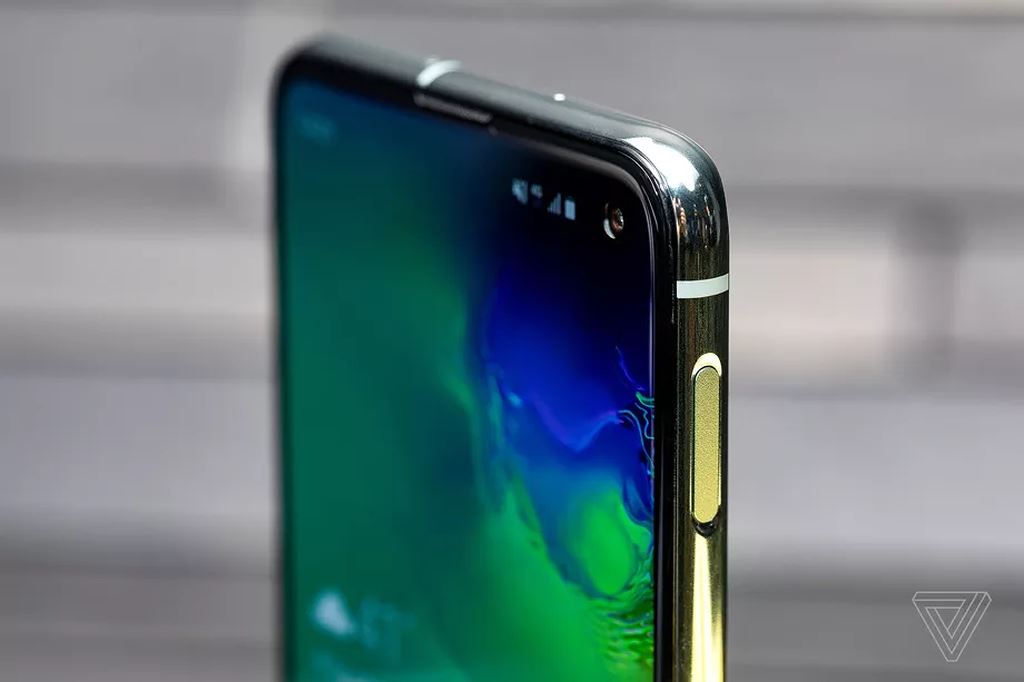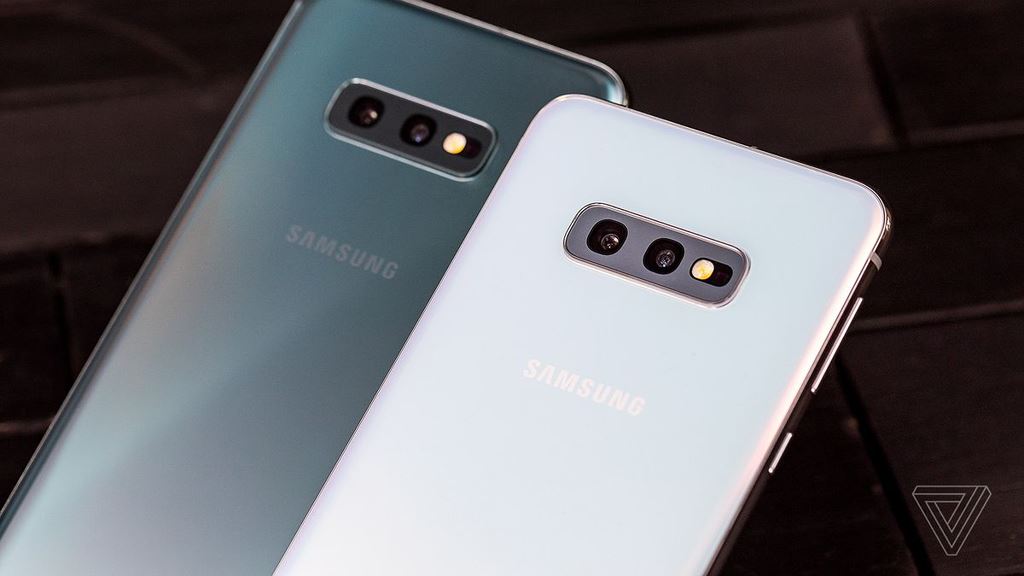 Design is the part that Samsung tries to unify between 3 Galaxy versions this year, in general all 3 still have design overflowing the screen, the rear camera cluster is designed horizontally but the most noticeable part is the camera "note flies "on the front. The screen on the machine uses Super AMOLED panels of 5.8 inch size for resolution of 2280x1080px, the ratio of 19: 9, unfortunately only a flat screen instead of being beveled like Galaxy S10 and S10 +.
Camera:
The S10e camera is one of the components cut by Samsung, as we can see, instead of the dual "mole" selfie camera like on S10 and S10 +, this "cheap" Galaxy version only owns selfie cameras. Single "mole" on the front with 10MP resolution, F / 1.9 aperture. At the same time, the rear camera cluster is also reduced to a dual-resolution 12 MP camera and secondary camera with 16MP resolution, CMOS F2.2 Ultra Wide (for ultra-wide 123 ° shooting angle).


Hardware:
Configuration is a lucky thing not to be cut much when the machine is still equipped with Snapdragon 855 or Exynos 9820 processor, 6 / 8GB RAM + 128 / 256GB internal memory. Another point is that the fingerprint sensor, Galaxy S10e has sensors located on the power button next to the ultrasonic sensor is integrated into the screen.
Price
Not Big for Pocket, Eh?
As expected, users can pre-order Galaxy S10e on February 21 and will begin shipping to users on March 8 for $ 750 for the version. Standard configuration (6GB RAM + 128GB internal memory). The machine has a total of 5 color options including: Prism White (White), Prism Green (turquoise), Prism Black (black), Canary Yellow (yellow) and blue.
Galaxy S10 5G: Made For Future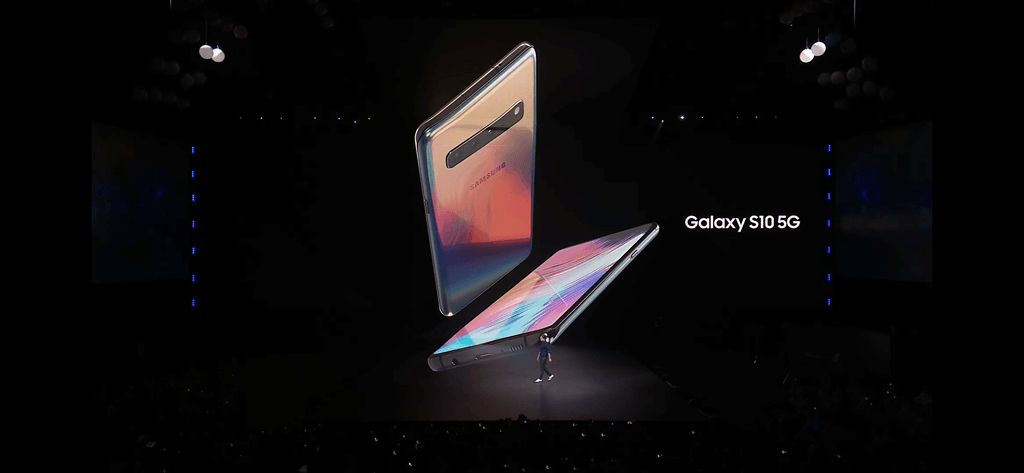 The largest product in the Galaxy S10 family owns a large screen of 6.7 inches (bigger than the Galaxy Note series). Therefore, the device can hold up to 4,500mAh battery. This is necessary to power the big screen and 5G connection.
Galaxy S10 5G has a total of 6 cameras, including 4 on the back and 2 on the front, each of which has a 3D sensor for depth measurement, integrating time-of-flight technology with ability space reading, better identifying objects than smartphones already on the market. According to Samsung, the company will use it to develop high-quality virtual reality (AR) and face recognition. The quality of taking photos off the S10 5G fonts will also be great thanks to this new technology. The remaining hardware is no different than S10 and S10 +.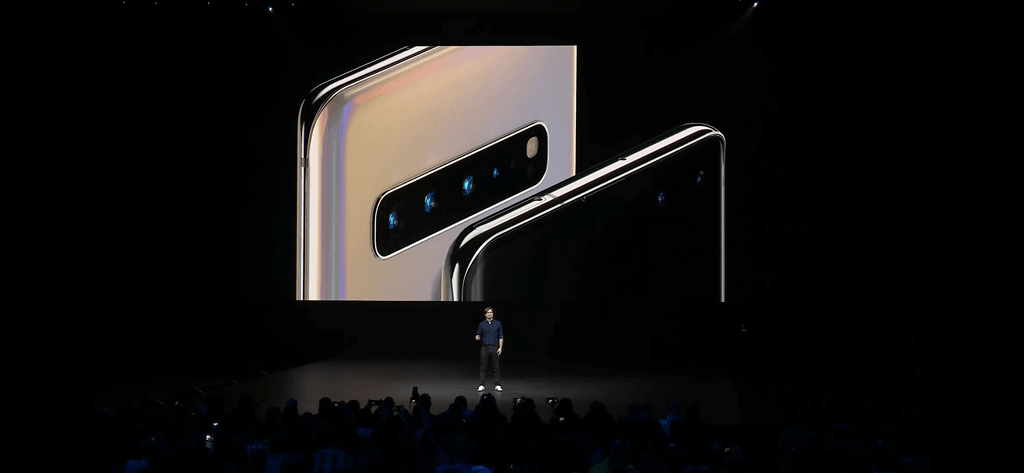 5G is a growing network technology and has a lot of potential for the future. Samsung has realized its greatest benefit at higher speeds and lower latency, offering the ability to download a full TV program in just a few minutes, playing intensive online games that almost no lag or provide 4K video calls via mobile network. Of course, browsing the web with the Galaxy S10 5G will also be significantly faster than what we are using with 4G-based devices today.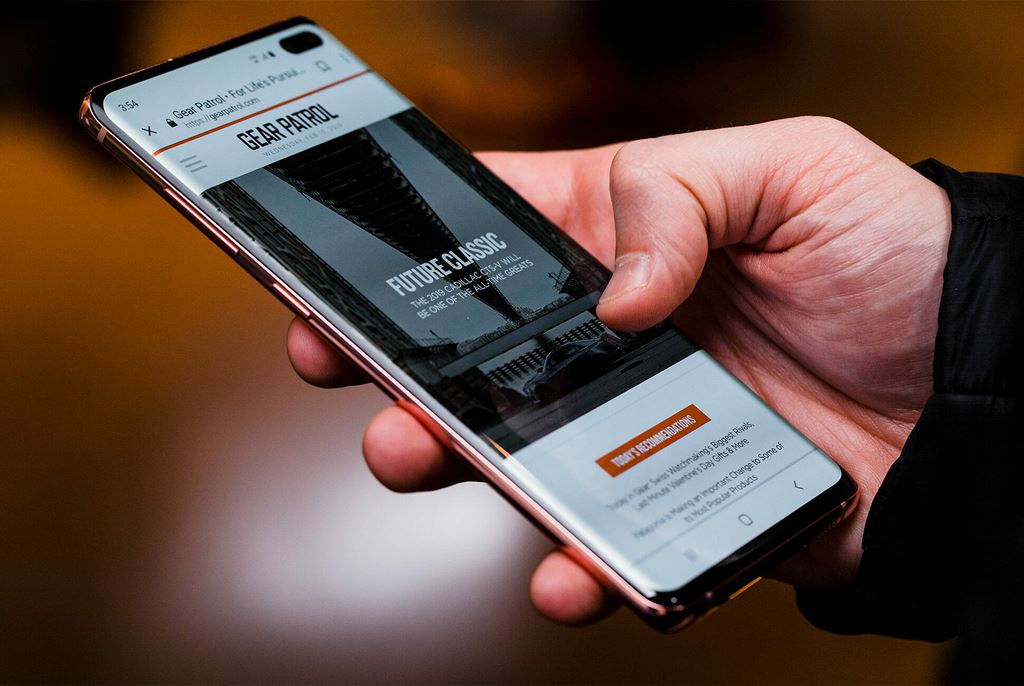 Price:
The product is likely to go on sale in the second quarter of this year through Verizon, then AT&T, T-Mobile and Sprint. Currently the company has not announced the price, but it will certainly be higher than the starting price of Galaxy S10 + 999 USD.