Chatting through WhatsApp is increasingly an option for many. Even for those who are not very fond of new technologies, this form of communication seems to continue to gain popularity in millions.
Now the application is preparing to receive a major update regarding message management.
Your WhatsApp message will be deleted in 3… 2… 1!
Numerous rumors have been associated with WhatsApp in recent times. Now there is one more already to be tested but not yet available.
Apparently, users will soon be able to decide if they want their messages to be deleted after a certain period.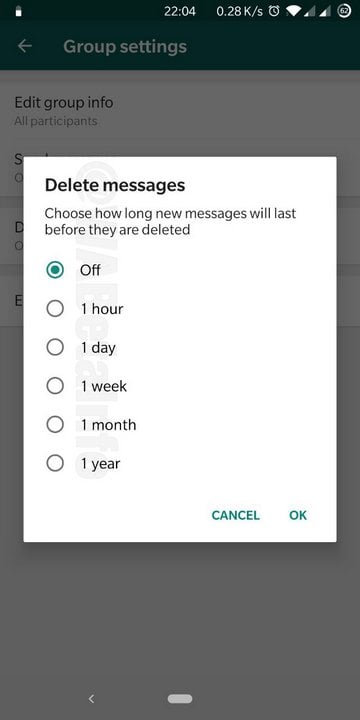 In the trial version 2.19.348 of WhatsApp, you can see through the images now disclosed that in group definitions there is the option "Delete messages" (instead of the previous disappearing Messages). This option will allow you to define how long you want your message to be deleted.
This period may be one hour, one day, one week, one month or even one year. On the other hand, you may choose never to delete. The functionality, however, is only available to group administrators.
So far, it is not known when this option will be available. However, soon it will start reaching more users for testing.
Rumor indicates that the WhatsApp feature of message deletion will arrive as early as 2020.
Account theft protection feature
Besides the feature of deleting messages, the social media network is testing another feature. It has recently been made known that the application will have a new function to protect account theft.
Therefore, whenever someone tries to log in with a user's data, they are sent an alert message. It is no coincidence that this new function began testing shortly after it was announced that it will have simultaneous logins on multiple devices.
Read also: WhatsApp is testing theft alert feature