Headlines
Violent Hurricane Dorian to hit Bahamas today, Florida on late Monday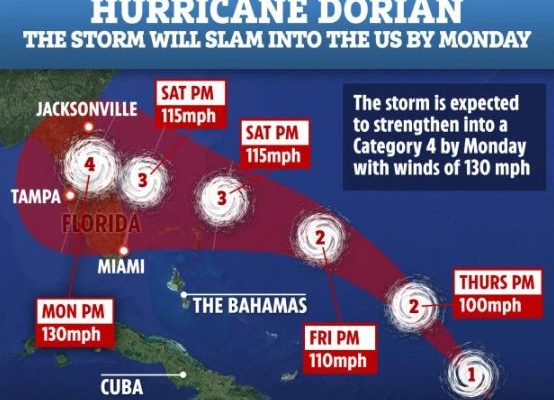 National Hurricane Center said the Cat 4 Hurricane Dorian has sustained top speed winds of 150 miles per hour there had been a change in Hurricane Dorian's path that could overtake Florida but still threaten the southeastern United States. It could also threaten South and North Carolina, including Georgia.
According to the World News Observer, Hurricane Dorian's path predicted by the National Hurricane Center, Dorian will hit Great Abaco in the Bahamas today, and to the Florida coast on Monday evening or early Tuesday.
The latest National Hurricane Center (NHC) advisory has Hurricane Dorian on a collision course with the northwestern Bahamas sometime today and moving near the Florida east coast late Monday into Tuesday.  Still, a Category 4 some fluctuations in intensity likely within the storm, but Dorian is expected to remain a powerful hurricane during the next few days.
Dorian is currently located latitude 26.1N and longitude 73.9W about 150 miles east of Great Abaco in the Bahamas and about 290 miles east of West Palm Beach, FL. The Air Force reconnaissance plane recorded the maximum sustained winds remain at 150 mph (240 km/h).
Authorities in the Bahamas have appealed to residents and tourists to take shelter as time goes by before Hurricane Dorian attacks, warning that reluctance to move can be life-threatening.
"Typhoon Dorian is a violent, dangerous storm that is approaching our islands," Bahamas Prime Minister Dr. Hubert Alexander Minnis said in a live media conference on television.
The Cat 4 Hurricane Dorian with a maximum wind speed of 240 kilometers per hour, is forecast to hit the Bahamas today and bring more than 61 centimeters of rain to some places, said the US National Hurricane Center (NHC).
"Life-threatening storms and heavy rains can cause flash floods in Abaco and Grand Bahama, from Sunday to Monday," the NHC said.
On the direct route, the violent storm headed for the southwestern islands of the Bahamas in Grand Bahama and Abaco.
"I want you to remember: the house, the structure can be replaced. Life cannot be changed," Minnis warned.
He said 73,000 people and 21,000 homes were at risk of storm surge up to 4.6 meters.
"We ask residents along the northern coast of Grand Bahama and north and east of Abaco to move because of the storm surge up to 4.6 meters.