Mobile
450,000 votes for 2018 Android flagship: Samsung Galaxy Note 9 won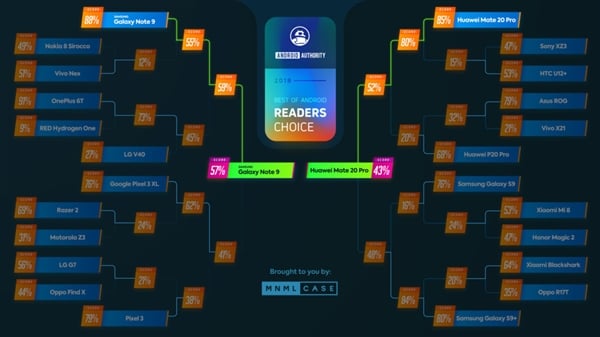 Recently, the well-known technology media Android Authority has taken an inventory of this year's Android flagship, and held a voting showdown, allowing readers to select the most popular models in the 24 Android flagships to determine the Android Authority readers of this year. prize.
A total of 24 models were selected in the voting, including 13 domestic models, which accounted for more than half of the country.
Previously, this vote has already advanced to the finals. Samsung Galaxy Note 9 is against Mate 20 Pro, and both will compete for the readership selection champion.
Recently, the finals have finally ended. Samsung Galaxy Note 9 has won 57% of the votes, while Huawei Mate 20 Pro has won 43% of the votes. Huawei lost Samsung and Samsung Galaxy Note 9 won the championship!
Also Read: Android Authority's Best Android Phone of the Year
The Android flagship of the 2018 that was originally selected by Android Authority was Samsung Galaxy Note 9. The popularity of good products is indeed quite high.
Among them, the Samsung Galaxy Note 9 won the championship and the 6T and Google Pixel 3 XL entered the finals, while the Huawei Mate 20 Pro also defeated the HTC U12+, Huawei P20 Pro and Samsung Galaxy S9+.
The voting Android Authority has collected 450,000 reader votes, which roughly reflects the attitude of foreigners towards the Android flagship this year.