Mobile
Apple official announcement: iOS 12 installation rate has reached 70%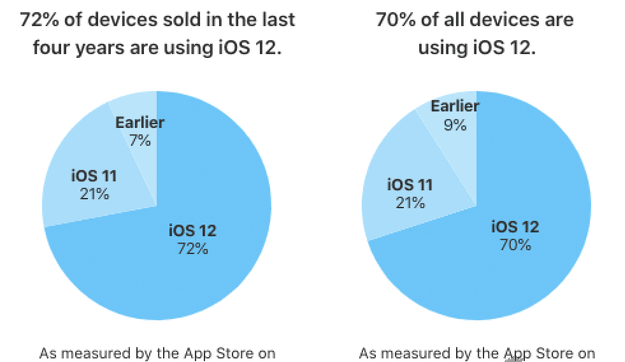 On the morning of December 5, Apple's official data shows that the installation rate of iOS 12 operating system has reached 70%; subdivided into the equipment sold in the past four years, 72% of the products have been upgraded to iOS 12.
The reason why "nearly four years" has been emphasized is that Apple's recent announcement of the installation rate has changed. In the past, the official only said that the installation rate was XX%, but since iOS 12, Apple added a "device installation rate of nearly four years", because too old equipment can not get the support of the new system, it will lower the installation rate.
Also Read: iOS 12 update rate is steadily improving: Apple encourages old users
Since these numbers are based on devices connected to the App Store app store, devices that have never been online or are not bound to an Apple ID are not counted, and the actual installation rate may be a little higher.
But even at 70%, the numbers are already quite amazing, because in the Android camp, fragmentation has seriously led to inefficiency in system updates. At present, the penetration rate of the system Android 8.0 a year ago is less than 30%.
iOS 12 installed more than iOS 11 during the same period. This version of the operating system has greatly improved its speed so that it has washed away the stigma of iOS 11 caused by bugs. iOS 12.1 also adds support for group FaceTime and eSIM cards.