Mobile
Galaxy S10+ performance score, on par with iPhone XS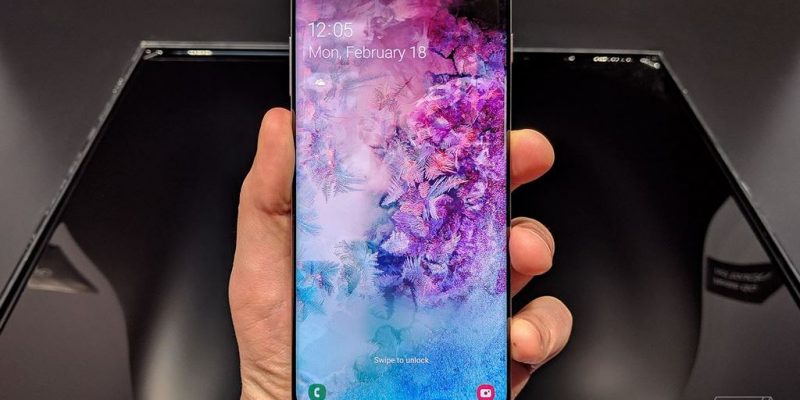 The performance scores of Galaxy S10 + prove one thing only, this is the most powerful Android smartphone on the market. 
Recently, Tom's Guide site has used the demo version of the Galaxy S10 + with Snapdragon 855 processor, 8GB of RAM and 128GB internal memory to perform some famous performance scoring tools. this is the most powerful Android smartphone currently available. The commercial version of the machine is expected to be even more powerful, when the new software is optimized.
Geekbench 4 (Overall performance)
On Geekbench 4, the overall performance score of Galaxy S10 + is 10,732 points, much higher than other Android models like Galaxy Note 9 (8,876 points), OnePlus 6T (8,972 points) and Pixel 3 (7,316 points) .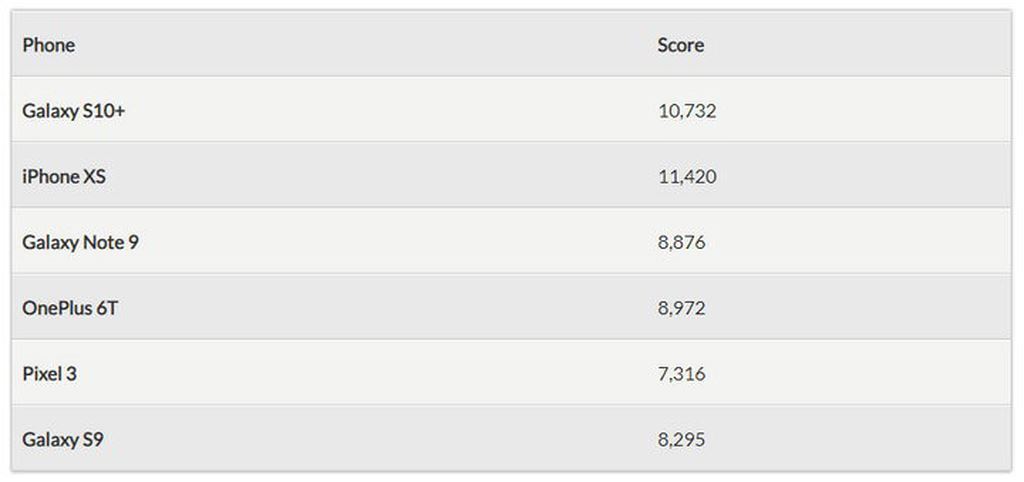 The superiority of the Galaxy S10 / S10 + compared to the 2018 Android smartphone models is mainly due to the Snapdragon 855 chip with 7nm process. When compared to the previous Galaxy S9 running Snapdragon 845 chip, the device only scored a benchmark of 8,295 points. This shows that Galaxy S10 is nearly 30% faster than its predecessor.
However, the Galaxy S10 +'s score is still a bit less than the iPhone XS (with 11,420 points), but there's no denying the Bionic Apple A12 is a formidable processor with a benchmark on Geekbench 4, 11,420 points. Galaxy S10 + has a single core score of 3,521 points while iPhone XS is 4,820 points.
3DMark Sing Shot Extreme (Graphics)
This time, with the latest Adreno 640 GPU with up to 20% faster processing than the previous generation, it partly helped Galaxy S10 + rise to Apple's iPhone XS in terms of graphics processing capability.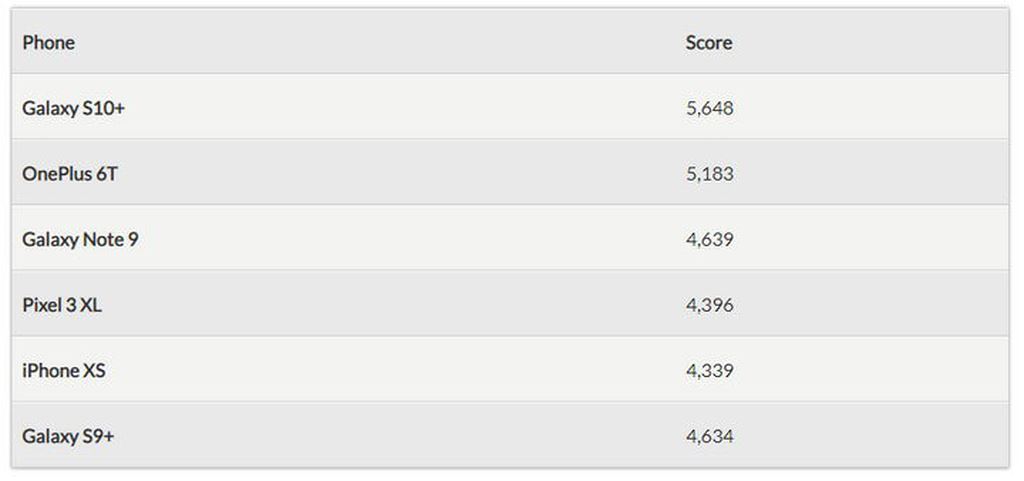 In the 3DMark Sing Shot Extreme test, Galaxy S10 + reached 5,648 points, surpassed OnePlus 6T (5,183 points), Galaxy Note9 (4,639 points), Pixel 3 XL (4,396 points) and iPhone XS (4,339 points).
The graphics processing capability of Galaxy S10 / S10 + is also 20% stronger than the predecessor Galaxy S9 (4,634 points).
Video editing (Clip Adobe Premiere)
Although at the announcement, Samsung revealed that Galaxy S10 / S10 + will be optimized exclusively for Adobe's Premiere Rush video editing application. However, because it is not available on Android platform and only available on iOS, Tom's Guide has not had the opportunity to test and evaluate the processing capability of Galaxy S10 / S10 + on this application.
Instead, Tom's Guide page decided to try the Adobe Clips application to test video processing performance between Galaxy S10 + and Android rivals with iPhone XS.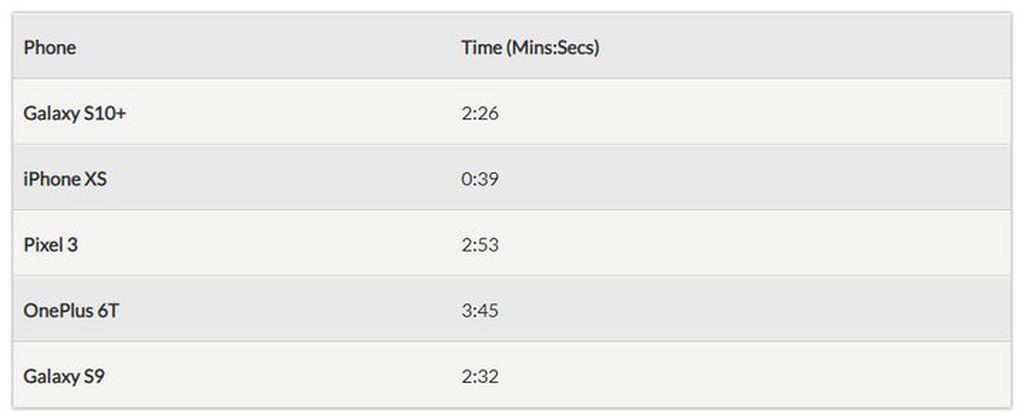 Unfortunately, Galaxy S10 + in particular and Android smartphones in general still can't offset the gap in processing speed compared to iPhone XS.
Specifically, Galaxy s10 + takes 2 minutes 26 seconds to convert a 2-minute 4K video into Full HD 1080p video. The previous video has added filters and some effects. But with iPhone XS and the same settings, iPhone XS only takes 39 seconds to process the video.
Galaxy S10 + is still faster than many other Android smartphones. For example, Pixel 3 takes about 2 minutes and 53 seconds to process the video, while OnePlus 6T is 3 minutes and 45 seconds. Last year, Galaxy S9 could handle the same test in just 2 minutes 32 seconds.
Although not yet able to beat iPhone XS but Galaxy S10 / S10 + has shown, Android smartphones are not inferior to Apple's iPhone. More testing will be needed for both practical features and performance when playing games, taking photos, etc., to know how powerful the reality is.