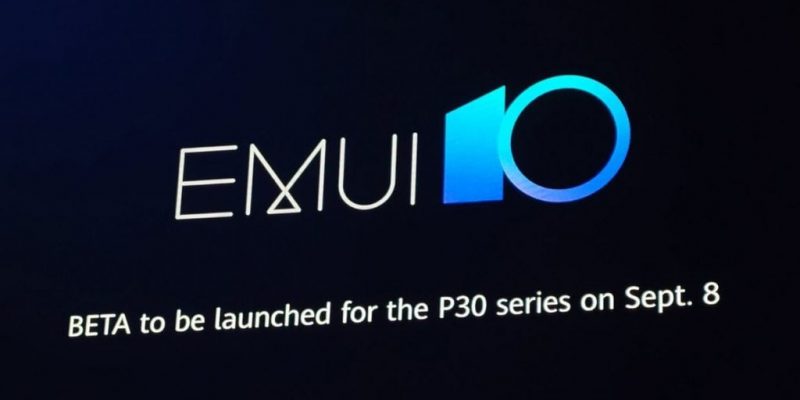 The Huawei Developer Conference 2019 really opened with a bang: after the announcement of HarmonyOS, here comes EMUI 10, the new version of the customized interface for smartphones based on Android Q.
The Chinese giant therefore confirms its love for the green robot, despite numerous rumors about the possible abandonment, also linked to the blocks imposed in recent months by the Trump administration. The Chinese company has therefore announced that the next version of the interface will be based on Android Q, whose official release is now imminent and will be available as early as September.
During the event, Huawei talked mainly about the dark mode, providing other details on the new arrivals. Huawei has opted for a particular color, called EMUI Blue, which will accentuate the text elements, allowing the user to recognize the details.
There will be new possibilities for customization, on models with an OLED screen, for the Always On Display function, with different themes and colored icons. EMUI 10 will continue the discussion related to continuity, even if currently only on the Chinese market, making it easier to move between PCs and smartphones.
Read also: Huawei unveils HarmonyOS: An OS for all devices and as an alternative to Android
The new interface will obviously be faster and more fluid, with a new application compilation technique that reduces the memory occupation in the smartphone. Once again the first beneficiaries will be the Chinese developers, but within the next year the source code of many services will be available, guaranteeing advantages for all.
Devices receiving EMUI 10 
The first devices to receive EMUI 10 will, needless to say, be Huawei P30 and Huawei P30 Pro starting September 8th. However, the rollout will be reserved only for Chinese models, although information on global models is likely to be released at IFA 2019.
Huawei has also announced which smartphones will receive the new version of EMUI over the next few months:
Huawei P30 Pro
Huawei P30
Huawei Mate 20
Huawei Mate 20 Pro
PORSCHE DESIGN Huawei Mate 20 RS
Huawei P30 lite
Huawei P smart 2019
Huawei P smart + 2019
Huawei P smart Z
Huawei Mate 20 X
Huawei Mate 20 X (5G)
Huawei P20 Pro
Huawei P20
Huawei Mate X
Huawei Mate 10 Pro
PORSCHE DESIGN Huawei Mate 10
Huawei Mate 10
Huawei Mate 20 Lite
Obviously the new Huawei Mate 30 series will be launched on the market directly with EMUI 10, confirmed by the Chinese manufacturer during today's event.
During the event HONOR Mobile announced that in September MagicUI 3.0 will arrive, based on Android Q and equipped with the same functions as EMUI 10. The first smartphones to receive the new interface will be HONOR 20 and 20 Pro, HONOR V20 ( HONOR View20 ) and HONOR Magic 2. In the following months MagicUO 3.0 will also arrive on other devices, which will be announced in the coming weeks.