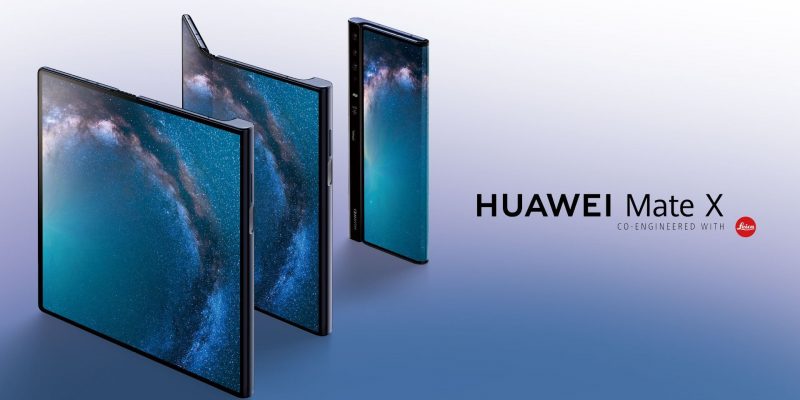 As promised, Huawei Mate X should make its commercial debut in September initially with a limited lot that will grow gradually over the weeks. According to reports, the folding model will be among the protagonists of the awaited Huawei Developer Conference on August 9th in Dongguan, China.
The reason for the limited stocks is that production and assembly lines had to come to terms with a completely new device at a construction level, which required an extra effort to present themselves to the best of their ability on the markets.
The history of this model, also equipped with an integrated 5G module, is well known: presented last February, it was expected in June but it was decided to postpone the launch to make further tests and improve its structure. On the other hand, the fail of Samsung Galaxy Fold was still fresh with the samples for the press that found serious problems and made necessary a sudden braking in the running for the Koreans.
Read also: Huawei Mate X launching in September, Mate 30 5G in December
For their part, the Chinese have instead reserved more time: a wise move, to avoid any setback for this terminal with the particular Falcon Wing design with a completely different opening than the already mentioned Fold. Some minor changes have been identified by the latest photos.
Once opened, it presents an 8-inch screen with a resolution of 2380 x 220 pixels (ratio 8: 7.1), but when folded, Huawei Mate X consists of two displays, 6.6 inches (2480 x 1148 pixels) in ratio 19.5: 9 and a 6.38 inch (2480 x 892 pixel) ratio of 25: 9.
The spec sheet has a Kirin 980 processor with 8 GB of RAM and 512 GB of internal memory, a Balong 5000 modem with a 5G connection (only for a SIM), cameras developed in collaboration with Leica 40 + 16 + 8 megapixels with ultra wide angle and tele, Android 9 Pie operating system with EMUI 9.1.1, NFC modules, GPS, Bluetooth 5.0, 802.11 b / g / n / ac Wi-Fi and USB type-C input. The dual battery offers a capacity of 4500 mAh with 55 W super charge to reach 85 percent in 30 minutes.
The price of Huawei Mate X will be 2290 euros.