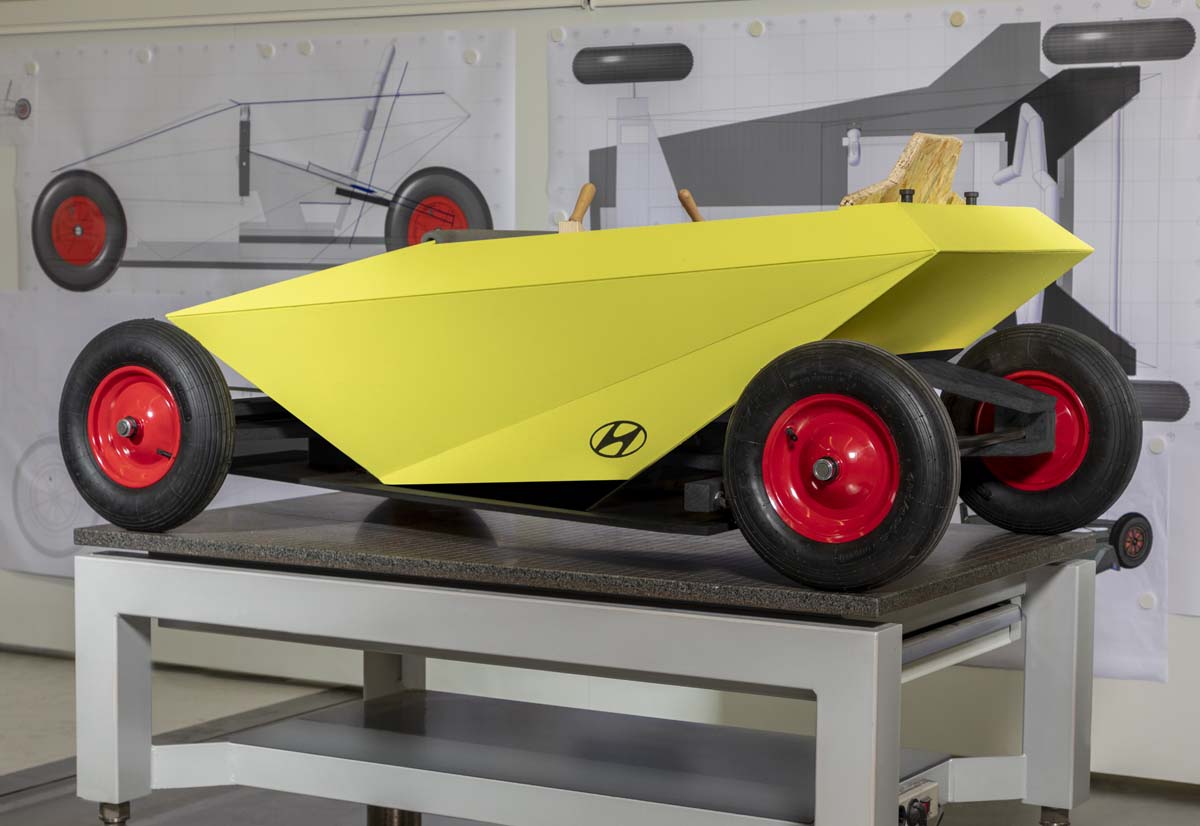 We may receive commissions for purchases made through links on our website. We appreciate your support.

Hyundai has designed a soapbox car, designed to be built by parents with their children and groups of friends.
In recent months, spending time together as a family has become more valuable to people. So we wanted to create a fun project to give families and friends an enjoyable moment that brings them together, explained Andreas Christoph-Hofmann, Hyundai Motor Europes Vice President of Marketing & Product. Obviously the Hyundai Soapbox had to be affordable, so our designers developed it using materials that are easily found in DIY stores.
Hyundai Soapbox is an easy-to-assemble motorless vehicle, conceived and designed by designers and engineers of the Hyundai Motor Europe Technical Center (HMETC) also through the creation of a prototype to ensure the feasibility of the design. The HMETC team made sure to use materials that are easily purchased from any DIY store, while also paying attention to the total cost of the materials to ensure accessibility.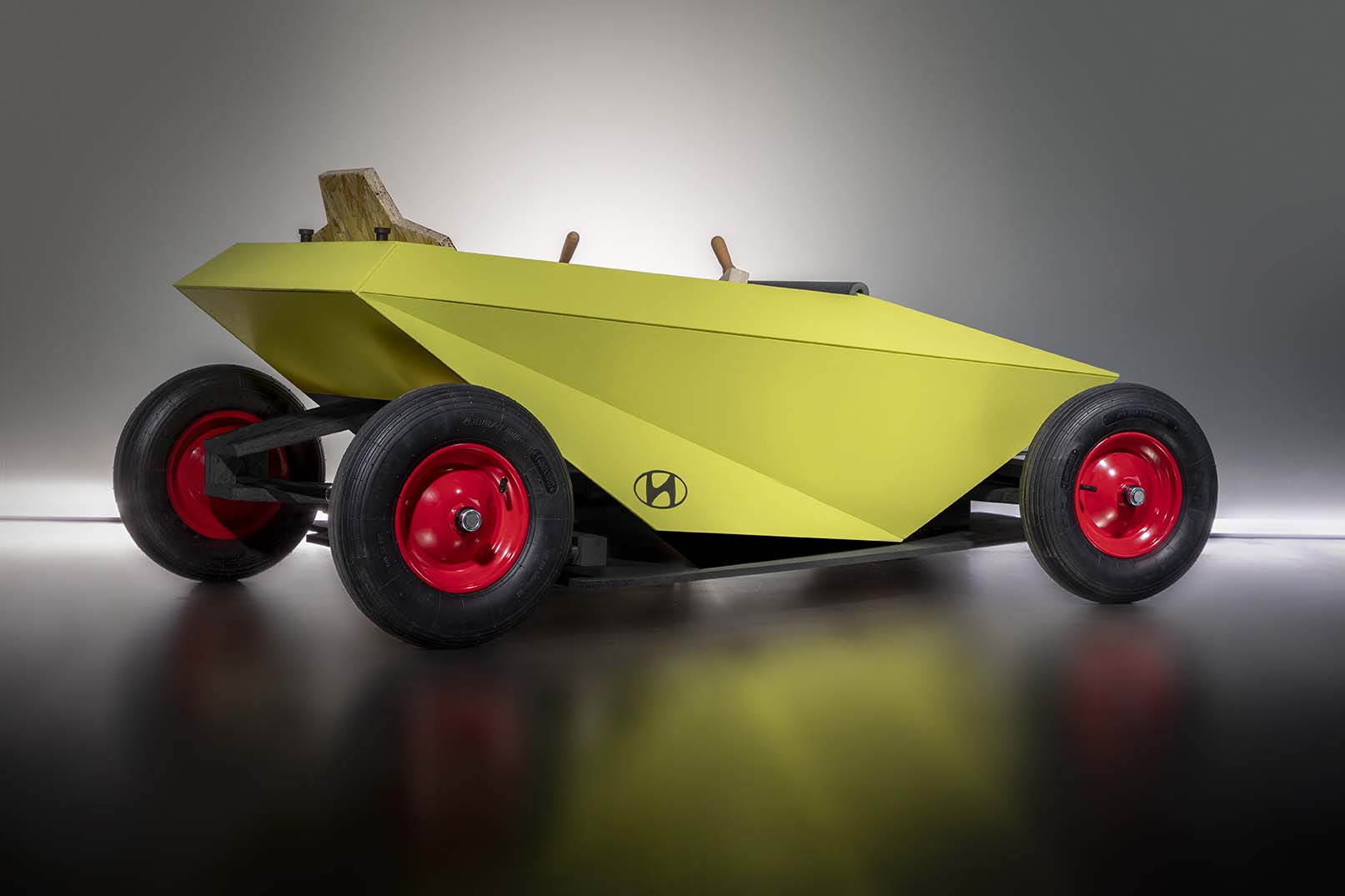 The Soapbox has been designed like a normal car. First, a team of engineers developed the frame; then a team of designers sketched out ideas, first on paper and then via virtual 3D models, to evaluate different designs, choose one and start assembly. Finally, another team worked on coloring and finishes.
During the assembly process, the design team realized that the original model would be complicated to recreate at home: there were double-curved surfaces that were difficult to replicate using common tools and materials, and for this reason, they returned to the table. drawing.
When designing the Hyundai Soapbox, it was important for us to ensure feasibility, commented Eduardo Ramirez, Head of the HMETC Exterior Design Team. We didnt want to embarrass the parents just to keep the original design. So when the project started to get too complex, we had to take a step back to rethink it .
Looking to Hyundai models to find a source of inspiration, the 45 concepts caught the eye for its bold lines, geometric shapes, and its ability to represent stylistic identity. The concept thus provided the general direction and inspired the final design of the soapbox: elements of the Hyundai 45 can be recognized in the surface processing of the body, such as the flat panels and the wedge-shaped silhouette.
This time, the designers created the model through 2D sketches and folding sheets of paper to represent the diagonal intersections of the surfaces, resulting in an angular and geometric look.
The development team wanted the soapbox car to be simple but still demonstrate forward-thinking. For this reason, instead of the traditional steering wheel, the joystick from the Prophecy concept car has been adapted. However, to allow for home assembly, the joysticks were made from ordinary screwdrivers.
The soapbox vehicle is made from wood, metal rods, and connecting materials such as rods and screws, while the wheels come from a wheelbarrow. The model has joysticks for steering and a simple mechanism for braking, and to keep faith with the companys commitment to eco-sustainable mobility solutions, Hyundai Soapbox is made primarily of environmentally friendly materials such as wood and metal. Plus, while built for the size of a child, the soapbox car is capable of carrying the weight of an adult thanks to skillful engineering.
Once assembled, Hyundai Soapbox measures one meter wide and 1.76m long: to allow families to transport it, looking for hills to run it from, it was important that it could be loaded in a traditional car.
You can drive the soapbox up and down a mound, or ride around with two people pushing each other which is what the HMETC team did during testing.
While it would be possible to install some kind of powertrain or engine in it, Hyundai chose not to, in order to keep the prototype a real soapbox at least in this version.
Hyundai Soapbox instructions, available at these links (PDF), are only a basis for helping people get started, but parents and children should feel free to customize it to their own tastes.