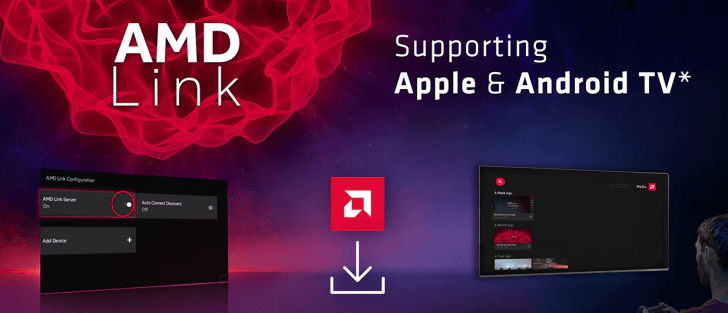 We may receive commissions for purchases made through links on our website. We appreciate your support.

Without any announcement, AMD has updated its AMD Link software to support Android TV and Apple TV. Result: it is now possible to stream PC games on Android and Apple TV.

Owners of AMD graphics card can now update their AMD Link software and download the tvOS or Android TV version of the app, to stream their games on TV.

Read also:Microsoft could use AMD and ARM chips on future Surface
Broadcast your games on TV
Until now, Link allowed to stream games on a smartphone, a tablet or a compatible virtual reality headset. But a recent discreet update of the application now allows to expand the broadcast to living room via Android TV and Apple TV.
The app listing states there are three main sections when used from a TV:
Connect section: connect to your PC quickly and easily to get AMD Link for your Smart TV started
Gaming section: Launch your PC games and stream them to your Smart TV, or view recent media
Media section: playback gameplay moments saved on your PC
Features slightly less developed than smartphone or tablet. AMD Link makes it possible to monitor the performance of its AMD graphics card from phone.