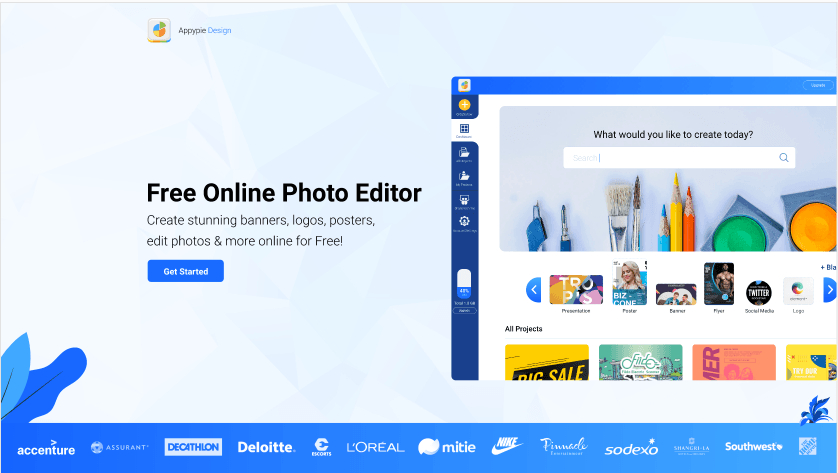 We may receive commissions for purchases made through links on our website. We appreciate your support.

Photo editing tools are used to enhance and manipulate images. Images and photos can be used in multiple ways for personal and business use hence, an increasing number of businesses are looking for ways to repurpose and use them on multiple channels. Businesses edit catalogs, posters, banners, etc. and display ads on social media to convey the intended message directly to their customers. To get this done right, they use various photo editor software available online. Appy Pies Photo Editor is one of those popular photo editing tools. In the article further, we will talk about the tool in detail. First, let us get familiar with the term Photo Editing.

Photo editing is a process of altering images whether they are raw or digital. The process is just not about making people skinnier, younger, or more beautiful but it is an art of creation of images with meaning and purpose. Photo editing helps develop the photographers artistic sense. There are various other terms that we can use for photo editing. Here are a few.
Post-processing
Image editing
Photo/Image manipulation
Photo/Image enhancement
Photoshopping
Image editors make the obvious corrections to fix the image and add more meaning to it. Sometimes these changes are deep, sometimes tiny, depending on the experience, the luck, and the rigor of the photographer.
Photo Editing Techniques
There are different photo editing techniques that can be divided into two categories Simple and Complex.
Simple photo editing techniques include-
Color adjustments: changes in the colors of an element or item
White balance: lighting in the image
Resizing and cropping: adjusting the dimensions
Color Contrast: higher or lower
Noise reduction: reducing the pixel size
Exposure: the brightness of the photo
Background removal: isolating the subject and deleting the background
Lens correction: fixes issues with the camera lens
Complex advanced techniques include-
Special effects: adding animation or weather elements like fog or snow
Clipping paths: extracting an element or subject
Portrait corrections: fixing the complexion of people in images
Photo stitching: putting two images together to make them look as if they were shot that way
Drop and reflection shadow: adjust or create shadows
Adjusting text and visuals: add screens or manipulate whats already there
Photo masking and Layers: the process of revealing and hiding specific portions of an image
You can execute the simple photo editing techniques easily and quickly all by yourself. On the other hand, for complex techniques, you need a photo editor software that is more evolved. I would recommend Appy Pies Online Photo Editor Software among all those that are available online.
Appy Pies Photo Editor
Appy Pies online photo editing tool comes with a wide range of effective features and various advanced editing methods that you can use to make your images more expressive. It is an excellent tool for users with little to no experience with photo editing.
The tool contains numerous amazing features such as image cropping, adding graphics and text to photos, photo enhancer, photo sharpener, etc., that make it different from other photo editing tools.
The real beauty of an image lies in the work done after clicking it. Appy Pies photo editor allows users to sharpen or blur certain parts of the images as per their requirements. It allows users to add text to photos to add more value to them. The tool changes the overall impact of an image by balancing its brightness, saturation, and contrast. Appy Pies photo editing tool also helps users to create and edit large size images such as posters, banners by adding graphics to them.
Why Appy Pies Online Photo Editor?
Appy Pies photo editor can make even the most common pictures look amazing. It helps in making the pictures more memorable. Using Appy Pies online photo editor, there are plenty of things that you can do to make your pictures look more meaningful and attractive such as sharpening photos, adjusting brightness and contrast, changing and correcting colors, retouching, cropping and many more.
Appy Pies photo editor helps users add various effects to the images that make them look unbelievably different. Using this tool, you can try doing fun things with your photos, even when you are at home. For example, using Appy Pies photo editing tool-
You can add colors to your old black and white photos
You can make a simple landscape look alive with the colors of paradise
You can make the man next door look like a Hollywood star
You can make any event look more fun and vibrant with photo editing
Appy Pies photo editor can also be very helpful when editing images for business purposes. If you are running a business online, it is necessary to edit the images before you post them on your eCommerce sites. The most common part of eCommerce marketing is a products photograph. Customers like to see what they are going to buy. If a product photo doesnt attract customers attention, it will directly impact your sales. Beautiful images of products help eCommerce sites in keeping their users engaged.
Appy Pies Photo editing tool helps businesses make photos appealing and engaging for their customers. It helps remove the unwanted background elements, add shadows to the objects, corrects the color contrast, and uses various other tricks to get desirable results.
The importance of image editing has proven to be a powerful strategy in the world of e-commerce. This service allows businesses to transform a mundane image into something worth a second look. It improves the products marketability to increase the branding and ranking of a website.
Appy Pies online photo editor is the perfect tool to help you make the right changes to your images to make them more valuable and attractive for your customers. It gives you the ability to edit a products photo to be rotated to any degree and in any direction, create mirror images that can be horizontally or vertically flipped, and crop the rotated images, to remove the extra gaps around the edges.
If you want to make your images more effective and meaningful, go for Appy Pies online photo editor today! Appy Pies Photo editing tool can bring any image to life!