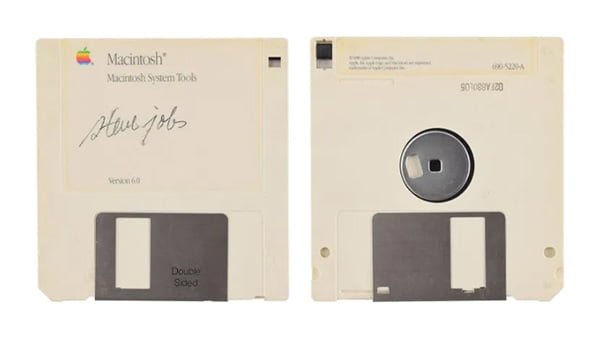 We may receive commissions for purchases made through links on our website. We appreciate your support.

A floppy disk which contains Macintosh is currently on sale at an auction and it is expected to reach final price of $8800. Its peculiarity is that in the front there is the signature of Steve Jobs, the late Apple co-founder, and this increases its symbolic value out of all proportion.

The floppy disk in question contains Macintosh System Tools 6.0 software. That dates it to around 1988. The disk is especially valuable, RR Auction claims, because Jobs was not a prolific autograph signer.

The last offer is $8,000 but, according to the description on the RRAuction auction site, the estimated value of the piece is $8800.

It is a museum piece of computer history and this increases the price. The auction started at $1,000 and 12 bids were made, with the next one coming in at $8800. The auction will close on December 4 through what is called the 30-minute rule: starting from the date each offer will start a 30-minute timer, after which the piece will go to the last bidder.

The exaggerated price for the floppy, however, should not be surprising. Last August a poster of Toy Story signed by Jobs was sold for over 30 thousand dollars, and even before that a commemorative plaque signed by the co-founder Apple was evaluated 15 thousand dollars. There were also other absurd auctions starring Jobs signature, like a copy of Mac world bought for almost $50,000 in 2018 and, in the same year, a job request handwritten by Jobs was sold for $174,000.