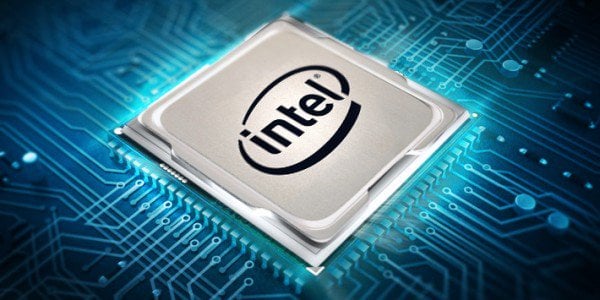 We may receive commissions for purchases made through links on our website. We appreciate your support.

Ice Lake offers an 18% higher IPC than Skylake. During todays conference at Computex 2019, Intel unveiled its family of Ice Lake mobile devices. The company announced that their production is in full swing, and partners have already received the first batch of chips. Soon on the market we will be able to see the first notebooks equipped with 10th generation Core units.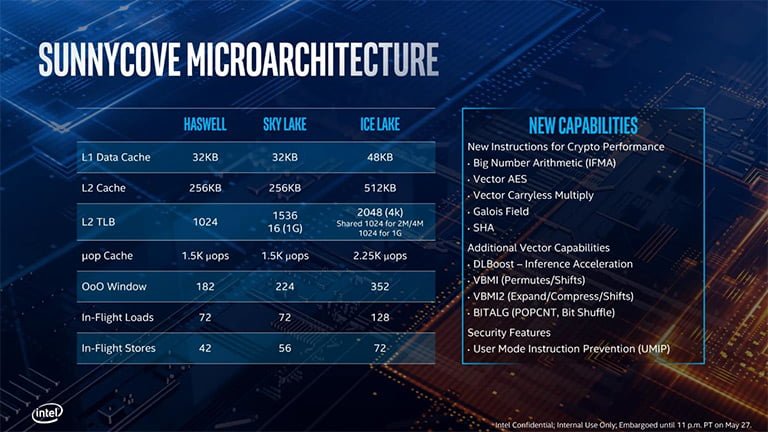 Intel claims that with the help of the Ice Lake series breathes new life into the segment of mobile computers.The new chip family offers disputes of improvements and innovations compared to previous generation units.Mobile devices that are not equipped with them are to be even more efficient and should run on battery power for even longer.Lets start with significant changes in the architecture and construction of the chips, because these have a noticeable effect on performance.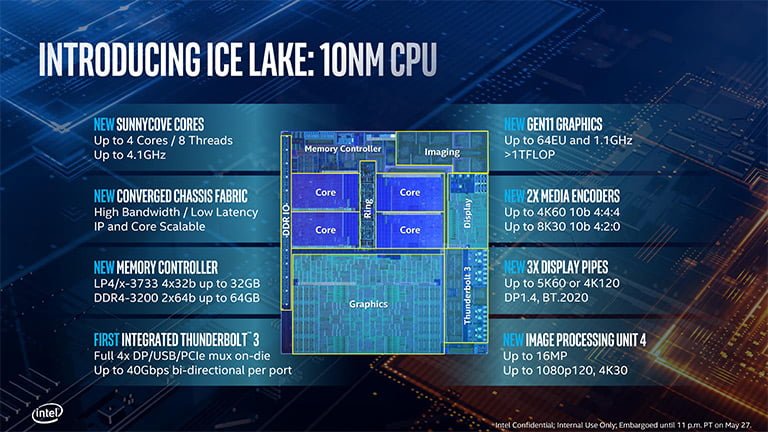 In Ice Lake, the Data Cache CPU capacity has been increased from 32 KB to 48 KB, and the amount of L2 cache memory doubled, thanks to which it has 512 KB on each core. As for the L3 cache memory, we can only expect up to 8 MB. In each system we can spot up to four Sunny cove cores, clocked up to 4.1 GHz. Two memory controllers were also used: LPDDR4 / x 3733 MHz with support for 32 GB RAM and DDR4 3200 MHz with support for modules with a total capacity of 64 GB. In the chip itself, the Thunderbolt 3 controller was also integrated for the first time and the new Gen 11 graphics were used.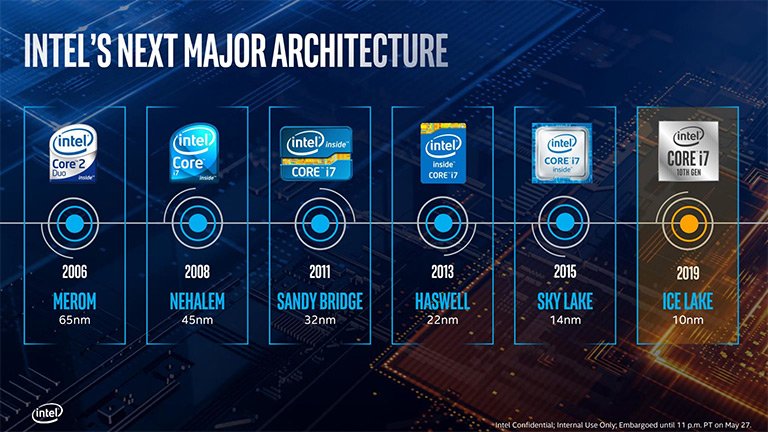 The latter provides up to 64 EU, regardless of whether we choose the processor from the series Ice Lake-U, or Ice Lake-Y.The maximum clock speed is 1100 MHz, so the new Intel iGPU is the first in the companys history, whose performance exceeds 1 TFLOPS and is specifically 1.12 TFLOPS in the calculation of single precision and 2.25 TFLOPS in the calculation of FP16.So its a level similar to the GeForce MX150 system, so that the unit should allow to play even the newest games, although of course with properly selected image quality settings.The graphic layout has 3 MB of L3 cache memory and 0.5 MB of shared rasterizer memory.It is also the first Intel chip that is fully compatible with Adaptive-Sync.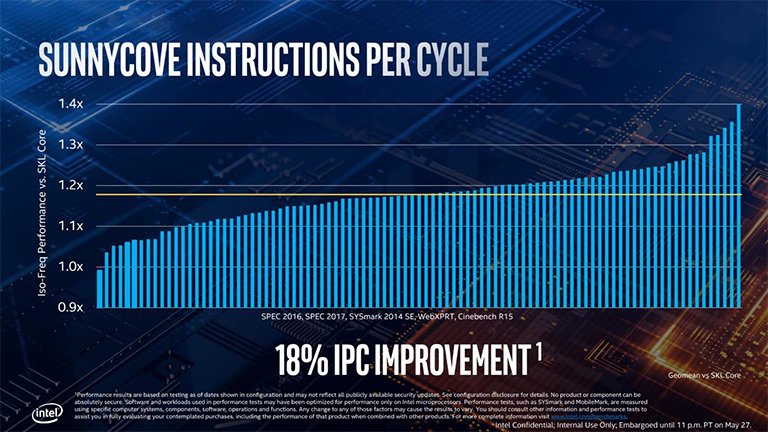 The processor integrates two new HEVC and VP9 multimedia encoders that enable content playback in 4K at 60 fps, a 10-bit color palette and 4: 4: 4 chrome, or in 8K at 30 fps, 10 bit pallet and chrome 4: 2: 0. Updated set of video outputs to support 4K screen at 120 Hz or 5K at 60 Hz. Compatibility with DisplayPort 1.4b HBR3, eDP 1.4b HBR3 and HDMI 2.0b has not been forgotten. The producer also boasts compatibility with the BT.2020 space and HDR10 hardware support, which is to guarantee high quality of HDR content.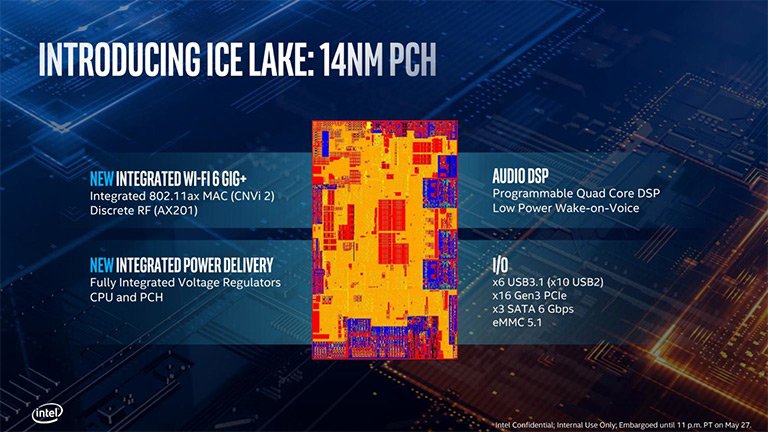 The complement is the image processing module with IPU4p, 16 Mpx resolution, supporting up to four cameras with the ability to record video in 4K and 30 frames / sec.All changes introduced in the very construction of the processor are to guarantee an18%increase in IPC compared to the Skylake family, which was presented in 2015.According to Intel, this is the biggest improvement since the introduction of the Meron family (Core 2 Duo).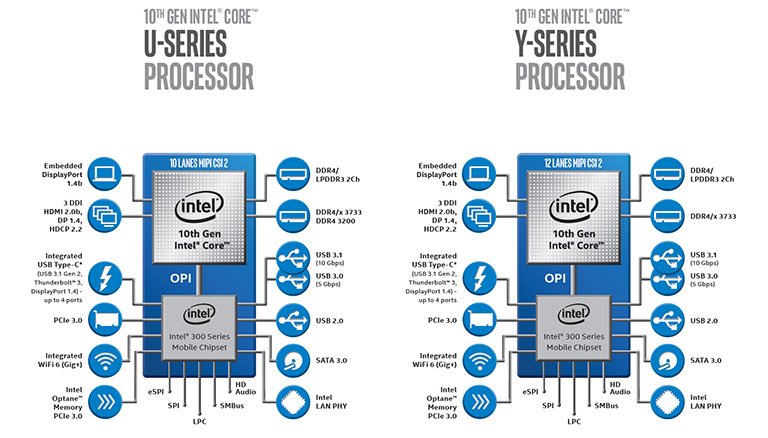 Together with the Ice Lake processors, a new logic circuit, produced in the 14 nm process, also debuts.It introduces an interestingly designed integrated voltage regulator for the CPU and the chipset itself.In his case, the Intel Dynamic Tuning 2.0 technology was used, based on machine learning, which allows better management of the chip within the power limit.The prediction of loads is supposed to maximize the efficiency of the chip according to the blue ones.
The chipset integrates a Wi-Fi 6 wireless controller that is compatible with CNVi 2 modules, and a quad-core audio signal processor that guarantees compatibility with Wake-on-Voice computer awakening technology.Depending on whether you choose a laptop from Ice Lake-U or from Ice Lake-Y, the chipsets capabilities in terms of available interfaces are slightly different.In the first case, the user has access to three SATA 6 Gbps ports, 16 PCIe 3.0 lines, which can be distributed between up to six devices, and ten USB 2.0 ports and six USB 3.0 / 3.1 ports.In the case of Ice Lake-Y, the number of SATA sockets is only a maximum of two, there are also 14 PCIe 3.0 lines for five devices and six USB 2.0 and 6 USB 3.0 / 3.1.Schemes of available Ice Lake platform interfaces can be checked on the attached graphics.
Core i3, Core i5 and Core i7 chips will be in the market, offering up to 4 cores and 8 threads. In this respect, nothing will change compared to Whiskey Lake. The systems are available in different versions with TDP 9 W, 15 and 28 W. Blue claims that the first products with their chips will be presented soon.