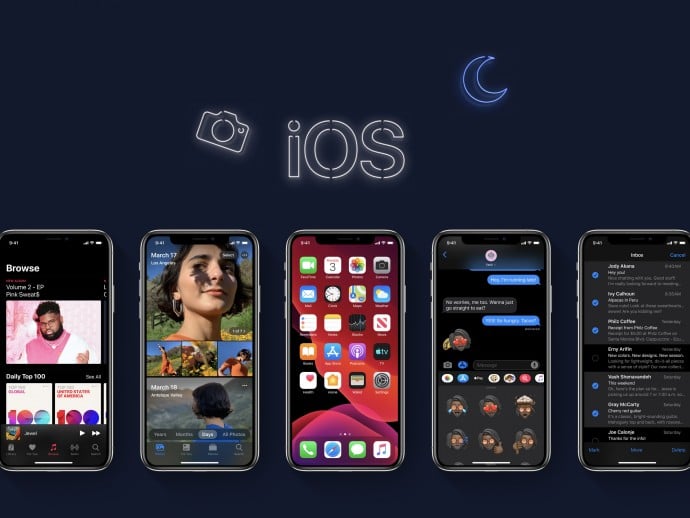 We may receive commissions for purchases made through links on our website. We appreciate your support.

In addition to the new iPhone models, Apple also just announced a release date for iOS 13. The extensive update with Dark Mode, new Photos feature and the revised Reminder App will be released on September 19th, just before the new iPhones. But before you start the download in the coming week, we would like to introduce the new operating system for the iPhone again.

Apple separated this year the software for iPad and iPhone.While the iPhone continues to receive iOS updates, the iPad will soon be getting iPadOS as a new operating system. Basically, everything stays the same with the iPad receiving some special features, as it did in the past. iOS 13 is thus a slightly slimmed down version of iPadOS. This is not a bad thing, as Apple can thus focus better on the strengths of the respective devices. In the case of iOS 13, there are even many new features to discover.

iOS 13: The dark mode
For years, it has been speculated that Apple is working on a dark fashion for iPhone and iPad. While an operator assistance already pointed in this direction, one introduces the real dark mode with iOS 13 and iPadOS. This dips the entire user interface in a dark color image and can even change the background accordingly. While Apples apps are already fully compatible, third-party vendors will also be making adjustments in the coming days.
Improved privacy
Apple placed great emphasis on the topic of privacy when introducing iOS 13. The update therefore brings more transparency for access to your location through apps and at the same time reduces the tracking by websites in Safari. There will also be more protection for HomeKit cameras. Apple allows developers to select an existing iPad as a control center, which is to take over the person recognition and other features of the services of the provider and acts as a local solution. At the same time, the video data can be saved in iCloud. Apple spent a lot of time at the WWDC for the feature sign in with Apple, which should offer an alternative to Facebook or Google login. On request for each login an individual e-mail address is created.
Read also:iPhone 11 Pro Max: Price, Specification, Release date
The new reminders app
This is based strongly on comparable task managers and yet remains true to its minimalist roots. The app comes with numerous simplifications and quick access to new splendor and also offers smart lists that show you planned, todays or marked tasks clearly. A new access bar also makes it easy to insert times, dates, locations, tags, photos, and even scanned products.
Apple Maps
Apple sent numerous planes to collect new data. The vehicles took additional photos, so that Apple will provide their own alternative to Google Street View with iOS 13. Apple calls this, look around and is initially available only for Apples native Bay Area.
In addition, you can also create lists of favorite places, plan holidays and quickly share them with friends.If thats not enough for you, you can now also save home, work and favorite places as favorites.These allow a quick route start and can be shared with selected people with the likewise new feature Share arrival time.For example, if you associate Home with your partner, they will receive an iMessage with information about your arrival at the start of the navigation and will be notified automatically if they are late.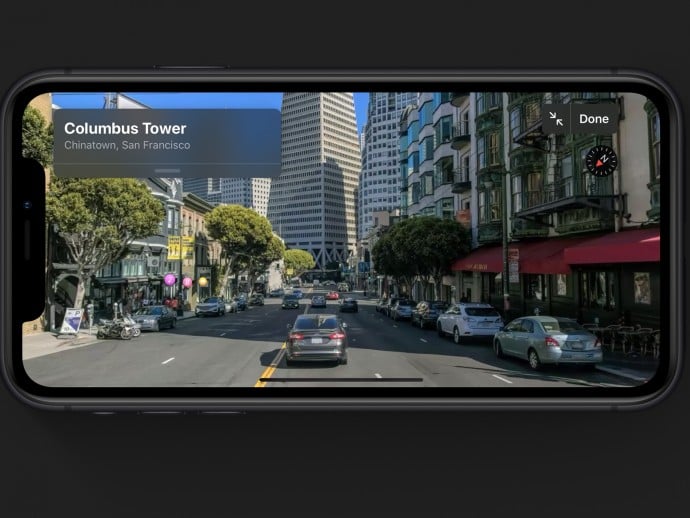 iMessage: Memojis for all
After the introduction of the Memojis last year, Apple improves significantly with iOS 13 the customization options.In addition to new hairstyles, you can now buy headgear, accessories such as AirPods and earrings as well as make-up.However, to ensure that all users enjoy the Memojis and lovingly designed Animojis, they will now be available as sticker packs in the Emojis menu.
Read also:iPhone 11 officially announced: Dual camera, Six Colors Priced $699
However, a small but practical feature is also to be discovered off the beaten track.iMessage allows you to send your name and a profile photo under iOS 13.You can define both individually and can also be deactivated.Gone are the days of Hey, its me .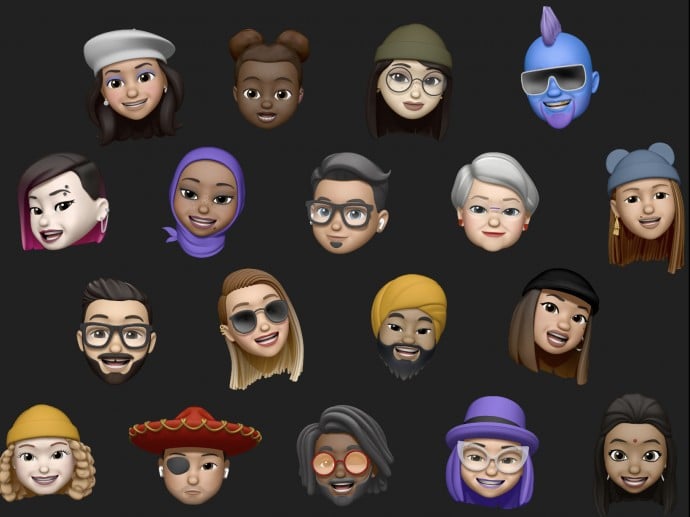 QuickPath: A new keyboard
SwiftKey and other alternative keyboards have enjoyed great popularity for years.Especially the strike keyboards make one-handed writing a breeze.iOS 13 integrates wiping directly into the system keyboard, eliminating the need for third-party keyboards.Try it and swipe from letter to write words. In Settings> General> Keyboard you can deactivate the Tap for tapping option at any time.
Photos app: new ways for videos
iOS 13 brings again a new photos view, the images automatically assigns to days, events and places, highlighting specific shots targeted. This will also make your portraits shine. But this can also be due to the new High-Key Mono stage light, which gives a monochrome look. In addition, it is now possible to adjust the light intensity of the portrait mode.
In the view and the new portrait features, however, Apple did not stop and redesigned the photo editing.Almost all tools and effects are now also available for videos that can be cropped, rotated or automatically improved.In addition, the original version is always backed up.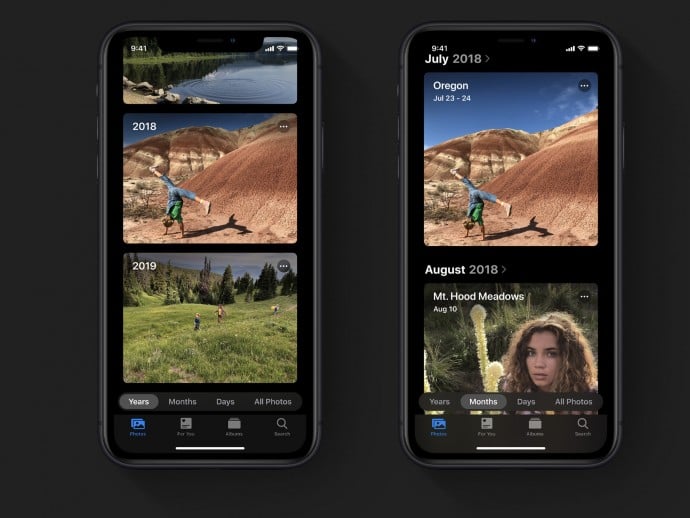 AirPods, HomePod and CarPlay
Apples mobile operating system does not end with the iPhone, but is also the basis for the AirPods, HomePod and CarPlay.The AirPods receive a useful innovation.If you receive a message soon, then Siri will read the message to you immediately and you can reply directly.According to Apple, this works with all messaging apps that use Siri Kit.In terms of music playback, it also makes it possible for music to be shared, so you can listen to the same song at the same time.
The AirPods are of course more on the go. When you come home, you can also use iOS 13 to pass the current playback to your HomePod. To do this, when you arrive home, you will be holding your iPhone near your HomePod and the audio will start playing on the HomePod. Leave your home, then you can just take along the current playback in the same way.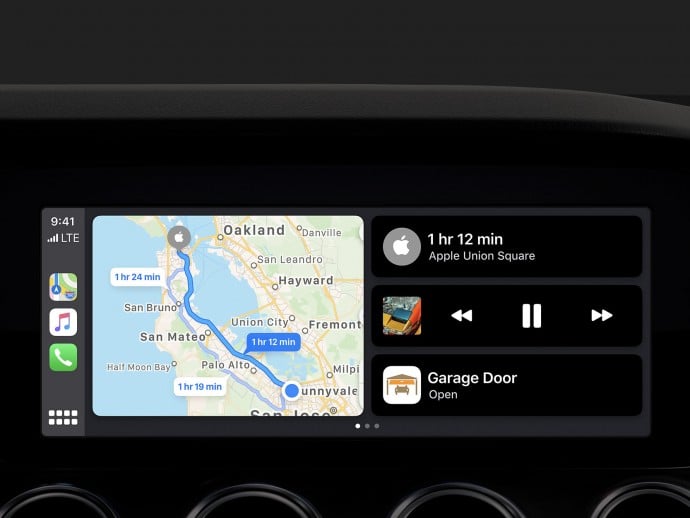 The HomePod is even better with iOS 13.This includes the playback of local radio stations as well as user profiles.The Smart Speaker is to recognize voice profiles and thus messages, reminders and calendar data can assign specific people in the household.
CarPlay gets iOS 13, the most comprehensive update since its launch five years ago. The most noticeable is the new dashboard. This will show you the map, music playback, calendar, and even Siri shortcuts in one place, so you can keep an eye on everything at the same time. In addition, there is now a settings app in which you can also choose a bright appearance. Users should also be pleased that now CarPlay and the iPhone work independently. In concrete terms, this means that CarPlay will no longer jump from the map app to the music app if your co-driver wants to pick new music on your iPhone.
These devices are supported
iOS 13 will be released on September 19th. The list of compatible devices is particularly long this year. iOS 13 can be installed on the following devices:
iPhone 6s / iPhone 6s plus
iPhone 7 / iPhone 7 Plus
iPhone 8 / iPhone 8 Plus
iPhone X
iPhone XS
iPhone XS Max
iPhone XR
iPhone SE
iPod touch (7th generation or newer)