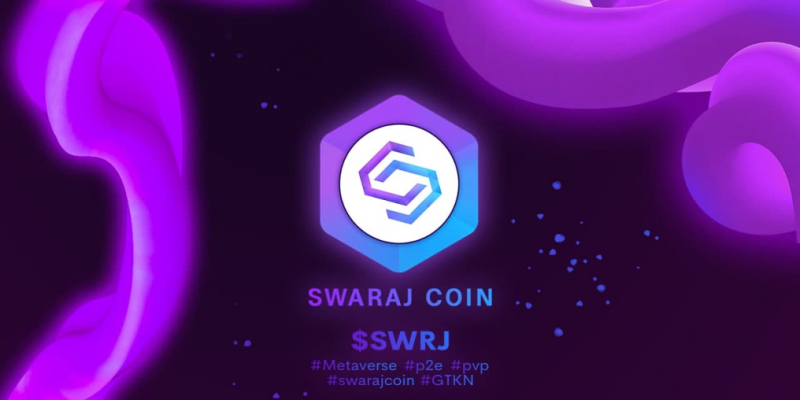 Swarajcoin is a community-driven Metaverse initiative that is centered around the idea of self-governance. Hosted on the Polygon network, this Metaverse initiative provides its users with endless creative freedom. The Swaraj Metaverse allows users to link their real-world products and services and provides the ultimate immersive player experience. 
Today, we'll be taking a deep dive into Swarajcoin and its Metaverse. We'll look at why you need to invest in the Metaverse today and how Swaraj may just be the perfect option for you. Let's explore. 
What is Swarajcoin?
As aforementioned, Swaraj is all about your creative autonomy. Swaraj's Metaverse will allow users to utilize it for commercial and personal uses, monetizing their creations on a secure blockchain network. Swaraj will enable users to interact and conduct transactions with a global community, including allowing you to reclaim authority over assets and sell or lease items to others. 
The Swarajcoin ($SWRJ) is the primary utility token to be used within the Swaraj Metaverse. The vision for Swaraj is that users will use this in combination with non-fungible tokens to maintain creative freedom over their digital assets and trade, buy, sell and earn within the Metaverse. 
Swaraj is truly a multi-utility platform to keep your eyes on, as it promises a vibrant ecosystem with plenty of personal and commercial applications. Swaraj hopes to continue the mission of the world's first cryptocurrency, Bitcoin, which was developed to support self-governance. 
Investors should take particular interest in Swaraj due to its profitability. There are multiple ways to earn with the Swaraj Metaverse, including Swarajcoin, NFTs, digital assets and other transactions. Swaraj's Metaverse also offers a stellar rewards system that will encourage investors and keep things within this Metaverse varied. 
Why you need to invest early in the metaverse:
Every day, we move closer towards the Metaverse becoming a reality. Big brands like Disney, Meta and Microsoft are all jumping on the Metaverse train, and getting in early as an investor is a surefire way to maximize your profits. 
Metaverse real estate, stocks, tokens and more are becoming attractive investment opportunities for those looking to cash in on the Metaverse early. Decentraland and other large corporations have already started auctioning off digital real estate in the form of non-fungible tokens (NFTs), which allow investors to collect a range of unique items.
Swaraj offers you a unique opportunity to begin building your Metaverse wealth within a decentralized ecosystem and offers free-to-play metaverse games that allow you to build wealth in real-time. Swaraj is the culmination of many avenues of digital investing and will allow you to create a collection of digital assets.
Savvy investors want to get ahead of the crowd, and buying Metaverse land now before it becomes prolific is an excellent investment for those looking to maximize their profits. If you want to get started in the Metaverse, look no further than Swaraj.