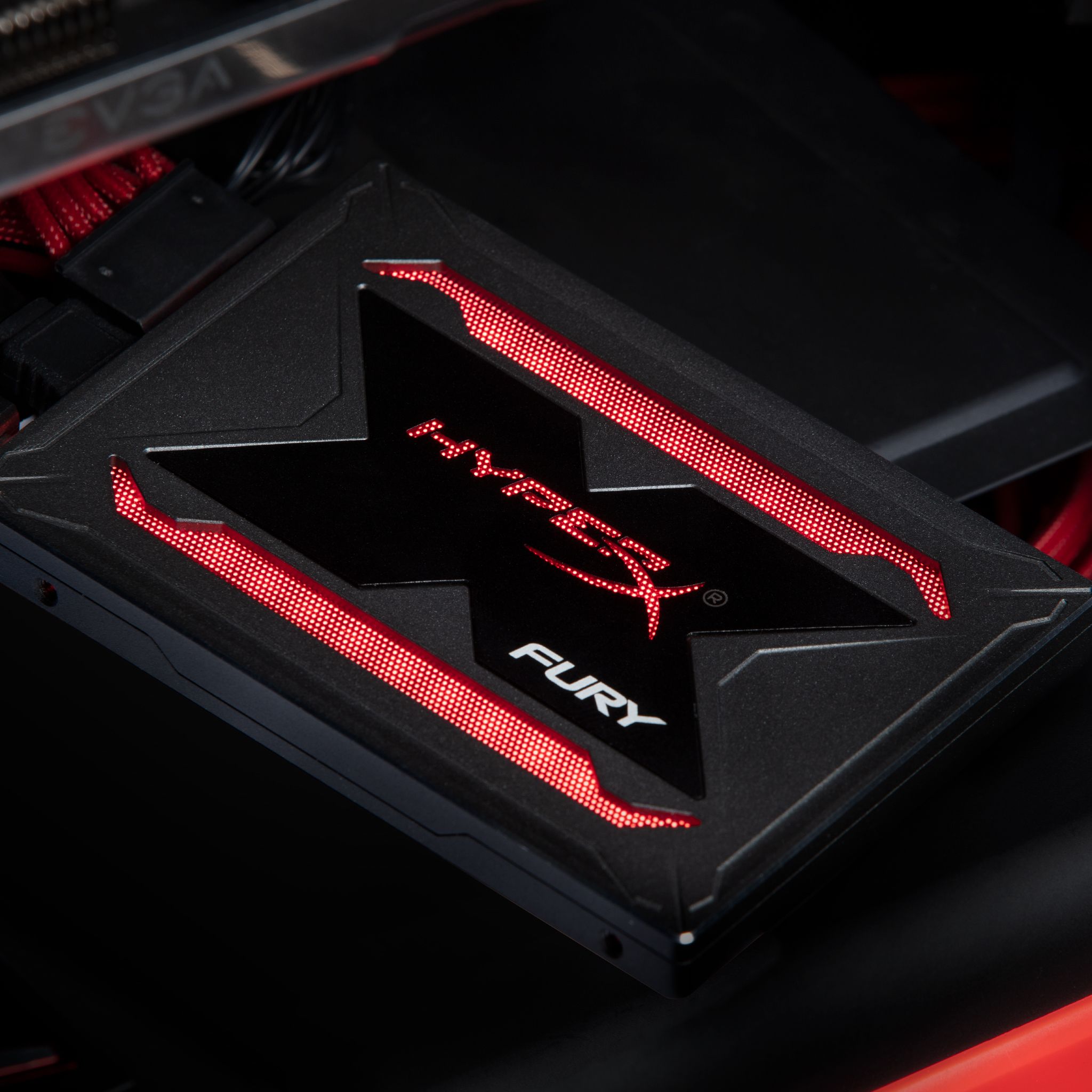 We may receive commissions for purchases made through links on our website. We appreciate your support.

At the beginning of this year, SSD HyperX Fury 3D appeared in some stores in Russia and Ukraine.The new models, although they have a consonant name with the previous series of Kingston Fury RGB drives, actually have little in common with it, which we will discuss further below.Moreover, as the company itself claims, the almost imperceptible release of this model is connected with the fact that it wants to evaluate the reaction of customers to the possibility of a new product before offering it all over the world.That is, our region has become experimental for running this model, because even on the official sites of Kingston and HyperX we cannot find a page dedicated to it.Well, lets figure it out, what are the pros and cons of the 240 GB SSD HyperX Fury 3D, lets go.
SPECIFICATIONS

Model: Kingston HyperX Fury 3D 240 GB (KC-S44240-6F)

Form factor: 2.5

Interface: SATA III 6 Gb / s

Volume: 240 GB (223 GB available)

Controller: Kingston CS4341AA (SMI SM2258XT)

Memory Type: 3D TLC Micron 8UA2D NW912

Read / write speed: up to 500/500 MB / s

TBW: 80 TB

MTBF: 1,000,000 hours

Work temperature: 0 + 70 C

Dimensions: 100.2 x 70 x 6.7 mm

Weight: 40 g
APPEARANCE
In my hands, the SSD HyperX Fury 3D with the code number KC-S44240-6F, fell without packaging, and the appearance of the drive left much to be desired.For this we must say the previous reviewer, who tried to fame.However, if you look at the sites of stores, you can see that the new drive comes in a small blister the traditional packaging for Kingston drives.In addition to the drive itself, it also comes with a small HyperX branded sticker and a frame that is glued to the drive in order to increase its thickness to 9.5 mm.
The drive itself has dimensions of 100.2 x 70 x 6.7 mm with a weight of only 40 grams and refers to thin SSD drives with a thickness of up to 7 mm.
The design of the model was made in the style of the first HyperX Fury SSDs, which appeared five years ago and were based on the then popular SandForce 2281 controllers.
On the front there is a small sticker that shows the model name, serial number, volume of the drive and other technical information.The back side is a solid aluminum surface, painted with powder paint, so that the surface is slightly rough.The power and interface connectors of the SATA interface are located in a familiar place, there is nothing unusual here.
Time to look inside.In order to open the drive, which by the way invalidates the warranty, it is necessary to unscrew the four Torx 6 screws with a pin in the middle, located under the sticker on the front panel.This type of screwdriver is rare, but the screws can be unscrewed with the usual narrow slot, but apparently the previous surveyor, went the way after us even the flood and completely licked all Torx to a cylindrical state.
DESIGN FEATURES
Inside the case, there is a very small board on a blue textolite, which occupies half of the internal space.It contains four memory chips, a controller and SATA connectors.If the recently released Kingston Fury 3D RGB uses a Marvell 88SS1074 controller, then the branded Kingston CS4341AA controller is installed in this model.
Since Kingston itself does not manufacture controllers, as well as memory chips,SMI SM2258XT ishidden under this label.- a fairly common controller, which can be seen in many inexpensive SSD-drives.By itself, SMI SM2258XT is based on a single-core 32-bit RISC processor, which uses four channels to work with an array of flash memory.It also supports SLC caching and LDPC ECC (NANDXtend) error correction technology used to extend the life of memory with TLC memory cells.In addition, it also has a bypass mode for working with memory directly, without buffering from the SLC cache (Direct-to-TLC).Thus, even when the SLC cache overflows, in case of simultaneous saving of large amounts of data, write operations can be performed at a higher speed and not have such a strong degradation under high load.
In a compartment with a controller, four 32-layer TLC Micron 8UA2D NW912 3D memory chips are installed in the drive, which can also be found in low-cost SSD drives.In general, the filling of stars from the sky is not enough, but to create a not too expensive SSD model, you need to sacrifice something, so check it out.
TEST STAND
Testing drive HyperX Fury 3D was carried out on the stand of the following configuration:
Intel Core i7-4770K processor;
Intel DZ87KLT-75K motherboard based on Intel Z87 Express chipset;
8 x 2 GB DDR3-1600 RAM in dual channel mode;
system drive SSD Intel SSD 520 Series 240 GB.
Microsoft Windows 10 64-bit operating system
The paging file and hibernation mode at the time of the tests have been disabled.On the SSD under test, a logical partition is created that occupies the entire available disk space, with the NTFS file system and standard settings.The following utilities were used to measure performance:
CrystalDiskMark 6.0.2 x64;
AS SSD Benchmark 2.0.6821;
AIDA64 Engineer v5.98.4832.
TEST RESULTS
Before turning to the test results, it is impossible not to note one interesting feature of this model under heavy load, the elements of the drive power system emit a periodic high-frequency squeak.True, this is manifested mainly in recording tests, and you can hear it on an open bench, in a closed case this sound is almost indistinguishable.
CRYSTALDISKMARK
If we compare medium and large amounts of data (8 GB and 32 GB) in this test, there is practically no difference.The linear read and write speed at a height is more than 500 MB / s, and with random access to small files in one stream 30 and 80 MB / s.But the results of CrystalDiskMark are sometimes unpredictable, lets look at the time-tested AS SSD.
AS SSD BENCHMARK
In this test, the result is somewhat lower the linear read and write speeds are 509 and 462 MB / s, respectively, when working with files of 5 GB.When files are reduced to 1 GB, the speed is slightly higher, but still inferior to CrystalDiskMark.
AIDA64 DISK BENCHMARK
The linear read speed is fully consistent with the stated characteristics and averages about 500 MB / s.But the linear recording speed, after some threshold, begins to rest on the SLC-cache.At this point, the Direct-to-TLC mode is triggered and recording is performed directly in the TLC cells.That is, from the original 480 MB / s, the write speed drops to 60 MB / s.Note that a third of the free disk space is used as the SLC cache, so it is undesirable for the user to occupy more than 70% of the disk volume if he wants to enjoy high write speeds.
Random reading and random writing for this model, of course, is lower than the stated linear read and write performance.Thus, the linear recording speed averages about 300 MB / s, while the random write speed varies from 9 to 300 MB / s.
Reading and writing from the buffer of HyperX Fury 3D is quite high, while the recording speed in this mode is even greater than the average read speed.
TEMPERATURE CONDITIONS
Alas, due to the fact that the drive is only available, HyperX Fury 3D is currently not recognized by the proprietary utility Kingston SSD Manager.Therefore, it was necessary to check the availability of new firmware, as well as to remove the data about the drive using CrystalDiskInfo 8.0.0.On an open bench at room temperature and without additional cabinet cooling, the storage temperature in idle mode was about 35 C.With constant and long-term load, the maximum temperature was 52 C, while at periodic load it fluctuated around 44 C on average.
RESULTS
As a conclusion, I would like to say that the HyperX Fury 3D drive showed itself quite well in tests. It is suitable as a system drive or as a replacement for a traditional hard drive in low-cost home PCs, which include primary and intermediate gaming computers. Maybe if Kingston succeeds, a more capacious 480 GB model will appear on the market, because no matter how cool 240 GB is sometimes lacking.