We may receive commissions for purchases made through links on our website. We appreciate your support.

Remember Omegle? The anonymous live video chat site where you could connect with people based on similar interests? It's finally shutting down after 14 years, following user claims of abuse.

The service, which randomly paired users in online chats with strangers, became a hit in the 2010s, but it saw a surge in its popularity among children and young people during the Covid pandemic. Unfortunately, the site has been mentioned in over 50 cases against pedophiles in the past few years.

Let's dive into the story and see what led to Omegle's downfall.
Mental and Financial Toll on the Founder
Omegle founder Leif Brooks announced the closure on the site, saying operating the site was "no longer sustainable, financially nor psychologically."
"There can be no honest accounting of Omegle without acknowledging that some people misused it, including to commit unspeakably heinous crimes," Brooks said. "As much as I wish circumstances were different, the stress and expense of this fight - coupled with the existing stress and expense of operating Omegle, and fighting its misuse - are simply too much."
Omegle's announcement included an image of its logo on a gravestone. Brooks launched Omegle in 2009 at age 18 with the idea of "meeting new people distilled down to its platonic ideal." The website had around 73 million monthly visitors, mostly from India, the US, UK, Mexico and Australia.
Even in the mid 2010s, though, it was clear that the website was heading towards its decline as it was infested with bots.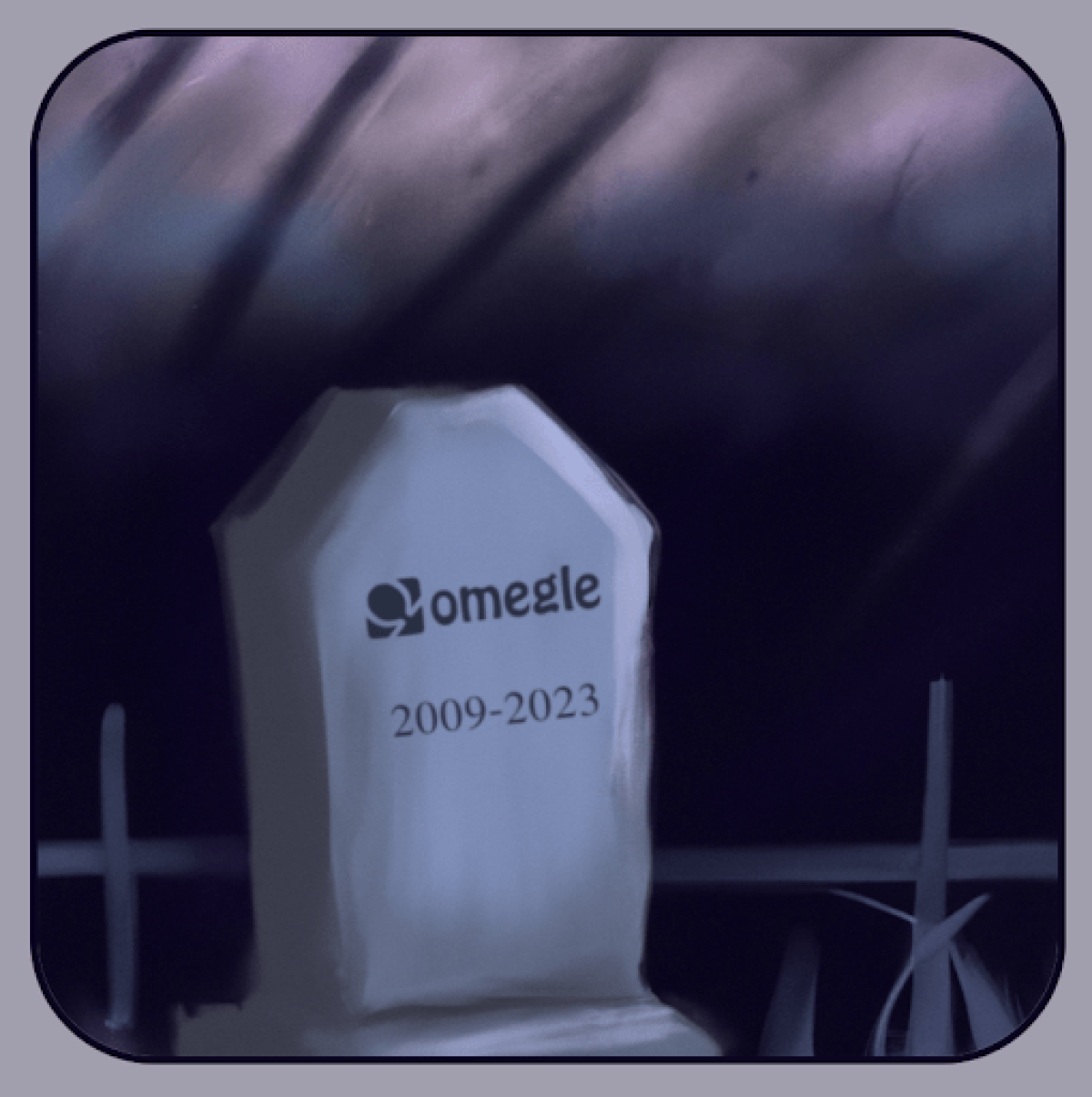 The image shared on Omegle in the announcement. (Source: omegle.com)
Controversies and Lawsuits
While some viewed Omegle as a rite of passage, it also sparked controversies. Many are now sharing stories of predatory behavior they experienced on the platform.
For instance, one American is suing Omegle because she was paired with a pedophile when she was a minor. Omegle's legal team, however, has claimed that the site can't be blamed. The case is still ongoing.
Lack of Moderation
Critics argue Omegle's shutdown signifies the end of Internet freedom. But Omegle had little moderation despite Brooks' claims. Reportedly the company was run solely by Brooks with no human moderation.
In 2021, a BBC investigation found children exposing themselves to strangers on Omegle. Video platform TikTok banned sharing Omegle links following the report. Unlike big tech CEOs facing scrutiny in hearings, Brooks never publicly responded to critics.
What Happens Now?
Omegle was once one of the most popular anonymous chat sites all over the world. Its downfall, however, doesn't come as a shock to anyone.
Its demise shows times have changed since its launch. Imagery of child sexual abuse online has risen tenfold since pandemic lockdowns. New laws like the UK's Online Safety Act aim to curb online grooming.
While similar sites may fill the void, Omegle shuttering indicates an era's end for lightly moderated social platforms enabling abuse.