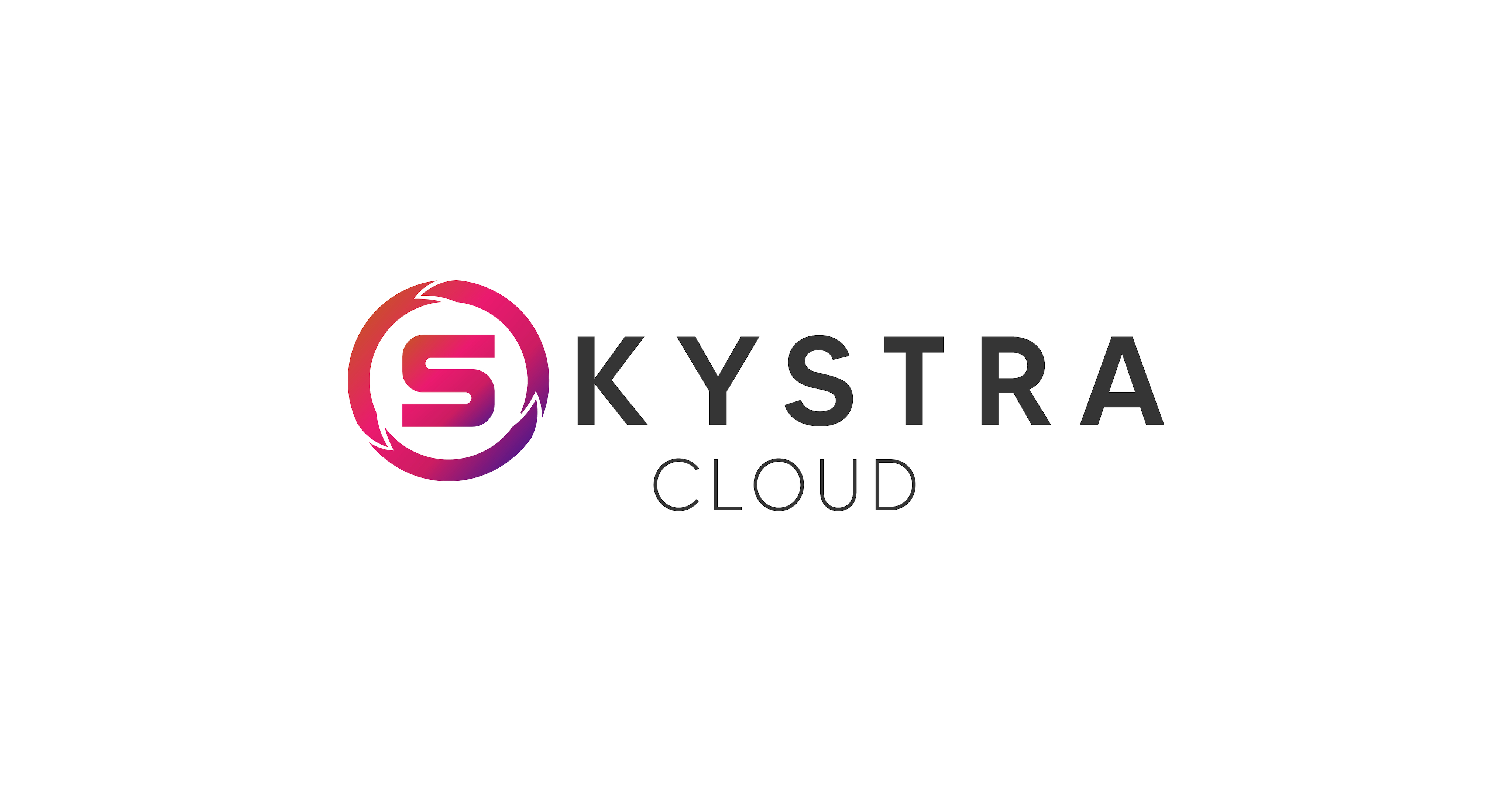 We may receive commissions for purchases made through links on our website. We appreciate your support.

Owning an e-commerce merchandise store may seem like an easy task at first but it has its hardships. The most important thing for an e-commerce store is the speed of the website and its availability being a newbie in this field both dragged me downhill and had me on the verge of giving up. In this review, I will share some of the tips and things that really prevented me from going crazy and how Skystra was there to rescue me.

I own an e-merch store where I sell customized clothing for cats and dogs and any other animals on special orders. I had a freelancer build my website on Bluehost, my choice of a mid-range managed WordPress hosting. Everything was good at the start, my business crossed my expected sales and I was pretty busy with my e-merch hustle.


Little did I know that there will be a time when my customers would email me, complaining that they arent able to access my website and when they can, they cant seem to order as it will keep on loading and eventually die on them. Reading the emails on my phone, I immediately turned on my laptop, went to Bluehosts homepage, and contacted their live support, and surprisingly my questions were answered by a robot/bot, which kept on giving me the same answers over and over again and thus messing with my sanity.

I, then, picked up my phone to call them, and thankfully they picked up and assured me that they will look into this. 2 days passed and I was sitting on my couch with a long face and minor depression about what to do next as no one from Bluehost bothered responding back.

Thats it! I decided it was time to leave Bluehost, even though I had purchased a yearly plan and only 5 months were used from that time, and began the search for another.
Choosing another hosting service
I had to make sure that my store is available 24/7 so that I can focus more on my products rather than the technicalities. I hit up google in search of a budget-friendly hosting service and I was overwhelmed with the results and frankly speaking; it was hard to decide from so many choices.
However, I decided to make it quick and shortlisted these 3 hosting providers after thoroughly going through their offerings:
HostGator
The reason for shortlisting HostGator was purely because of their attractive pricing and I was pretty close to migrating there but somehow, during my research, I stumbled upon the fact that HostGator is actually owned by Bluehost or something similar. Basically, it turns out they are an extension of the same company. This was a big red signal for me and everything in my head and heart started screaming abort and thats what I did. I canceled it from my shortlist because I didnt want to go through the same trouble again and again.
SiteGround
SiteGround was almost perfect in every way. They were providing some good features for their prices and had everything I was looking for.
However, the first thing I noticed was that their starting prices were good but in the more details tab, I saw that these discounted prices are one-time only and that when you renew your package you will be charged the normal price, which is 4 times higher than their discounted price. Its a cheap trick to attract customers but still, I chose to hang around for a while and gather some reviews on it.
Therefore, just like HostGator, I decided to do some paperwork on Siteground reviews to find out whether people are satisfied or not. The reviews were decent enough however, I noticed a simple pattern that the newer reviews were mostly negative. I changed the sort by tab from most relevant to the newest reviews and then the picture was clear. The newer reviews were full of complaints about their bad practices and response time. Most of them were very critical of how their websites speed has deteriorated in the past few months.
And just like that, I crossed out this hosting from my checklist.
Skystra
Skystra seemed new to me but they were offering competitive prices and 24/7 human support, which was the foundation of my new search. The attractive point, at least for me, was their 30-day free trial which intrigued me to the point I couldnt resist because along with that they were also providing completely free migration this would save a lot of time and headaches as I really dont know anything on how to migrate myself.
Nonetheless, I dug up some reviews on Skystra and was satisfied with the feedback and decided to take a leap of faith and try them, because hey! The 30-day free trial, free migration and 24/7 customer support were everything I needed to test out whether I can continue with them or not.
Skystra Worlds Best WordPress Hosting?
After an hour or two of determining, I went to the Skystra hosting website and hit up their live customer support with my queries. I initially decided to wait for 10 mins, if they reply within 10 mins then I will happily proceed with them if not then I will go decide on another one.
I was just about to load Lex Friedmans short podcast to pass the time but astonishingly I got a reply from Marc within 2-3 mins, he answered my questions and assured me that they will help me in each and every step and yes, at first I thought that its a bot replying so quickly and I confirmed my curiousness with the representative and indeed it was a human being I felt a bit embarrassed there by asking such silly questions.
Pricing
On their homepage, I found out that Skystra has three different niche hosting sections with three different plans for each of the hosting. There are:
Managed WordPress Hosting,

Agency Hosting

Cloud Hosting
I honestly dont know what agency and cloud hostings are, all I know is that I have something called WordPress that my store is built on. And this is the pricing on their WordPress plans: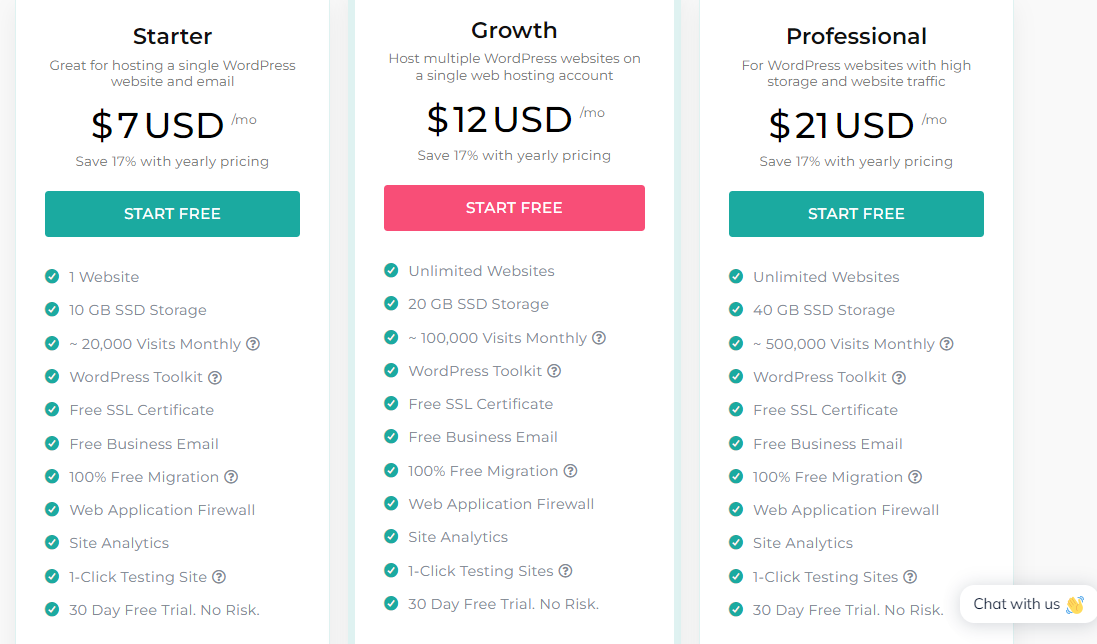 The prices are pretty good when compared to my old hosting provided, where I was paying 27 USD/Month (Excluding email charges).
30-Day Free Trial
Call me cheap, but the 30-Day free trial was the main point of attraction for me as I didnt want to spend my money just to find out that I am getting ripped off and will eventually lose my money and hence the cycle could repeat for god knows how long.
In my line of work, every penny has to be saved as providing quality items of clothing for lovely pets at competitive prices isnt easy and the profit is somewhat less.
I was quite baffled as I had no idea which package to choose Welp, I knocked on the door of Skytras customer support to bother once again.
24/7 Customer Support
Skystra offers 24/7 customer support, which for a technology-illiterate like me is a blessing as I often end up losing my way, and customer support is the only place where I can find shelter at.

Again, having no idea which hosting plan to choose, I asked Marc to help me decide on the hosting plan, WordPress hosting to be precise.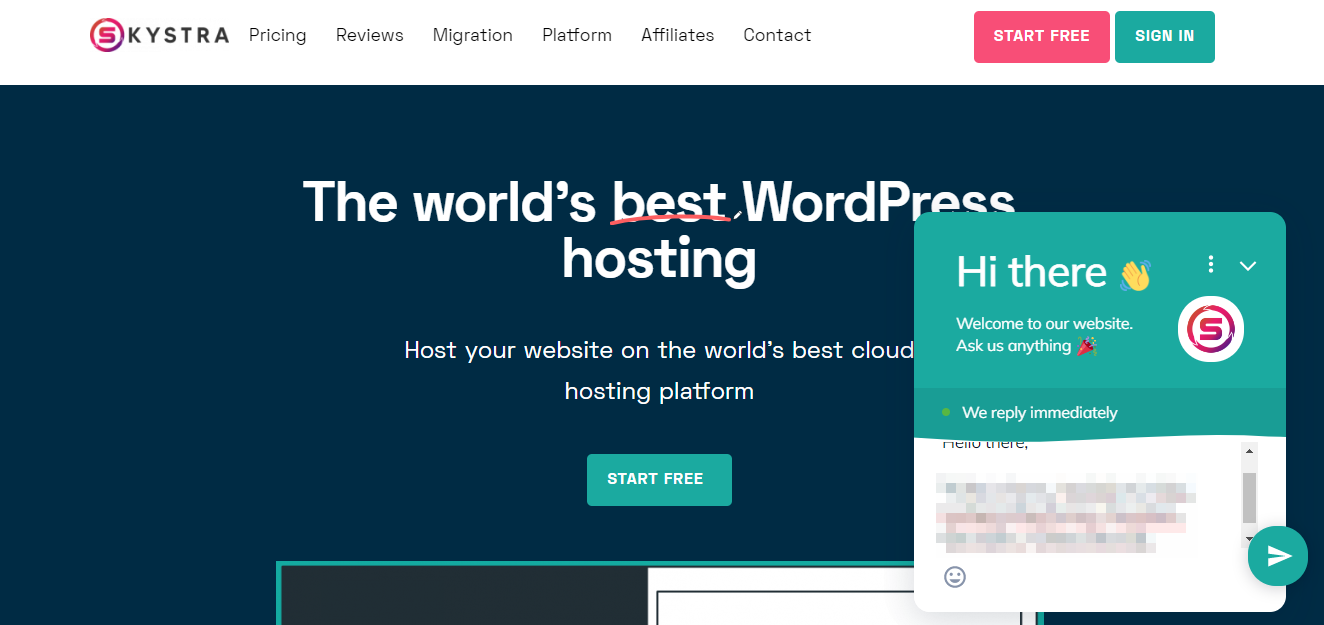 He asked me some questions like whats my monthly traffic, what the website is about, and whether I host many images or videos I provided all the answers, and I was suggested to use the Growth Plan as it fits my criteria. I told him that Id like to proceed with Skystras Growth plan and he sent me a 30-day free trial link and guided me through the entire process.
I got through the process with the help of Marc for which I am ever thankful for as it was really a breeze and a smooth ride through the entire process. Marc was in contact with me during the entire signup process and even checked in with me afterward to make sure I was happy.
Free Migration
I dont want to end up not discussing the most important task at hand, which is Skystras free migration offer of my website from the old hosting to the new one. I was afraid that if something happens and I lose all my data I would end up losing all of my hard work and would have to start from scratch.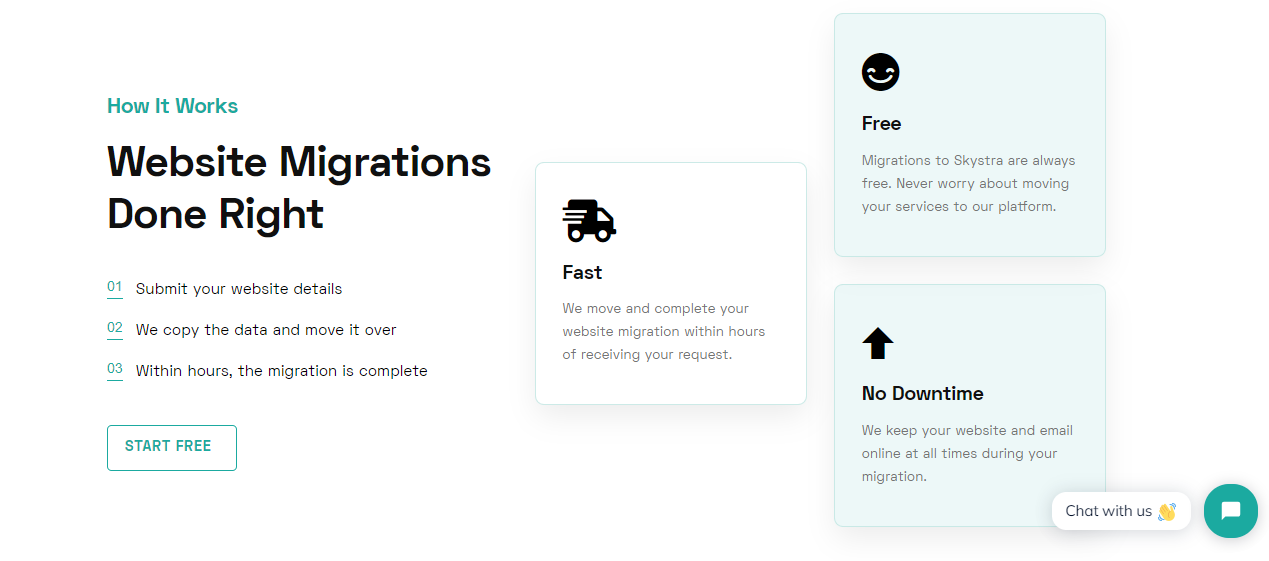 They do claim that migrations would be done in 2 hours on average and there will be no downtime but still I was hesitant to try as it was my first time migrating and trying out Skystra.
The website, on the other hand, was still at old hosting and kept on going down and I only had one last step to complete and that is to migrate it out of there. I took a deep breath and continued with the process and provided the details necessary to complete the migration and I was surprised yet again, everything was done in a matter of hours and my store was up and available at Skystra.
I went through each and every product I had listed to make sure that everything was there as it was, I even was on the lookout for the prices I listed to make sure nothing has changed, and boy, what a waste of a few hours was that! Everything was in their respective places. I was just exaggerating my anxiousness.
Interface
I found Skystras interface easy enough to use.
I could log onto my control panel or WordPress dashboard with one 1-click. The support HelpDesk was easily accessible and more than anything, I was happy to just have my online store running and online for my customers to purchase from me.
One thing I was confused about was where to access my email from, that wasnt super clear at first however their support was able to give me a direct webmail login link that I put into my browsers bookmarks manager and can click for fast access going forward.

Again, their support was prompt to answer even that simple question!
Would I recommend Skystra?
If you read from the top to bottom then it must have been very obvious that I fully recommend Skystra and I am openly vocal about it. Because my e-merch store is back on track and I no longer have to worry about anything on the hosting side, all I had to do in the past few months was to focus solely on providing quality to my customers and finding out new ways to expand.
I cant seem to emphasize enough on the 24/7 support that they provide. This is new and a game-changer in my opinion because I know that customers genuinely want someone to guide them, help them make choices, and be there in case any issues arise, and having customer support that is there for you all the time is just fantastic.
Not only that, their support was respectful, from a real human being, and fast. Their responses actually showed they cared about me and my online store, which made all the difference in the world.
Conclusion
I am writing this little review after 4 months of having my website at Skystra. In these 4 months, I had almost 0 downtimes and 0 complaints. I, however, have had some contacts with their customer support and it didnt matter if it was day or midnight, I always got a reply within 10 minutes on average and any question I had, whether it was related or not, they always responded me in a very professional way and did their best to solve it for me.
I dont do reviews of something that I like but if it is something that shaped my life, solved my major issues, or helped me keep my sanity that I will get on my laptop, turn on word and start typing away. This is just for the sake of other people like me who are starting or are going through the phase that I was once.