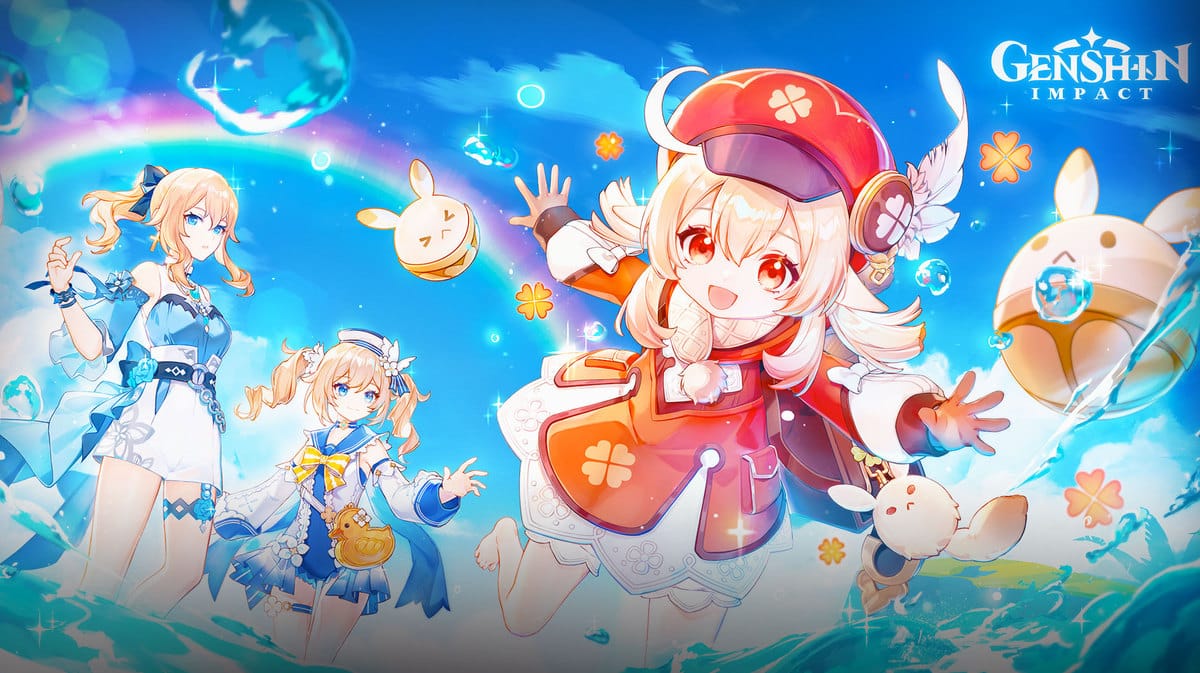 We may receive commissions for purchases made through links on our website. We appreciate your support.

Gacha Games are widely known in Japan, but this game genre has recently expanded its influence to other parts of the world. Gacha derives its name from gachapon, a Japanese toy vending machine that dispenses random toy capsules. Like gachapon, Gacha Games uses probability and luck to entice players to pull new characters, buffs, or coins.

In this article, were listing down some of the best Gacha Games this 2021 that you can easily download and play right away. Aside from the crowd favourites like Genshin Impact and Princess Connect! Re:Dive, we included other great Gacha Games that you can explore.

Lets get started!
Genshin Impact
One of the most popular Gacha Games this year is Genshin Impact. Its a classic RPG game set in the open world with light Gacha elements to it. There are many playable characters in this game which makes it more exciting.
Genshin Impact is a F2P game, but you can unlock more characters and weapons by using its in-game currency. However, you dont have to spend bucks on this game for you to enjoy because you can still have fun to your hearts content without spending too much in real life.
Princess Connect! Re:Dive
Another popular RPG Gacha Game this year is Princess Connect! Re:Dive. Princess Connect is originally known as an anime, but Crunchyroll Animation and Cygames launched the enterprise into a gaming success.
To play this game, you have to create your party to battle against enemies. You can unlock more characters gacha-style as you progress through the game.
Pokemon Masters Ex
Pokemon Masters Ex comes from the Pokemon universe and follows the same goal as the other Pokemon games under its franchise, competing against fellow trainers and become the Pokemon Masters League Champion. However, this time you can boost your success by unlocking your favourite Pokemons with gems.
This game is another excellent addition to the ever-growing Pokemon games in the market!
Fate/Grand Order
Fate/Grand Order is based on the Japanese visual novel and anime Fate/Stay Night. To best this game, you have to fight several enemies with the help of your servants. Each servant has a backstory, which you can explore throughout the game.
The game has a time-travelling element to it which means that you can travel in time to meet and unlock famous historical figures. You can unlock the characters through the games pulling system.
Sword Art Online: Memory Defrag
Another game that follows the success of its anime is Sword Art Online: Memory Defrag. It follows the same gameplay of Sword Art Online, which means that you have to build a party to battle against enemies.
You can unlock characters using memory diamonds, which are the games currency. You can collect them by going through different quests, but you can also purchase memory diamonds to make your party grow faster and more robust.
Seven Knights 2
Seven Knights 2 is a sequel to its successful predecessor that was released 20 years ago. Now, players wont wait for that long if this game is not that great!
This game borrows some of the main gameplay of the original but added elements of MMORPG to make it more exciting to play. The game has cool characters categorized by classes from which players can collect as they go through the game.
Azur Lane
Azur Lane is slightly different from among the games in this list because youre not collecting characters in this game but rather battleships! These warships are based on actual historical battleships, and so far, players can unlock over 500 ships in the game.
Players have to fend off their enemies by building their fleets. Winning in this game means having a great strategy to form your battle lines and execute your game plan.
Epic Seven
Millions of players have enjoyed epic Seven since 2018 and have no plan in stopping. This game is an art style and graphics powerhouse. But aside from its sharp and colorful visuals, it also offers different gameplay options like PvP battles or world boss mode.
With its great storyline, incredible clashes, and top-notch aesthetics, its no doubt that many players are hooked on this game.
Conclusion
Its undeniable that Gacha Games are downright addicting and fun to play. The thrill of pulling different characters, skills, virtual coins, or buffs is exciting and pushes you never to stop playing. For sure, in the upcoming months, many Gacha Games will rise in popularity due to their fresh gameplays, unique storylines, and powerful characters.
We hope that this helped you in choosing the next Gacha Game youll master!