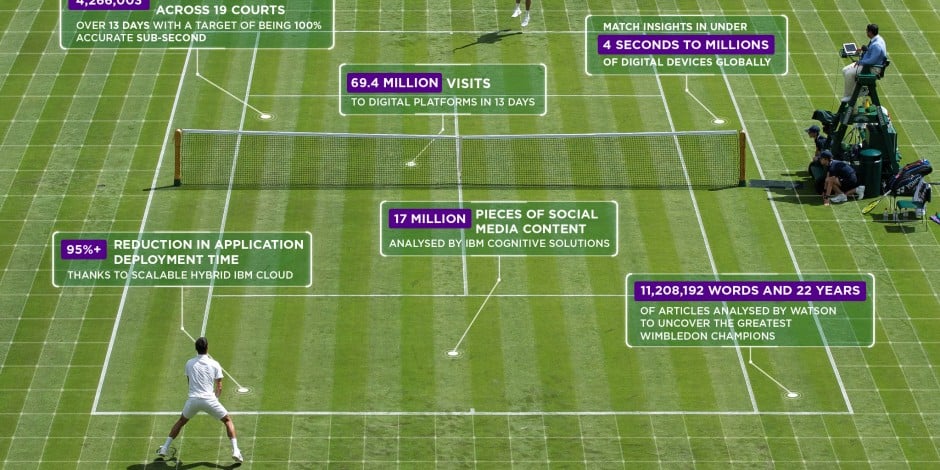 We may receive commissions for purchases made through links on our website. We appreciate your support.

IBM and the organizers of the historic Wimbledon tennis tournament work together to leave the task of selecting the video clips that will be published on social networks and through the mobile app, using artificial intelligence to interpret supercomputer Watson.

According to the technology company, they will be able to analyze every Wimbledon game moment ( thousands of hours of video , product of numerous simultaneous shots during the three weeks of the tournament) and offer the best moments ready to visualize in a few minutes , much less than a team of human editors.
The organizers seek to avoid bias in favor of the big stars
That does not mean, however, that this task does not require humans: in fact Wimbledon has a bunker IA in which some 180 people are working for the duration of the tournament .But it is that regardless of the human criterion in the selection process (partially, because the final decision to publish the clip is made by a human) what he is looking for is not only speed, but also the disappearance of biases.
Thus, to avoid favoring players with a greater base of followers, they affirm that the system will be based on factors such as game statistics, player reactions (using body language analysis techniques) and the emotion levels of the crowd (capturing the noise exerted by the spectators through a microphone located in the judges chair).
According to Sam Seddon, director of IBM, all these factors allow to establish a ranking of enthusiasm that values each clip that then allows to make the choice of them.
Two years ago, the collaboration between IBM and Wimbledon resulted in the opportunity to offer tournament statistics platforms ( IBM Slam Tracker ), conversational assistants who provided information about the matches ( Ask Fred ), 360 broadcast , etc.
They also began to take the first steps to use the AI to make the selection of videos of each game, field in which they have now decided to go a step further, thanks to the IA OpenScale platform launched last year.