Global
Press Release
Payment Processing Solutions Market to exceed USD 140 billion by 2026 with 20% CAGR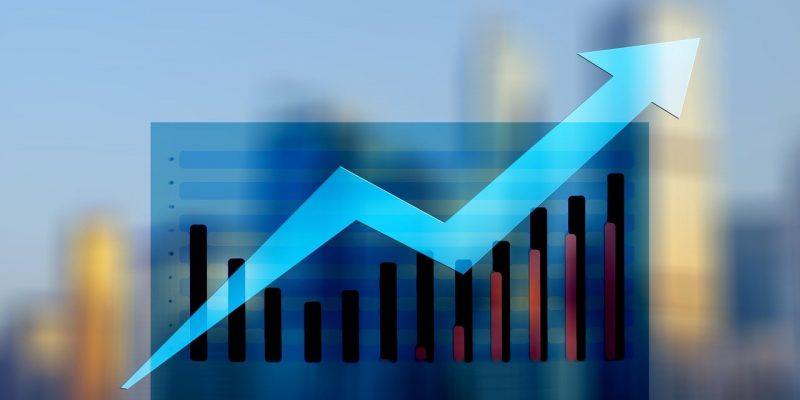 Payment Processing Solutions Market size is set to surpass USD 140 billion by 2026, according to a new research report by Global Market Insights, Inc.
Rising smartphone penetration and surging adoption of digital banking services will fuel the payment processing solutions industry growth. The increasing smartphone penetration allows consumers to settle their bills and payments quickly using payment applications. Retailers are also opting for payment processing solutions to reduce long queues at the billing counters.
The recent COVID-19 pandemic has completely shifted the consumers' buying and payment habits. Consumers prefer contactless payment methods, such as NFC and QR code, to avoid the spread of COVID-19 through cash handling. Government authorities in many countries are promoting digital payments to reduce the impact of the COVID-19 outbreak on their economies.
Growing market demand for contactless payment methods is supporting the adoption of QR code technology
The QR code technology segment held over 25% payment processing solutions market share in 2019 due to the growing demand for UPI-based payment solutions. Small and medium-sized retailers are using QR-code technology to simplify payment processing methods. QR-code helps consumers to quickly pay bills without the need to enter the banking details of the retailer. QR-code also supports contactless payment methods, which has become important in the current COVID-19 pandemic.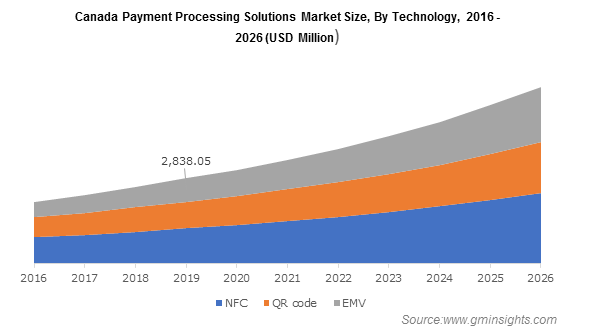 Surging internet penetration is supporting the online deployment model demand
The online deployment model is expected to grow at 10% CAGR during 2020 to 2026 driven by rising internet penetration and increasing e-commerce consumers. The major e-commerce businesses generally prefer online transactions for their business operations. Many companies operating in the payment processing solutions industry offer online solutions with features such as fraud prevention and flexible payment gateway options.
Easy availability of debit cards is propelling the market growth
Debit card payment mode captured around 20% of the payment processing solutions market share in 2019 as its transaction fees and interest charges are low. A large population is availing the facility of debit cards as it can be easily issued to consumers having a bank account. The debit card can be easily issued to a bank account holder without the need to check credit history. The easy availability of debit cards to consumers is supporting the market statistics.
Rising internet penetration to support the adoption of payment processing solutions across SMEs
SMEs are expected to grow at a CAGR of above 10% through 2026 propelled by rising internet penetration. Increasing internet penetration is enabling more retailers to sell their products online. SMEs use payment processing solutions to provide flexibility to their consumers during online payments. Payment processing solutions help these retailers to improve their operations by removing redundancies in online payment methods.
The growing tourism sector is supporting the market outlook
The tourism and hospitality industry accounted for over 30% share in 2019 impelled by the feasibility of payment for international tourists and travelers. Most tourists adopt digital payment through smartphones and cards. Players operating in the tourism industry use payment processing solutions to simplify payment for their international customers.
Growing adoption of digital payments in North America
The North America payment processing solutions market is expected to hold a market share of around 40% in 2026 on account of high acceptance of digital payments in the region. The growing adoption of e-wallets is another factor supporting market growth. The availability of major e-wallet companies, such as Apple Pay and Amazon Pay, in the U.S. is supporting the usage of payment processing solutions.
Developing new solutions is the key strategy adopted by major market players
Companies operating in the market are emphasizing on the development of new payment solutions to gain a competitive advantage over their competitors. For instance, in October 2020, ParTech, a payment solution provider, launched a payment processing solution, PAR Payment Services for restaurants. The launch helped the company to target new customers in the hospitality sector.
Some of the major payment processing solutions market players include ACI Worldwide, Inc., Adyen N.V., Authorize.Net, Dwolla, Inc., Fidelity National Information Services, Inc. (FIS), First Data Corporation, Fiserv, Inc., Global Payments, Inc., Jack Henry & Associates, Inc., Mastercard Incorporated, PayPal Holdings, Inc., Paysafe Group Limited, PayU, Square, Inc., Stripe, Inc., Visa, Inc. and Wirecard AG.