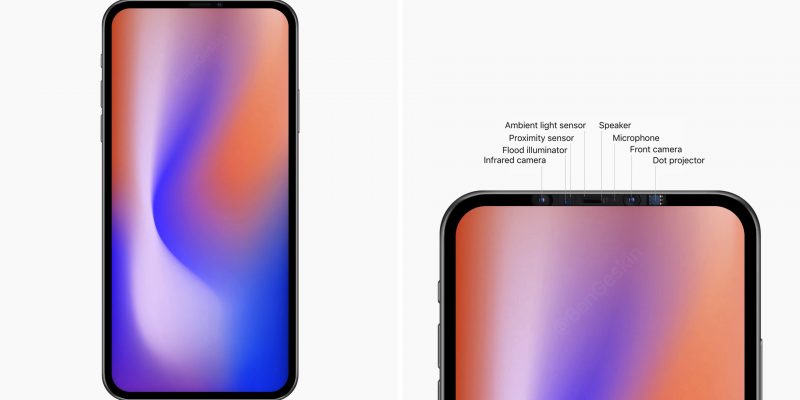 Reportedly, Apple is testing different ways to reduce the size of the notch where the Face ID resides. It should succeed on the iPhone 2020, which instead could gain wider antennas.
The new rumors come from the well-known leaker Benjamin Geskin, a rather reliable source when it comes to smartphone advances. According to reports, Apple is testing several iPhone 2020 prototypes, with different options for Face ID. In any case, Apple's intention seems to be clear regarding the reduction of the frontal notch in which the notch is located, which should be reduced both in height and in width.
Geskin states on Twitter that there are various models of Face ID being tested, all with new optics. Among the solutions under test, some notches appear minimal in width, others narrower to fit the upper frame.
Apple long-term plan is to get rid of the Lightning port for the Wireless charging and data transfer (UWD technology – 480Mbps (USB 3.0) speed at 3 meters, 110Mbps at 10 meters) pic.twitter.com/w7jwgZrGD2

— Ben Geskin (@BenGeskin) October 22, 2019
Geskin also states that Apple is reviewing the antennas on the iPhone 2020 in order to support 5G. In this regard, the prototypes would include lines for larger antennas (greater than 1 mm). Moreover, the plastic lines will use a new material, still uncertain, between glass, ceramic or sapphire.
While not specifying the exact model of the iPhone 2020 to benefit from these changes, Gaskin also adds that Apple is working to leave the Lightning port. However, instead of switching to the USB-C connector, as previously expected, the ultimate goal could be to use only wireless charging. It remains to understand which type of connectivity an iPhone without USB-C or Lightning port could offer.
Previously, the same leaker had talked about an iPhone with 6.7-inch display, offering Face ID and TrueDepth camera system in the upper frame. Analyst Ming-Chi Kuo had reported similar information.