We may receive commissions for purchases made through links on our website. We appreciate your support.

Antivirus software is essential for every device. All sorts of cybersecurity risks lurk on the Internet and new malware is popping up everyday. Most of our data, including bank account details, passwords, and medical records are stored online now and without adequate virus protection, they're always at risk of being stolen or leaked.

Online threats such as malware, viruses, and ransomware are not that uncommon anymore and can target anyone. To help you protect your system from such threats, we tested many antivirus programs and came up with a list of the best ones.

There are many tools on the market, but the best antivirus software has multiple features and techniques that fully protect your system from malware.
Top 5 best antivirus in 2023
After doing extensive research on finding the best antivirus software, we've found a few that are effective at protecting your online and offline data. Here are the top 5 antivirus programs:
The best antivirus protection for 2023
Windows PCs are targeted more often than other devices. Regardless of which device you own, it's important to use an antivirus if you want to protect your data. Let's take a look at the top 7 antivirus software in detail:
1. TotalAV – Antivirus with the most user-friendly UI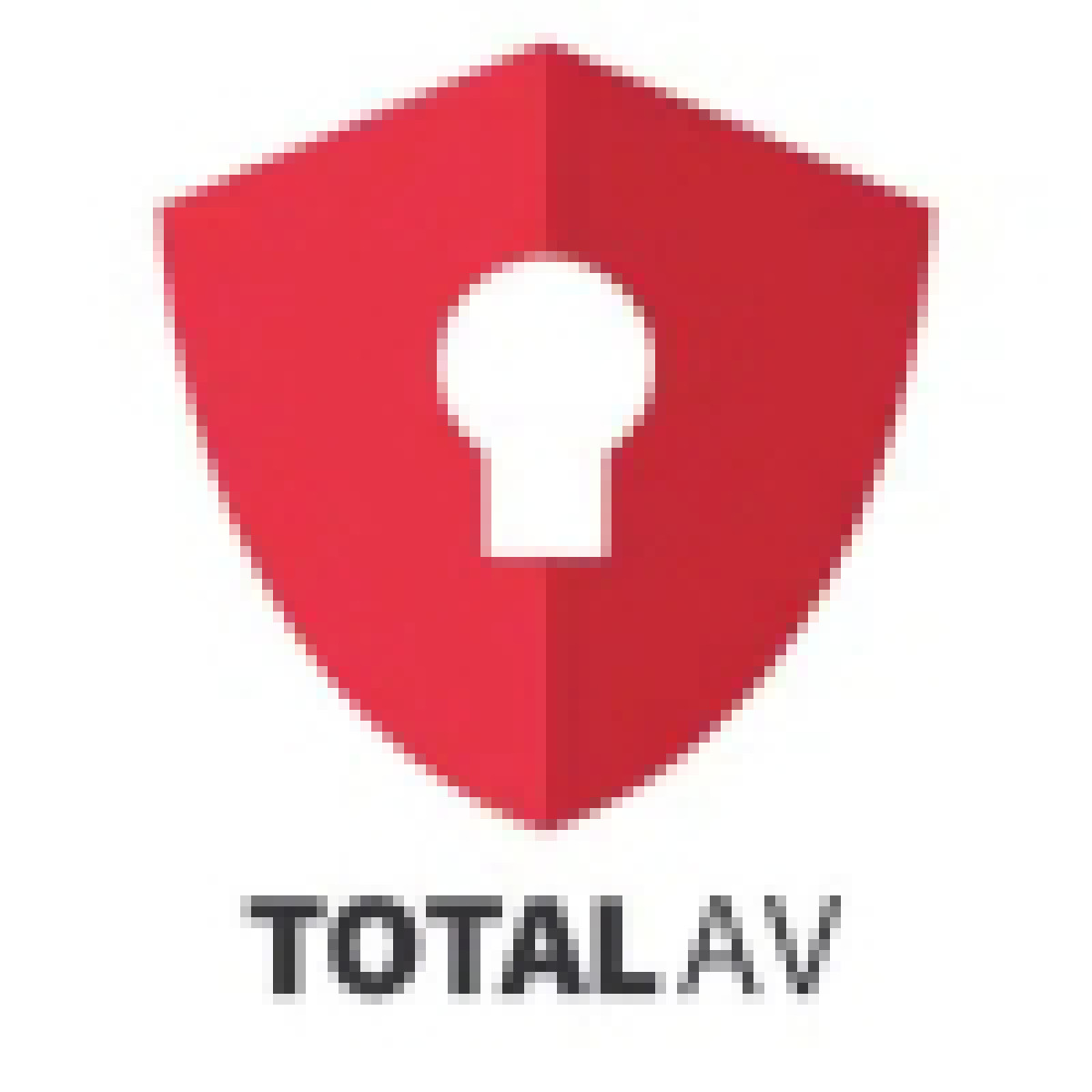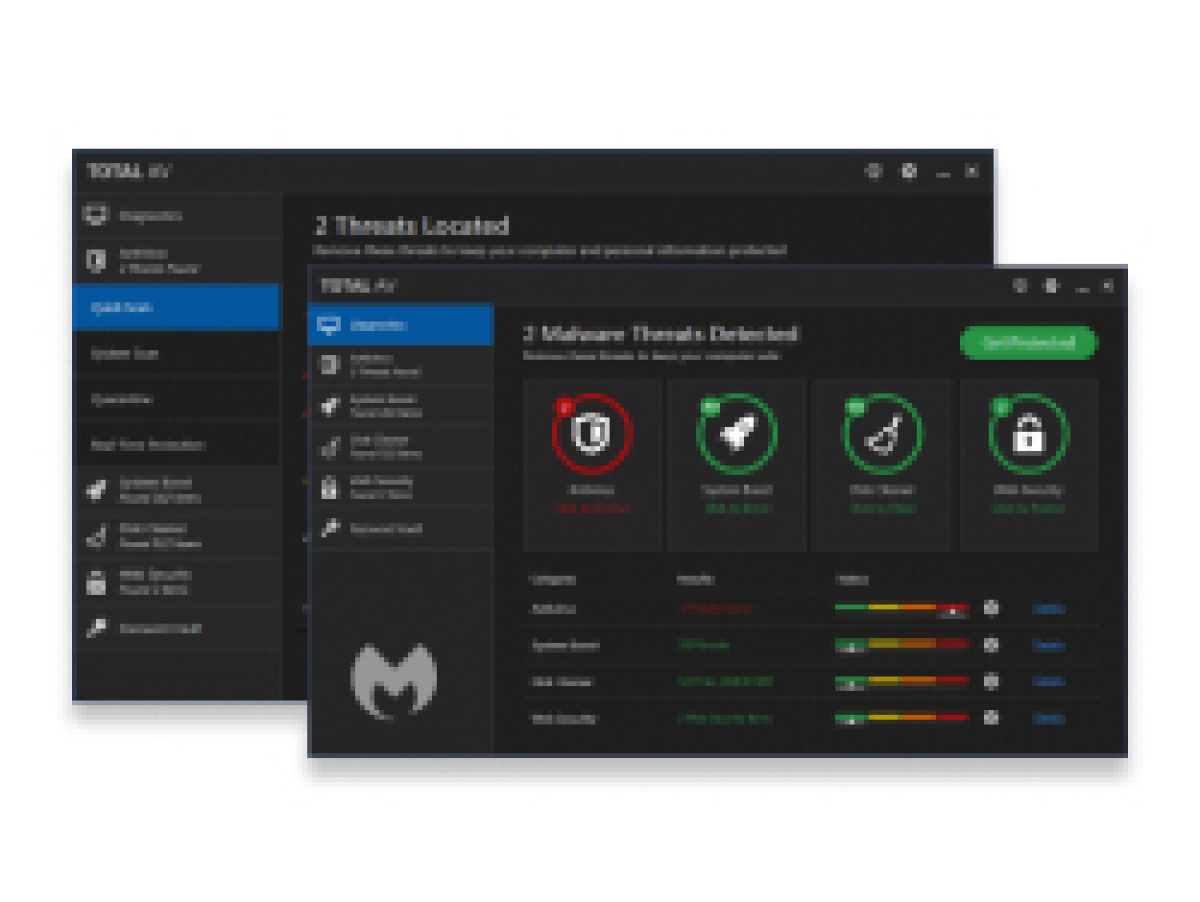 Pros & cons
Free version available
Real-time protection always on the lookout for threats
System optimization tools to keep your device clean
Web browser extensions with a search feature
Won awards by testing labs
Browser extensions can be confusing
Real-time protection is only for the pro version
TotalAV is our the best antivirus in 2023. Boasting a user-base of over 25 million users, the antivirus program has emerged as one of the most user-friendly antivirus programs on this list, having an interface that appeals to beginners and advanced users alike. It has received multiple awards from the independent testing lab AV-Test and it performed well in our tests as well.
There are many different features in TotalAV that you can use to protect your device against all kinds of threats.
The real-time protection it provides scans your device regularly to make sure it quickly catches threats before they get a chance to cause any harm.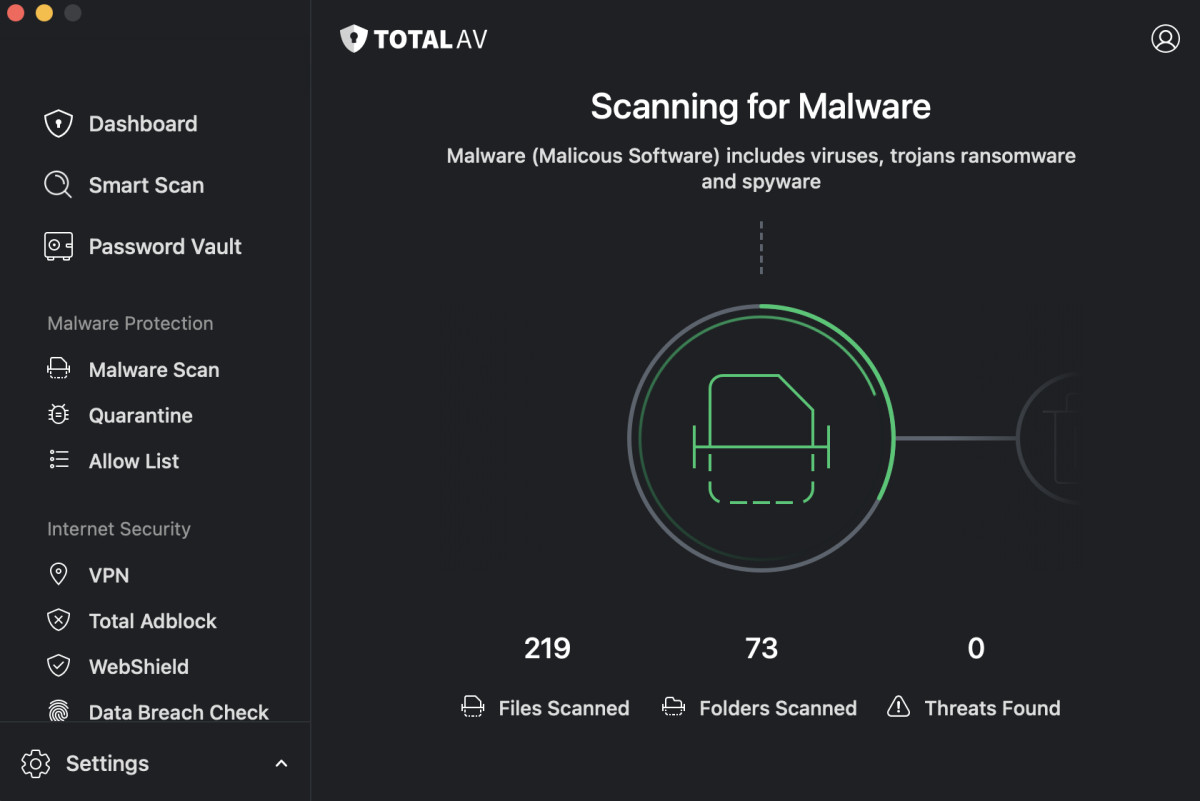 TotalAV on Mac.
One of its most important features is WebShield, which is a browser extension for Google Chrome, Firefox, Opera, and Edge. It prevents you from opening sites that have malicious content on them.
All your searches are routed through WebShield's Safe Search feature. Websites are marked with a red cross or a green tick to indicate whether they're safe to open or not.
The free version of the antivirus is great, but we recommend getting the pro version if you want full protection. It's available for $19 per year and comes with a 30-day money-back guarantee.
2. Bitdefender – best antivirus for people who want more security features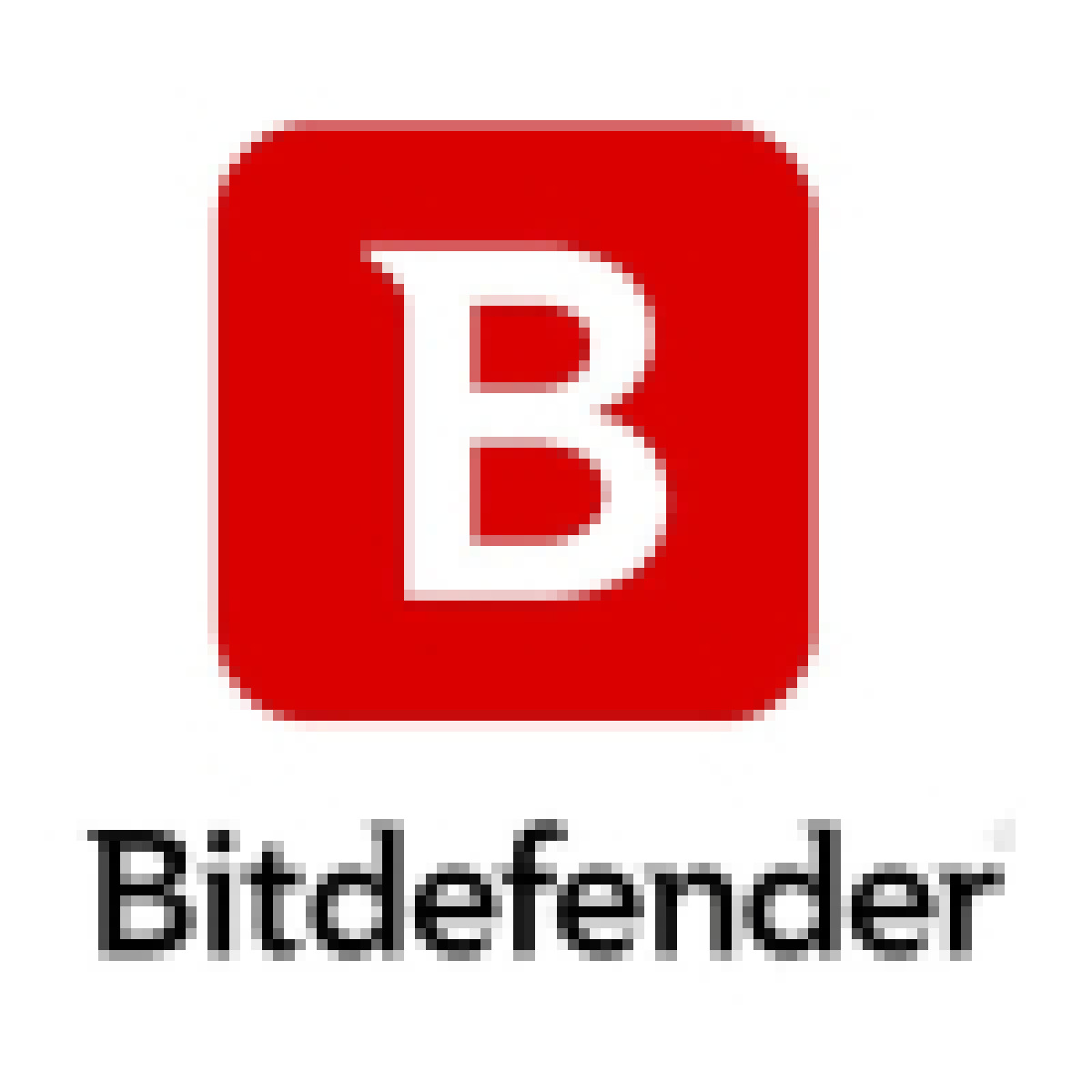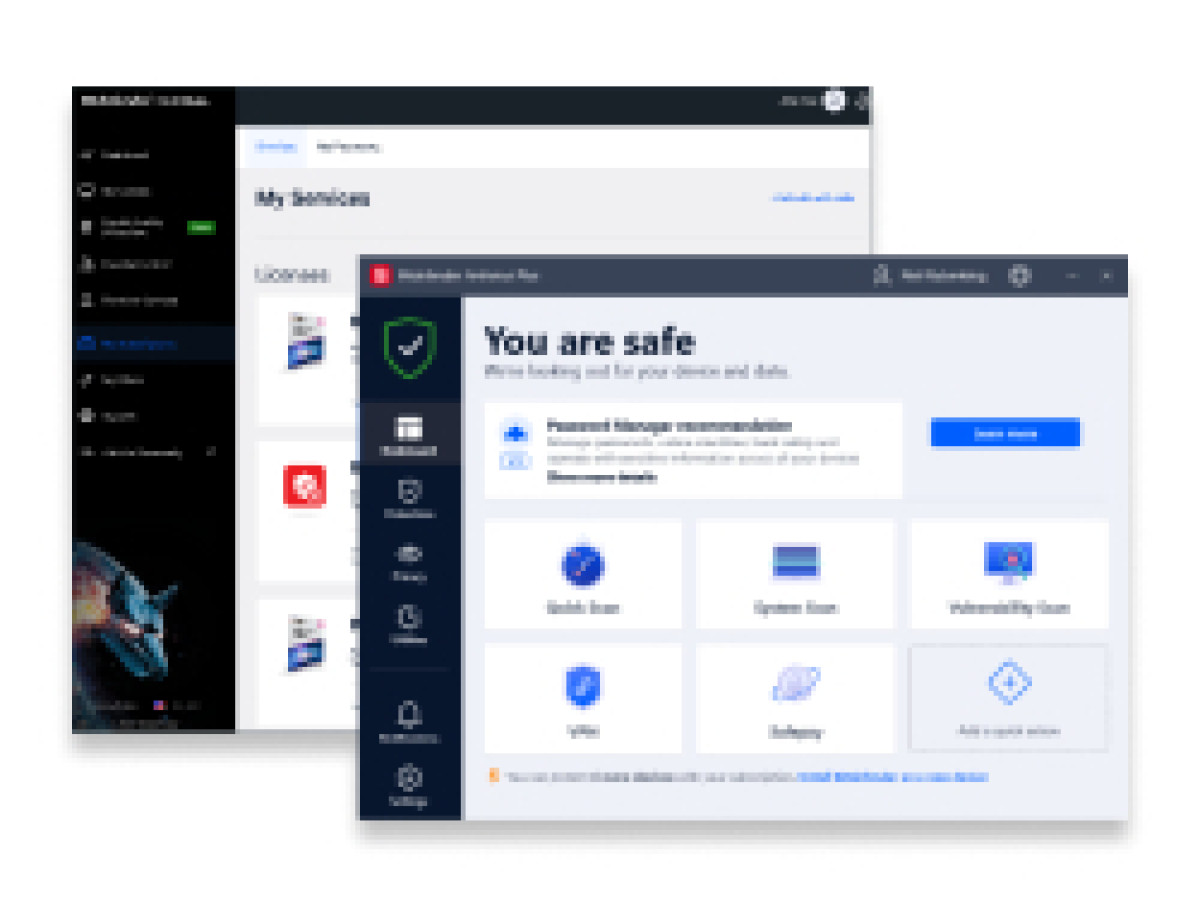 Pros & cons
Scores well in AV testing labs
Comes with a VPN
Free version available
Dedicated browser for safe online banking
VPN has a data limit of 200 MB/day
May seem confusing to new users
Bitdefender is the second best antivirus program. It's much more than just an antivirus because of all the features it provides. It gives you access to a VPN, an anti-tracker, a dedicated browser for safe online banking, protection against malware, and more. It's hard to beat Bitdefender because of the wide range of features it comes with.
You can get the free version if you're not ready to spend money on it. It doesn't take more than a few seconds to set it up and once it's up and running, you don't have to do much.
It has a feature called Autopilot which Bitdefender says is your "Security Advisor." This feature carefully analyzes your device and gives you bespoke security actions that you should take to protect it.
You don't have to worry about pop-ups appearing while you're gaming or watching movies. Bitdefender automatically detects those activities and pauses its notifications and even unnecessary background processes until you quit your game or movie.
The VPN it comes with encrypts your online traffic so you can browse the web without worrying about your data getting leaked. Unfortunately, it has a limit of 200 MB per day and you have to pay an additional fee to increase it.
Bitdefender uses machine learning algorithms to keep the viruses at bay. During our tests, it removed a considerable amount of malware from our system. AV testing labs frequently give it a high score.
If you want to purchase Bitdefender Antivirus Plus, you can get it for $24.99 per year with a 30-day money-back guarantee.
3. Norton – Most budget-friendly antivirus of 2023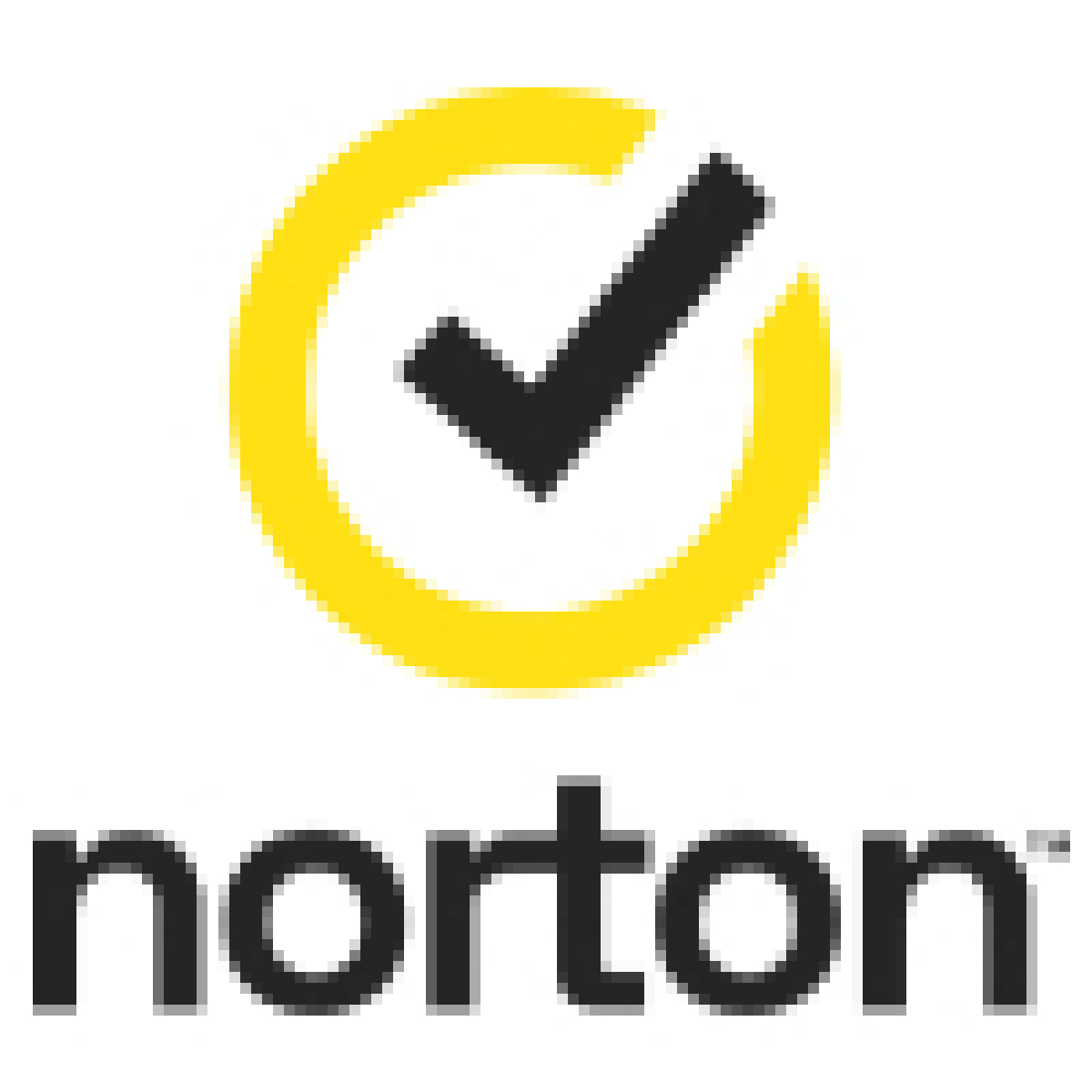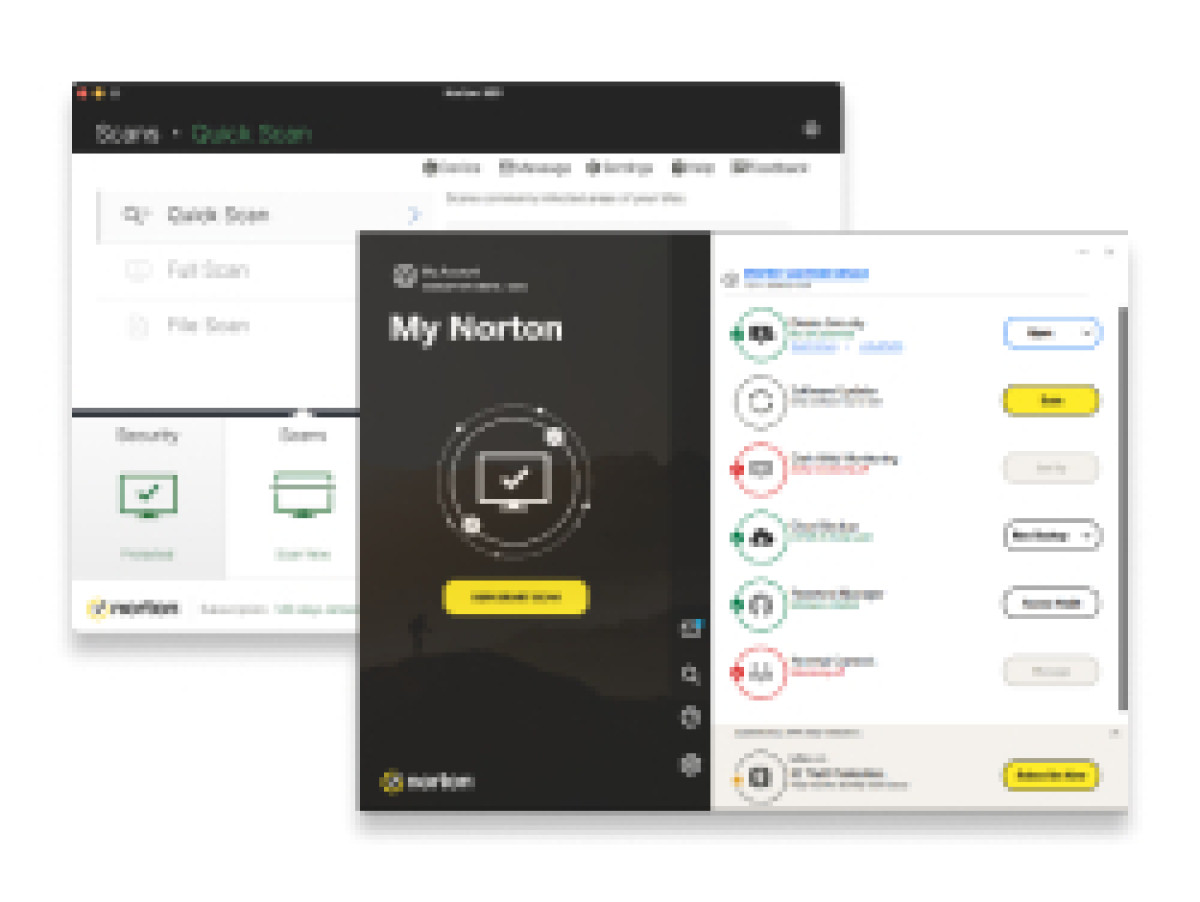 Pros & cons
Comes with Norton Secure VPN
Online backup with over 200 GB of cloud storage
Additional features like firewall and parental control
Dark web monitoring to scan the dark web for personal information
Basic package only lets you use it on one device
Norton is one of those antivirus programs which you've heard of even if you've never used an antivirus. It's been a household name for a decade. It regularly receives a perfect score by independent AV testing labs and it performed well in our tests, too. More than just an antivirus, Norton comes with a backup mechanism and a firewall that protects your online and offline data.
Unfortunately, there's no free version like Bitdefender, but it does have a 30-day trial. The most basic package, Norton Antivirus Plus, can only be used on one device and it lacks many of the other products Norton offers.
It protects you against viruses, malware, and ransomware. In addition, you get 2 GB of cloud backup along with a password manager.
The most comprehensive package offered by Norton is the Norton 360 LifeLock Select. It's more expensive, of course, but that's because it comes with extra features. The 2 GB cloud storage is upgraded to 250 GB. You gain access to Norton Secure VPN which you can use to hide your IP address and encrypt your online data.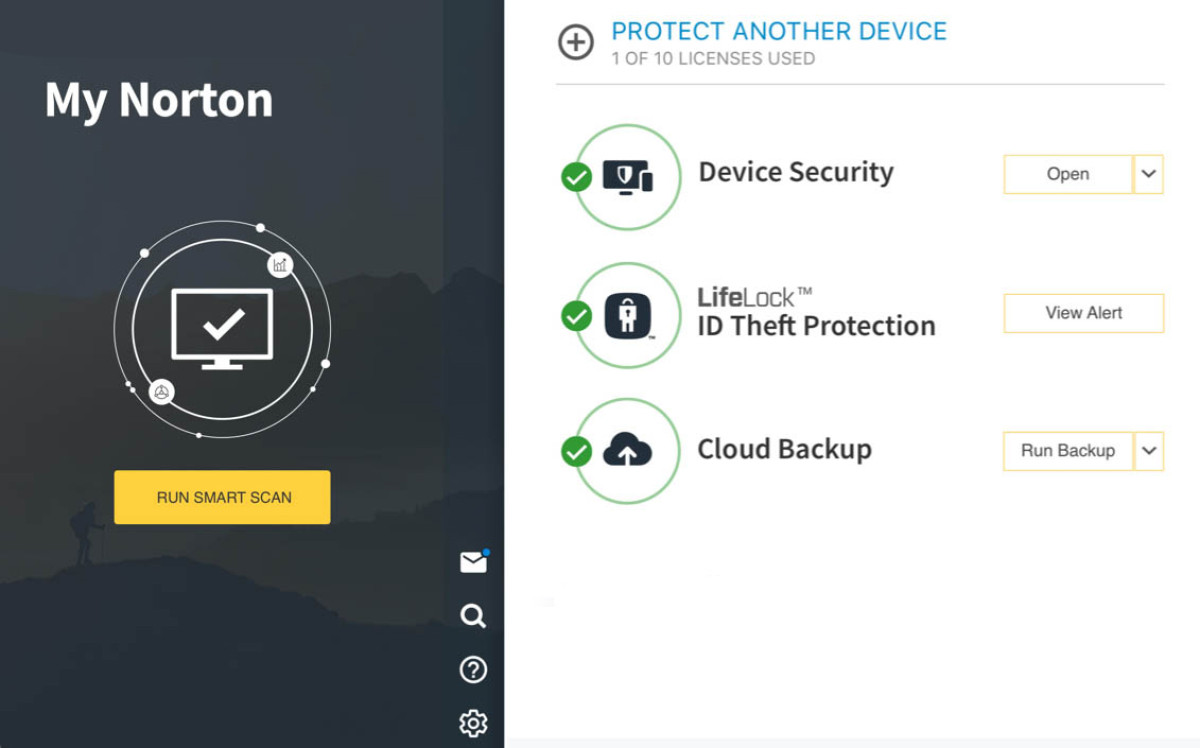 Norton 360 LifeLock.
Some other features that are included in the Norton 360 package are dark web monitoring, privacy monitor, and parental control.
The most basic package Norton Antivirus Plus is available for just $19.99 per year.
4. McAfee – Best antivirus for families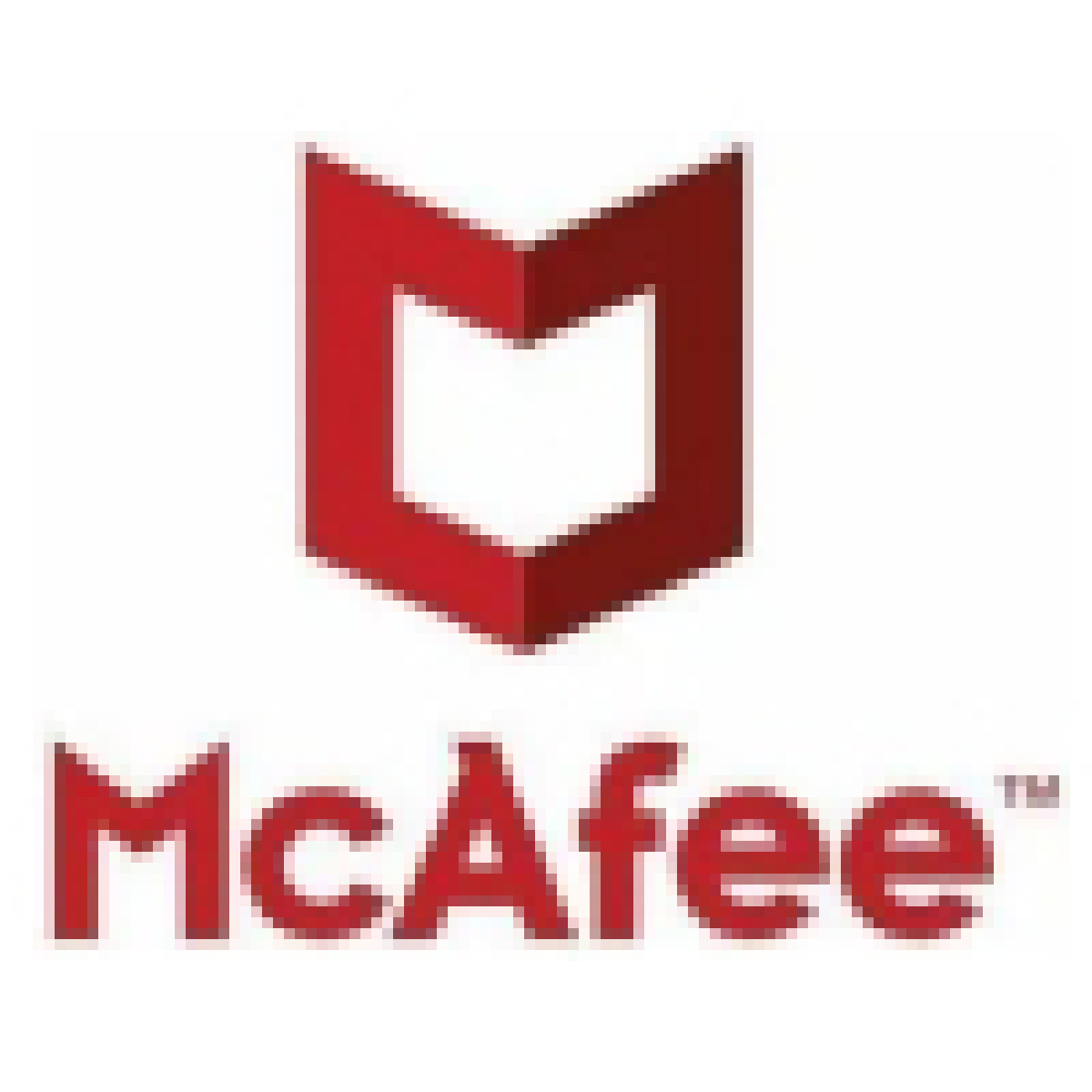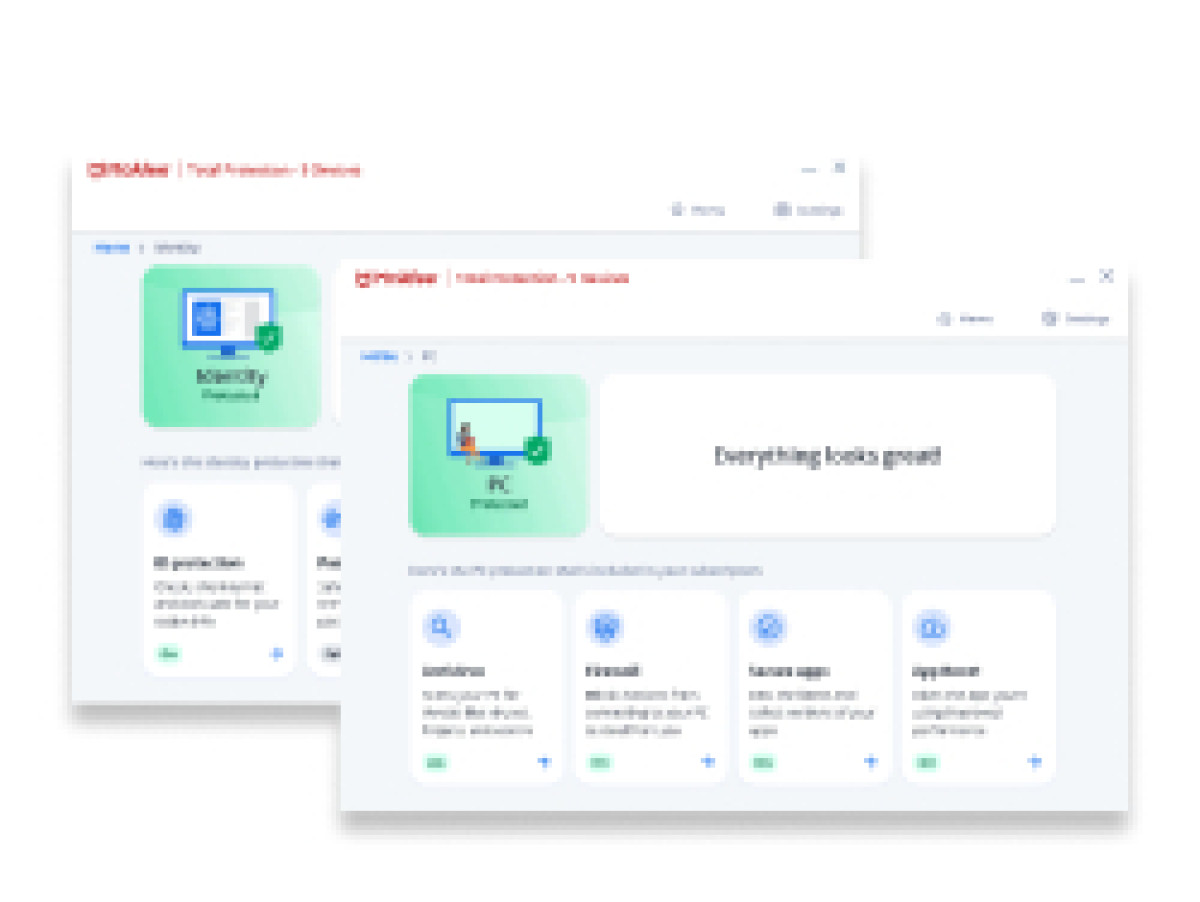 Pros & cons
Awarded by multiple testing labs
Powerful parental controls to keep children safe from viruses
Anti-phishing works better than other antivirus programs
Basic plan can only be used on one device
Mac version lacks many features
McAfee, like Norton, is another household name in the antivirus industry. It's been around for decades and has won plenty of awards and accolades from independent testing labs. McAfee is an all-in-one solution to your antivirus needs because it comes with malware and ransomware protection, an anti-phishing tool, real-time threat protection, a VPN, a password manager, and more.
The Plus plan lets you use the antivirus program on 5 devices and comes with all the features you need to keep your system free from viruses. Its anti-phishing tool will prevent you from visiting suspicious sites.
If you have kids and you want to keep an eye on them, McAfee's parental controls will help you do that. Not only does it allow you to block devices from accessing inappropriate content, but it also has location tracking, so you can always keep track of your children's devices.
We noticed that it slowed down our PC a little during the first scan, though that seems to be a common problem among many antivirus programs.
Overall, though, we believe it's a solid antivirus that comes with some of the best security features. Unfortunately, there's no free version but you can avail a trial version and get the Basic package for $39.99 per year.
5. ESET – Best antivirus for tech experts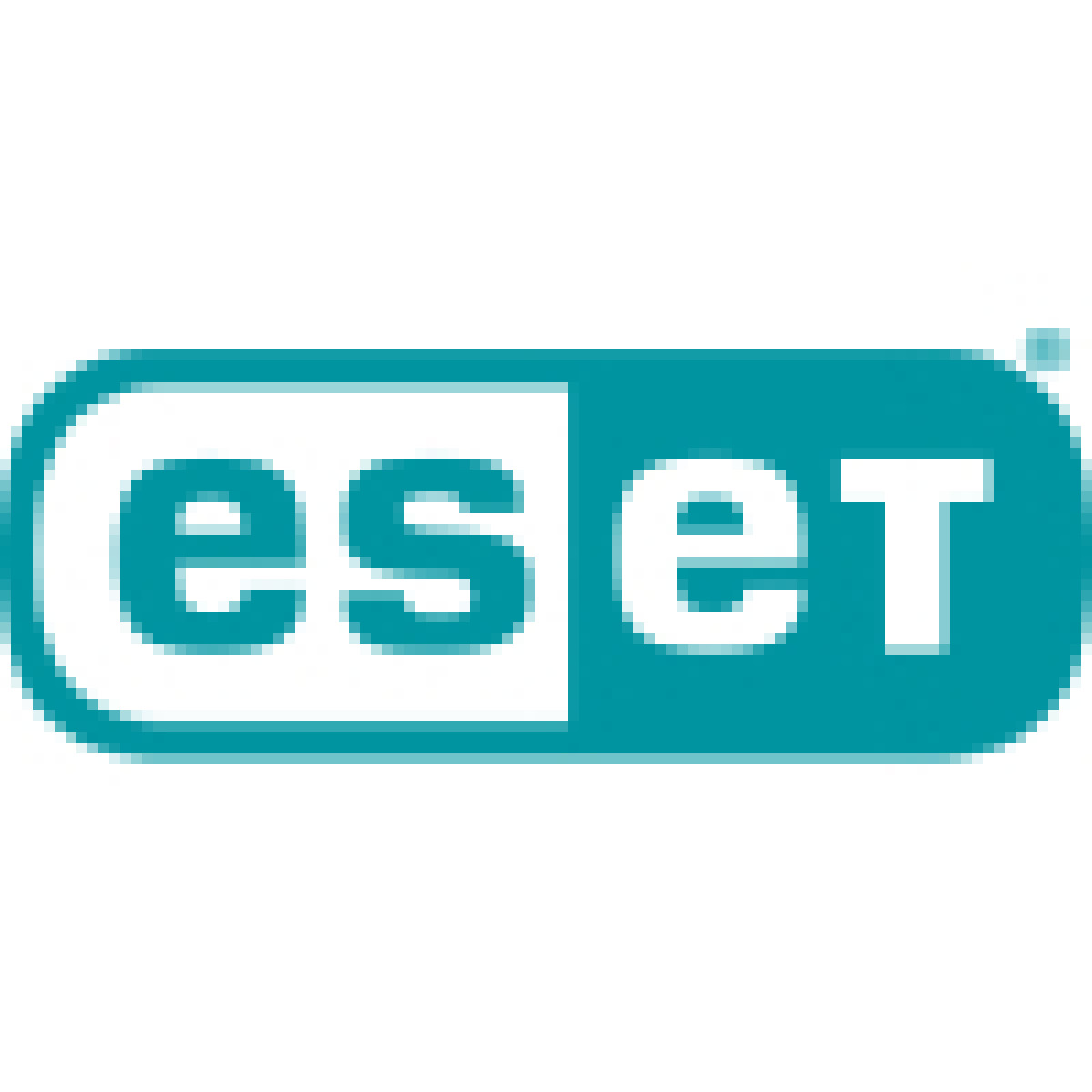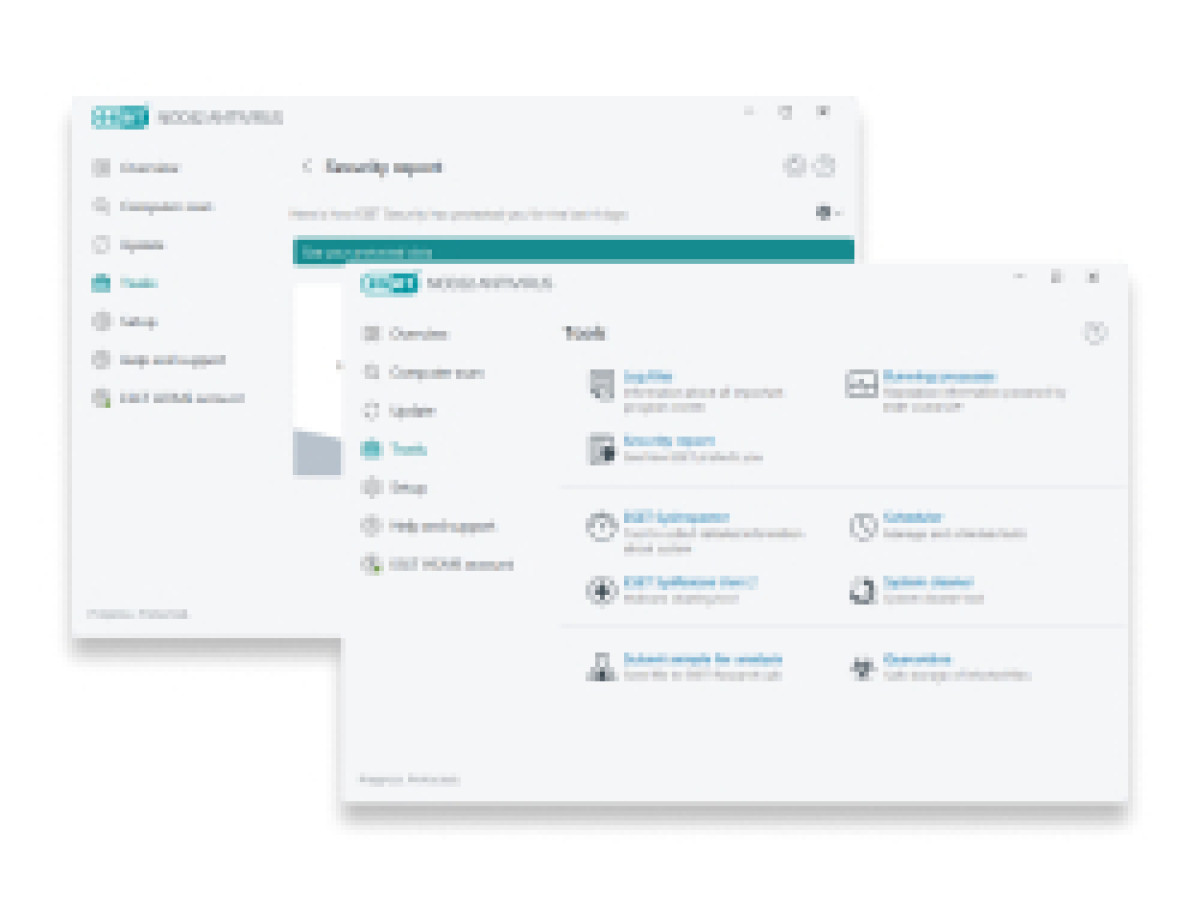 Pros & cons
Advanced security features for full protection
Device Control system protects you from unknown accessories
Network Inspector for protecting all devices
Host-Based Intrusion Prevention System for customization
Expensive
No VPN
Not meant to be used by beginners
ESET has many advanced and technical features, which is why it's so far down the list. It's not the best antivirus for beginners, but if you consider yourself well-versed in antivirus programs and tools, we highly recommend getting ESET. It frequently receives high scores from independent testing labs thanks to all the advanced features it provides.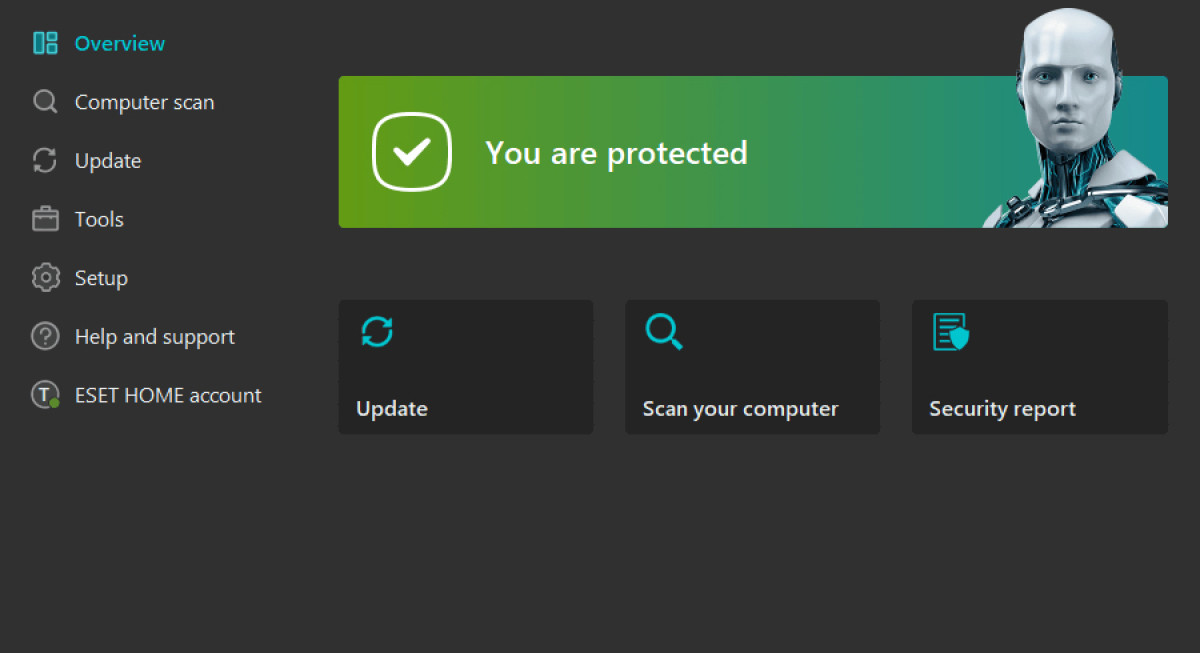 ESET NOD32 on Windows.
It uses advanced machine learning to detect malware and viruses without slowing down your system. Using the Host-Based Intrusion Prevention System (HIPS), you can create rules for system registry and programs to increase your security.
Files will be scanned as they're downloading and it'll run scans even when your system isn't in use.
Unfortunately, there's no VPN and the parental control isn't as effective as it is on other antivirus programs. Unlike McAfee's parental control feature which allows you to track your children's location along with a whole range of other things, ESET only lets you block inappropriate content.
The Device Control system gives you a lot of control over what devices can connect to your system.
It may seem complicated to new users, but once you get the hang of it, you can use it to prevent any unknown USB or card reader from spreading viruses in your device.
ESET's most affordable package is the NOD32, which costs around $39.99 per year. It's more expensive than most other antivirus programs, but that's because it's meant to be used by more advanced users.
6. Webroot – Light antivirus that uses the least amount of space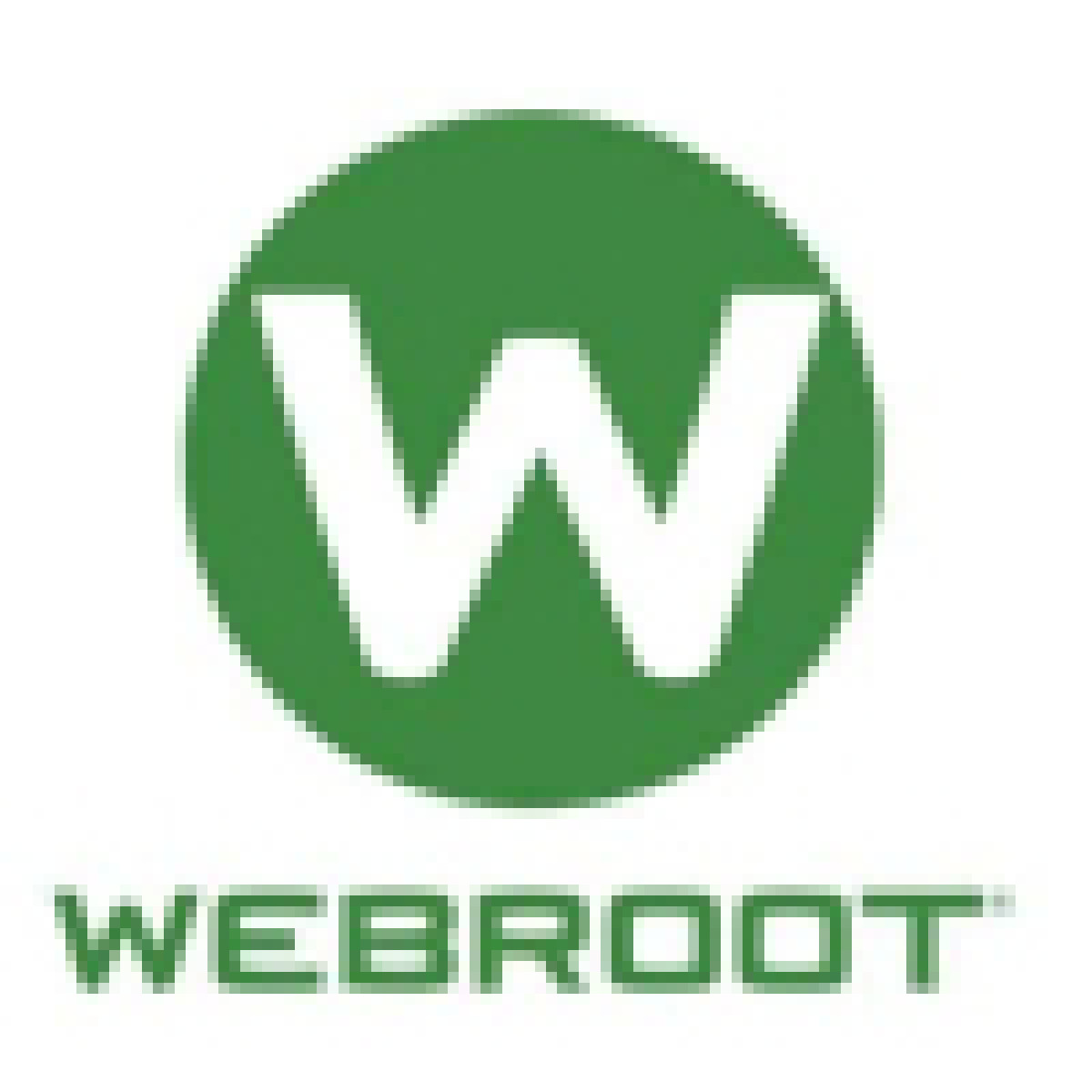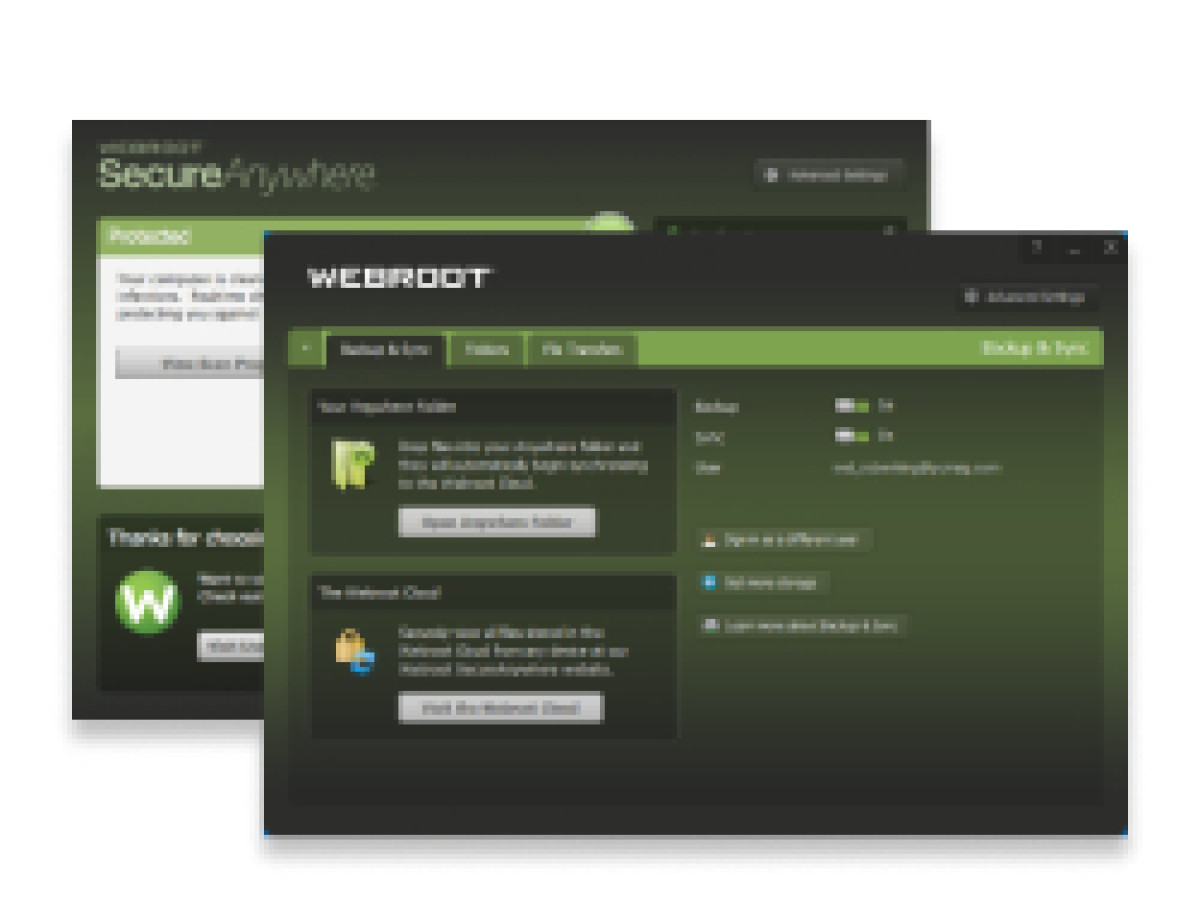 Pros & cons
70-day money-back guarantee
Cloud-based antivirus
Doesn't slow down your system
Quarantines unknown files until it's confirmed they're safe
Poor ranking in lab tests because of different methods
Webroot uses different detection techniques than other antivirus programs. It's a light antivirus that does exactly what you'd expect an antivirus to do: keeps the viruses at bay and your system optimized. It usually doesn't rank well in testing labs because they have standardized tests that struggle with understanding its detection techniques.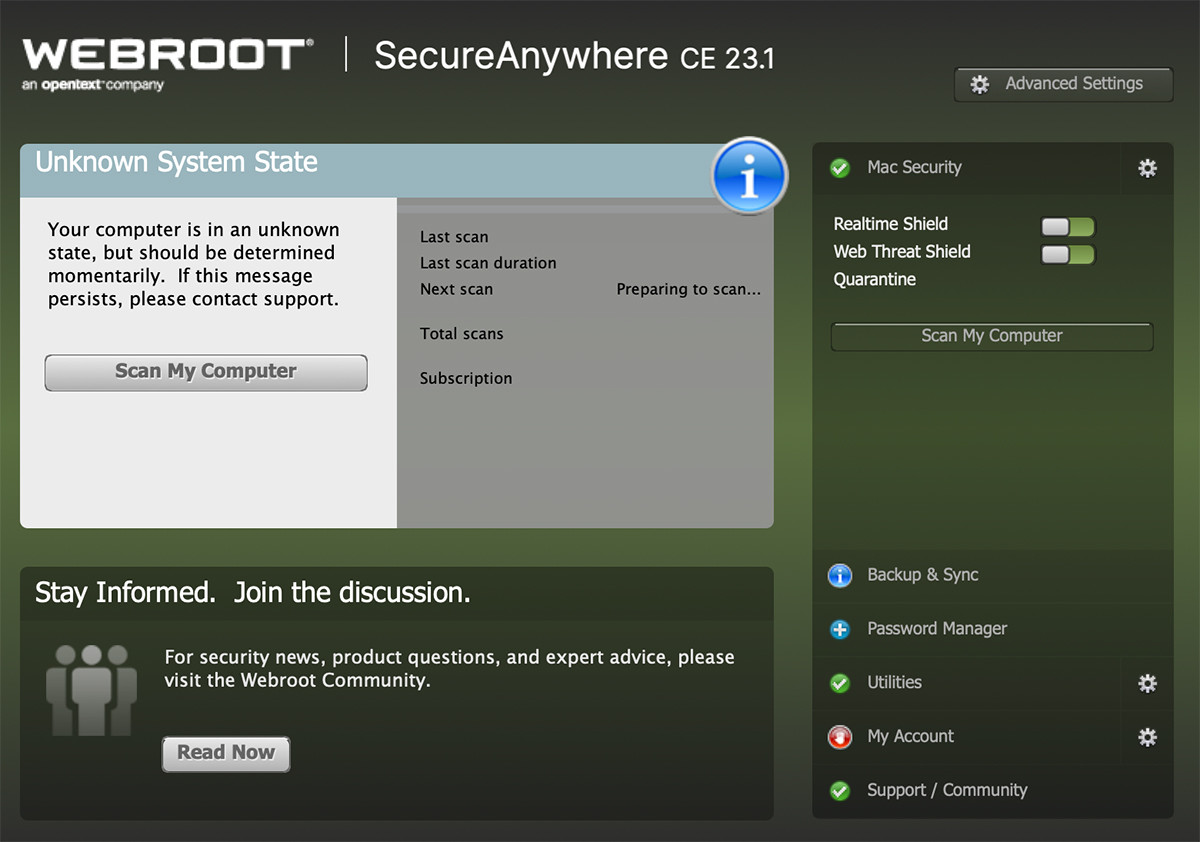 Webroot on Mac.
It looks for viruses by isolating unknown programs and monitoring them closely while they're running. Any action that can't be undone is blocked and recorded.
Webroot's cloud analysis system analyzes the program and tells you if it's okay to use it. If it's not, it gets deleted.
In our tests, the macOS and Windows versions performed nearly the same and there wasn't a big difference in their performance.
What we loved the most about Webroot was that our devices never slowed down during the scans. The anti-phishing tool worked quite well, too, blocking almost all the sites we tested.
You can use the online console to get a quick overview of how your devices are performing. Some additional things you can do include performing a scan, analyzing unknown or risky programs, and more.
You can get Webroot for $23.99 per year. It comes with a 70-day money-back guarantee.
7. Sophos Home – Best antivirus for multiple devices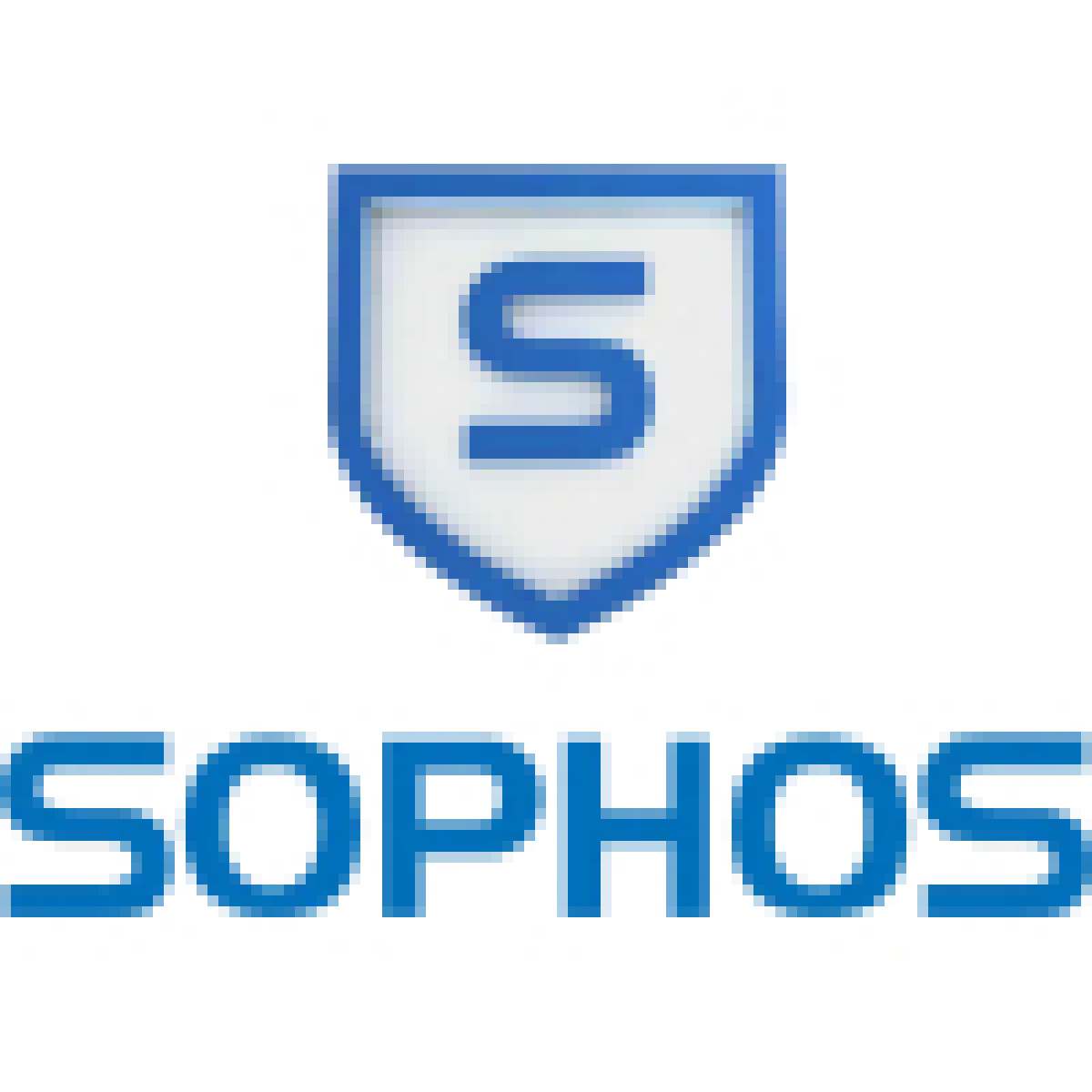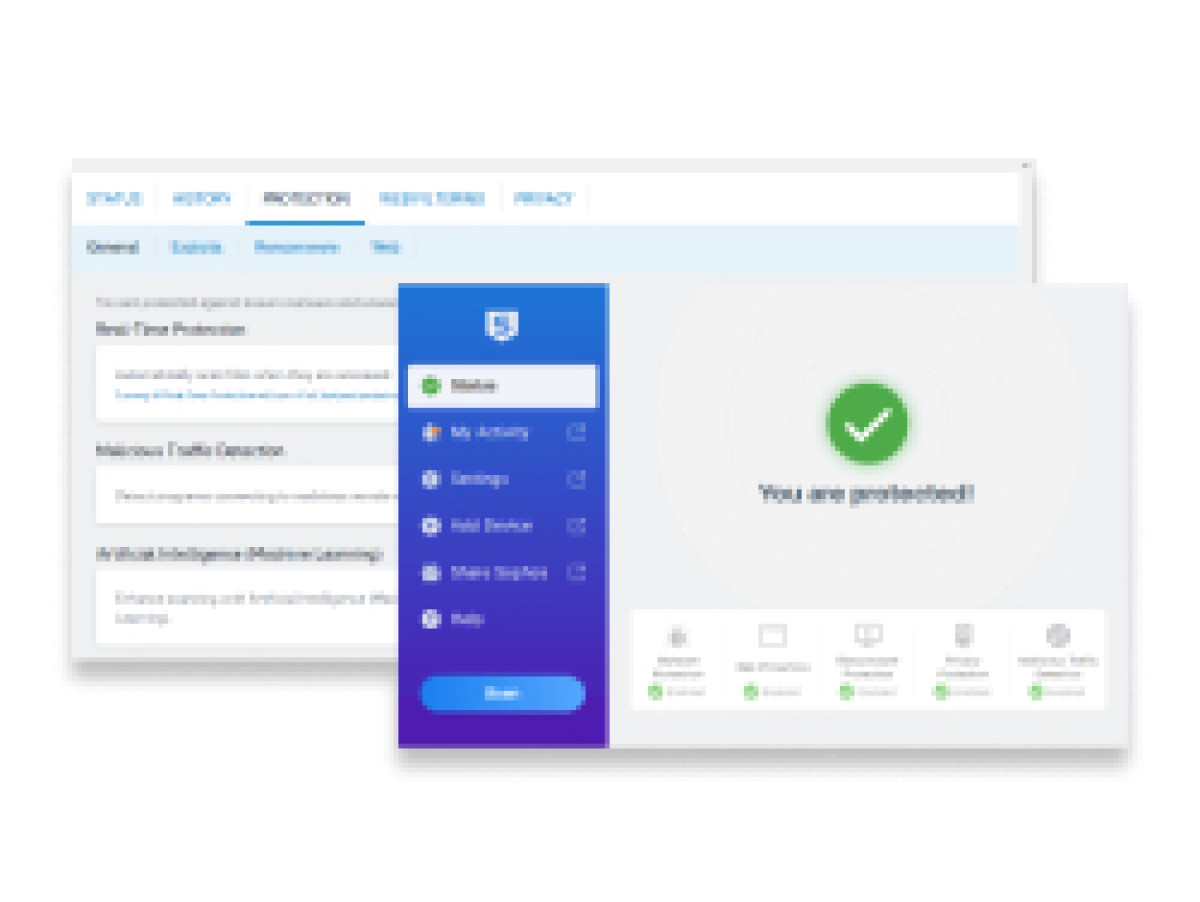 Pros & cons
10 Mac and PC computers
Can be used on unlimited number of smartphones
Uses AI to keep your system safe
Real-time antivirus
Parental control is too basic
Sophos is more popular as an antivirus for enterprises, but Sophos Home intends to change that by bringing the same powerful tools to the casual consumer. It received near-perfect scores in its most recent tests by SE Labs. You can use its award-winning tools to keep yourself safe from malware and ransomware.
When you download Sophos Home, it performs a deep scan to help get rid of viruses and malware from your system. It leverages AI technology to keep an eye on unknown apps, bots, and other types of threats.
No matter what plan you buy, you'll be able to use Sophos Home on 10 Windows and Mac computers, and an unlimited number of iOS and Android smartphones. Most antivirus programs don't cover that many devices unless you pay an exorbitant fee.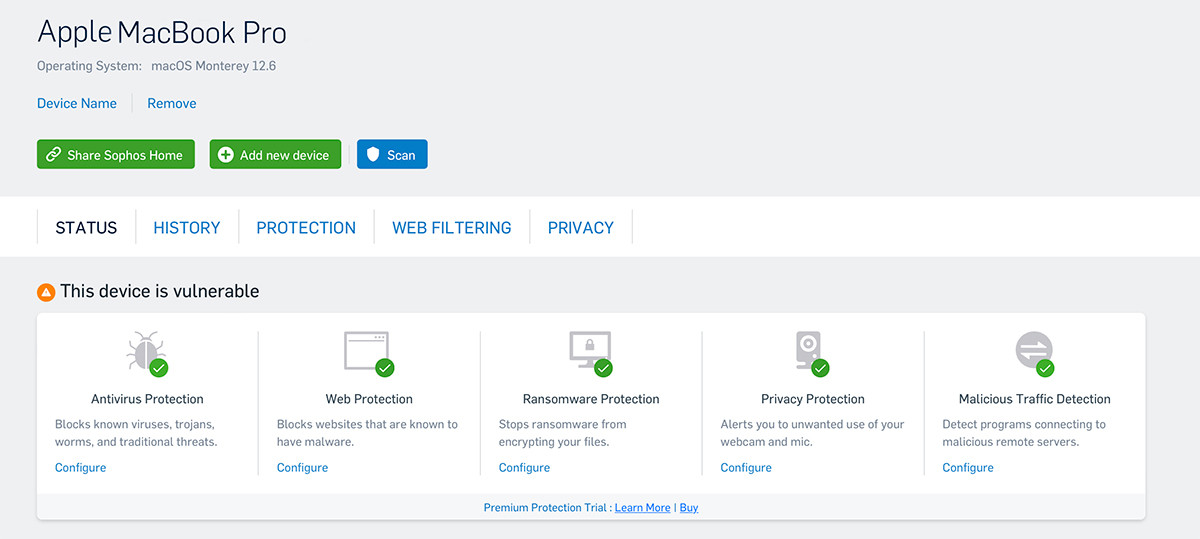 Sophos Home on a MacBook Pro.
It encrypts your keystrokes and prevents unauthorized use of your webcam. Safe banking and shopping are both guaranteed thanks to Sophos' anti-phishing tool. Your browser downloads will be regularly scanned to make sure you don't accidentally download any malware content.
Parental web control allows you to control and monitor the websites your children visit, but it doesn't let you do anything else. You can't track your children's devices.
The cheapest package of Sophos Home costs $44.99 per year.
Methodology: how we tested the best antivirus
We know how time-consuming it can be for casual users to install and test multiple antivirus programs when looking for the right one. For that reason, we tested over 30 programs ourselves so you won't have to.
Referring to independent testing labs is a common practice here at Tech Lapse, but we also download the antivirus programs and use them ourselves to see how they function.
The first thing we look for is their performance – whether or not they slow down our system when running that first scan.
We then focus on testing the different features of the antivirus programs and see how they perform.
Another thing that we focus on is the user-friendliness of the antivirus. It's important to know if an antivirus is designed for beginners or advanced users who want more than just a quick scan.
We also check for user reviews to see what other people think of the antivirus. Reviews shared by users on forums like Reddit often provide an accurate picture of what using the antivirus is like since they're not being paid by the company and they're just sharing their own experience.
Finally, we look at the price to determine if the antivirus program should be in our list or not. An antivirus can have all the features in the world, but if it's not strictly for enterprises and costs over $100 per month, then there's no point in recommending it to anyone.
Best antivirus 2023 compared
To save you time, we've added a table that compares all the top 7 antivirus programs of 2023. You can see how they stack up against each other in categories like max devices, features, price, and more.
| | | | | | | | |
| --- | --- | --- | --- | --- | --- | --- | --- |
| | TotalAV | Bitdefender | Norton | McAfee | ESET | Webroot | Sophos Home |
| Operating systems | Windows, macOS, iOS, and Android | Windows, macOS, iOS, and Android | Windows, macOS, Chromebook, iOS, and Android | Windows, macOS, iOS, and Android | Windows, macOS, and Android | Windows, macOS, Chromebook, iOS, and Android | Windows, macOS, iOS, and Android |
| Number of devices | 6 | 3 | 5 | 5 | 10 | 5 | 10 |
| VPN | Yes | Yes | Yes | Yes | No | Yes | Yes |
| Additional features | WebShield, system optimization tools, and more | Bitdefender Photon, Game Mode, Vulnerability Assessment, and more | Dark web monitoring, Over 200 GB of cloud storage, and more | Advanced parental controls, identity monitoring, and more | Device Control, Network Inspector, and more | Cloud-based analysis of unknown programs | AI threat detection |
| Free version | Yes | Yes | No | No | No | No | No |
| Money-back guarantee | 30 days | 30 days | 60 days | 30 days | 30 days | 70 days | 30 days |
| Starting price | $19/year | $24.99/year | $19.99/year | $39.99/year | $39.99/year | $23.99/year | $44.99/year |
How to choose an antivirus software
There are many things that elevate an average antivirus software's status to the best antivirus software. Here are some of the things that may help you pick the right one:
Independent testing labs – Testing labs give out certifications to antivirus programs if they get a high score on their tests. A company agreeing to be tested by a lab in itself is a good sign because labs are objective in how they measure the results.
Platform compatibility – All the best antivirus programs work on all platforms such as Windows, macOS, iOS, and Android. If you have multiple devices, which most people do nowadays, then it's important to buy an antivirus that's compatible with all platforms.
Ease of use – Contrary to what most people believe, antivirus programs don't just run a quick scan of your system and remove a couple of files. They do a lot more than that, but being able to use all their features depends on how user-friendly they are.
Security features – Most antivirus programs are packed with various features. It's important to understand what those features are so you have a good idea of how you'll use them to protect your devices.
Price – Antivirus programs can be expensive because they provide a wide range of features that protect you from offline and online threats. The price is one of the most important factors when choosing the right antivirus for you.
How does an antivirus work?
Antivirus programs monitor your devices and check for threats like adware, keyloggers, trojans, and worms. These are files that infiltrate your devices for the purpose of stealing your data or damaging other files you have.
An antivirus constantly refers to malware databases when scanning files, to see if they find anything that's similar to the malware that exists on the databases. Different programs have different techniques and methods of catching malware.
For example, Webroot uses cloud-based detection. It quarantines new files and runs them in isolation before letting them affect your device. Once it's run all its tests on the file and given it the green light, you can use it. But if it detects any threat, it deletes the file.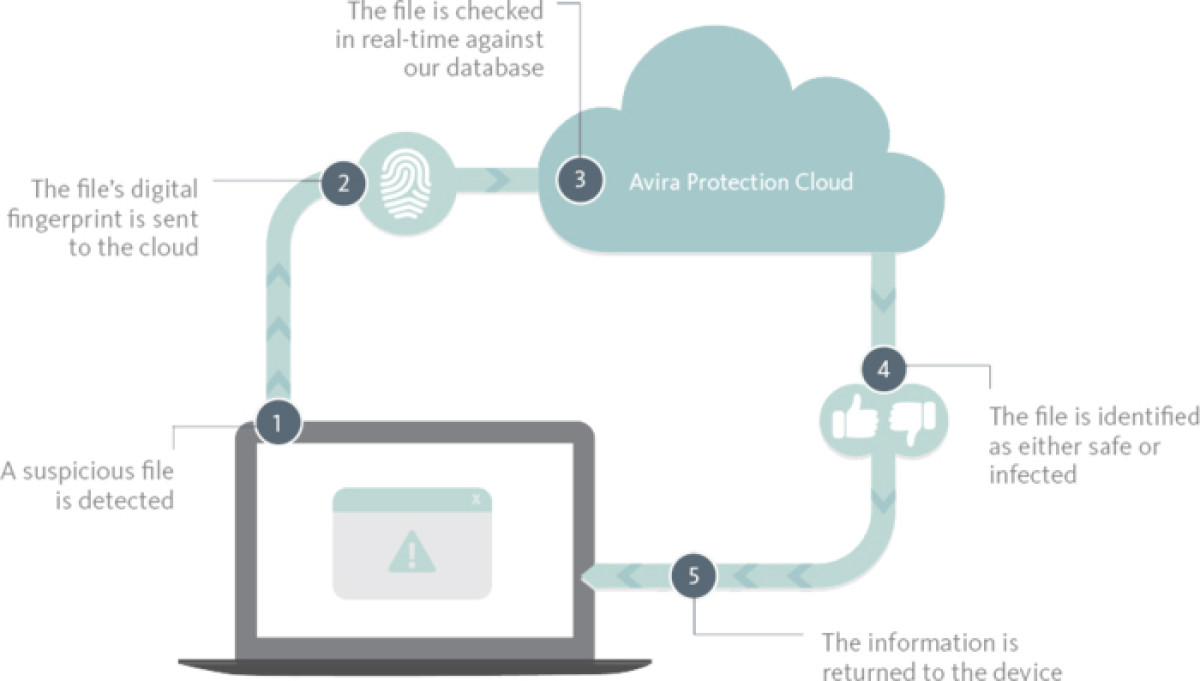 How some antivirus programs work. (Source: Avira.com)
Some antivirus programs like Bitdefender and Sophos Home use machine learning to catch malware. This is called behavioral detection and it closely monitors unknown files with the help of AI to make sure they're not going to damage your device.
Realtime protection, which is a common feature in most antivirus programs, scans files and applications as they're running to prevent them from infecting your device. It happens without you knowing anything, as it runs in the background and you don't have to tweak any settings to make it work.
What does antivirus not protect against?
Most antivirus programs can't usually protect you from online threats such as phishing attacks, identity theft, or data breaches. Since most antiviruses use malware databases to determine if a file is a threat or not, they're ineffective if there's new malware that's not on the databases.
If you're a business, then an antivirus won't protect you from insider threats like employee fraud or an outsider gaining access to an employee's account.
Advanced persistent threats (APTs) will also go undetected by antivirus programs since they use advanced methods to infiltrate devices. They're often backed by a government.
You'll also fail to keep your protected devices safe with an antivirus if an unprotected device connects to your Wi-Fi network.
An antivirus alone might not be enough to protect all your data. We recommend using a VPN with it to keep your online data safe as well. Check out our comparison review of NordVPN and ExpressVPN, the two best VPN services of 2023.
Free antivirus vs paid antivirus
Most free antivirus programs won't have all the advanced features of a paid one. It may seem like a great idea if you don't want to pay for one, but your device will be at a greater risk of being attacked if it's not fully protected.
A paid antivirus comes with many different protection features and methods that all work together to keep your data safe, sometimes both online and offline. But with free antivirus software, you might not even get real-time protection.
Features such as VPN, ransomware protection, parental controls, and password managers, are almost unheard of in free antivirus programs.
A paid one will have all of these and more. It'll use real-time protection to quietly run in the background and scan every file that you open and download.
Moreover, many premium antivirus programs use advanced machine learning to detect unknown malware, something a free antivirus won't be able to do.
We recommend trying out a premium antivirus program like TotalAV or Bitdefender, instead of using a free one. Both programs come with a 30-day money-back guarantee.
Do I really need antivirus in 2023?
Yes, you still need an antivirus to protect all your devices from viruses and malware. Even in 2023, malware and ransomware happen frequently, and one of the best ways to keep yourself safe from them is by using an antivirus.
An antivirus will detect dangerous files and delete them, sometimes even before they get a chance to infect your device. Using one is especially important if you use multiple devices or have other people connecting to the same Wi-Fi as you.
New malware pops up everyday and it would be impossible for the casual user to detect and delete it by themselves.
According to statistics shared by Managed Service Provider (MSP), Windows devices are at the highest risk of being infected by malware. 91% of ransomware targets Windows.
Androids and Apple devices aren't targeted very often, but they still require an antivirus to keep them safe.
Windows devices also have the highest number of new malware coming out every year (over 90 million in the last 12 months alone according to AV-Test).
Windows devices are targeted more frequently than other operating systems according to AV-Test.
These statistics make it clear that cyberattacks and malware aren't going away anytime soon. Using an antivirus is essential if you want to keep all your devices safe and secure.
Final thoughts
All in all, an antivirus is a great security tool that everyone should use to protect their devices from viruses and malware.
The best antivirus program in 2023 is TotalAV as it has all the necessary features you need to keep your devices safe. It routinely gets a perfect score by independent testing labs and for all the features it offers, it's surprisingly cheap.
Some other great antivirus programs include Bitdefender, Norton, and McAfee. Antivirus software can be quite expensive because of all the features they come with, but even in 2023, they're necessary.
New malware emerges everyday and one of the best ways to protect yourself from it is by using a premium antivirus.
We don't recommend using free ones because they often lack most of the features that paid ones have. When it comes to security, you want to make sure you're taking advantage of every feature you get with an antivirus.
Frequently asked questions
The best antivirus in 2023 is TotalAV. You can get its cheapest product for $19 per year. It comes with real-time protection, WebShield, a VPN, and more. All of these features make sure you're always protected without being bothered by pop-ups.
No, antivirus software isn't enough and we recommend using other technologies like VPNs and password managers. While antivirus programs will do a good job of protecting your device, most will fail to keep your online traffic safe. Using a VPN, like NordVPN, you can encrypt your online traffic and build an additional wall against cyberattacks.
Yes, it's good to use an antivirus and a VPN at the same time. Both technologies will protect your online and offline data using different methods and techniques. An antivirus will protect you from malware and viruses, and a VPN will encrypt your online traffic and hide your real identity.
No, free antivirus doesn't provide the same type of comprehensive solution a paid one does. It lacks most of the features that a paid one uses to give your device full protection. If you fully rely on a free antivirus, you'll leave your device vulnerable to new malware and other types of viruses which it won't be able to detect.
Yes, if you use an Android, getting an antivirus will keep it safe from unknown files and malware. The best thing to do, however, is to avoid downloading files from unknown sources. Smartphones are generally safer than Windows PCs. Android phones are targeted more often than iOS, which is considered more secure.