We may receive commissions for purchases made through links on our website. We appreciate your support.

Norton antivirus has been around for decades. It's one of the most widely recognized names in the antivirus industry because of all the security features it provides. Using machine learning and other advanced techniques, Norton protects your device from malware, trojan, spyware, and other threats.

There are many features that make Norton a household name, some of which include real-time protection, VPN, parental controls, and more.

We tested the popular antivirus and found it to be one of the best security solutions in 2023. It detects malware and other threats 99.9% of the time, making sure that no virus invades your system.

In this Norton antivirus review, we've shared our results, and have covered the software's features and other aspects in detail.
Norton specifications
Here are some of the main things you should know about Norton:
| | |
| --- | --- |
| Price | Starting from $19.99/year |
| Money-back guarantee | 60 days |
| Operating systems | Windows, macOS, Android, iOS, and Chromebook |
| Free plan | No |
| Firewall | Yes |
| VPN | Yes |
Norton pros & cons
We've listed the pros and cons of Norton antivirus below, so you can easily get an idea of what it's like to use the software. Here are the things we like and dislike about it:
Pros
The entry-level plan is cheaper than most other top antivirus software
All plans include cloud backup of 2 GB, 50 GB, and 250 GB
Comes with a "100% Virus Protection Promise"
Every plan has a password manager
Has some of the most advanced security features in the antivirus industry
Comes with a VPN for Internet security
Consistently scores well in independent testing labs' results
Cons
There's no free version
No VPN in the entry-level plan
Entry-level plan can only be used on one device
App is resource-intensive which may slow down your system
What is Norton antivirus?
Norton antivirus is a product of Gen Digital. It was founded by American programmer Peter Norton in 1990, and is considered, along with Bitdefender, TotalAV, and McAfee, one of the most popular antivirus software of all time.
The company behind the antivirus has been at the center of many controversies since its inception. For example, many users have complained that uninstalling the software completely can be difficult as it tends to leave some files behind, though we didn't experience any such problem.
Norton antivirus's popularity refuses to decline, though. It's received numerous awards by independent testing labs over the years and the features it provides are unlike any other viruses'.
Security features
Norton antivirus comes with many advanced security features that work together to keep your system safe and secure. Some of its main features include real-time protection, a firewall, and cloud storage.
These features are regularly tested by independent testing labs and they always get a near-perfect score.
Here are all the security features that make Norton so popular:
Real-time protection
Norton's real-time protection uses machine learning to identify malware, ransomware, phishing, and other threats in files, apps, and sites. It works in the background and doesn't require you to configure any settings.
Constantly monitoring your system, it immediately detects viruses and suspicious files or sites so you can avoid them before they get a chance to attack your system.
Just like the real-time protection in other antivirus software, Norton's also keeps an eye on new files you run and download. If it notices any suspicious behavior, it immediately alerts you.
Anti-phishing tools
Norton uses something called "Isolation Mode." If you suspect a site might be risky, but you're not sure, you can use Norton's Isolation Mode to visit it without worrying about it stealing your data.
In Isolation Mode, whatever malicious site you visit will run on Norton's server and you'll get extra protection. A similar feature, called Link Guard, gives you the option to open suspicious links you get in your email in Isolation Mode.
It also comes with a free Safe Web extension for Google Chrome, Firefox, and Edge. You can use it to check if a website you're visiting is safe or not.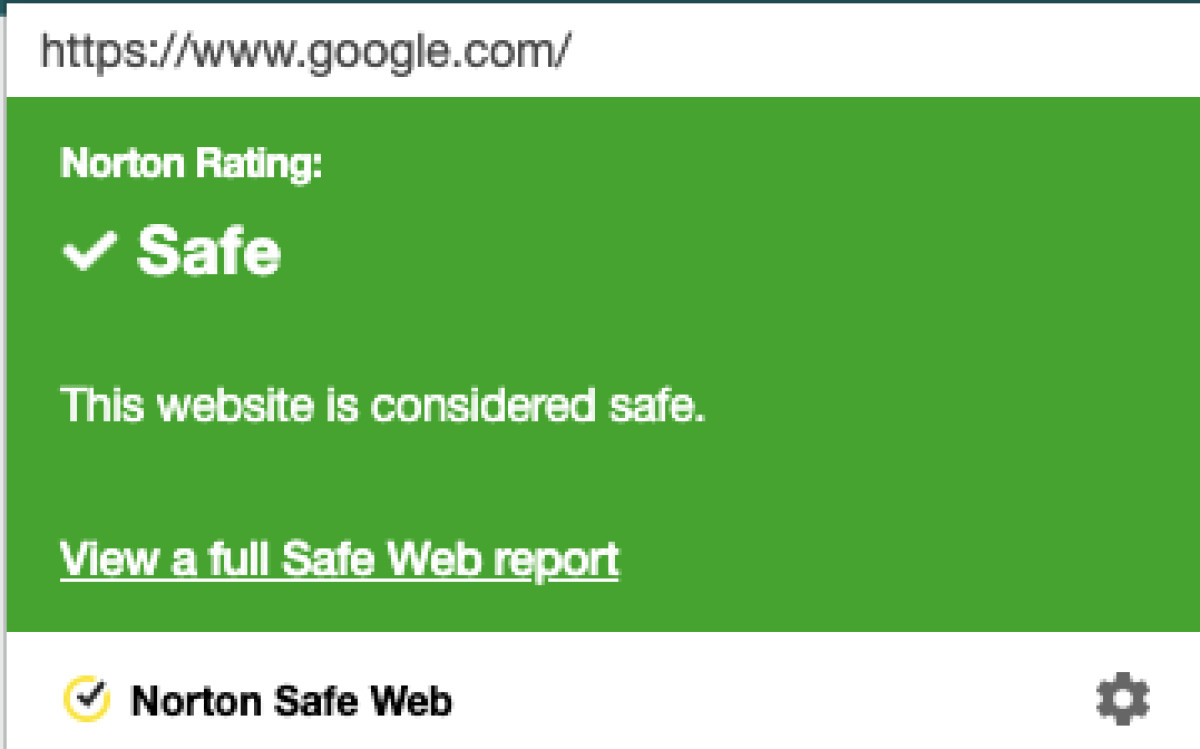 Norton's Safe Web extension.
Scans
Norton antivirus comes with different types of scans, giving you a diverse range of options to clean up your system. Here are the types of scans you get with the antivirus:
Smart Scan
Quick Scan
Full Scan
Custom Scan
In our tests, we found that Smart Scan is faster than Quick Scan. It doesn't just look for malware, but also junk files and duplicates. It quickly scans the system and suggests solutions on how you can improve its performance and boost its security.
Quick Scan takes around 35 seconds. It's not as efficient at finding viruses as Smart Scan, but it takes less RAM so your system won't slow down as much as it will during the latter (though the difference will be negligible).
Full Scan is exactly what it sounds like. It scans your entire system thoroughly, which means there's a chance it'll slow down your system a little since it uses more memory. During the testing process, running a Full Scan on our system took about 15 minutes. It may take less or more on your system depending on how old it is and other factors.
Custom Scan lets you scan specific files or folders. Its speed will depend on how many files or folders you choose. You can also schedule scans to automate the process.
VPN
Norton's VPN is absent from the AntiVirus Plus plan and you have to upgrade to Norton 360 for it. It's also available as a separate subscription starting at $4.99 per month. You can use it on Windows, macOS, Android, and iOS.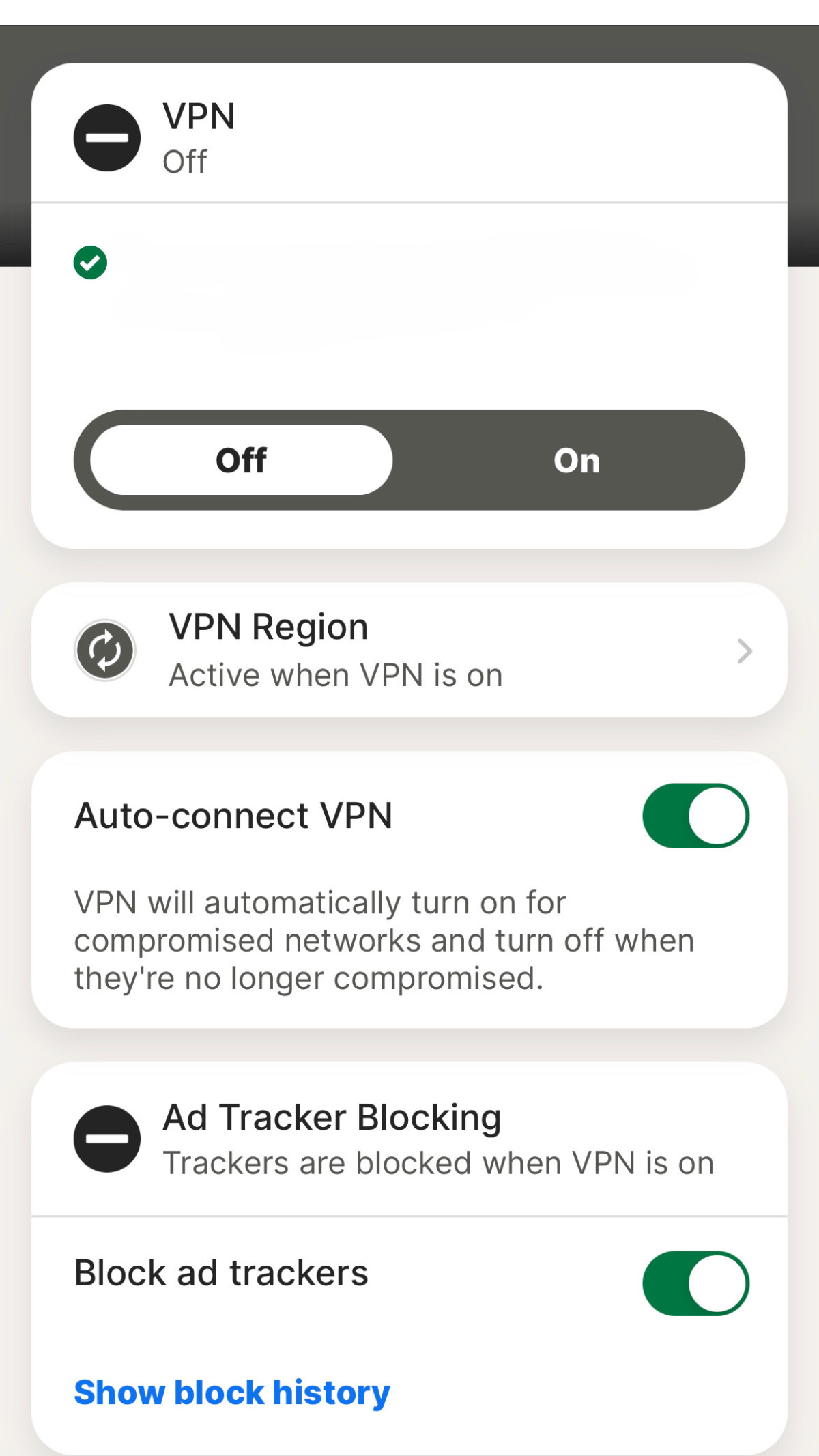 Norton's VPN on the iOS app.
If you care about Internet security, then we recommend getting the VPN since it'll encrypt your online traffic and assign you a fake IP address to make it look like you're in a different region. Using the VPN, you can stream geo-restricted content on sites like Netflix and Amazon Prime.
Norton's VPN has a strict no-log policy, and it comes with a kill switch and split tunneling. The company claims that it's been audited multiple times, but the information isn't publicly available so there's no way to confirm if that's true.
If you want a trusted VPN with more features and servers, we recommend checking out our comparison review of NordVPN and ExpressVPN, two of the most popular VPNs in the industry.
Cloud backup
Norton provides 2GB of cloud backup with the AntiVirus Plus and Norton 360 Standard plans. Norton 360 Deluxe comes with 50GB of cloud backup, and the LifeLock Select plan has 250GB.
With Norton's cloud backup feature, you can easily create backups of your files and photos.
A cloud backup is a foolproof way of protecting yourself against ransomware. You'll always have multiple copies of your files in case someone tries to steal them or your hard drive stops functioning.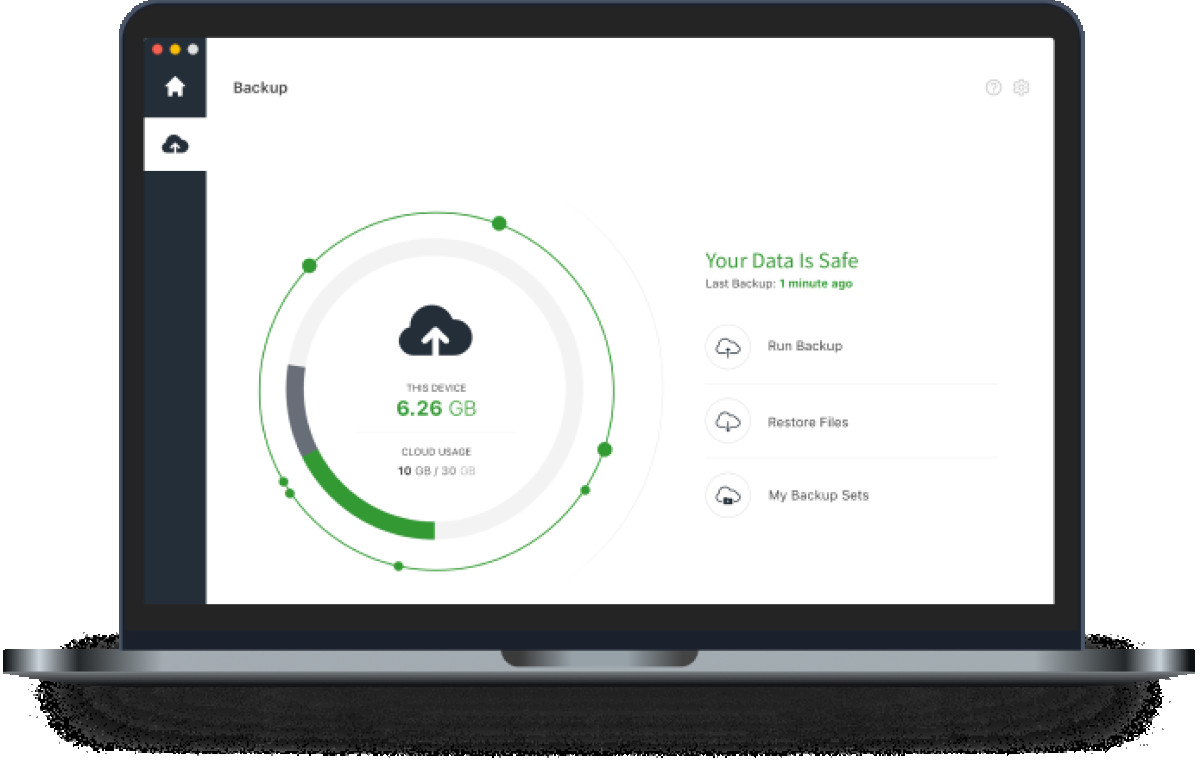 Norton's cloud backup will protect you from ransomware. (Source: norton.com)
Your files will be stored on Norton's servers and they'll be automatically backed up. You can choose what type of files will be uploaded to the cloud.
Password Manager
Norton's Password Manager will help you generate strong and unique passwords that no one will be able to steal. It'll store all your passwords in a single place so you can easily log in to all your accounts with just Touch ID/Face ID or a single password.
The feature includes a password generator, the ability to autofill passwords along with other personal information, a wallet, and a dashboard where you can view the status of all of your passwords.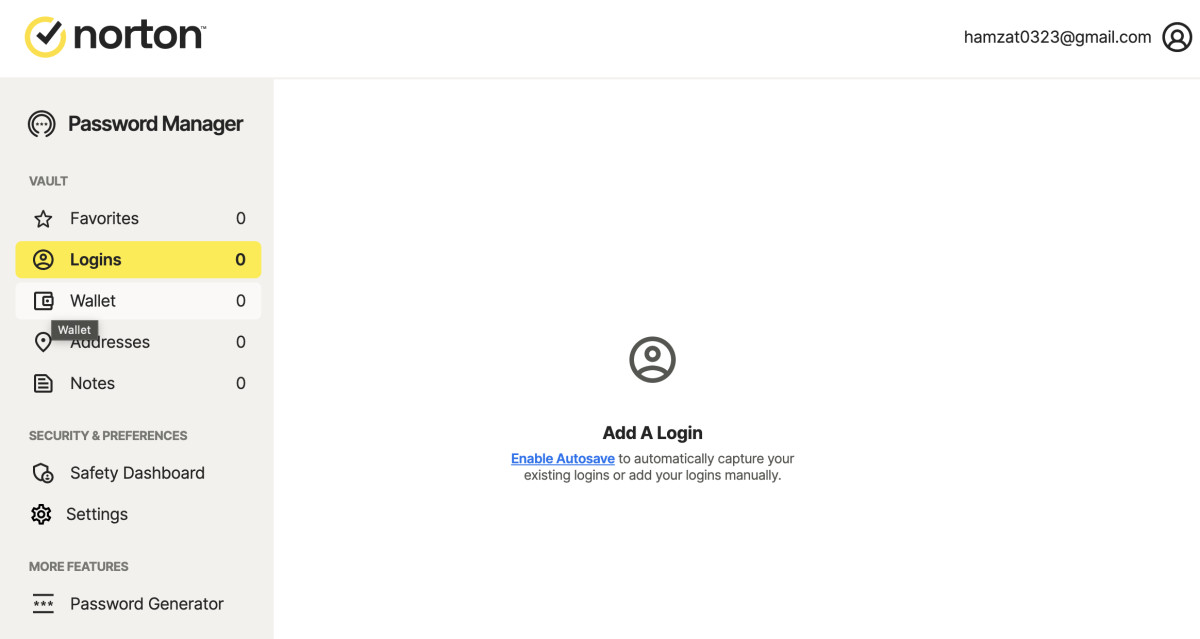 Norton's Password Manager.
You can sync the Password Manager across all your devices. Once you've signed up, any new account that you create on your system will be automatically added to Norton's Password Manager.
Smart Firewall
Your system may already have a built-in firewall, but it might not be as powerful as Norton's Smart Firewall.
Smart Firewall keeps an eye on inbound and outbound communications to make sure no unauthorized connection is made with your system. All you have to do is enable the feature, and it'll take care of the rest on its own.
It creates a set of rules for every program or application that you use. You also get vulnerability assessment with it, a feature which informs you of any security flaws in your system.
Dark Web Monitoring
Norton's Dark Web Monitoring will alert you if it finds your personal information on the dark web. Hackers often put people's information on the dark web for sale, and it's impossible for the casual user to ever know about it unless they use a tool that scans the entire Internet.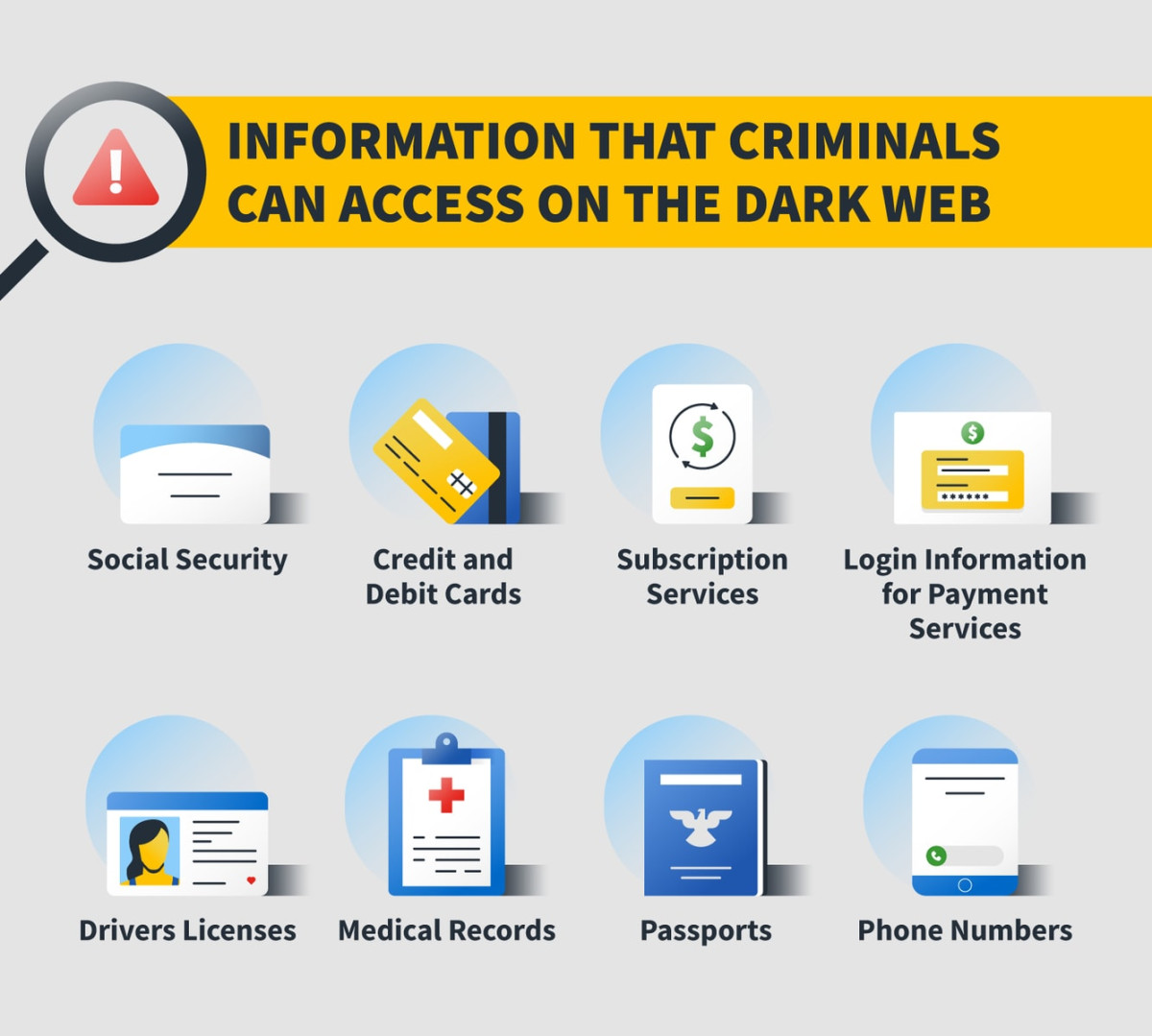 Things that people can access on the dark web. (Source: norton.com)
That's what Norton's Dark Web Monitoring does. It combs sites most of us would never even think about visiting and if it finds anything related to your email address, it sends you an alert.
It's common for people's information to get leaked onto the dark web, so Norton's Dark Web Monitoring is an essential security feature.
Parental control
If you have children whose unprotected devices are connected to the same Wi-Fi network as your protected ones, hackers can use them to gain access to your information.
With Norton's parental control features, you can limit your children's use of their devices so they don't visit any unauthorized or inappropriate site. By restricting and allowing specific websites, malicious content will always stay out of your children's reach.
You can also use these features to locate your children's devices and limit their screen time.
SafeCam
In the post-pandemic era, almost everyone uses a webcam to participate in online meetings. Your webcam can be used by hackers to infect your system and steal your data.
Using Norton's SafeCam, you can secure your webcam and get notified if someone ever tries to use it without your authority.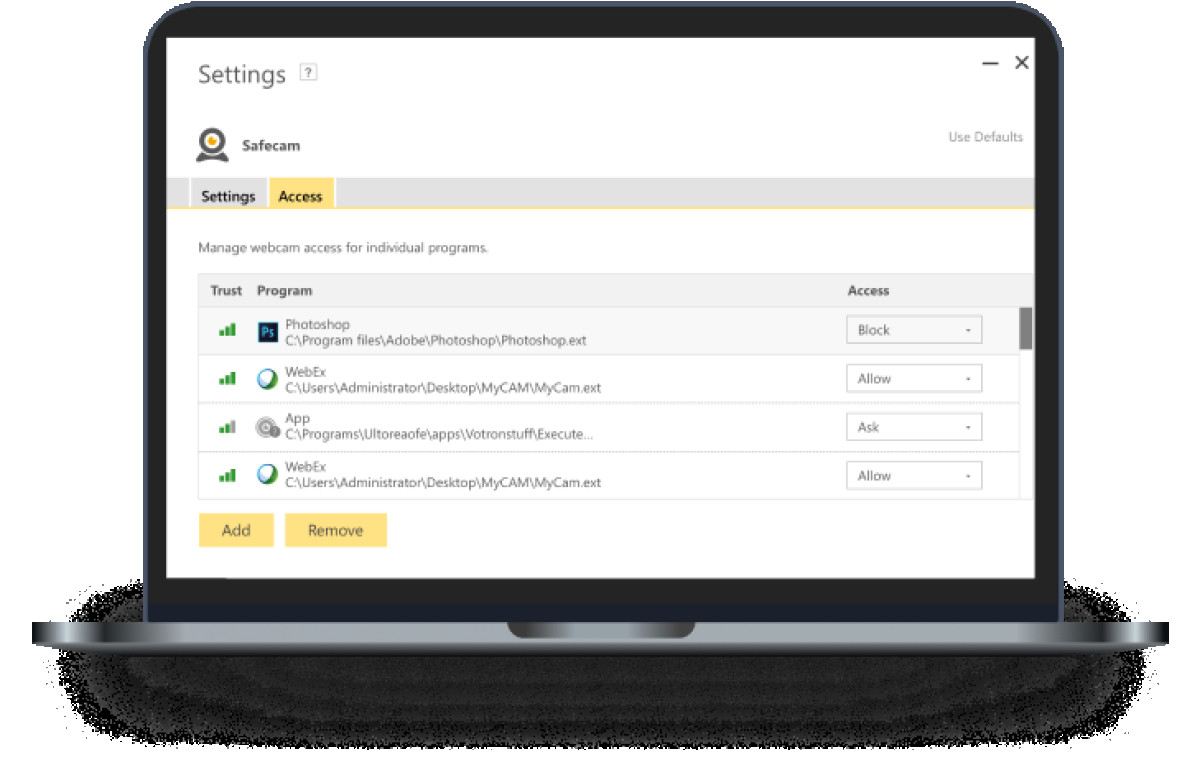 Norton SafeCam. (Source: norton.com)
Hacking someone's webcam is often referred to as "camfecting," and it can result in a trojan virus. SafeCam always alerts you if someone requests access to your webcam and you can choose to either allow or block the request.
SafeCam is one of the many defense layers developed by Norton to protect your system. Other layers include Intrusion Prevention System (IPS), advanced machine learning, Reputation Protection, and behavioral protection.
Price and plans
Norton has a total of four plans and unfortunately, there's no free version. Norton AntiVirus Plus, the entry-level plan, costs $19.99 per year and can only be used on a single device. Every plan comes with real-time protection, cloud backup, and a password manager.
The other three plans are referred to as Norton 360. They can be used on multiple devices and have more advanced security features.
Here's a table that compares the different plans offered by Norton:
| | | | | |
| --- | --- | --- | --- | --- |
| | Norton AntiVirus Plus | Norton 360 Standard | Norton 360 Deluxe | Norton 360 with LifeLock Select |
| Price | $19.99 per year | $39.99 per year | $49.99 per year | $99.99 per year |
| Max number of devices | 1 | 3 | 5 | 10 |
| Operating systems | Windows, macOS, Android, and iOS | Windows, macOS, Android, and iOS | Windows, macOS, Android, and iOS | Windows, macOS, Android, and iOS |
| Real-time protection | Yes | Yes | Yes | Yes |
| Cloud backup | 2GB | 2GB | 50GB | 250GB |
| VPN | No | Yes | Yes | Yes |
| Parental controls | No | No | Yes | Yes |
| Smart Firewall | Yes | Yes | Yes | Yes |
| Password Manager | Yes | Yes | Yes | Yes |
Norton AntiVirus Plus
The AntiVirus Plus plan allows you to use Norton on one device for $19.99 per year. There's also an option to get it for 5 devices, but that pushes the cost up to $39.99 per year.
It comes with real-time protection against malware, phishing scams, trojan, spyware, and other types of threats. Smart Firewall and Password Manager are also included in the package, but there's no VPN.
The AntiVirus Plus plan is ideal for people who want protection for just one device at an affordable price.
Norton 360 Standard
The next plan in Norton's lineup is the 360 Standard. It can be used on a total of 3 devices for $39.99 per year. Unlike the Plus plan, you can't add more devices for an additional fee.
Along with real-time protection and other AntiVirus Plus features, the 360 Standard package also includes a VPN and Dark Web Monitoring.
Norton 360 Deluxe
Norton 360 Deluxe covers 5 devices for $49.99 per year. It introduces two additional features, namely, Privacy Monitor and Parental Control. The former searches the web for your address, phone number and date of birth so you can request sites to remove them. The latter allows you to set restrictions on your children's devices.
You get 50GB of cloud storage with the Deluxe plan. The previous two plans only come with 2GB.
Norton 360 with LifeLock Select
The LifeLock Select package is the only plan that can be billed on a monthly basis for $9.99. It can be used on 10 devices and gives you 250GB of cloud storage.
LifeLock Select includes all the features that come with the previous plans, along with LifeLock ID Theft Protection. This package is more geared towards businesses than casual users.
Performance
Norton is a resource-intensive antivirus, which means it's bound to slow down your system, especially if you're on Windows. As with most antivirus software, the first thing you should do after installing Norton is run a full scan of your system.
The first scan will take time and may even slow down your system. In our case, we tested the software on a new MacBook Pro so the entire setup, including the first scan, didn't take more than 25 minutes. But this may not be the case for you if you use the software on an old system.
After making it through the first full scan, we tried Smart Scan and Quick Scan. Both took around 30 and 40 seconds, respectively, and didn't impact our system's performance. Subsequent full scans also took less time.
Norton has received multiple awards thanks to its performance. Just last year, it received 6 Top Product awards by AV-Test. The German independent testing lab gave its performance a 6/6 in all 6 tests.
The UK-based SE Labs gave Norton LifeLock the Best Consumer Anti-Malware award and a AAA rating in 2021.

Norton regularly receives awards by independent testing labs due to its performance.
Another independent testing lab called AV-Comparatives also gave Norton three stars (AV-Comparatives' highest rating) based on its performance during their tests. Its malware protection features also received the highly coveted three stars.
AV-Comparatives has been testing Norton since 2004 and its performance has considerably improved over the years.
If you're not happy with the performance because Norton fails to remove a virus, you can contact an expert from the company.
Norton's 100% Virus Protection Promise is a guarantee that if you're unable to remove a virus using the software, an expert from Norton will do it for you remotely.
If the expert also fails to remove the virus and you're unsatisfied with the service, you can ask for a refund and you'll get your money back.
You can check if you're eligible for the Protection Promise on your Norton's dashboard.
Interface and ease of use
Setting up Norton is a breeze. Getting familiar with the interface may take a while for some users, but it's not particularly challenging to use. Compared to the designs of other antivirus software, it's much easier on the eye because of its visually appealing UI.
Norton has native apps for desktop and smartphones. Here's an in-depth review of both apps:
Desktop
Norton changed their desktop app's interface in 2022, moving from the Classic view to My Norton. The new interface is designed to perform better, have more features, and look more modern. You can easily switch between the two interfaces through the app's settings.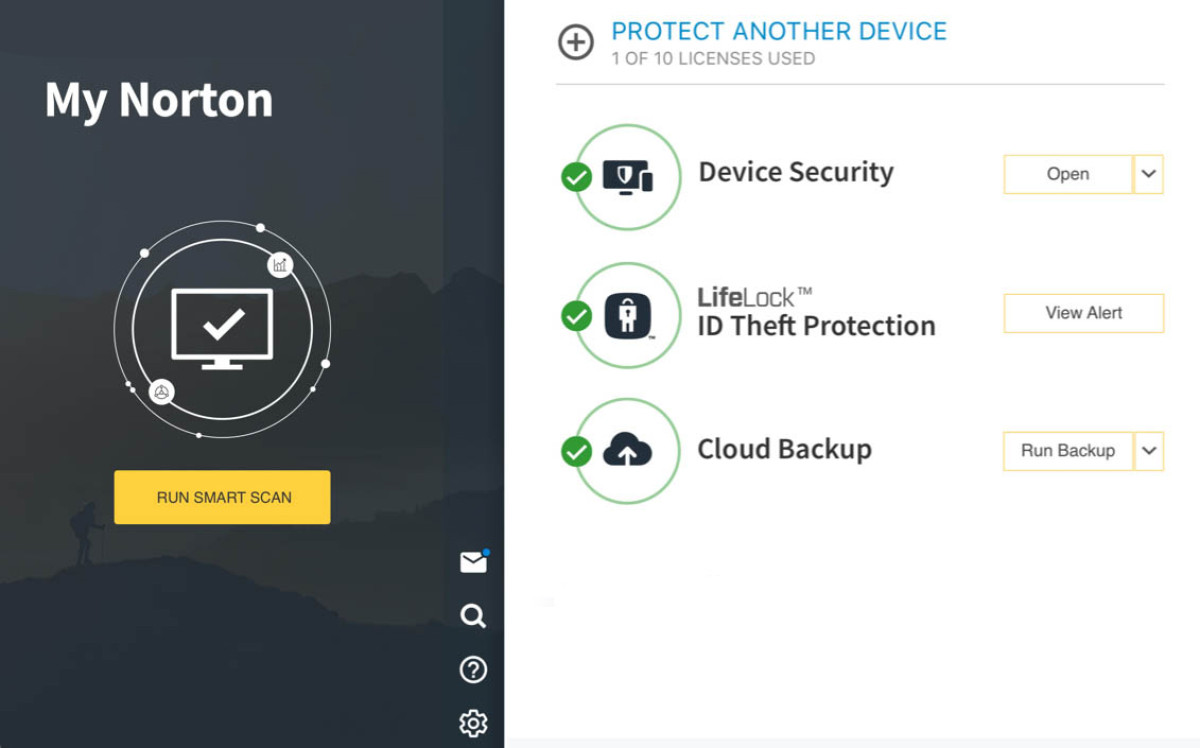 Norton's desktop app.
When you install Norton on your desktop, the app takes you to the Feature Setup screen where it explains what each feature does and what you should do to get the most out of the antivirus.
The Classic view allows you to run scans and use other features like Norton's optimization tools. There are certain features that are only available on the My Norton interface. To switch views, simply click on the My Norton icon.
My Norton lets you use the VPN, Dark Web Monitoring, Password Manager, and other features. Some users have complained that the app tends to act up sometimes and they have to resort to using the online dashboard, which is much faster and easier to use.
You can access all of Norton's features through the online dashboard.
Smartphones
Norton has native apps for both Android and iOS. There's no major difference between the two apps. They both have a simple interface where you have to scroll through a list of the features on the main screen. You can check a "Protection Report" by sliding it up from the bottom.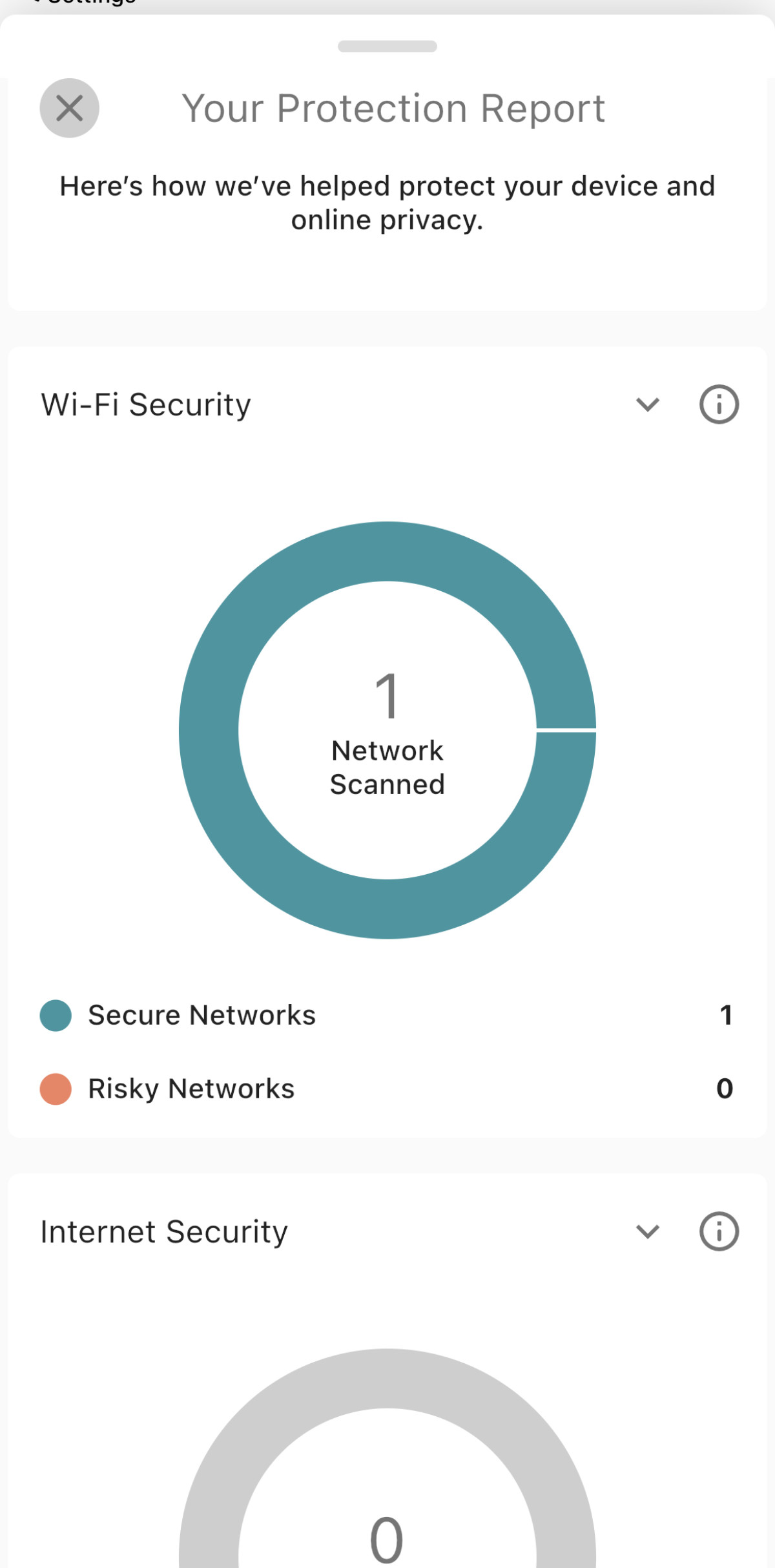 Norton's Protection Report on the iOS app.
You have to download separate apps for Norton's Password Manager, VPN, and Parental Controls. You can use these features within the app as well, but their dedicated apps will have more features.
Norton's anti-phishing tools work on Android and iOS, too. Link Guard will prevent you from opening suspicious links and Safe Web will identify malicious sites so you don't open them.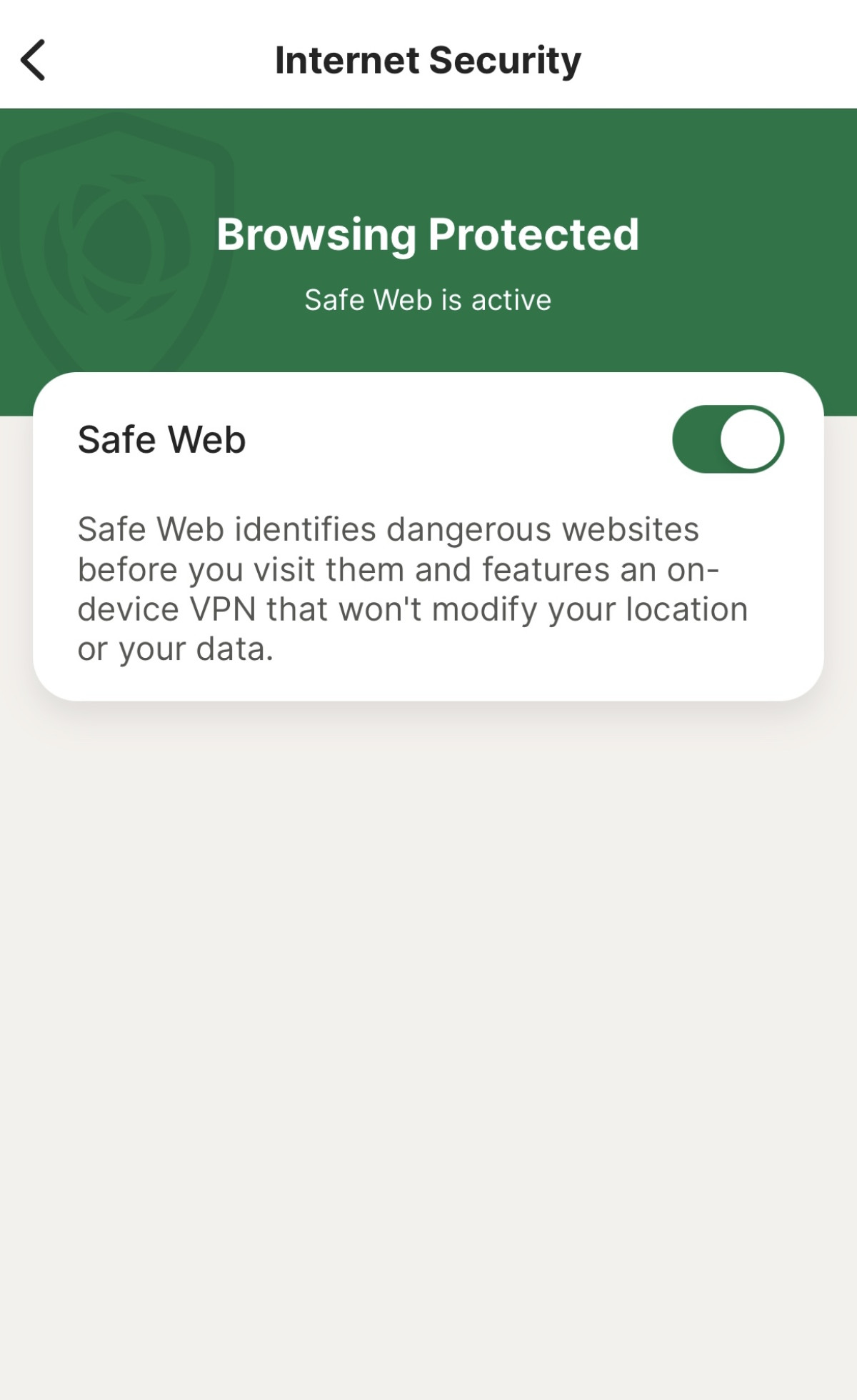 Safe Web on Norton 360 Mobile.
Another useful feature on the smartphone apps is the App Advisor. It scans your apps for viruses and gives you valuable information about things like how much battery they consume and whether they pose any security risks.
Customer support
You can reach out to Norton's customer support team through a live chatbot, email, and phone. The live chatbot, named Kate, is helpful, but will sometimes fail to understand your questions.
You can ask the bot to connect you with a live agent, but when we tried that, it just apologized and sent us a link to the support page.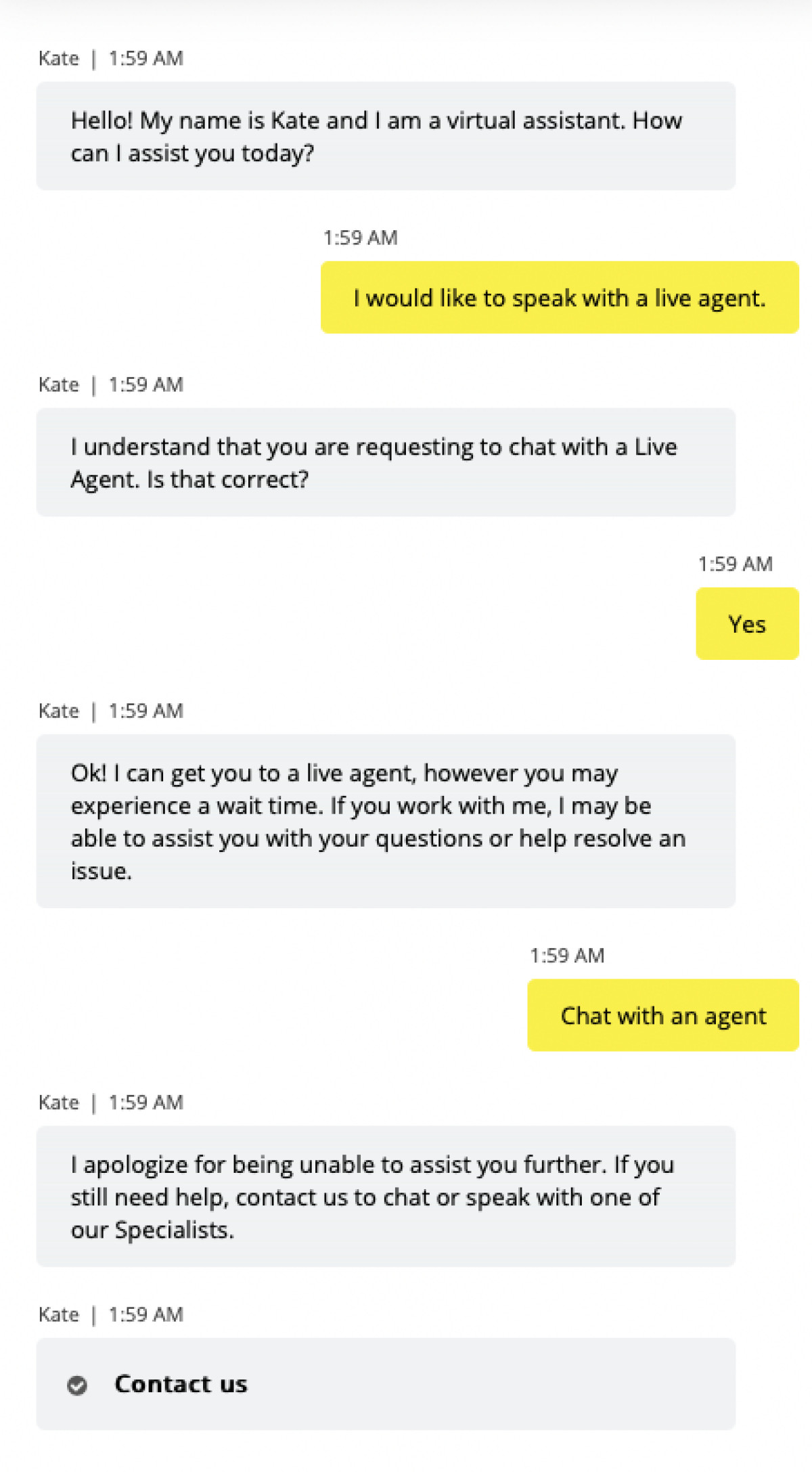 Norton's live chat.
If you continue as a guest on the support page, clicking on the live chat or phone support buttons take you to a page where you have to fill out a form. Once you submit it, you're assigned a "Case ID." Even after going through this process, we weren't connected with a live agent.
Even if you sign in, you're still connected with the bot after submitting the form.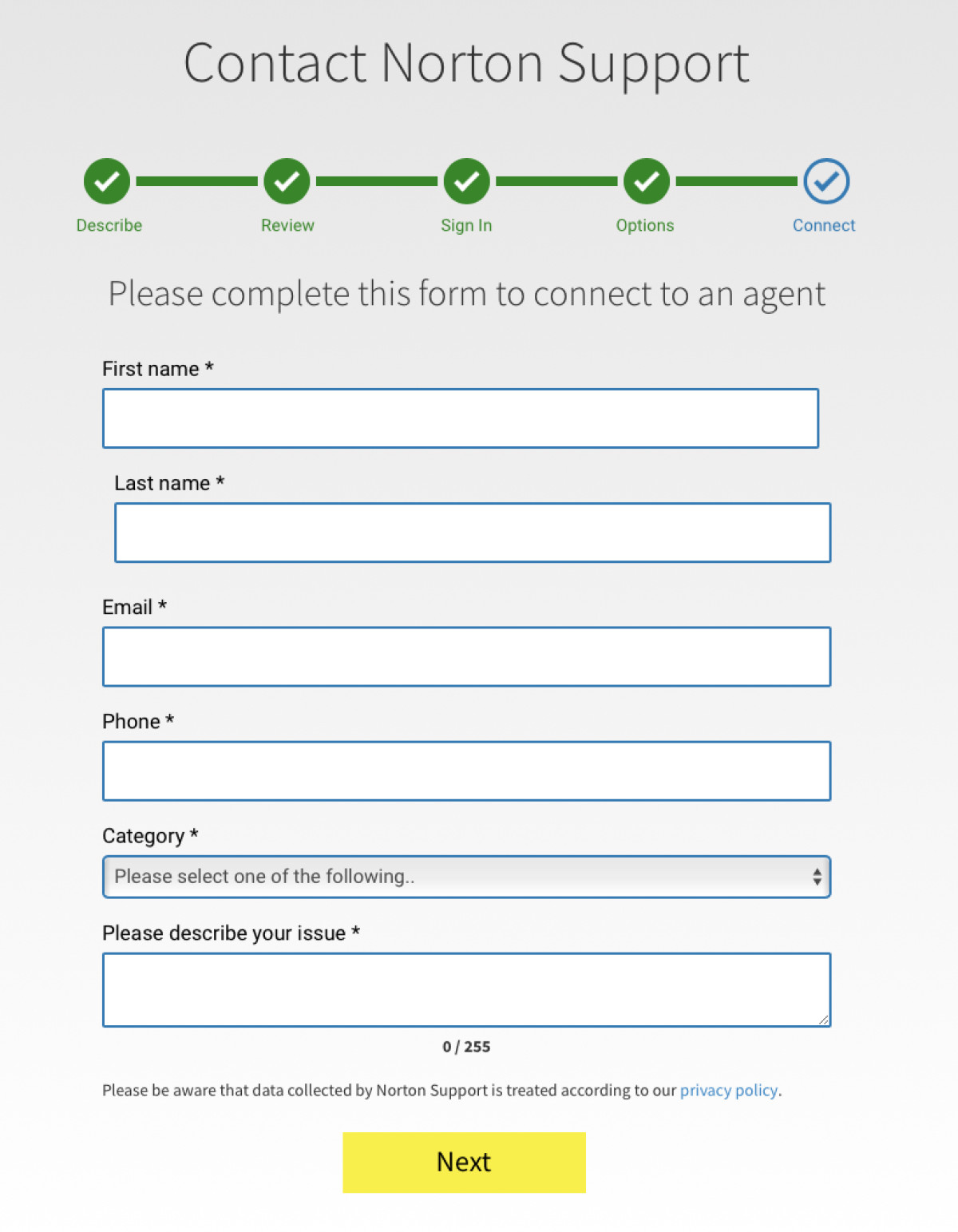 Norton's contact form.
In most cases, you won't have to speak to a live agent, though, since the site has extensive guides and FAQ sections. You can also send an email to the team who will respond within 12 hours.
Is Norton security good enough?
Yes, Norton antivirus is a good software and we recommend it if you want advanced security features to keep your system free from viruses. It's tested regularly by independent testing labs and has won multiple awards because of its performance.
It comes with a great array of features including a VPN, Password Manager, and Parental Controls.
While the customer support needs some work, Norton is a great software in every other department. It's hard to beat the features that it offers and it carries a reputation which has taken it years to build.
All in all, despite its shortcomings, Norton is a solid antivirus.
Frequently asked questions
Yes, Norton antivirus is safe to use. It's been around since 1990 and it's built a reputation for reliability and trust which it takes seriously. While there have been controversies in the past, Norton has proven over the years that it's serious about protecting its users' data.
No, Norton doesn't sell your data. According to its privacy policy, it does collect some of your information like your operating system, Internet service provider (ISP), and browser type, but it doesn't sell any of it to third parties.
The biggest disadvantage of Norton antivirus is that it doesn't have a free version and there's no VPN in the entry-level plan. Another thing we don't like about Norton is that its most affordable plan can only be used on a single device.
Yes, Bitdefender is better than Norton and its one-device plan is also cheaper. With that being said, both antivirus provide similar features and are considered top programs which rank high in independent testing labs results.