We may receive commissions for purchases made through links on our website. We appreciate your support.

TotalAV antivirus is a top-quality software that's received numerous praises from experts in the industry. It has tons of advanced security features designed to protect your system from malware, ransomware, and other threats.

Some of its most useful features include real-time malware protection, ransomware protection, anti-phishing, a VPN, a password manager, and system optimization tools. When you combine the power of these features, your system becomes almost impenetrable.

We put TotalAV up to some tests to see how good it actually is and were impressed with the results. While there are some pain points, which we'll address in this article, it manages to block malware 99% of the time.

In this TotalAV review, we'll take an in-depth look at the features that make TotalAV a safe antivirus and whether it's worth it or not.
TotalAV specifications
Here's a quick overview of TotalAV's main specifications:
| | |
| --- | --- |
| Price | Starting from $19.00/year |
| Money-back guarantee | 30 days |
| Operating systems | Windows, macOS, Android, iOS, and Chromebook |
| Free plan | Yes |
| Firewall | Yes |
| VPN | Yes |
| TechLapse discount | |
TotalAV pros and cons
Before we delve deeper into our TotalAV review, let's take a quick look at its pros and cons. Here are some pros and cons of the antivirus:
Pros
Has a free version for Windows, macOS, Android, and iOS
Comes with many advanced security features like real-time protection and anti-phishing tools
More expensive plans come with a VPN and an ad blocker
Only has 3 plans which makes it easier for people to decide which one to get
Comes with optimization tools to clean up your system
Has won numerous awards by independent AV testing labs
Cons
Free version is extremely limited
The Pro plan doesn't come with a VPN
What is TotalAV antivirus?
TotalAV is a British company founded in 2016 by Andrew Hawkins. Its official name is "Protected.net." It's a relatively new company, considering that many other top antivirus companies like McAfee and Norton have been around for decades.
Despite being new, it's managed to establish trust and build a loyal user base of over 30 million users.
It received the Top Product award by the German independent testing lab AV-Test twice in 2022. It also received the AAA award by SE Labs and the Advanced+ certification by AV-Comparatives.
Security features
TotalAV boasts a wide range of advanced security features that have helped make it to the top. The WebShield extension is one of the best anti-phishing tools in the antivirus industry and unlike Bitdefender, TotalAV's VPN isn't limited to just 200MB/day.
Here are some of the main features of TotalAV that make it worth buying:
Real-time protection
Quarantine
WebShield
VPN
Total Adblock
Password Vault
Data Breach Check
Let's take an in-depth look at all these features:
Real-time protection
Without real-time protection, an antivirus wouldn't be able to fully protect your system from viruses. TotalAV's real-time protection quietly runs in the background, always staying vigilant about malicious files that contain malware, trojan, spyware, and ransomware.

You can enable real-time protection in the settings.
It actively scans files that are currently open or new ones that you've downloaded. If it notices any suspicious behavior, it immediately informs you and stops the application or activity.
Since it does everything automatically, you don't have to run any scan. It's always working in the background and checking for viruses in every task you perform on your computer. There are some settings you can tweak, though.
For example, if a virus is detected in an application, instead of having it deleted automatically, you can change the settings and delete the infected files manually later.
You can also choose to quarantine infected files, which brings us to the next feature.
Quarantine
Quarantining is what happens when TotalAV's real-time protection detects a virus in a file. As soon as the virus is detected, it's cut off from the rest of your system so there's no chance for it to damage anything.
As long as the file is in quarantine, you can't access it through its original location and it can't affect anything on your PC.
To manage quarantined files, simply click on Quarantine. You can either restore the file or delete it. On the macOS version, instead of the delete button, you'll see a button with the text "Clean Selected," which means the same thing. TotalAV doesn't recommend always deleting quarantined files since they might be important to you.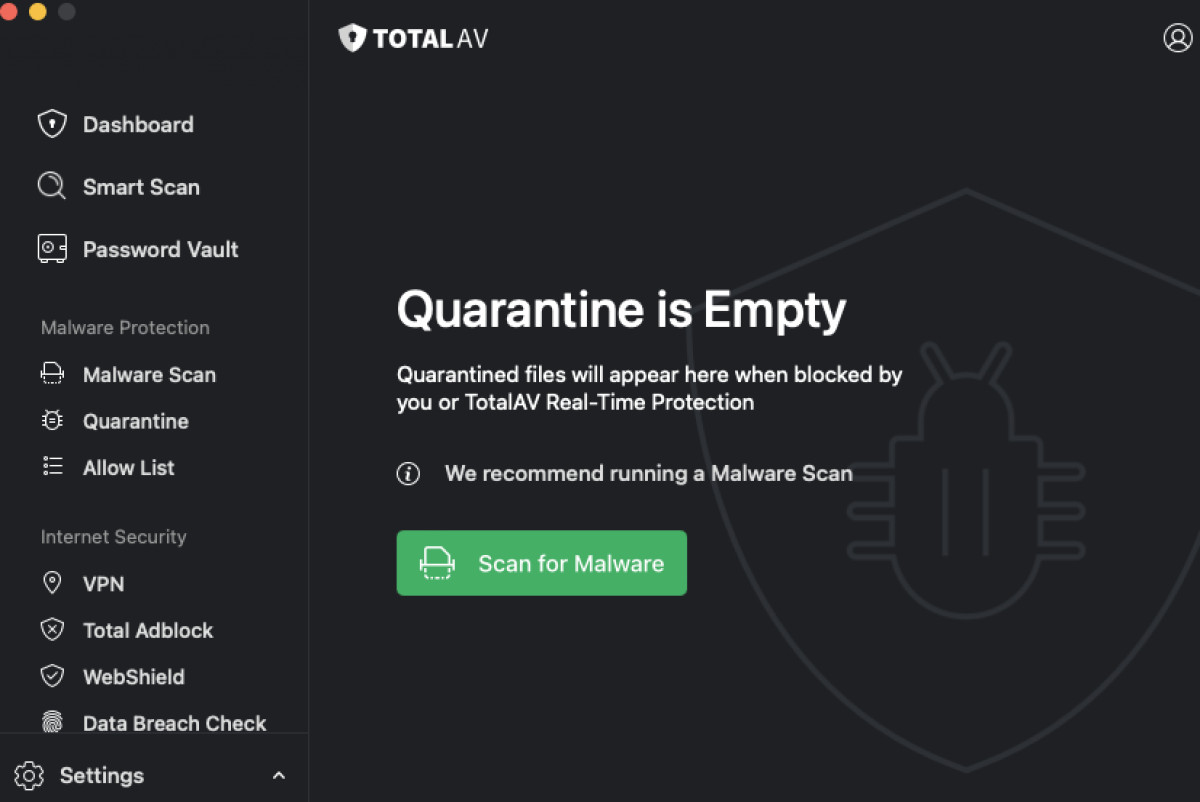 Quarantining will isolate infected files so your device remains safe.
If you know the file is safe and doesn't contain a virus, you can choose to restore it. However, only do this if you're absolutely sure the file doesn't contain any virus.
WebShield
TotalAV's WebShield, officially called Total WebShield, is a powerful anti-phishing tool for Google Chrome, Firefox, Microsoft Edge, Opera, and Safari. It's a browser extension that uses AI technology to protect you from malware and phishing scams.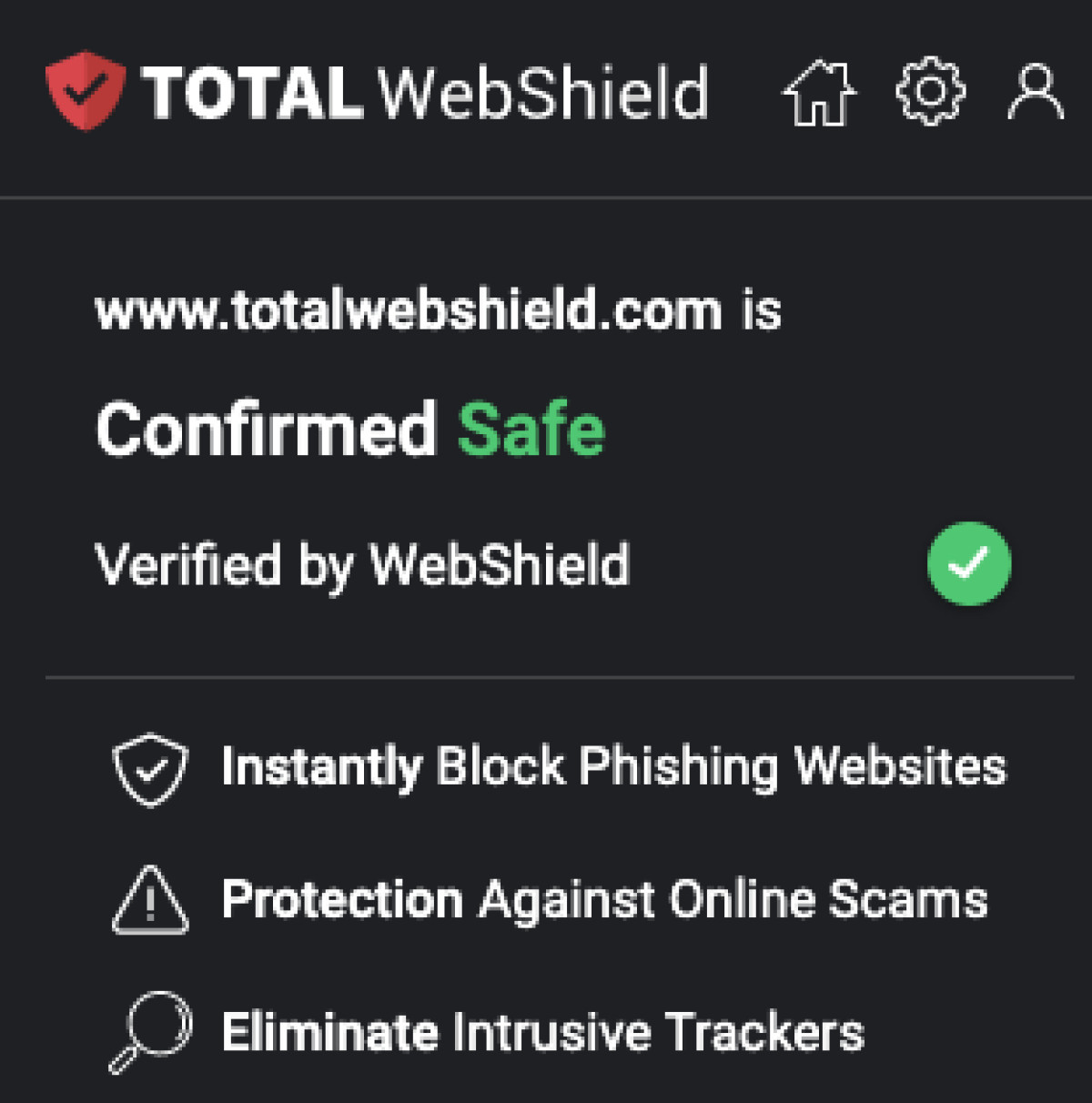 Total WebShield extension running on Google Chrome.
Phishing sites can trick you into giving up important information. WebShield's job is to help you identify these sites so you can avoid them.
One of the tools it uses to identify such sites is called Safe Search. It marks unsafe sites with a red cross. Sites that are safe to use have a green tick appear next to them.
It also blocks trackers and monitors the dark web to see if your personal information has appeared in a data breach.
VPN
With TotalAV's VPN, you can encrypt your online traffic and change your IP address. It works just like any other VPN. You choose a server and press the connect button to protect your online traffic.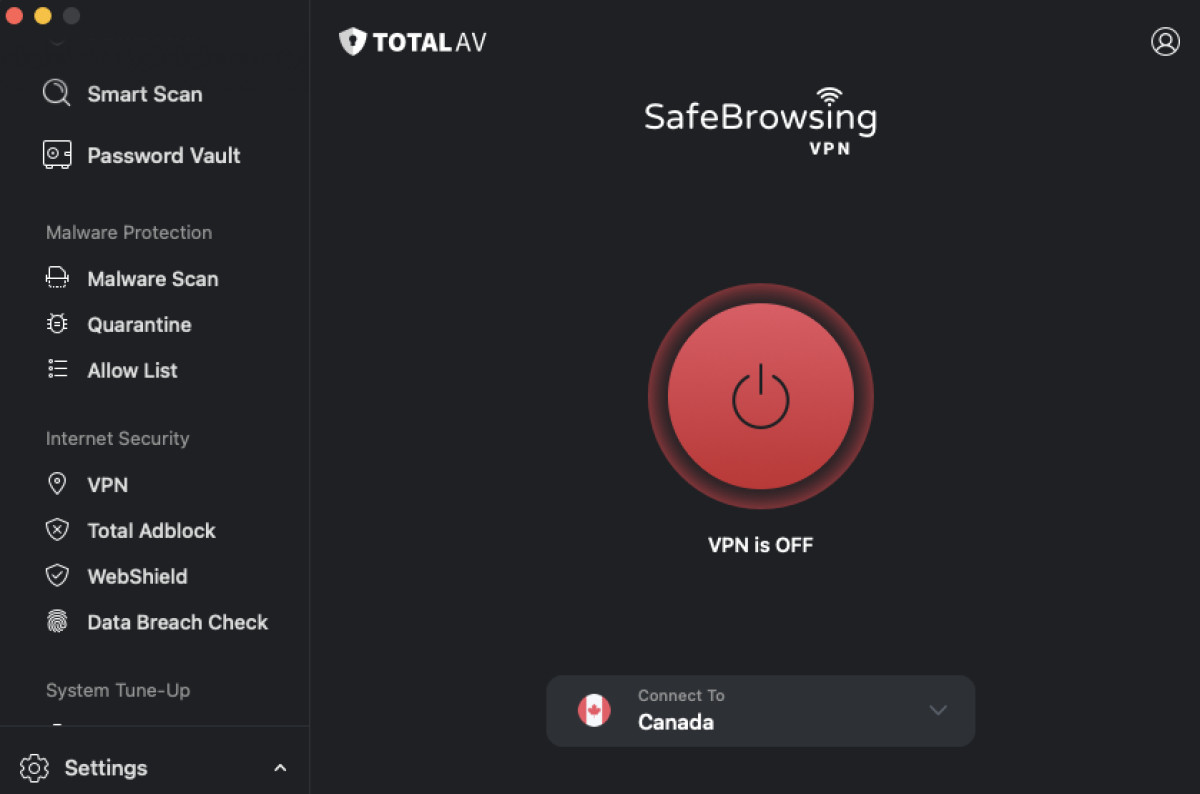 TotalAV's VPN.
Unfortunately, the VPN doesn't have WireGuard tunneling protocol, but it does come with OpenVPN and IKEv2. While these protocols are good, they don't perform as well as WireGuard.
It has over 70 servers, with most of them being located in Europe and the USA. DNS leak protection keeps your browsing activities hidden from third parties, and you can enable the kill switch for extra protection.
If you're looking for a provider that uses WireGuard and has more servers, we recommend checking out our list of the best VPNs of 2023.
TotalAV's VPN is included in the Internet Security and Total Security plans.
Total Adblock
Tired of seeing ads while browsing the Internet? TotalAV's Total Adblock will get rid of them for you. It's another extension for Google Chrome, Firefox, Edge, Opera, and Safari. Not only does it block ads, but it also stops websites from tracking your browsing activities.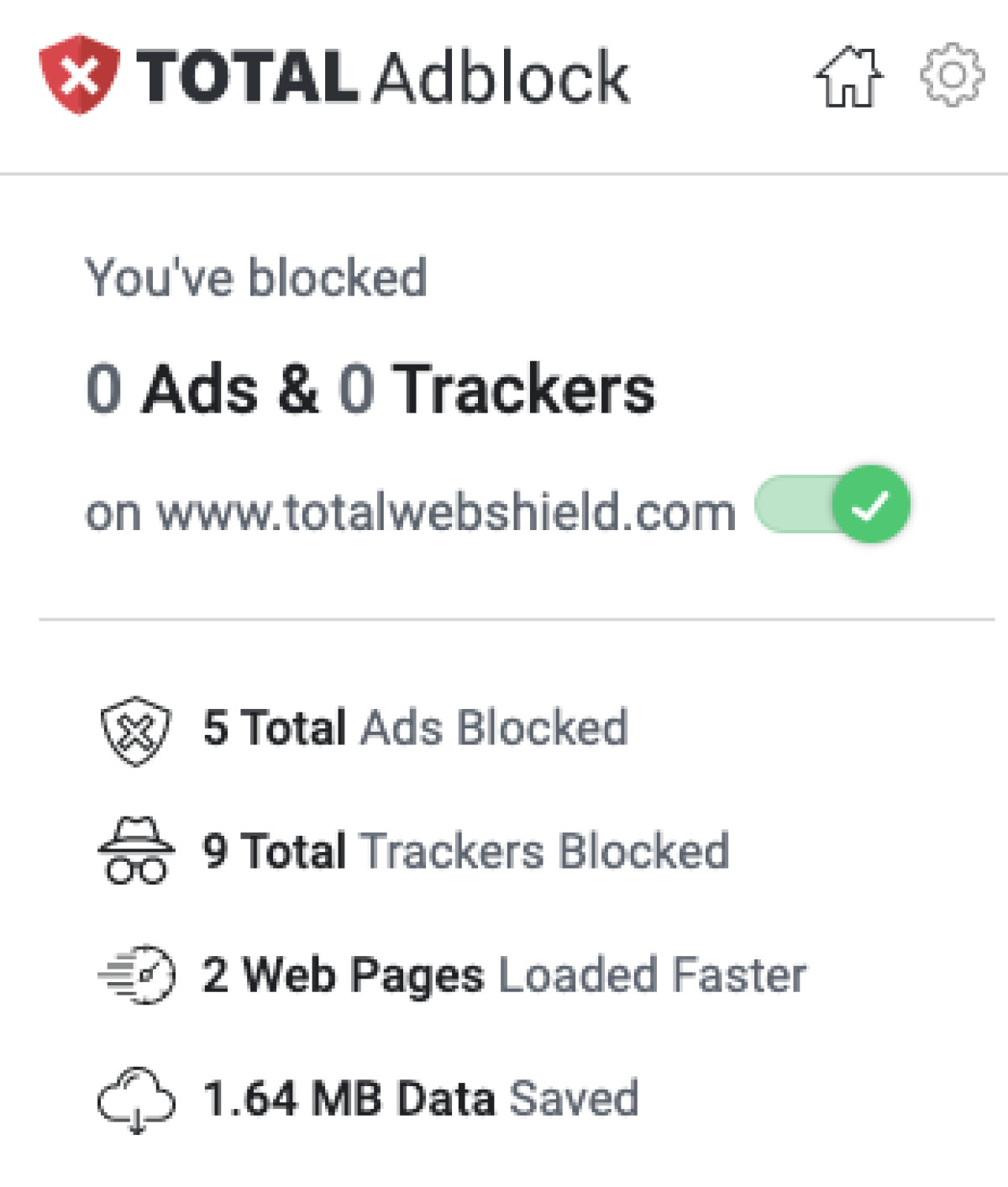 Total Adblock extension on Google Chrome.
Blocking ads and trackers will also result in faster loading times in many cases. Most ad blockers are very selective in what ads they block. For example, many of them won't be able to block YouTube ads.
During our tests, TotalAV managed to block almost every ad we encountered, including ones shown in YouTube videos.
Total Adblock only comes with TotalAV Total Security, which is its most expensive plan.
Password Vault
TotalAV's password manager is called Password Vault. It safely stores all your passwords in one place.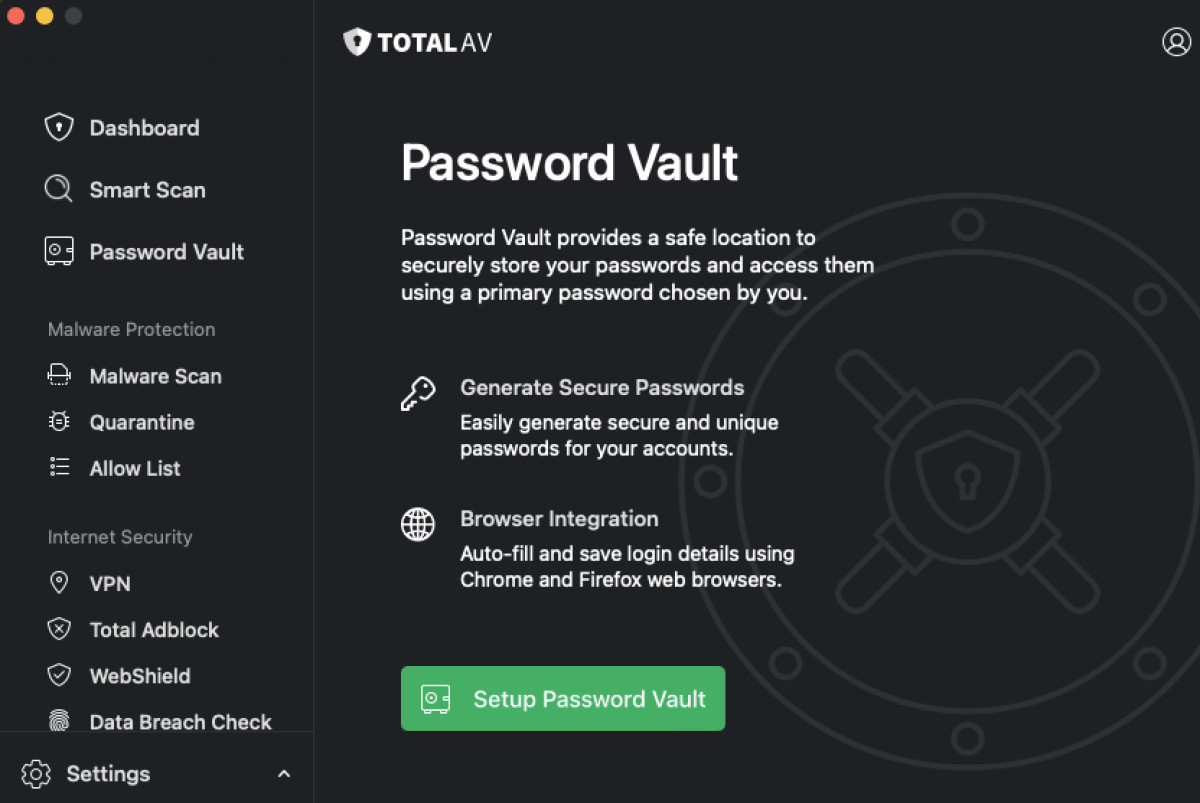 TotalAV's Password Vault will keep all your passwords safe.
When you first set it up, you have to create a master password which gives you access to all your other passwords. You can import your Google Chrome passwords after creating your master password.
Changing your master password later on is easy, but if you forget it, there's no way to restore it. Your only option would be to remove the TotalAV folder from your system, but this will delete all your previously stored passwords.
Password Vault can be accessed from within the TotalAV app, but you can also install it as a browser extension. This will let you log into a site using your saved passwords. All you'll have to do is click on a padlock icon when you're asked to enter your email and password.
Data Breach Check
No matter what virus protection and cybersecurity tools you use, there's always a chance that your information could be leaked.
One of the best ways to protect yourself from data breaches is by constantly changing your passwords and using a tool that will alert you if any of your information has appeared in a data leak.
That's where TotalAV's Data Breach Check (or Data Breach Monitoring) comes in. It monitors the Internet, including the dark web, and sees if your information has been a part of data breaches or leaks. If it finds anything, it immediately informs you so you can take action.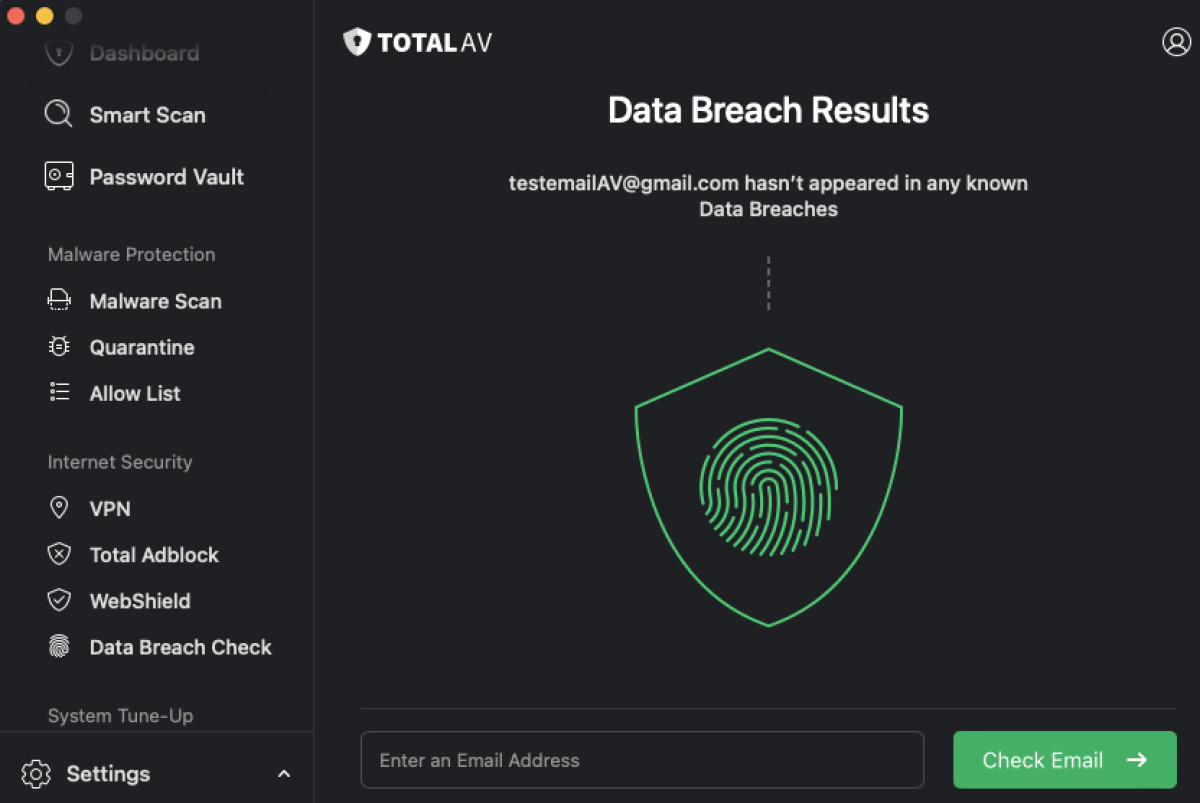 Use Data Breach Check to make sure your information isn't leaked.
Data breach monitoring is included in all TotalAV plans.
Price and plans
TotalAV has three plans. The most affordable plan is called TotalAV Antivirus Pro. You can use it on three devices running any operating system. Unlike Bitdefender, there's no option to increase the number of max devices you can use. The only way to do that is by upgrading to the next plan, which is the TotalAV Internet Security.
We've added a table below to make it easier for you to understand the main differences between TotalAV's plans:
| | | | | |
| --- | --- | --- | --- | --- |
| | TotalAV free | TotalAV Antivirus Pro | TotalAV Internet Security | TotalAV Total Security |
| Price | Free | $19 per year | $39 per year | $49 per year |
| Max number of devices | 1 | 3 | 5 | 6 |
| Operating system | Windows, macOS, Android, and iOS | Windows, macOS, Android, and iOS | Windows, macOS, Android, and iOS | Windows, macOS, Android, and iOS |
| VPN | No | No | Yes | Yes |
| Real-time protection | No | Yes | Yes | Yes |
| Adblock | No | No | No | Yes |
| Password Vault | No | No | No | Yes |
TotalAV Antivirus Pro
If you're a casual user, then we recommend getting the Antivirus Pro plan. Priced at $19/year, the Pro plan has most of the security features that are needed to keep a PC clean from viruses.
It comes with system tune-up tools, real-time protection, and WebShield. While there's no VPN or a password manager in the Pro plan, it still does a decent job of protecting your system.
TotalAV Internet Security
We recommend TotalAV Internet Security for those who want protection from cybersecurity threats. It costs $39/year and has all the features included in the Pro plan. You can use it on up to 5 devices.
It also includes TotalAV's VPN, which will encrypt your data and keep you safe from online threats.
TotalAV Total Security
TotalAV Total Security includes all the features that are present in the previous plans, plus Total Adblock and Password Vault. It covers a total of 6 devices.
Adblock is a useful feature for people who don't want to look at ads anymore. It's effective at blocking most ads you see while browsing.
Password Vault is also useful if you want to store all your passwords in a safe place. It also makes it easier for you to log into websites as you don't have to enter your passwords manually.
TotalAV free
The free version of TotalAV can only be used on one device. Compared to the paid plans, it's quite limited in its features. You can run a quick scan to look for malware and then quarantine infected files.
Unfortunately, there are no other security features in the free version. It can be used on Windows, macOS, Android, and iOS.
Performance
TotalAV's installation doesn't take too long. For us, it took about a couple of minutes. The initial scan took over an hour but it didn't slow down our system. Many antivirus programs consume a lot of RAM during the initial scan, which often impacts the computer's performance, but our system worked fine during TotalAV's scan.
There are three types of scans you can run: System Scan, Smart Scan, and Quick Scan.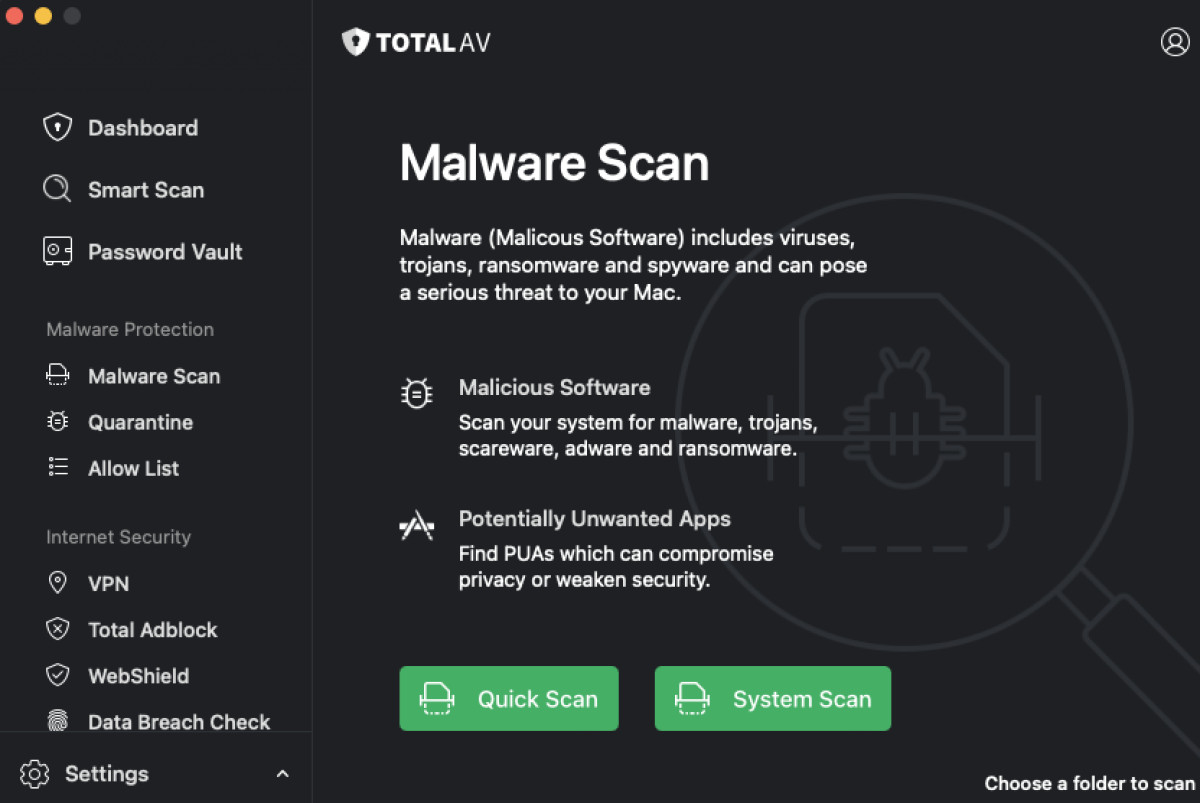 There are three types of scans you can run with TotalAV.
System Scan is a full scan that will check your entire system for viruses. It'll take more time than other types of scans. When we tested it, it detected viruses 99% of the time. You can delete, whitelist, or quarantine infected files.
Smart Scan and Quick Scan take less time. The former doesn't just look for malware, but it also detects duplicates and junk files, helping your system run more smoothly. You can also use it to schedule scans weekly, biweekly or monthly.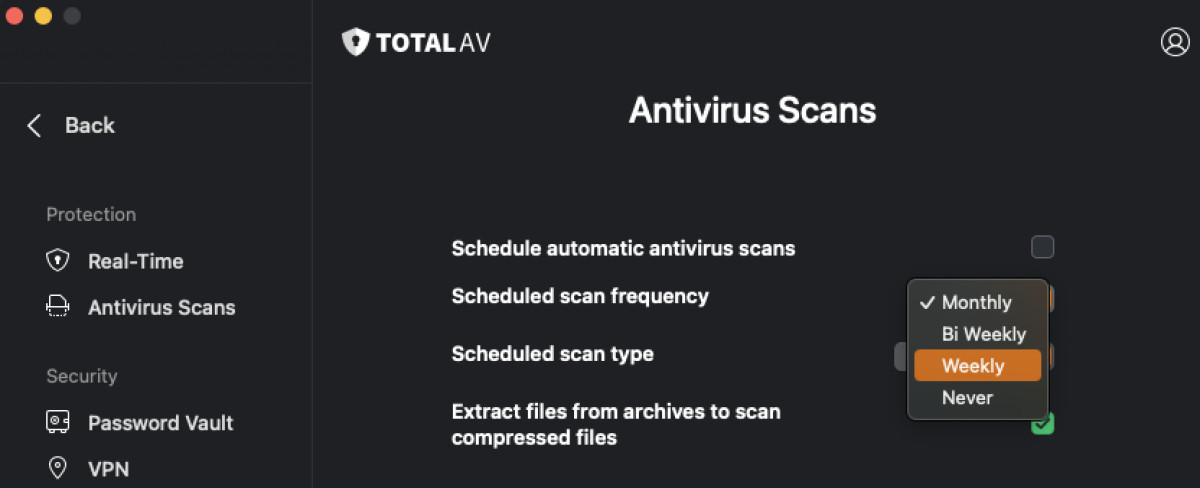 Schedule your scans using TotalAV's Smart Scan.
The Android and iOS apps also perform almost as well as their desktop counterparts. You can minimize the app while it's scanning your device without worrying about its performance slowing down. How long it takes to scan your device will depend on several factors. When we tested TotalAV on our Android device, it took only a few minutes.
As mentioned above, TotalAV has received several awards from independent testing labs. AV-Test gave its performance a 6/6. It also received a Top Product award from the same testing lab in 2022.
SE Labs ran a few tests in 2021, and while TotalAV missed three malware, it still managed to receive a AAA award (highest rating given by SE Labs). Other antivirus software that received the same included Avira, ESET, Norton LifeLock, Webroot, and AVG.
Interface and ease of use
TotalAV's three plans can be used on Windows, macOS, Android, and iOS. The installation process is smooth and only takes a few minutes. There are slight differences between the apps, but overall, they're all easy to use.
Desktop
The desktop app for Windows and macOS have a similar interface. On the left side, you can see all the features listed under three categories: Malware Protection, Internet Security, and System Tune-Up.
These categories make it easy to navigate through all the options that are available in the app. Smart Scan and Password Vault are located at the top. The Malware Protection section is where you can run a Quick Scan or a System Scan, and manage your quarantined files.
Internet Security consists of VPN, Adblock, WebShield, and Data Breach Check. All these options increase your defense against cybersecurity threats. To enable Data Breach Check, all you have to do is enter your email address and it'll scan the entire Internet to see if your personal information has been leaked or not.
The VPN lets you choose the server, but we couldn't find a way to change the protocol. In fact, it didn't display any information about the protocol, so it was impossible to tell which one we were connected to.
WebShield only works as an extension and you can either install it through the TotalAV app or your browser's extension store.
The System Tune-Up section contains several tools that you can use to optimize your system. You can remove junk files, look for duplicates, apps that are too large and old, manage website cookies, and see what programs automatically launch when you boot up your system.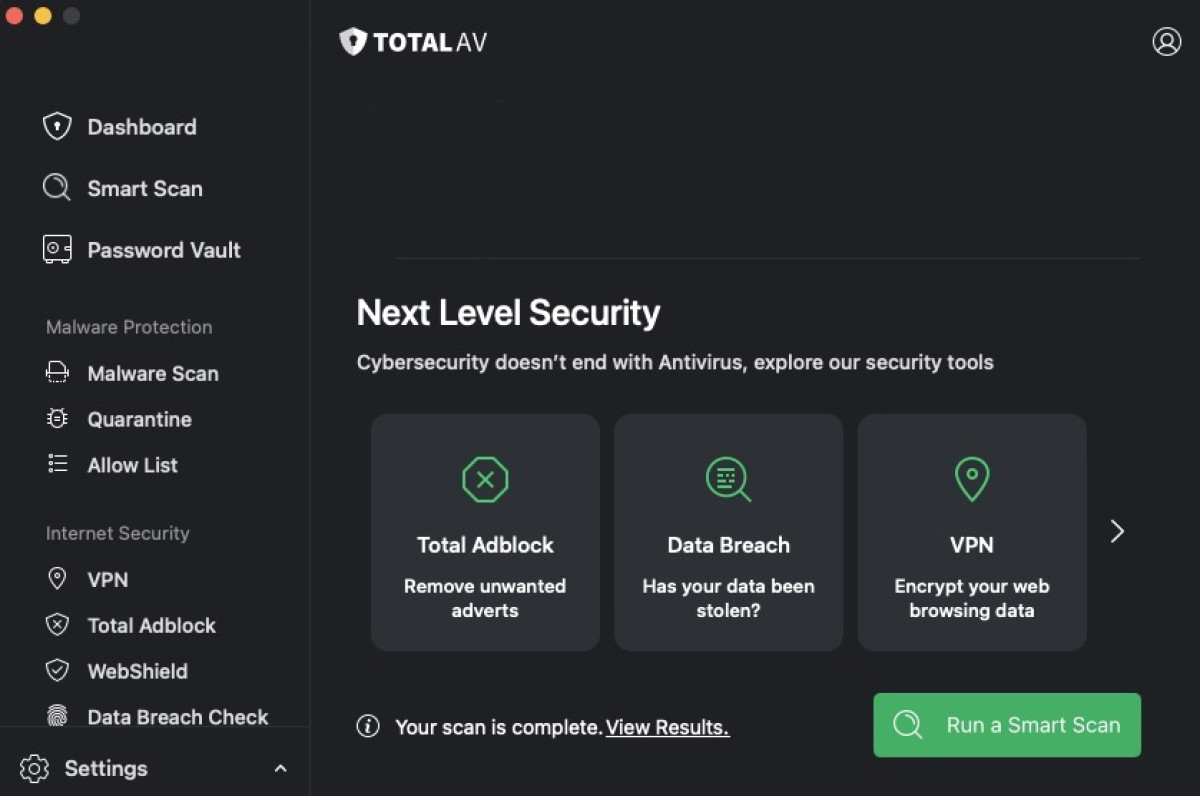 TotalAV running on macOS.
Smartphones
TotalAV's apps for Android and iOS are even more user-friendly than the desktop versions. When you open the app for the first time on either device, the first thing it does is ask you to run a scan. It doesn't take more than a few minutes, but you can skip this part if you want to.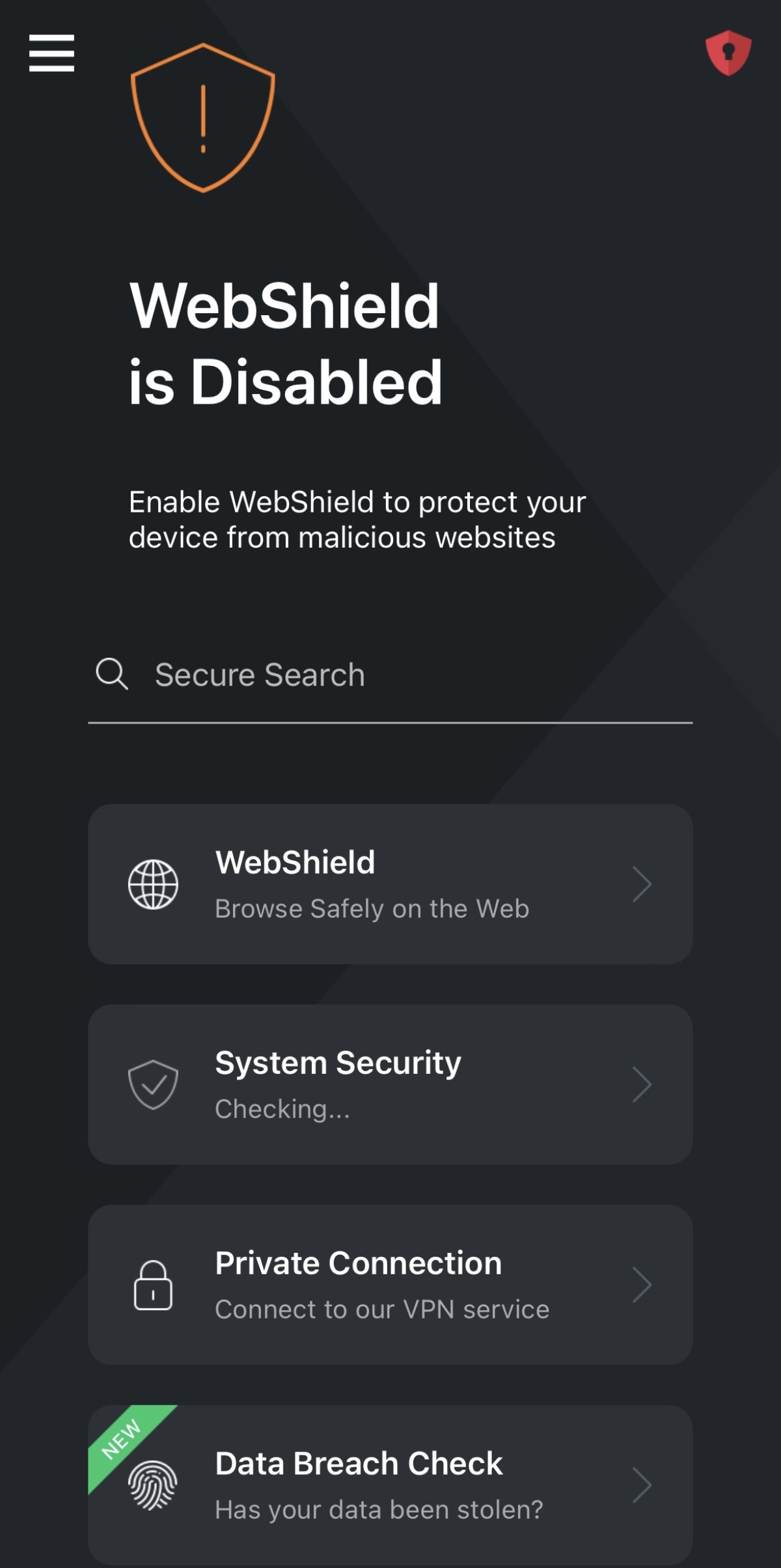 TotalAV on iOS.
On the main screen, you'll find a search bar called Secure Search. Below the search bar are all the options that are available in the app. The smartphone version of the VPN also doesn't show any information about the protocol.
You can slide open the sidebar from the left to find even more options like the settings to the app and your account.
The iOS app contains all the features included in the Android and the desktop versions, but it comes with two additional features: Device Locator and Photo Cleaner.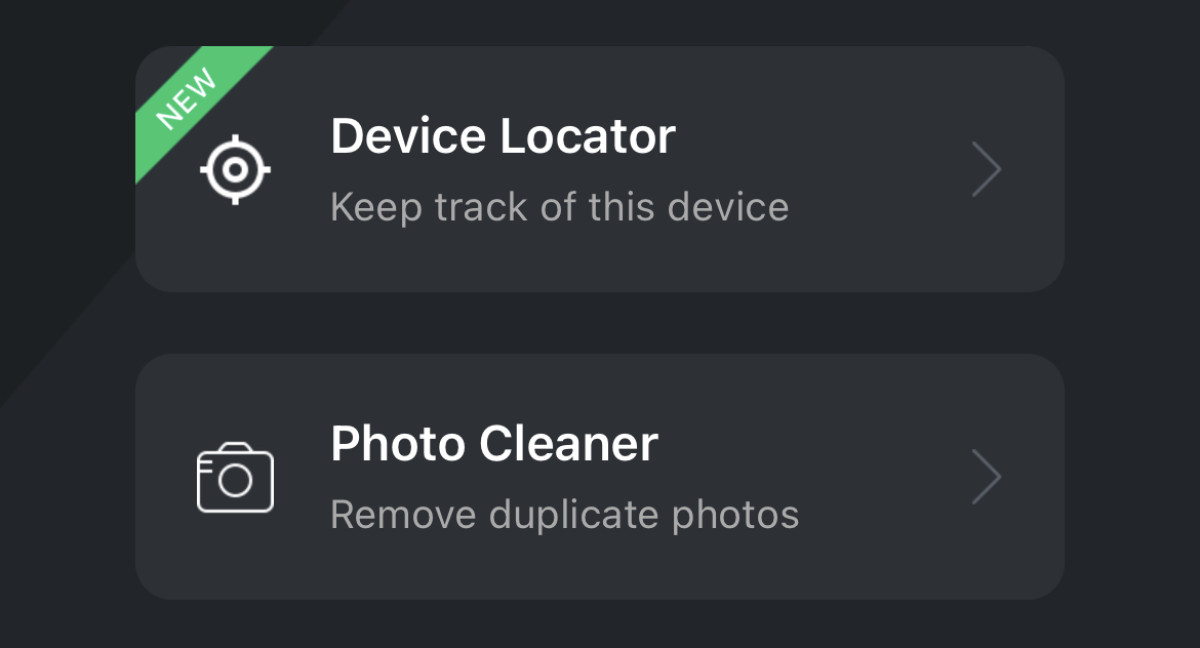 TotalAV on iOS comes with two extra features.
Customer support
TotalAV's support team can be contacted through their 24/7 live chat, email, and 24/7 phone lines. They also have plenty of guides and articles on their sites to help you get familiar with their software.
Unfortunately, we were unable to find the live chat on their site. Some sites have reported that it's unavailable in some countries, but we couldn't find it even after we connected to several different VPN servers.
The email support was helpful, though. We received a response in a few hours and the team was knowledgeable and helped us resolve our issue.
TotalAV's phone support is available in the United States, the United Kingdom, Australia, and Canada. It has two more numbers listed for Europe and International.
Overall, we were disappointed that we couldn't speak to someone through the site's 24/7 live chat, but were quite satisfied with the email and phone support teams.
How good is TotalAV antivirus?
TotalAV is a top-notch antivirus software that has many useful features you can use to clean up your system. There are only three plans to choose from and Antivirus Pro is the most consumer-friendly one.
All three plans have real-time protection, a feature which constantly checks your system for malware and other threats. There's no big difference between the desktop and smartphone apps except for the UI, which is more user-friendly on the latter.
Both versions have the same features, except the iOS one which comes with two extra tools.
The customer support needs some work. It was impossible to get in touch with the team through TotalAV's live chat. We didn't experience any problem using email and phone support, though.
Overall, we think TotalAV is a great choice, especially considering that its entry-level plan, which can be used on 3 devices, is $19/year.
Frequently asked questions
Yes, TotalAV is a safe antivirus software. It protects your system using advanced and complicated security tools, making sure it doesn't become infected with viruses. It won't slow down your device and quietly does its work in the background.
Yes, TotalAV is worth it. It costs $19/year and we think that's a great price for an antivirus that comes with so many virus protection tools. All of its plans can be used on desktop and smartphones. Compare this with Bitdefender, whose entry-level plans can only be used on Windows devices.
Yes, TotalAV free is a good tool to use if you don't want to pay for the premium plans. It doesn't have most of the features included in them, but it does let you scan your system to look for malware. If you don't want Internet security, trying out the free version is a great way to see if you should move to the Pro plan.
No, TotalAV isn't a monthly subscription. You have to pay a yearly fee. Yearly subscriptions are common in the antivirus industry, and there aren't a lot of programs that offer monthly plans. The Antivirus Pro plan costs $19 per year.