We may receive commissions for purchases made through links on our website. We appreciate your support.

Bitdefender is one of the most popular antivirus programs of all time. It has some of the most advanced virus protection tools in the industry. These features include real-time protection, a VPN, a password manager, multi-layered ransomware protection, and more.

Of course it's not without its flaws, but compared to other top antivirus software like Norton and McAfee, it's much more versatile and powerful in its application.

We tested Bitdefender on multiple operating systems and found that it does a great job of protecting our device from malware and other threats 99% of the time. Two of its most popular products are Bitdefender Total Security and Bitdefender Antivirus Plus.

In this in-depth review of Bitdefender, we'll explain some of its security features and why it's one of the best antivirus programs in 2023.
Bitdefender specifications
Here are some of the specifications that make Bitdefender one of the top antiviruses of all time:
| | |
| --- | --- |
| Price | Starting from $14.99/year |
| Firewall | Yes |
| VPN | Yes |
| Money-back guarantee | 30 days |
| Operating systems | Windows, macOS, Android, iOS, and Chromebook |
| Free plan | Yes |
Bitdefender pros and cons
Before we start, let's take a look at the pros and cons of Bitdefender. Here are the key takeaways from our review of the antivirus software:
Pros
Routinely ranks high in tests by independent AV labs
Comes with a dedicated browser for safe online banking
Has a built-in VPN for protection from cyber threats
Real-time protection keeps your data safe from various threats
User-friendly desktop and smartphone apps
Cons
Has too many plans which may confuse some people
VPN is limited on most plans and additional data requires an extra fee
Initial scan is slow, especially on Windows
What is Bitdefender antivirus?
Bitdefender is a Romania-based cybersecurity company that was founded in 2001. Florin Talpes, the CEO of the company has been involved in its operations since it was founded.
The company has developed several cybersecurity services, and actively fights against cybercrime by supporting Europol's European Cybercrime Center (EC3) and helping many international law enforcement agencies.
Bitdefender Antivirus is the company's flagship product and it has users from all over the world, with the majority of them being based in the USA. It's won numerous awards from independent AV testing labs and consistently scores well in their tests.
Security features
Bitdefender has a multitude of security features that make it stand out from its competitors. From real-time protection to a browser designed specifically for safe online banking, Bitdefender's features are the reason why it almost always gets a near-perfect score from independent testing labs such as AV-Test, SE-Labs, and AV-Comparatives.
Here are some of its main security features:
Anti-tracker
VPN
Password Manager
Real-time protection
Safepay
Multi-layered ransomware protection
Vulnerability assessment
Let's take a look at all these features in detail:
Anti-tracker
Bitdefender's anti-tracker is installed as an extension on Google Chrome, Microsoft Edge, and Firefox. Its purpose is to block trackers or cookies from websites that collect your data. Almost every site today uses cookies to track your online behavior so they can show you targeted ads based on your browsing activities.
The anti-tracker extension shows you the number of trackers a website has and how many of those Bitdefender has blocked. You can view more information about the trackers by clicking on them in the extension.
Sometimes trackers can be helpful and you may not want to get rid of them. In that case, you can switch off anti-tracking for a specific website by clicking on Pause protection on this website. This will unblock the trackers for as long as the website is open. Once you close it, the settings will return to default.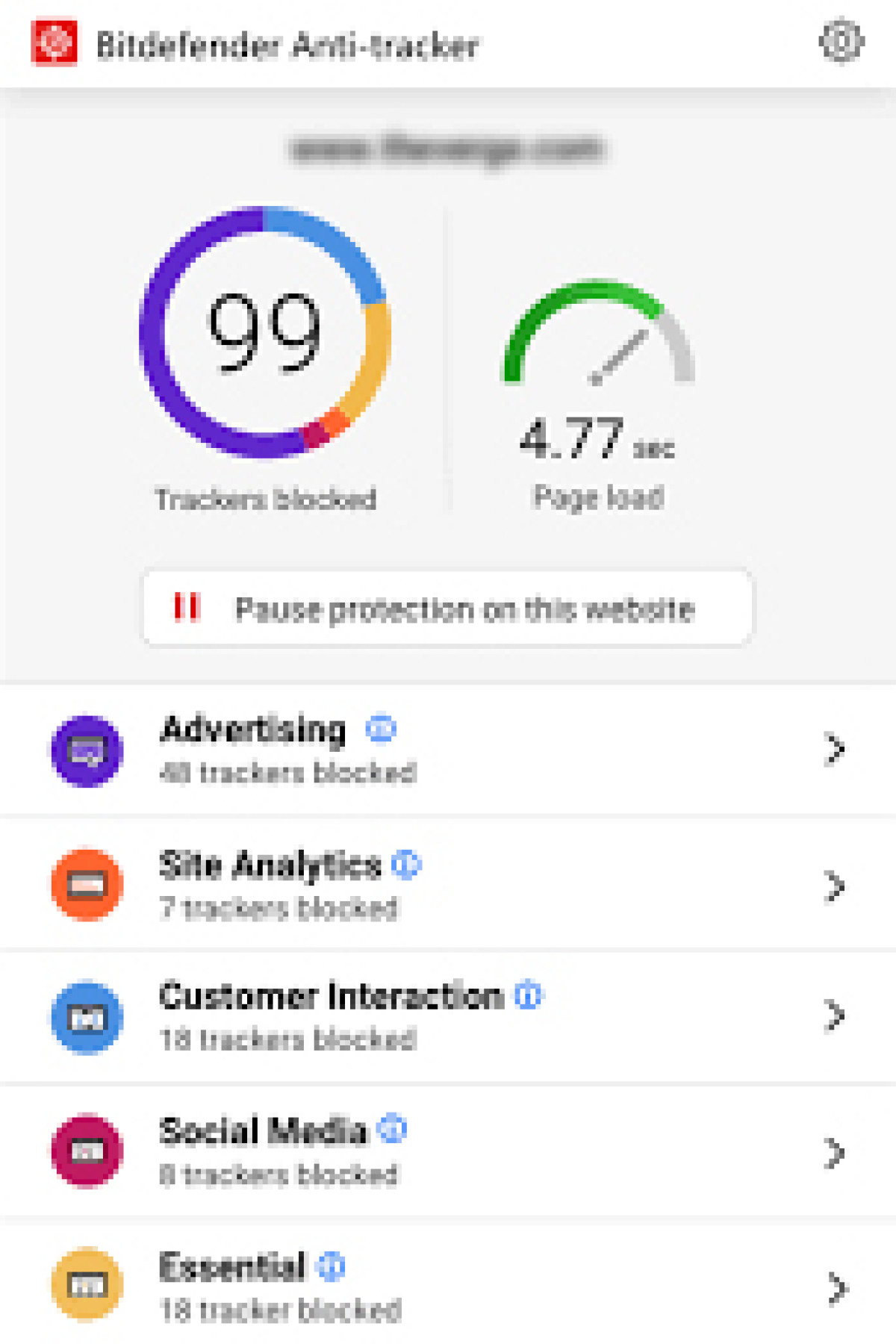 Bitdefender's anti-tracker extension. (Source: bitdefender.com)
VPN
Bitdefender's VPN is an excellent tool for keeping your online data safe. It secures your data using military-grade encryption and changes your IP address to make it look like you're in a different region.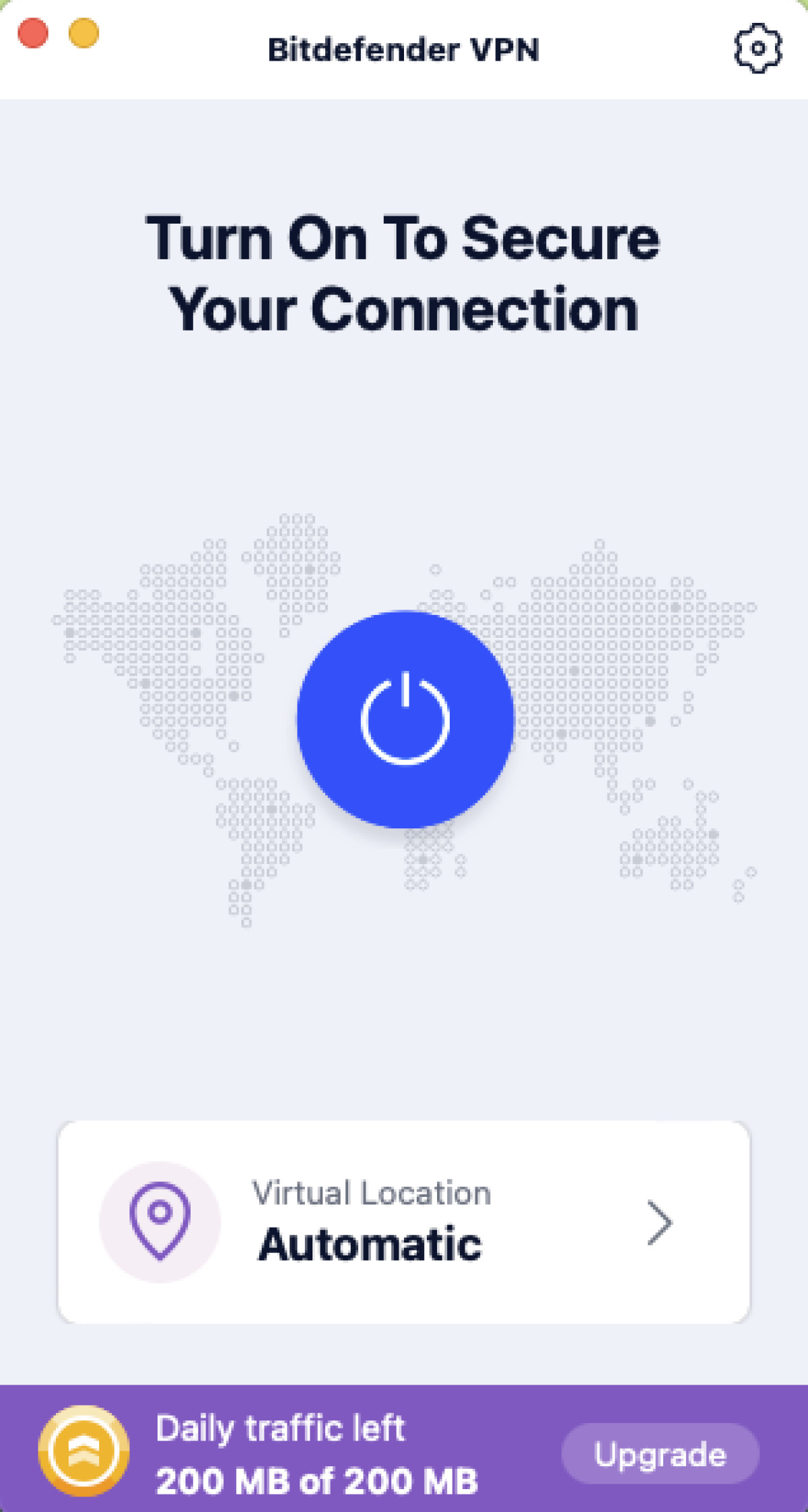 Bitdefender's VPN on macOS.
It's a great way to protect your online traffic from data leaks and other cybersecurity threats. You can also use it to unblock geo-restricted content such as Netflix libraries from other countries.
The VPN will hide your online traffic from third parties including your Internet service provider (ISP). It's an essential tool, especially if you travel and use public Wi-Fi connections frequently. It also has a kill switch and split tunneling, two of the most essential VPN features.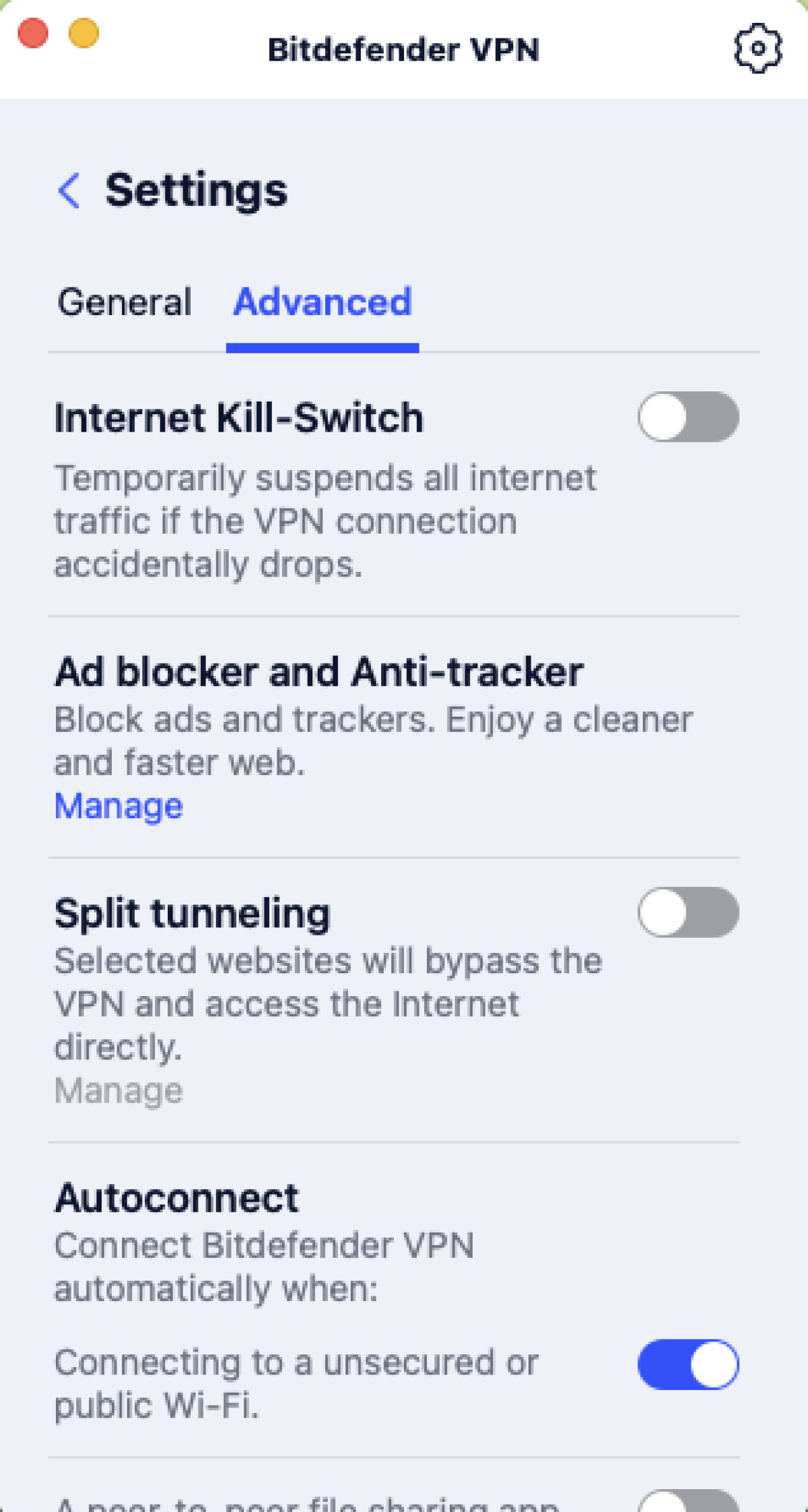 Security features offered by Bitdefender's VPN on macOS.
You can get the full version of Bitdefender VPN for $2.49 per month. The limited version that comes with the entry-level plans only allows you to use 200 MB/day.
Password Manager
Bitdefender has a built-in password manager that comes with unlimited password storage and password vault auditing. While it's not as powerful as a dedicated password manager, it's still a great tool for storing your passwords, generating new ones, and syncing them across different devices.
Unfortunately, the entry-level plans require you to buy a separate subscription after a free 90-day trial period, but it's completely free with Bitdefender Premium Security.
You can install it as an extension on Google Chrome, Firefox, Safari, and Edge. It's also compatible with Android and iOS, so you have access to your passwords on all devices you own. After installing it, you can import your old passwords from other password managers like 1Password, LastPass, and Sticky Password.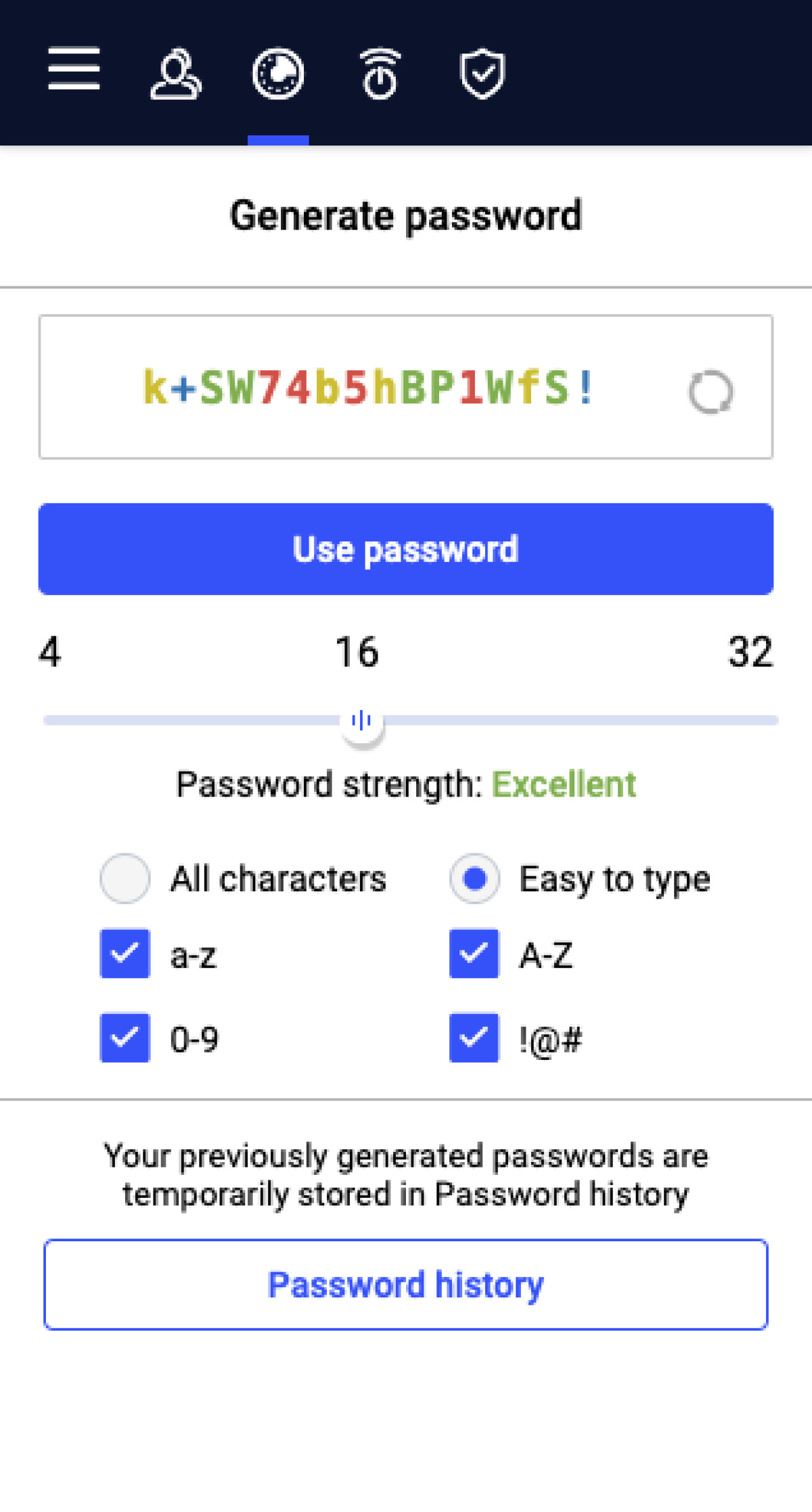 Use Bitdefender's Password Manager to generate strong passwords.
Using the auto-fill feature, you can quickly fill out forms and payment details.
Real-time protection
Bitdefender's real-time protection feature is officially called Bitdefender Shield. It's a highly customizable feature that more advanced users can use to monitor and scan potentially unwanted applications (PUA), newly downloaded files, keyloggers, and more.
It's equally useful for new users who aren't familiar with navigating through an antivirus's settings. By default, it actively scans new files, PUAs, network shares, boot sectors, and more.
During our tests, we tried downloading malware, but Bitdefender quickly recognized it and deleted it before it could infect our system.
Real-time protection is an advanced security feature that actively protects your system from malware and other threats. It's constantly on the lookout for threats so they never have the chance to cause any damage.
Safepay
Bitdefender's Safepay is a browser created for the purpose of facilitating safe online banking. Keeping your online banking details secure is perhaps one of the most important reasons why you need a cybersecurity tool.
Safepay is designed to protect you from online threats and attacks like "man-in-the-browser," "man-in-the-middle," data breaches, phishing, and keylogging.
It's an airtight browser that doesn't leave any room for your financial information to get hacked or compromised. It works in tandem with other features like the Password Manager and the VPN to ensure your passwords remain safe and your data is fully encrypted at all times.
Some of the things it prevents malicious parties from doing include taking screenshots of your browser, stealing your passwords, and keylogging. To prevent keylogging, it uses a virtual keyboard.
Note that while Safepay is designed to be used for online banking, that's not its only purpose. You can use the browser for virtually anything.
Safepay currently only works on Windows.
Multi-layered ransomware protection
While it's true that revenue generated from ransomware has gone down over the years, the number of ransomware strains, on the other hand, have continued to rise. This means ransomware protection is now more important than ever, especially for small and mid-sized businesses.
Bitdefender equips you with multiple layers of protection against ransomware.
It works in conjunction with other features like Network Threat Protection and Advanced Threat Defense to continuously monitor suspicious apps and activities and block them before they get a chance to attack your system.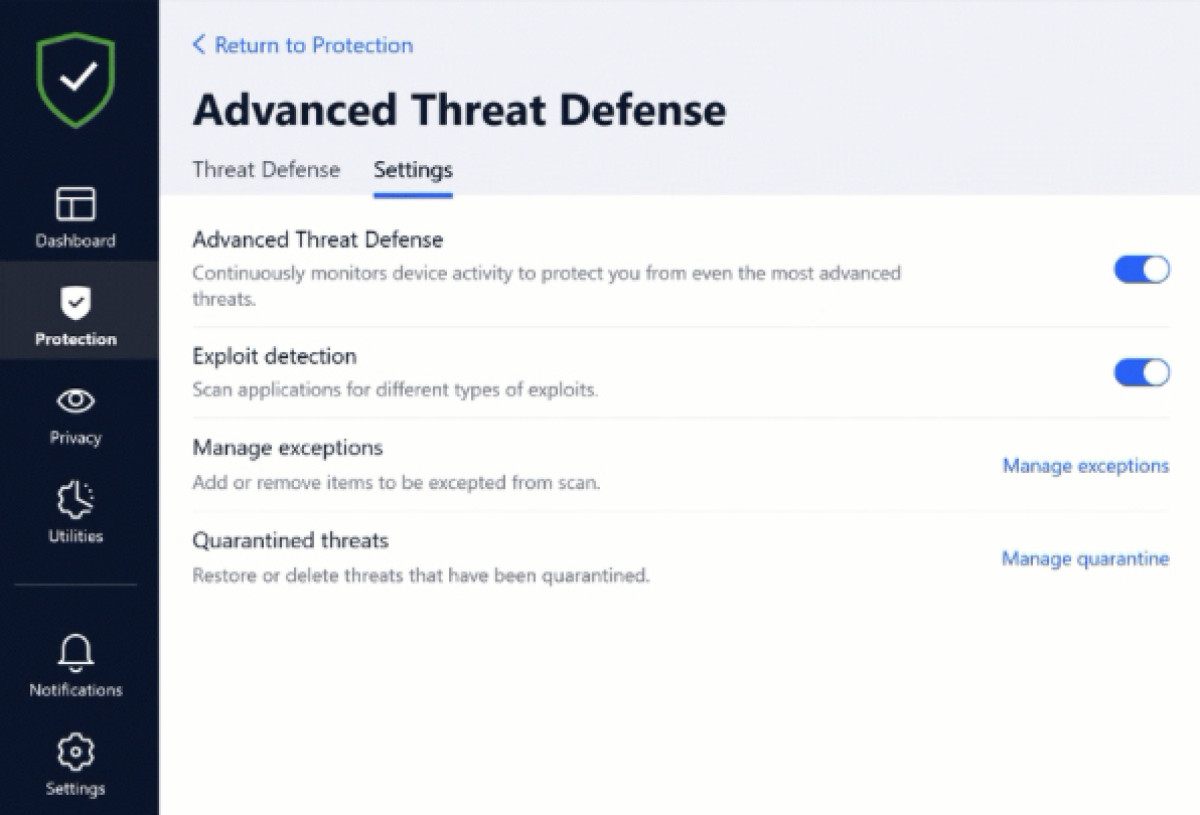 Bitdefender's Advanced Threat Defense feature.
Most antivirus programs recognize malware and ransomware with the help of a database. Network Threat Protection and Advanced Threat Defense instead use behavioral detection and a score-based rating system to identify viruses.
Once a file reaches a certain score, Bitdefender blocks it.
Another feature called Ransomware Remediation creates a backup of your files to keep them safe in the case of a ransomware attack. This way, you can easily get your files back without having to pay anyone.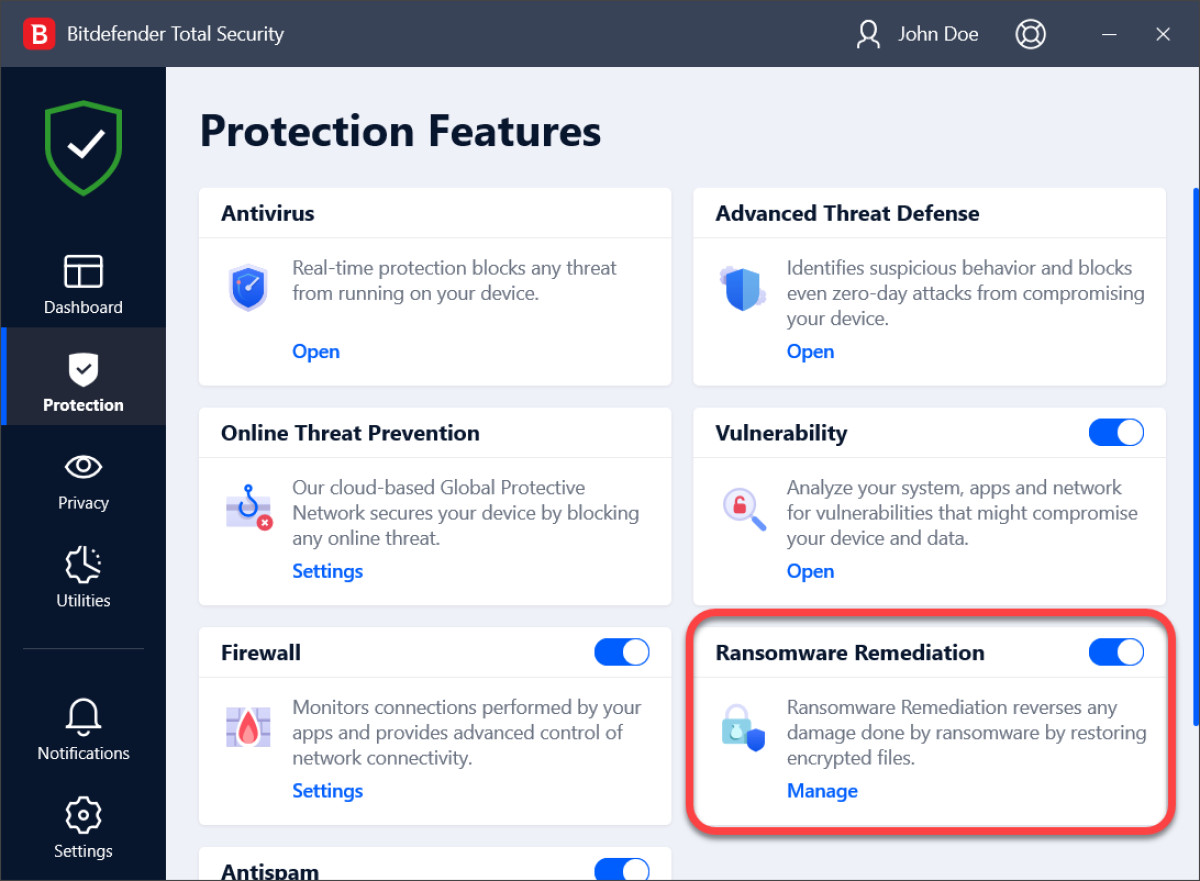 Bitdefender's ransomware remediation feature. (Source: bitdefender.com)
Vulnerability assessment
Outdated applications and old software are vulnerable to security breaches and attacks. Bitdefender's vulnerability assessment feature scans your entire system and looks for missing updates, outdated software, and applications that require security patches.
It alerts you if it finds any outdated software or weak spots in your system's security, and provides the best course of action to make your device more secure.
Vulnerability assessment also scans your home network to look for any flaws in the security of other devices.
For example, your unprotected streaming device or your children's smartphones which are connected to the same network could be used by hackers to gain access to your device.
Bitdefender will look for these vulnerabilities and immediately inform you if it finds any.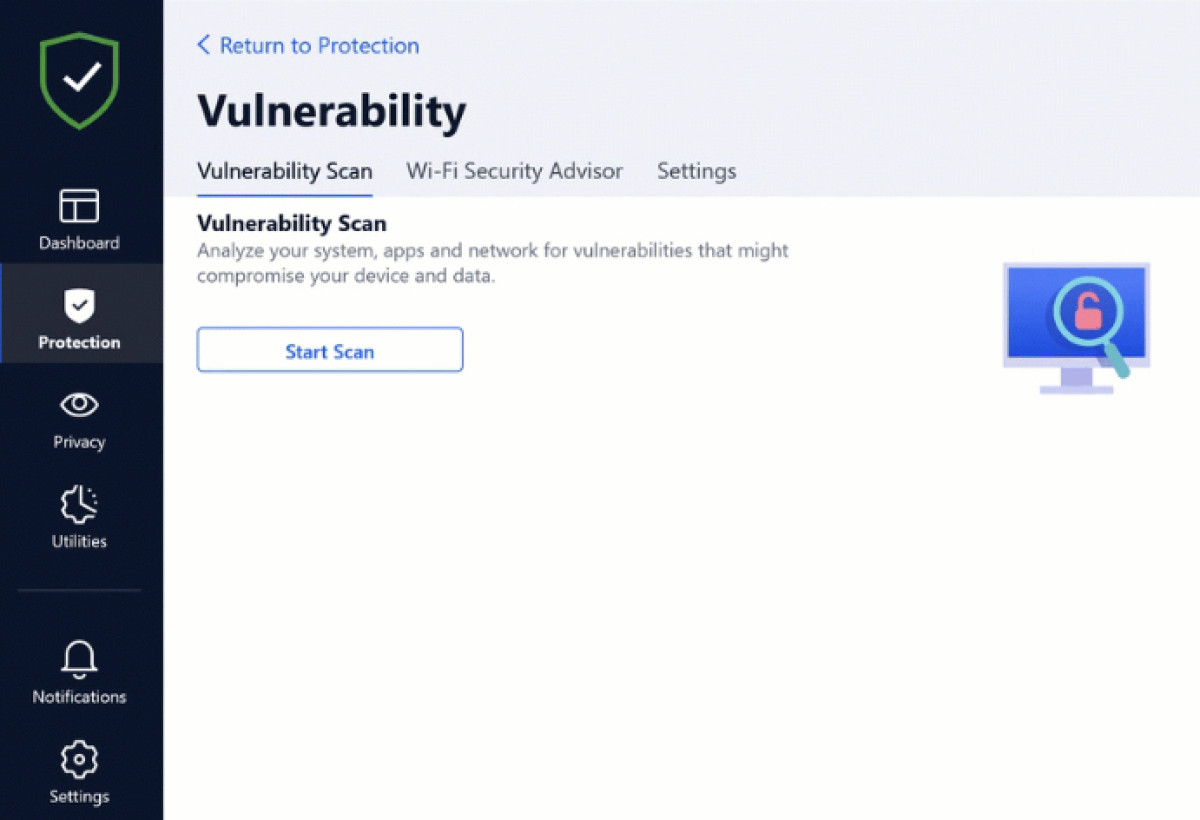 Bitdefender's Vulnerability Assessment feature.
Price and plans
Bitdefender's most inexpensive and consumer-oriented product is Bitdefender Antivirus Plus. The one-device plan costs $14.99 per year, but you can also choose between 3, 5, and 10 maximum devices. The cost rises with the number of devices.
Here's a table that compares the plans of all products by Bitdefender, including the free version:
| | | | | | | | |
| --- | --- | --- | --- | --- | --- | --- | --- |
| | Bitdefender Free | Bitdefender Antivirus Plus | Bitdefender Internet Security | Bitdefender Total Security | Bitdefender Total Security | Bitdefender Antivirus for Mac | Bitdefender Mobile Security |
| Price | Free | $24.99 per year | $34.99 per year | $39.98 per year | $39.98 per year | $29.99 per year | $14.99 per year |
| Max number of devices | 1 | 3 | 3 | 5 | 5 | 3 | 1 |
| Operating systems | Windows, macOS, Android, and iOS | Windows | Windows | Windows, macOS, Android, and iOS | Windows, macOS, Android, and iOS | Mac | Android and iOS |
| VPN | No | Yes (200MB/day) | Yes (200MB/day) | Yes (200MB/day) | Yes (Unlimited) | Yes (200MB/day) | Yes (200MB/day) |
| Parental controls | No | No | Yes | Yes | Yes | No | No |
| Real-time protection | Only on Windows | Yes | Yes | Yes | Yes | Yes | No |
Bitdefender Antivirus Plus
Bitdefender Antivirus Plus is the most accessible product for Windows users. It comes with a VPN, real-time protection against malware, ransomware, and other threats, anti-phishing, multi-layered ransomware protection, and more.
For $24.99, you can protect up to 3 Windows devices. The VPN is limited to 200MB/day, but you can get more data for an additional fee.
There are no parental controls or firewall, but real-time and ransomware protection work just as well as they do with Bitdefender's other products.
Bitdefender Internet Security
Internet Security is another Windows-exclusive Bitdefender product. For 3 devices, it's priced at $34.99. Along with a firewall and parental controls, it has all the features included in the Antivirus Plus product.
It also has a feature called Microphone Monitor, which tells you what apps use your device's microphone. Another feature is Webcam Protection. As indicated by the name, the feature protects you from webcam leaks and also alerts you when any app tries to access your webcam.
Bitdefender Ultimate Security
Bitdefender's Total Security product is the most comprehensive antivirus solution in the company's lineup. It's significantly more expensive than other products, but that's because it includes every feature offered by Bitdefender.
Some of its main features include an unlimited VPN, identity theft protection, dark web monitoring, real-time fraud monitoring, and more. You can use the product on any operating system.
As you can tell, Total Security isn't aimed towards casual users and is more well-suited for small and medium-sized enterprises.
Bitdefender free
The free version of Bitdefender is available on Windows, macOS, and Android. It doesn't come with a VPN and is extremely limited in what it can do.
You can use it to perform daily scans and even scan specific apps and folders. It's much lighter than its paid counterparts so it doesn't consume too much power.
Performance
When you download Bitdefender, we recommend running a deep scan so it can look for malware and other threats that are already present in your system. The initial scan took up to an hour when we performed it, though that's common among the top antivirus software.
Norton and TotalAV, for example, also take about an hour to complete the initial scan. It didn't affect our system's performance while running the scan.
On the Windows version, there are different profiles that you can use depending on what your current activities are. For example, when you choose the Game Profile while gaming, you won't see any notifications or pop ups. Different profiles consume a varying amount of power and memory, and they can be customized.
Here are all the profiles that are included in Bitdefender:
Work Profile – Halts background processes and protects your emails.
Movie Profile – Boosts performance of video players and stops notifications.
Game Profile – Temporarily stops background processes to boost your game's performance.
Public Wi-Fi Profile – Adjusts settings to keep you secure from unprotected public Wi-Fi networks.
Battery Mode Profile – Reduces background activities to optimize battery life.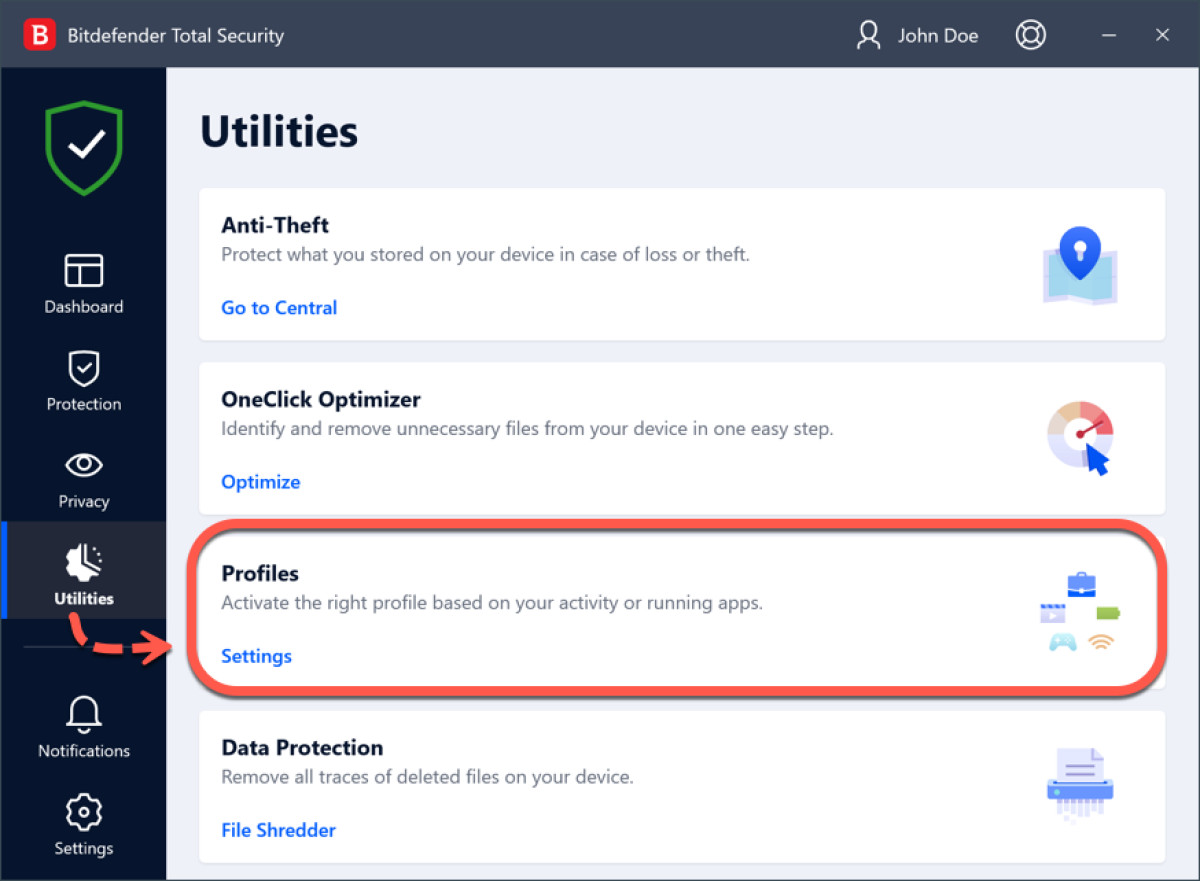 Bitdefender profiles. (Source: bitdefender.com)
Bitdefender has won multiple awards thanks to its performance. It's consistently won the Top Product award by the German independent testing lab AV-Test since 2014. It's also received Advanced+ certification from AV-Comparatives multiple times.
In one of AV-Comparatives' performance tests that took place in April 2022, Bitdefender scored higher than Kaspersky, TotalAV, and Avast. It scored slightly below Norton and ESET.
Interface and ease of use
Bitdefender doesn't take much time to set up and you don't have to be an advanced user to be able to use it since it's quite beginner-friendly. It has native apps for desktop and smartphones. Here's an in-depth review of the two apps:
Desktop
The desktop app (Windows and macOS) is easy to use and has a simple interface. The dashboard which is the main screen of the app shows different options such as Quick Scan, the VPN, and Safepay.
You can add more options by clicking on Add a quick action. It gives you quick access to some of its main features. It's important to mention, though, that only 5 options can be added to the dashboard.
The sidebar gives you access to more options including Protection, Privacy, and Utilities.
The Protection section includes features like ransomware remediation, vulnerability assessment, web protection, and more. The Privacy section consists of Safepay, the VPN, anti-tracker, webcam protection, and more.
Finally, features such as anti-theft protection, file shredder, and profiles are included in the Utilities section.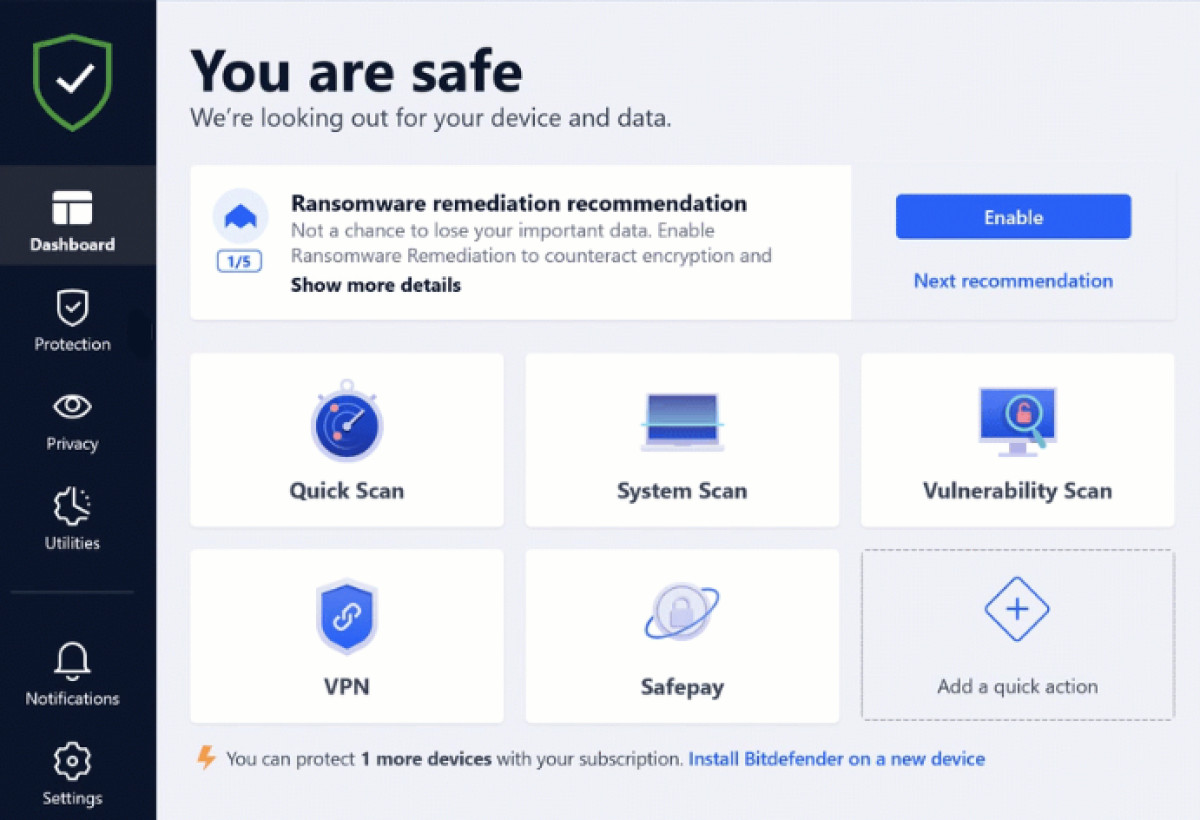 Bitdefender's desktop app on Windows 11.
The desktop app also lets you view the online dashboard (officially called Bitdefender Central). This online dashboard can be accessed from any device. You can even use it to remotely run scans on your device running Bitdefender.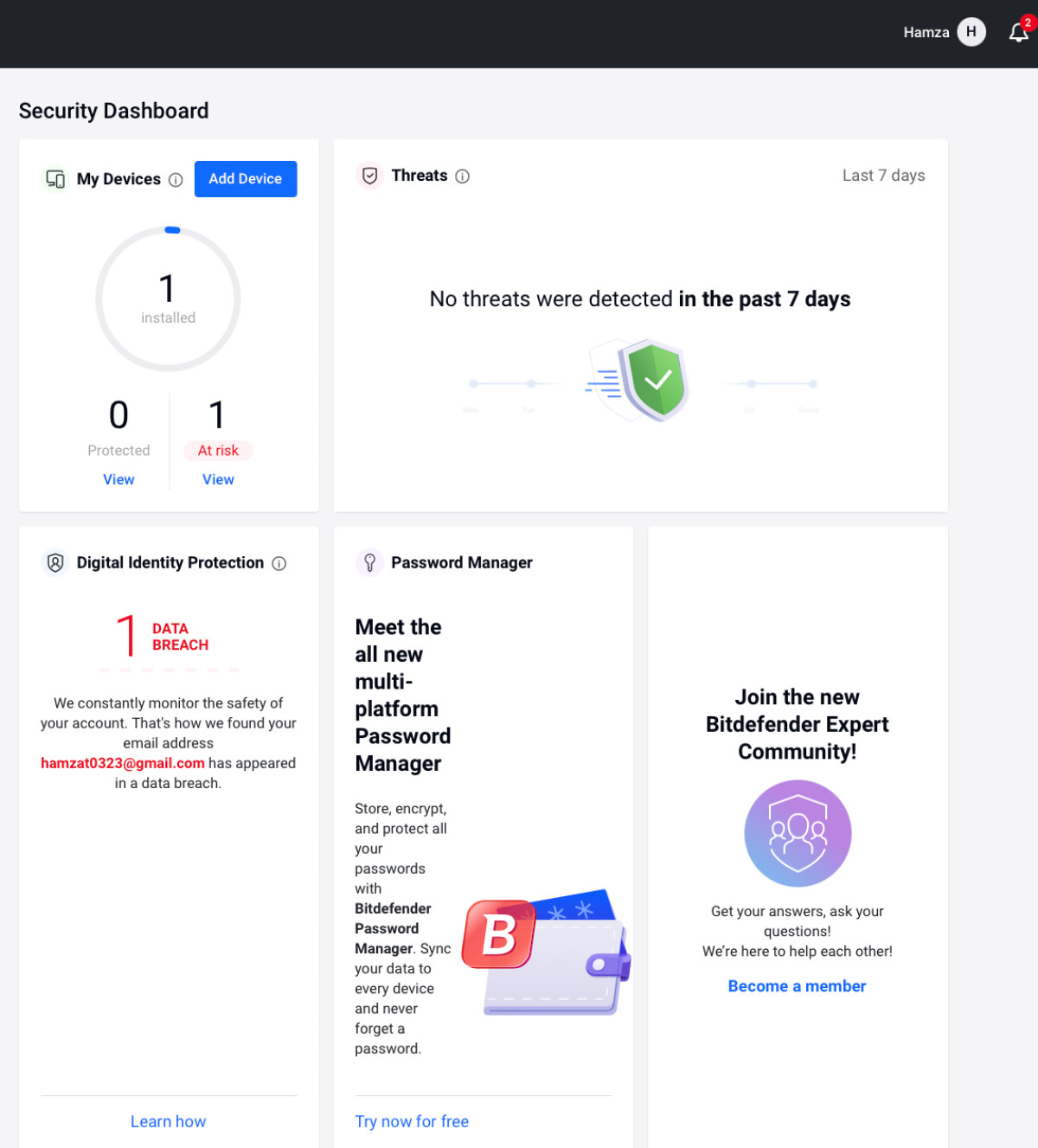 Use Bitdefender Central to see how all of your devices are performing.
It was difficult for us to find any drawbacks since we enjoyed using the desktop app so much. It's user-friendly, has all the main features of the antivirus, and doesn't slow down our system.
Smartphone apps
The smartphone app is called Bitdefender Mobile Security. It's just as user-friendly as the desktop app. When you open the app, it takes you to the dashboard where you can run a quick scan or enable other features such as anti-theft and Autopilot.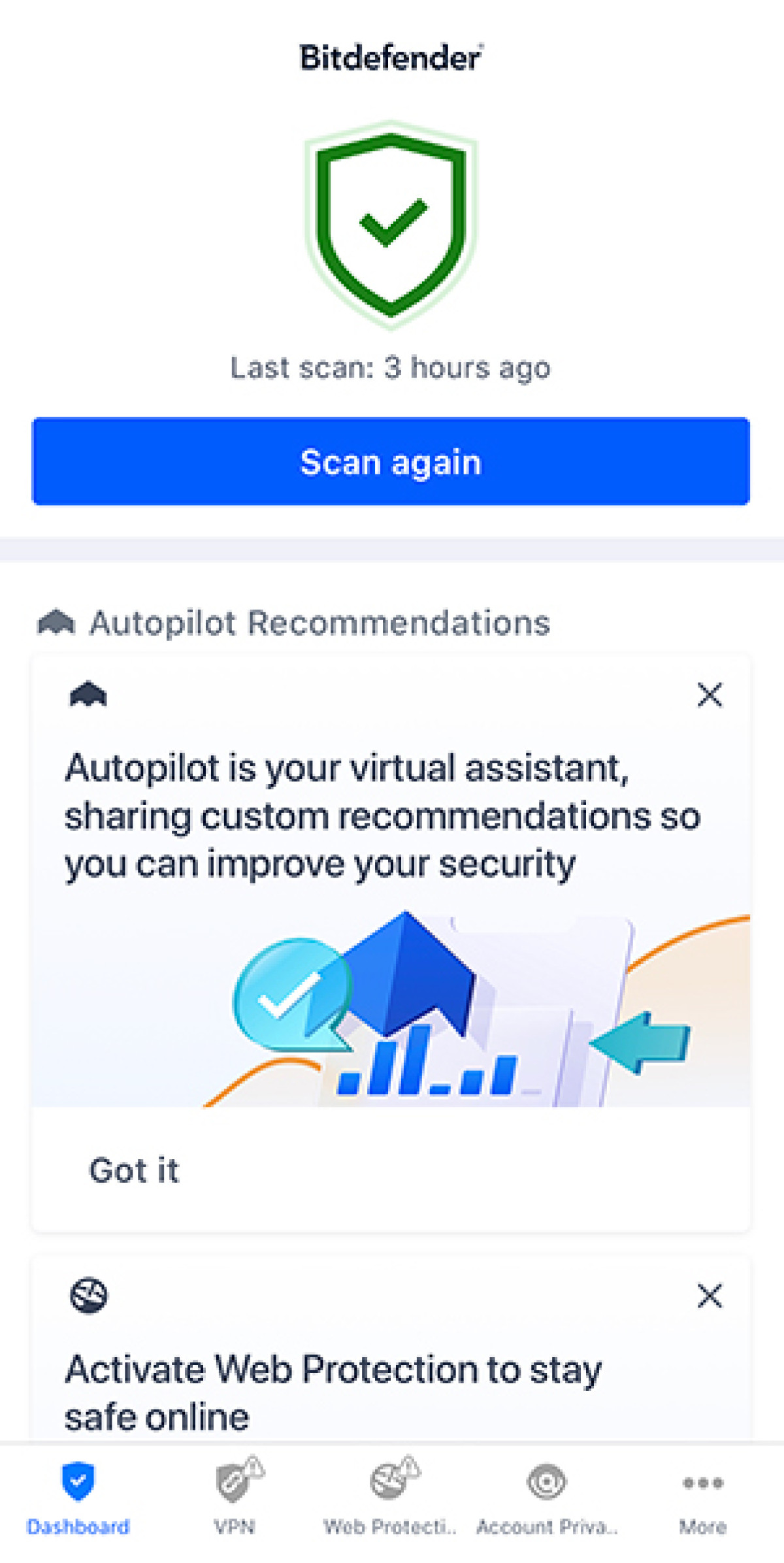 Bitdefender Mobile Security app.
The VPN is included in Mobile Security, but it's also available as a separate app. It displays the amount of data you've consumed and there's a big connect button in the center of the screen. We recommend downloading the dedicated VPN app since it has features like split tunneling and a kill switch.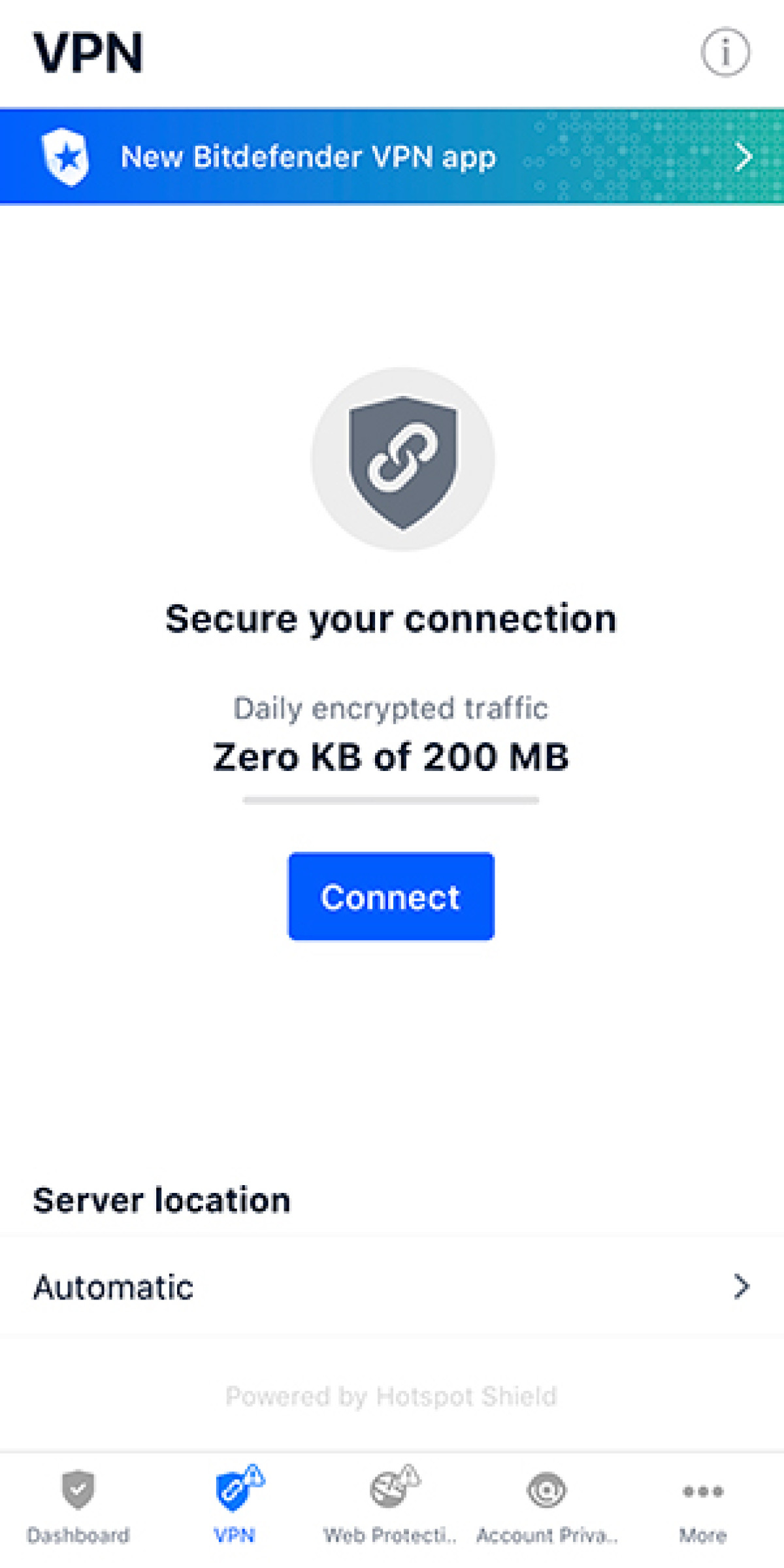 Bitdefender Mobile Security's built-in VPN.
Web Protection uses the VPN to encrypt your DNS requests, making it difficult for any outside party to see what websites you've been visiting.
Account Privacy lets you add an email account after which it scans the Internet to see if any data related to your account has appeared in a data breach.
We ran a scan on a 2-year old iPhone 12 on which we've never used an antivirus before. It only took about 5 seconds for the scan to complete. Of course it may be different for you since it depends on how you use the device.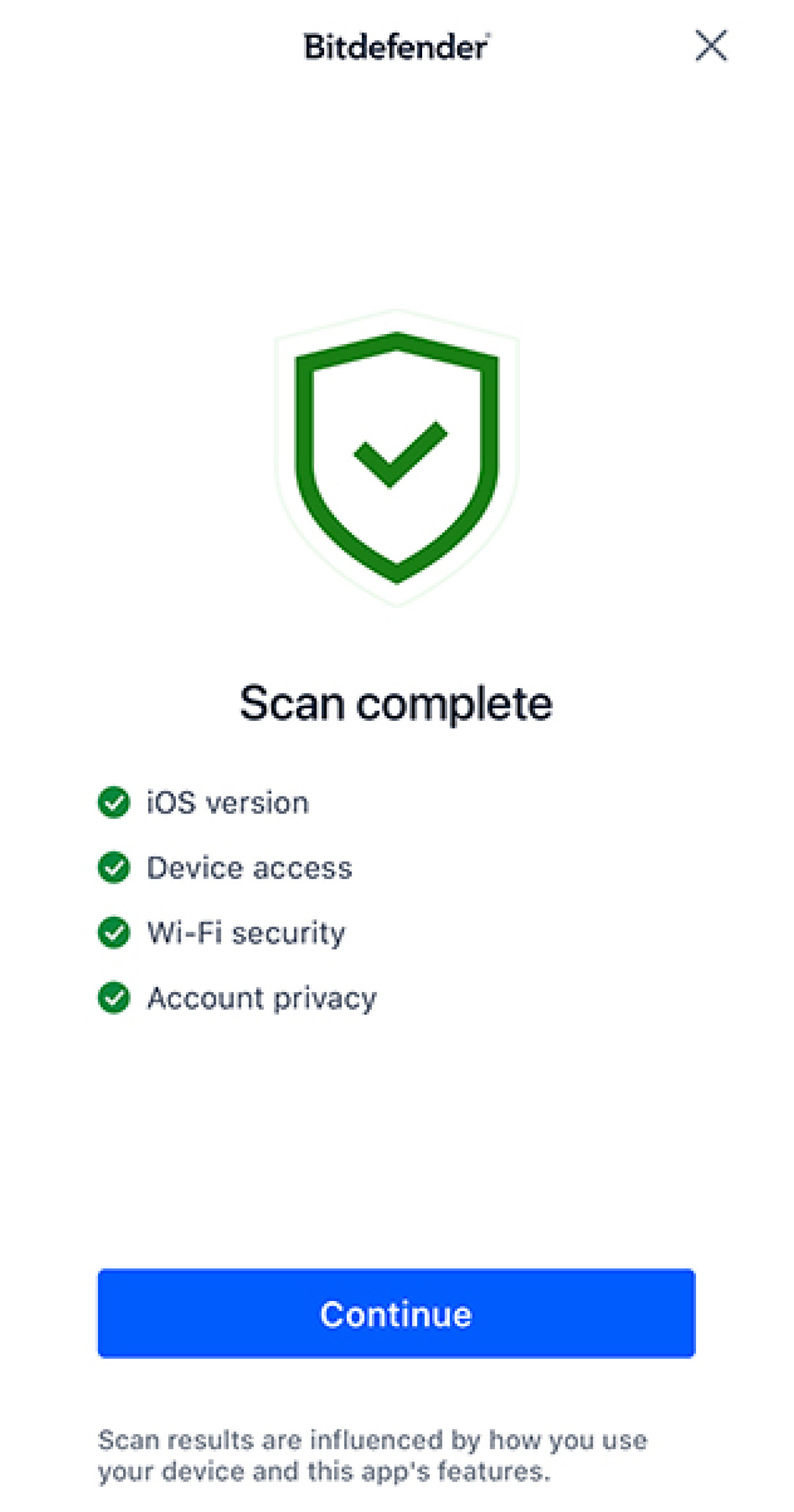 Bitdefender Mobile Security only took a few seconds to scan our iPhone.
Customer support
Bitdefender provides you with multiple ways to get in touch with their customer support team. The website has a 24/7 live chat option, and you can also email and call them. The site also has a large number of articles and guides that you can read to understand how Bitdefender's features work.
We contacted the support team using the 24/7 live chat and we were disappointed with the results. Not only did it take time for the agent to respond to our question, but they also failed to give a relevant and helpful answer.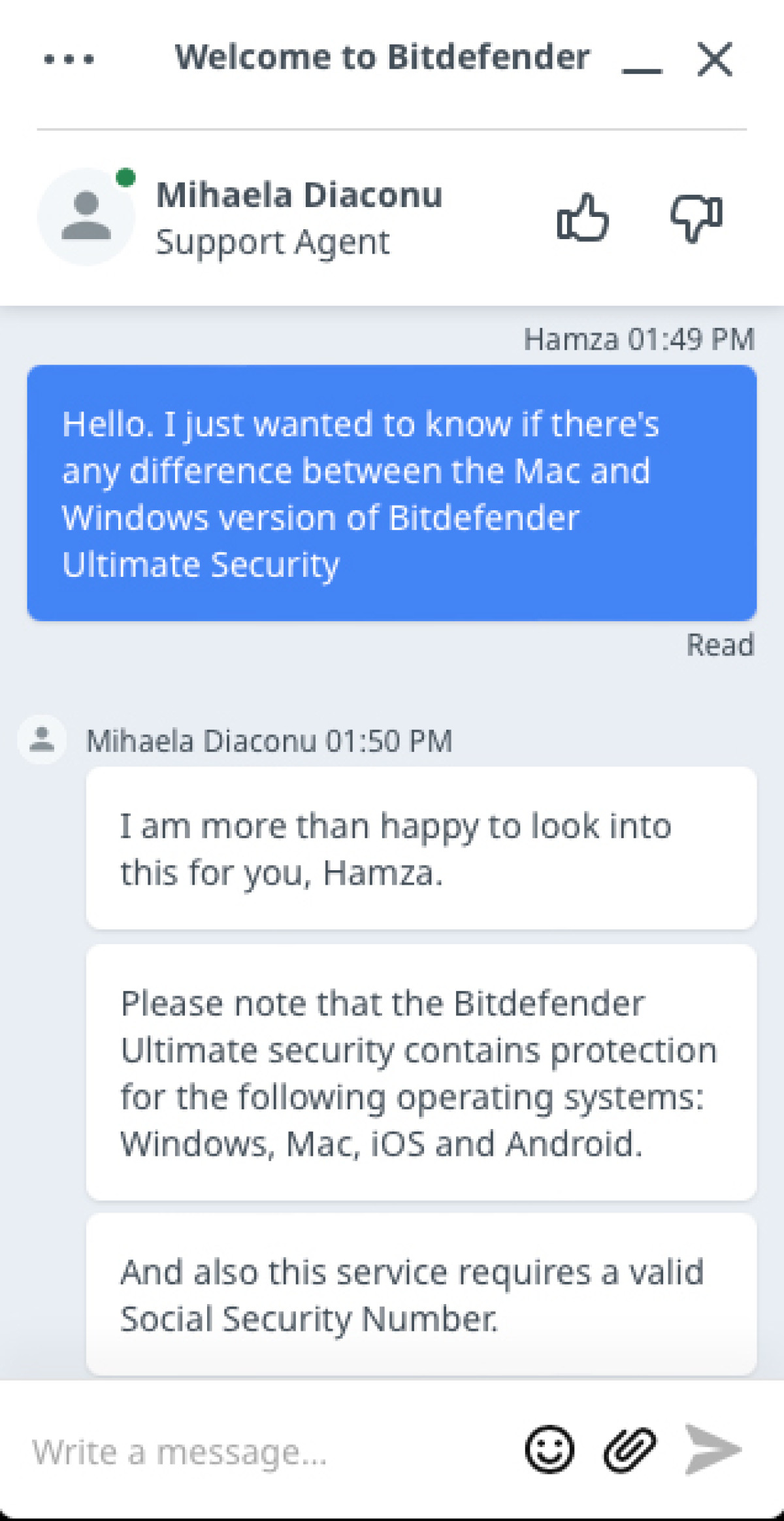 Bitdefender's live chat failed to give a helpful answer to our question.
Many users also seem to encounter problems at the time of renewing their subscription. Phone support is also subpar at best. You won't be left on hold for too long, but in most cases, the agents will fail to provide a useful answer.
It's clear to us that Bitdefender's customer support requires significant improvement.
How good is Bitdefender antivirus?
Bitdefender is a good antivirus that does a phenomenal job of protecting all your devices. It comes with many powerful features to make sure your device gets the highest level of protection.
All plans except the free one include a VPN, though it's limited to 200MB/day (except on the Ultimate Security and Premium Security plans). Real-time protection and ransomware protection tools are also present in all plans.
The apps are excellent for beginners since they're quite user-friendly and don't bombard your screen with unnecessary pop-ups. The only complaint we have is that the customer service, especially the 24/7 live chat, isn't helpful and the agents aren't as knowledgeable as they should be.
Bitdefender Antivirus Plus, the Windows-exclusive plan of the antivirus software, is available for $24.99 per year and covers up to 3 devices. The Mac version of the antivirus costs $29.99 per year.
Frequently asked questions
Yes, Bitdefender is safe to use. It's a non-intrusive antivirus software that doesn't constantly show ads or pop-ups. Depending on what you do, you can choose a profile to have the antivirus automatically adjust its settings so it doesn't show any unnecessary notifications.
Yes, Bitdefender is worth it because it's a powerful antivirus that will protect your device from malware, ransomware, trojan, and other threats. If you're a Windows user, it's more important than ever to use an antivirus since the number of malware released everyday is increasing at a rapid rate. Bitdefender has all the virus protection tools you need to prevent your device from getting infected.
Yes, you can trust Bitdefender because it's a good antivirus that consistently receives a near-perfect score by independent AV testing labs such as AV-Comparatives and AV-Test. These labs award high-performing antivirus software with certifications which serve as a proof of how trustworthy they are.
No, Bitdefender won't slow down your computer. Depending on how you use your device and whether or not you've ever used an antivirus before to get rid of threats, the initial scan might affect your device's performance a little. But subsequent scans will be much faster and your device's speed won't be affected at all.