We may receive commissions for purchases made through links on our website. We appreciate your support.

If you're an avid YouTuber, then you've probably heard your favorite channels talking about ExpressVPN. These channels partner up with the VPN service to provide discounts and special offers to their viewers.

With the help of ExpressVPN YouTuber codes, you can get the VPN at a cheaper price and encrypt your online traffic. It'll allow you to change your IP address, making you anonymous as you browse the Internet.

There are many YouTubers that routinely share these promo codes. In this article, we've compiled a list of some of them and we've also explained how you can use them to get special deals.
How to use ExpressVPN YouTuber discount codes
Pick YouTuber's ExpressVPN discount.
Select the 1-year plan since that's the only plan eligible for affiliate discounts.
ExpressVPN coupon code will apply automatically.
Choose the payment method and enter your details.
Proceed with the payment and protect your online traffic!
Best ExpressVPN YouTuber codes
ExpressVPN is one of the best VPNs of 2023, so it makes sense that they would partner up with YouTubers to broaden their reach and help people get access to important security tools.
Here's a table that lists some of the most easily recognized YouTube channels along with their ExpressVPN affiliate links:
| | |
| --- | --- |
| YouTuber | Discount code |
| Ben Shapiro | benYT |
| mrnigelng | uncleroger |
| Cody Ko | codyko |
| LongBeachGriffy | griffy |
| CalebCity | calebcity |
Let's take a closer look at these YouTube channels and see what you can get with their ExpressVPN promo codes.
Ben Shapiro
Ben Shapiro is a popular American conservative political commentator and the co-founder of a news website called The Daily Wire. His YouTube channel, where he shares episodes from his podcast, has over 6 million subscribers.
He frequently recommends ExpressVPN to his viewers. Using his code "benYT", you can get a discount of almost 40% and three months free.
Mrnigelng
Nigel Ng, also known as Uncle Roger, is a Malaysian stand-up comedian who's currently based in the UK. He usually makes Asian food review videos where he humorously critiques cooking techniques. He has over 8 million subscribers.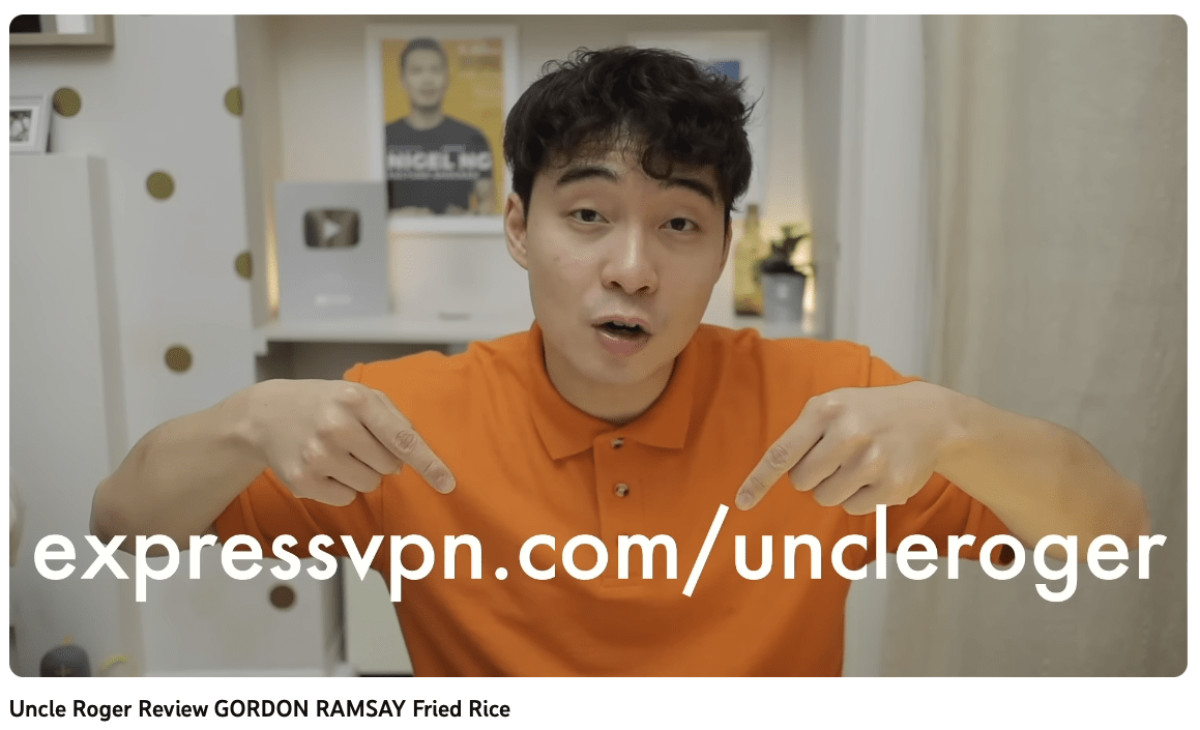 Uncle Roger recommending ExpressVPN in one of his videos.
Uncle Roger routinely mentions in his videos that he uses ExpressVPN to change his IP address when he wants to watch TV shows that aren't available on Netflix UK. His ExpressVPN discount code is uncleroger and you can use it to get 3 months free along with a large discount.
Cody Ko
According to Cody Ko's YouTube bio, he's an "actor/comedian/YouTuber/podcaster/SoundCloud rapper/Internet badboy." Before transitioning to YouTube, he was famous on the short-form video platform Vine. Today, he has over 6 million subscribers on YouTube.
He makes reaction videos where he often gets together with his friend Noel Miller and provides commentary on Internet trends and videos. Ko uses ExpressVPN to keep his online identity anonymous and watch geo-restricted TV shows on Netflix. Use his code "CodyKo" to get a discount and 3 months of ExpressVPN free.
LongBeachGriffy
LongBeachGriffy is a YouTuber who makes short YouTube comedy videos. He seamlessly recommends ExpressVPN in his videos without disrupting their flow, making it look as if it's a part of his skits. His YouTube channel has over 3.5 million subscribers.
His YouTuber code "Griffy" will let you get 3 months of ExpressVPN free along with a discount on its 1-year subscription package.
CalebCity
CalebCity is another popular YouTube comedian who creates short videos. He has almost 5 million subscribers and just like LongBeachGriffy, he introduces ExpressVPN in his videos smoothly, as if they're a natural part of the content.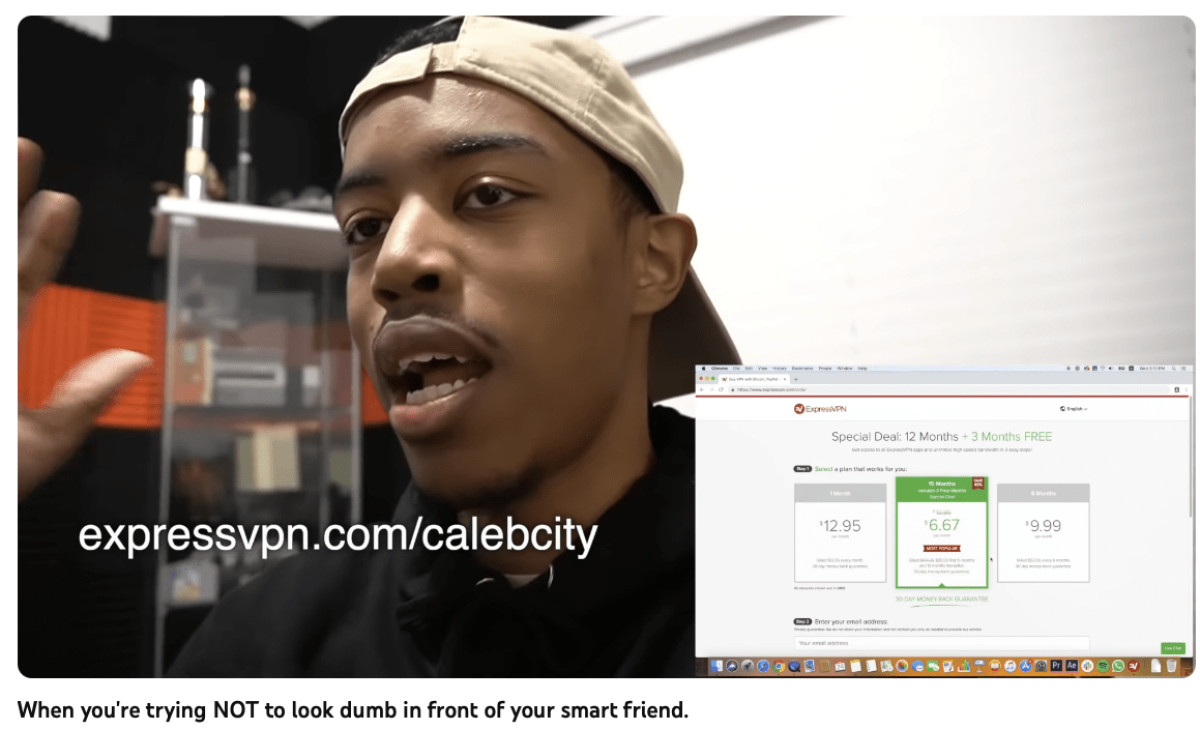 CalebCity advertising ExpressVPN in one of his YouTube skits.
He also gained popularity on Vine before switching to YouTube. In his videos, Caleb City has mentioned he's been using ExpressVPN for more than a year. His code "calebcity" will get you 3 months of ExpressVPN for free.
Why use ExpressVPN YouTuber codes?
There are various reasons why you should use ExpressVPN YouTuber codes, the most notable of which is getting access to special discounts and offers. Here are some other reasons to use them:
Supporting your favorite YouTubers – Most YouTubers agree to form partnerships with services such as ExpressVPN for two reasons: they trust them and they get a commission. If you purchase through their affiliate links, they get paid as well. That's why it's an easy way for you to support your favorite YouTubers.
Reliability – If you're a big fan of a YouTuber, then you probably trust their recommendations. Them suggesting ExpressVPN means they've tested the service and are satisfied with its performance.
Verified reviews – Most YouTubers wouldn't agree to advertise a product if they haven't used it themselves. Many channels such as CalebCity and LongBeachGriffy show you how to use ExpressVPN while advertising their discount codes. This gives you a good idea of how you can use it as well.
Special offers – YouTuber discount codes don't just give you a discount on ExpressVPN's subscription packages, they also get you a few extra months for free.
What's the cost after using ExpressVPN YouTuber code?
ExpressVPN YouTuber codes will give you up to 50% off on the VPN service's 12 months package, along with 3 months free. The original price of the 1-year plan is $12.95 per month, but after applying a discount code, you can get it for $6.67 per month.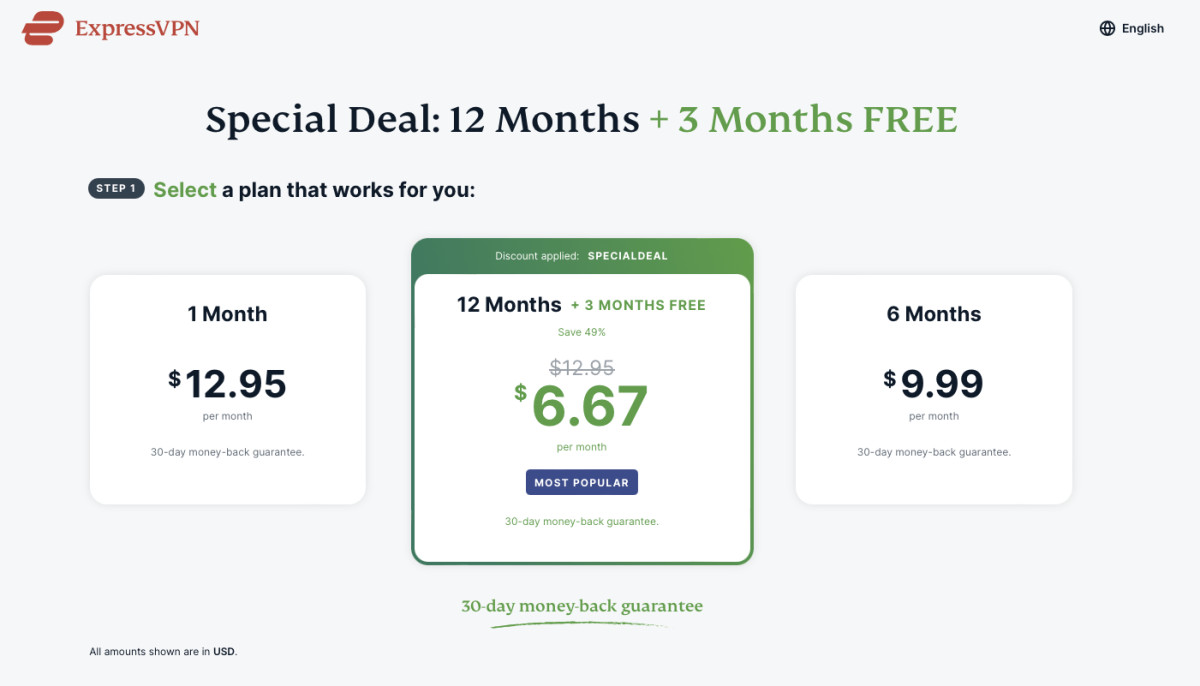 The price of ExpressVPN's 1-year plan after applying a YouTuber discount code.
The exact amount of discount you get depends on which YouTuber's affiliate link you're using to purchase your subscription. But generally speaking, all of them include 3 months free.
Unlike NordVPN, ExpressVPN doesn't have multiple tiers in a single package. Most YouTuber discount codes apply on the 1-year plan and they include all the features you'd normally get with your subscription.
Is it worth getting ExpressVPN YouTuber sponsor code?
Yes, it is worth getting an ExpressVPN YouTuber sponsor code. It's one of the best ways to save up on subscription costs and get additional months for free. You can get up to 50% off on the 1-year plan, which is a great deal for anyone who wants to protect their online traffic.
The offers provided by these codes may change with time, so we recommend keeping an eye on your favorite YouTubers who use ExpressVPN to get the best deals.
Another reason they're worth getting is because they simplify your decision-making process. Because there are so many VPNs on the market, it's not easy to decide which one to get. But if your favorite YouTuber recommends ExpressVPN, it serves as a credible testimonial for you to consider.
Almost every YouTuber that agrees to promote ExpressVPN in their videos has actually used and tested the service themselves.
Frequently asked questions