We may receive commissions for purchases made through links on our website. We appreciate your support.

Geek Squad is Best Buy's tech support and is known for providing a legitimate service to the company's customers. However, it's also been associated with quite a well-known scam. You may have received an email from someone pretending to be from Geek Squad, asking you to call a number.

The Geek Squad scam is, as you might have guessed, a fraud that must be avoided at all costs. Because it's a phishing scam, its objective is to trick you into providing personal information.

In this article, you'll learn how to remove the Greek Squad scam and what you can do to protect yourself from similar scams in the future. One of the best methods is to use an antivirus software like TotalAV.
What is the Geek Squad scam?
The Geek Squad scam involves sending an email to people, telling them that their "subscription" is about to be renewed automatically.
Hackers often send these sorts of emails under the pretense that they're from Geek Squad or Best Buy, enticing you to call a number if you don't want your subscription to be renewed automatically for a large sum of money.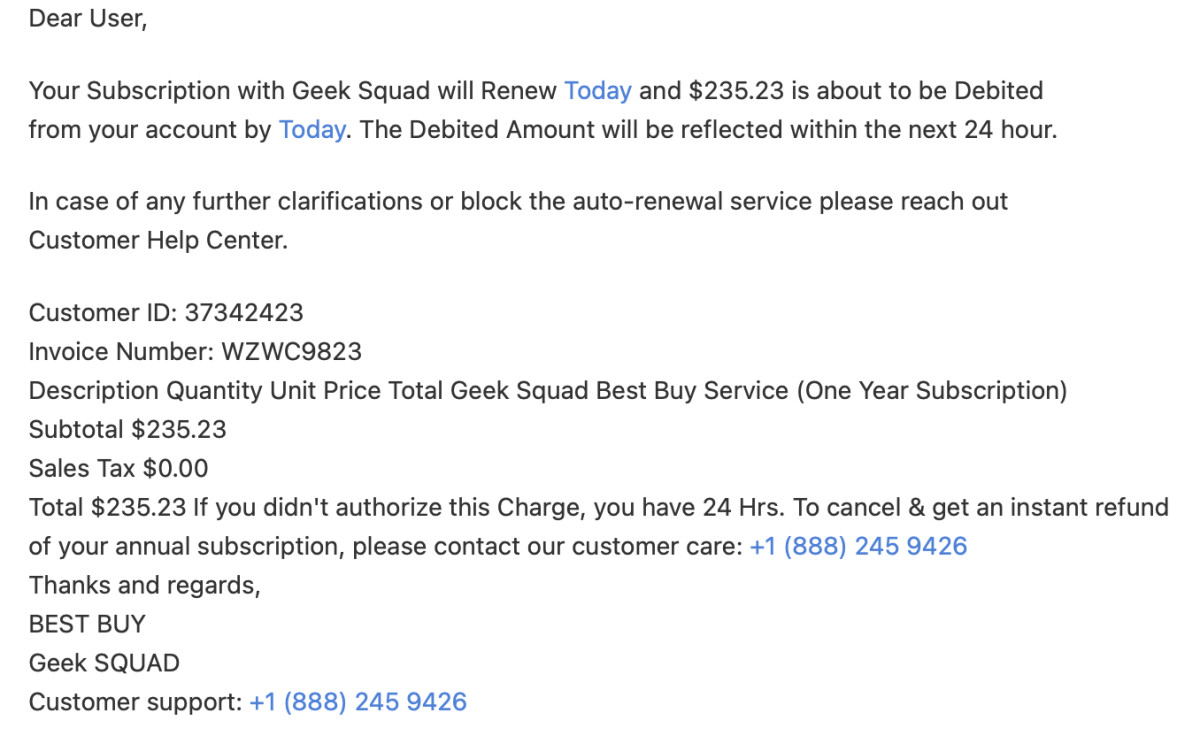 Geek Squad spam email.
The email is obviously false. The hackers expect you to call them so they can ask for personal details such as your email ID, password, social security number, and bank account details.
They may also ask you to reset your password or send you links or attachments that contain malware. Opening the links or downloading the attachments will infect your computer with a virus and you may also be tricked into giving away personal information.
Here's a table that summarizes the nature of the Geek Squad scam:
| | |
| --- | --- |
| Name | Geek Squad scam |
| Type | Phishing, malware |
| Source | Potentially unwanted applications (PUAs), data breaches, registration forms |
| Devices affected | Smartphones (Android and iOS) and desktop (Windows, macOS, and Linux) |
| Signs | An email from Geek Squad telling you to click on a link, download an attachment, or call customer support |
| What it does | Steals your personal data such as social security number or credit card details |
| How to remove it | Download an antivirus software, delete suspicious applications, update your device regularly, avoid opening links |
Why am I getting fake Geek Squad messages?
You may be getting fake Geek Squad messages because the hackers behind them found your email in a data breach. They may have purchased an entire list of emails illegally and sent fraudulent messages to all of those emails.
It's also possible for them to gain unauthorized access to databases that contain personal information of people.
Hackers can get your email address if you've installed an infected application on your computer. If you provided your email at any point, then the hackers can use it to target you.
You might also have given it away on a phishing or unverified site. These sites often look legitimate, which is why most people don't think twice before entering their email on them. For this reason, you should only ever enter your email address on trusted and verified sites.
How to remove the fake "Geek Squad" scam
You can remove the fake Geek Squad email by several methods, some of which include deleting suspicious applications, unwanted browser extensions, and installing an antivirus. Let's take a more detailed look at these methods:
1. Delete unwanted browser extensions
Malicious browser extensions will try to steal your personal information and even infect your computer with malware. That's why it's important to monitor all of your extensions and make sure you only download ones that are trusted and have positive reviews.
Here's how to remove browser extensions on Google Chrome:
Click on the three vertical dots in the top-right corner and go to More Tools > Extensions.




Find an extension that looks suspicious and click on Remove.


Here's how to delete extensions on Safari:
Open Safari and then go to Safari > Preferences in the menu bar.


Go to the Extensions tab.


Click on the extension you want to remove and click on Uninstall.


2. Delete suspicious applications
You're more likely to receive fake Geek Squad emails if you've entered personal information on a suspicious site, but it could also happen because of malicious applications.
If you see any app that you don't remember downloading, make sure you delete it. You may also have malicious files hiding in the following three folders on a Mac:
LaunchAgents


LaunchDaemons


Application Support
Follow the steps below to access the folders above and delete suspicious files:
Open the Finder app and click on Go > Go to Folder in the menu bar.


Type "/Library/LaunchAgents" in the address bar.




If you see any file that has "Geek Squad" in its name, delete it.


Repeat the above steps for the other two folders.
3. Update your device
Always make sure that your computer or smartphone has the latest updates installed. Regularly updating your system will ensure that you have access to the latest security measures and previous bugs and vulnerabilities have been fixed.
On Mac, you can check for updates by following the steps below:
Open System Settings (System Preferences on macOS older than macOS Ventura).


Click on General.


Go to Software Update.




If there are any new updates available, they'll appear here.


Other operating systems and devices will have similar settings for new updates.
4. Use an antivirus
An antivirus will completely remove malware from your computer and protect you from phishing scams. TotalAV is the best option when it comes to keeping your device safe from the Geek Squad scam email.
Here's how to use an antivirus to protect yourself from the Geek Squad scam:
Download an antivirus from the App Store or its official site. We recommend getting TotalAV.


Let the antivirus run its initial scan. This can take 40-60 minutes.


Once it's finished scanning, delete all the malicious apps or files it's found.


Now you're free to use any of its features to protect yourself from phishing scams. Enable WebShield so you don't end up accidentally opening suspicious links.


You can run a "Quick Scan" or a "System Scan" to look for duplicate or malicious files/applications.




You can also use its "Data Breach Check" feature to monitor the web and see if your email has appeared in any data breach.
If you want to learn more about the aforementioned features, we recommend checking out our TotalAV review.
What are the main signs of Geek Squad spam
To know if you're receiving fake Geek Squad emails, keep an eye out for the following signs:
Fake email address – If the email you've received has a fake email address with a regular domain such as "gmail.com" or "hotmail.com," then it's trying to scam you. An actual Geek Squad email will have the company's name attached to it.
Too many typos – If there are any grammatical errors or typos in the email, then you should avoid responding to it. An actual email from Geek Squad will have no errors.
Fake customer service number – You can find Geek Squad's customer service's official number on the actual Best Buy site. The fake email will ask you to contact customer service so make sure you verify the number with what's written on Best Buy's site to see if it's legitimate.
Creating a sense of urgency – A fake Geek Squad email will tell you that you have to contact its customer service within 1-2 days, otherwise your subscription will be renewed automatically. In reality, most subscriptions give you more than a week to cancel them.
How to prevent phishing attacks
Here are some ways you can prevent phishing attacks in the future:
Don't open suspicious links – If you receive an email that tells you to open a link, always scan it with an antivirus first. Even if you do open the link, don't enter any personal information such as credit card details or your email ID.
Keep your devices updated – Enable auto-updating on all of your devices so you always have the latest security updates installed.
Use an antivirus – Antivirus software like TotalAV have anti-phishing tools that will make sure you don't click on suspicious links and will protect you from fraudulent emails.


Verify the legitimacy of the sender – If you receive an email that looks suspicious, check the identity of the sender. If you're in doubt, contact the company directly to confirm they actually sent the email.
Frequently asked questions
No, Geek Squad is a legitimate company, but hackers impersonate it to commit scams and fraudulent activities. They'll send emails and try to get you to provide personal information either through a phishing site or by getting you to call their customer support.
If you click on any link that's contained in a fake Geek Squad email, then your personal information could be stolen. You might be tricked into providing information such as your email address, password, and credit card details.
To report a fake Geek Squad email, you can either forward it to the actual Geek Squad team or you can report it via the email provider you're using. It'll have an option called "report as phishing" or "report as spam.