We may receive commissions for purchases made through links on our website. We appreciate your support.

McAfee and Norton are two of the oldest and most well-recognized antivirus software in the world. If your choices have come down to those two, you might be wondering, which one is better? That's what we're going to find out in this McAfee vs. Norton review.

We tested both antivirus programs in categories like features and performance, and discovered that they're both excellent security suites that are capable of providing a high level of protection from malware and other threats.

There are some crucial differences between McAfee and Norton, which you'll learn about in this article. For example, the majority of the plans McAfee offers cover unlimited devices, something that's uncommon in the antivirus industry.

To help you get a quick overview of the differences, we've added a comparison table below.
Overview: Norton vs McAfee
| | | |
| --- | --- | --- |
| | Norton | McAfee |
| Real-time protection | Yes | Yes |
| VPN | Yes | Yes |
| Firewall | Yes | Yes |
| Password manager | Yes | Yes |
| Parental controls | Yes | Yes |
| Compatibility | Windows, macOS, iOS, Android, and Chromebook | Windows, macOS, iOS, Android, and Chromebook |
| Price | Starting from $19.99/year | Starting from $29.99/year |
| Website | | |

About antivirus companies
McAfee and Norton have been around for decades, so before we talk about their specifications, let's take a moment to revisit their history.
McAfee
McAfee Associates, the company behind the antivirus, was founded by John McAfee in 1987. After acquiring FSA Corporation in 1996, it branched out into products other than its antivirus software and developed its own firewall and file encryption technologies.
The antivirus has seen huge success over the past twenty years and it's become a household name in the cybersecurity industry. It was purchased by Intel in 2011 and the company's name was changed from McAfee Security to Intel Security.
Norton
Norton is almost just as old as McAfee. Founded in 1990 by an American programmer Peter Norton, the antivirus company has received several awards by independent testing labs.
It acquired Avira and Avast in 2020 and 2021, respectively, so it now has a huge portfolio of antivirus products.
Security: which offers better protection?
Norton is the winner when it comes to security. McAfee is also great at keeping viruses at bay, but Norton just seems to do it better. Its protection rate was marginally better than McAfee's in tests conducted by AV-Comparatives and it also blocked more malicious sites/files. Norton also offers more security features at a cheaper price, so they're more easily accessible to users.

We've added a table below to show the differences in the security features of Norton and McAfee:
| | | |
| --- | --- | --- |
| | Norton | McAfee |
| Real-time protection | Yes | Yes |
| Types of scans | Smart Scan, Quick Scan, Full Scan, and Custom Scan | Scheduled Scan, On-Demand Scan, and Real-Time Scan |
| Additional security features | Firewall, cloud backup, and parental controls | Firewall, parental controls, and file shredder |
Real-time protection
In all our tests, Norton always managed to detect viruses 99% of the time. McAfee's detection rate, on the other hand, was about 97%. We downloaded fake viruses from Eicar and it often failed to block them. Norton detected every single virus we tried to open on our system.
Both antivirus software have real-time protection which is constantly on the lookout for malware and other threats, especially in newly downloaded files. As soon as it detects a threat in any file, it alerts you so you can take appropriate action.
McAfee had a couple of false positives, as did Norton, though not more than McAfee.
Scanning
McAfee and Norton both allow you to choose from multiple types of scanning. Norton has Smart Scan, Quick Scan, Full Scan, and Custom Scan. Quick Scan only takes about 30-60 seconds, but may sometimes fail to catch viruses.
Full Scan can take anywhere from 30 minutes to a whole hour, depending on how often your computer has been scanned for viruses. The initial full scan can sometimes take over an hour.
McAfee has Scheduled Scan, On-Demand Scan, and Real-Time Scan. Scheduled Scan just means you can automate the scanning process by assigning a specific time and even files to it.
Real-Time Scan works the same way as real-time protection. When you activate it, it continuously scans every file you open. On-Demand Scan only scans folders and files you tell it to. You can schedule it whenever you want and how much time it takes will depend on how many files or folders you choose to scan.
Additional features
Both antivirus programs have similar bonus features. Firewall and parental controls are quite advanced on both Norton and McAfee, with the latter allowing you to restrict your children's devices and locate them using your own.
One feature we like about Norton is the cloud backup which comes with every plan. It allows you to create an online backup of your data on Norton's servers. Cloud backup is a great way to protect your data from ransomware.
Unfortunately, McAfee doesn't have cloud storage. One feature it has that Norton lacks is a file shredder. This allows you to completely remove files from your system.
Independent testing labs
To most independent testing labs, there's not a big difference between Norton and McAfee. Both of them have received numerous awards and certifications by labs like AV-Test, AV-Comparatives, and SE Labs because of the protection they provide against malware.
A Real-World Protection test conducted by AV-Comparatives between July and October 2022, ranked Norton's protection rate higher than McAfee's. The latter received three stars, though, while the former got two (due to a higher number of false alarms).
In our tests, though, Norton had less false alarms. Overall, Norton seems to be the better option when it comes to security, but McAfee isn't that far behind.
Plans and pricing
Norton is more affordable than McAfee and offers more features at a cheaper price. One of McAfee's biggest disadvantages is the high price tag that's attached to it. Both have multiple plans, but not enough to leave you confused like Bitdefender. All of McAfee's plans except the basic version can be used on unlimited devices, while the max number of devices that Norton covers is 10.

Below, we've added a table that lists all the plans of Norton and McAfee
| | | |
| --- | --- | --- |
| | Norton | McAfee |
| Free version | No | No |
| Antivirus Plus/Basic | $19.99/year for 1 device | $29.99/year for 1 device |
| Norton 360 Standard/McAfee+ Premium | $39.99/year for 3 devices | $59.99/year for unlimited devices |
| Norton 360 Deluxe/McAfee+ Advanced | $49.99/year for 5 devices | $89.99/year for unlimited devices |
| Norton 360 with LifeLock Select/McAfee+ Ultimate | $99.99/year for 10 devices | $199.99/year for unlimited devices |
| Norton Mobile Security/McAfee Mobile Security | $14.99/year for 1 device | $30/year for 3 devices |
McAfee plans
McAfee and Norton have an equal amount of products and plans, but as you can see, the former is much more expensive. McAfee starts with its Basic plan, which costs $29.99/year for just one device.
The Basic plan has a VPN, firewall, password manager, and many other security features that you'd expect an antivirus to have.
McAfee+ Premium is the next product in the company's lineup. It covers unlimited devices, but the cost goes up to $59.99/year. Most casual users might not be willing to pay that much for an antivirus, so it's more suited for businesses.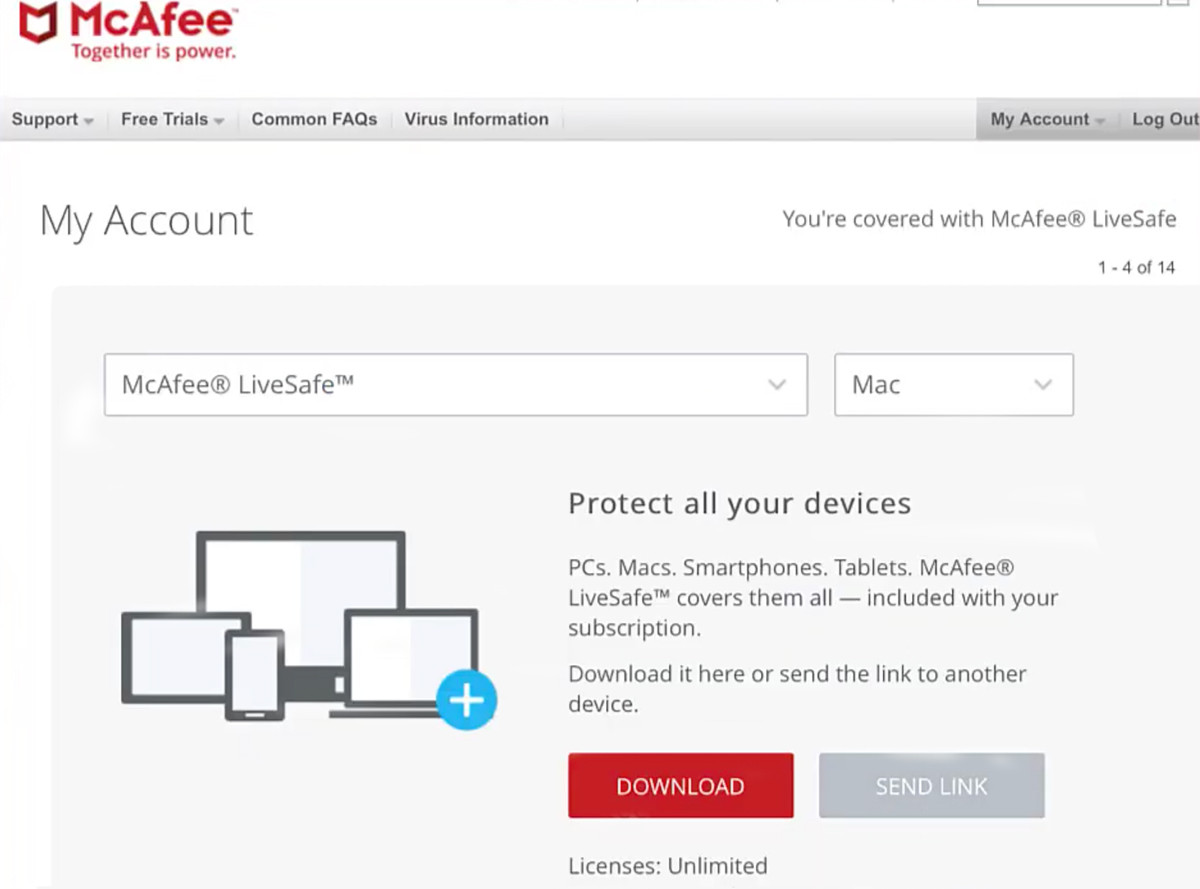 McAfee can be used on an unlimited number of devices.
It has two other plans, McAfee+ Advanced and McAfee+ Ultimate, priced at $89.99/year and $199.99/year, respectively.
To get premium features on the smartphone apps, you have to upgrade to McAfee Mobile Security, which costs $30/year and covers 3 devices.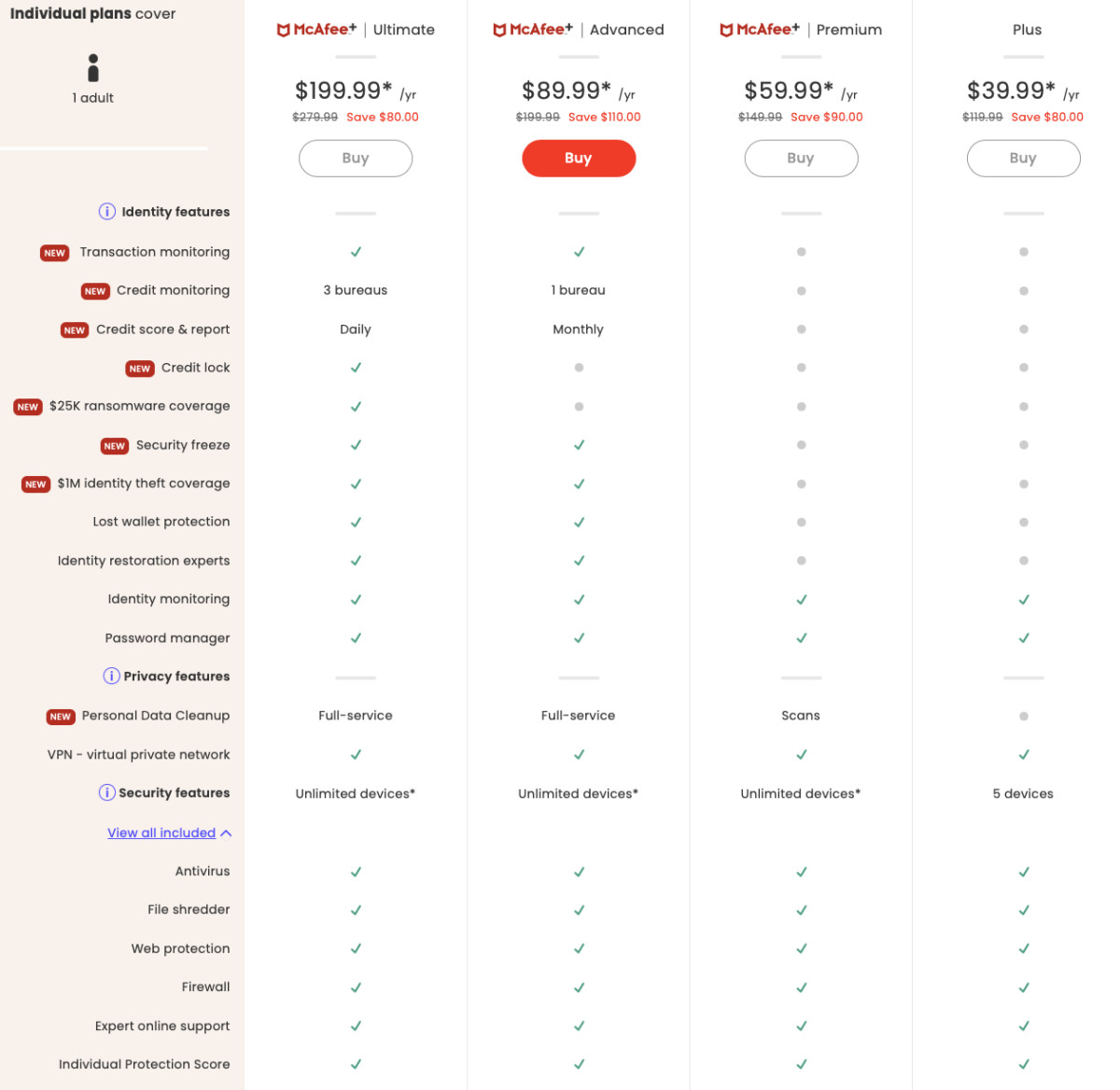 McAfee's plans.
Norton plans
Norton is considerably cheaper than McAfee. The most basic plan, Norton AntiVirus Plus, costs $19.99/year, but unlike McAfee's basic plan, Norton's doesn't have a VPN.
The next plan is Norton 360 Standard, which costs $20 less than McAfee's Premium plan. Norton 360 Standard can be used on 3 devices and has everything except parental controls.
You can get a monthly subscription to Norton 360 with LifeLock Select (the antivirus's most expensive plan) for $9.99. The plan includes every feature the antivirus offers, including LifeLock identity theft protection.
Impact on PC performance
Both Norton and McAfee seem to have an equal level of impact on PC performance. They're both resource-intensive so running any type of scan (except quick scan) can take some time and slow down your system. They both received three stars by AV-Comparatives in 2022 because of their performance. Other testing labs have also given them high scores because of how well they perform.

Here's a list of awards won by both antivirus software by independent testing labs because of their performance:
Norton was slightly faster than McAfee during the initial scan, but the difference in the speed was negligible. We tested the two software on two Windows PCs and the initial scan took about an hour on both programs.
The PCs slowed down a little at one point, but it wasn't severe enough to make them unusable. As long as you don't play any heavy games, your PC won't lag.
Initial scans tend to be slow with every antivirus and the speed depends on many factors, so don't be surprised if it takes over an hour for either program to scan your system.
After the initial scan is done, you can run any type of scan. Norton's quick scan is extremely fast and it's better at detecting viruses than McAfee.
With that being said, both antiviruses have won awards by independent testing labs and there's not a significant difference between their performances.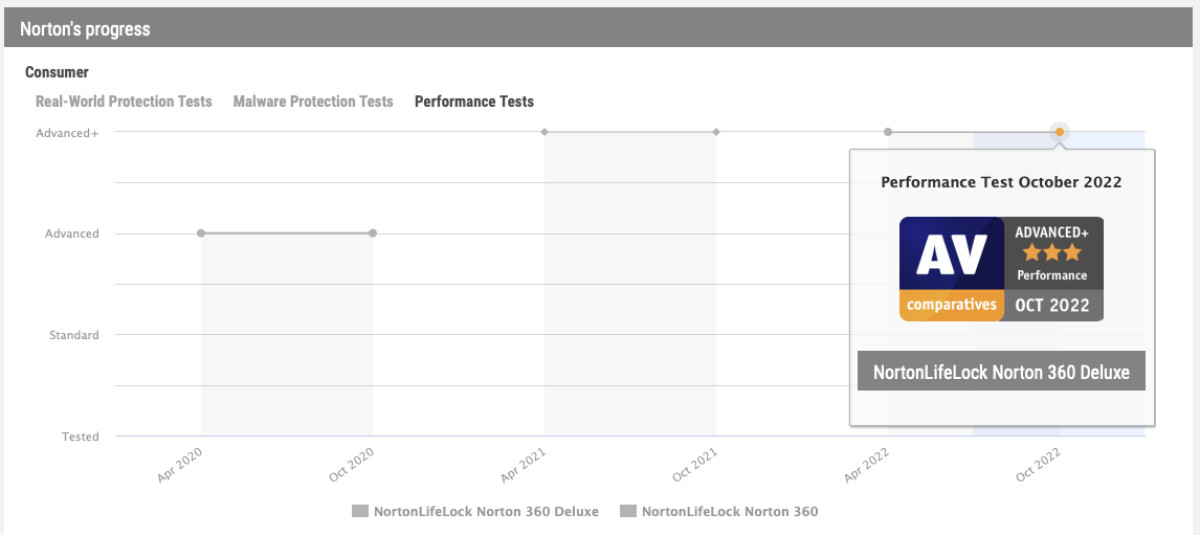 Norton has received multiple Advanced+ certifications by AV-Comparatives because of its performance.
McAfee vs Norton: Features
Norton wins this round because it has a lot more to offer than McAfee. They both have all the essential security features, but Norton has some additional ones that make it much more enticing than McAfee.The fact that all of its plans are cheaper is another reason why we've declared Norton the winner in this round.

Here are all the main features offered by Norton and McAfee:
| | | |
| --- | --- | --- |
| | Norton | McAfee |
| VPN | Yes | Yes |
| Dark web monitoring | Yes | Yes |
| Parental control | Yes | Yes |
| Webcam protection | Yes | No |
| Microphone protection | No | No |
| Protected browser | No | Yes |
| Cloud backup | Yes | No |
| Firewall | Yes | Yes |
| Password manager | Yes | Yes |
| Anti-phishing | Yes | Yes |
Not only does Norton have more additional features, but it also offers 100% virus protection promise, which means you can ask Norton's customer support team to remove a virus from your computer remotely if you can't use the antivirus to block it yourself.
In case the Norton expert can't remove it, either, you can request a refund.
Norton's entry-level plan doesn't have a VPN. McAfee's comes with one, but it's limited to 500 MB/month. If you want an unlimited VPN with more features, we recommend checking out our list of the best VPN services.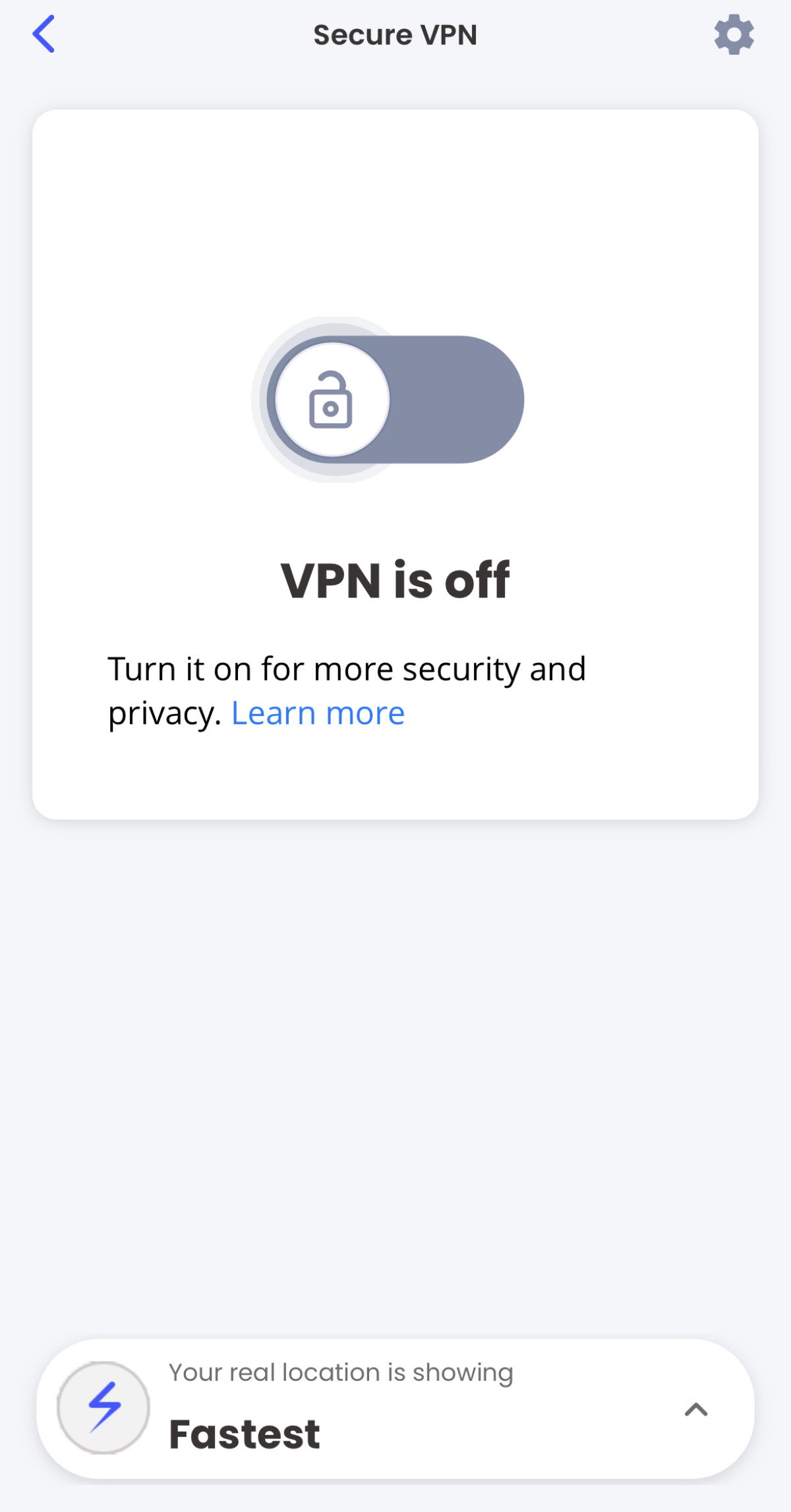 McAfee's VPN on iOS.
McAfee's basic plan also comes with a password manager, file shredder, identity monitoring, and web protection (Safe Browsing).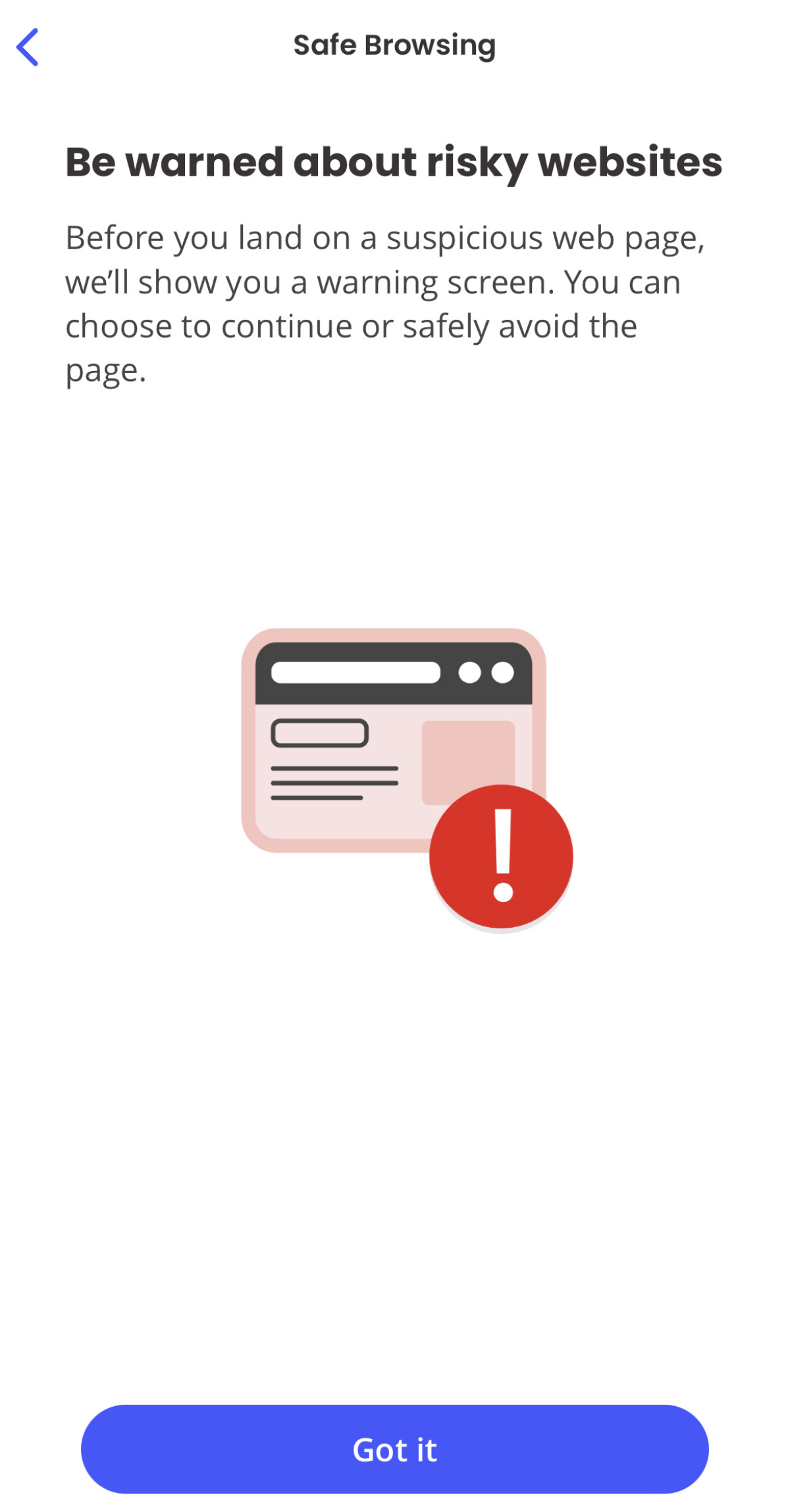 Safe browsing on McAfee's iOS app.
All of the Norton 360 plans come with features like cloud backup, dark web monitoring, password manager, and parental controls. Norton 360 Standard has 2 GB of cloud storage, 360 Deluxe has 50 GB, and 360 with LifeLock Select has 250 GB.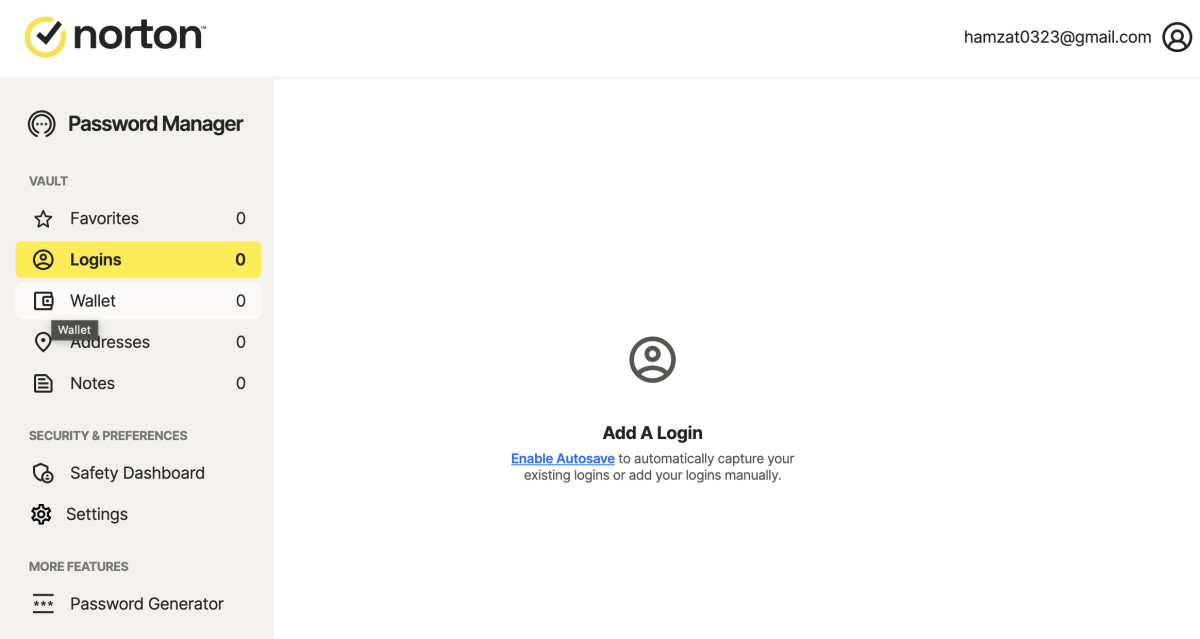 Norton's password manager.
McAfee doesn't come with cloud backup, which is disappointing considering how it's one of the most important anti-ransomware features an antivirus can have.
Norton lacks a secure browser, but it does have a feature called "Safe Web." It's a browser extension that always alerts you if you land on a suspicious site. It has a few other bonus features that protect you from phishing and malicious sites.
These features include:
Isolation Mode – It opens suspicious links in a safe environment so you don't end up entering important personal information.
Link Guard – Any link you open through your email app is routed through the Isolation Mode so you don't lose any data if you accidentally open a phishing site.
McAfee doesn't have similar features to protect you from phishing sites, but the browser that comes with it does a good job of keeping your online traffic safe.
McAfee vs Norton: Ease of use
McAfee and Norton are both quite easy to install and we didn't experience any problem with their setup. They both have a minimalistic UI which makes them easy to navigate thanks to all the big, conspicuous icons that appear on the main screen. The only difference is that McAfee has a sidebar on the left where you can access settings and other options.

Desktop
Norton recently moved from the "Classic" view to a new interface called "My Norton." The move signaled the company's desire to become a more modern and updated antivirus. The new interface is sleek and minimalistic, making it easy to find all the features.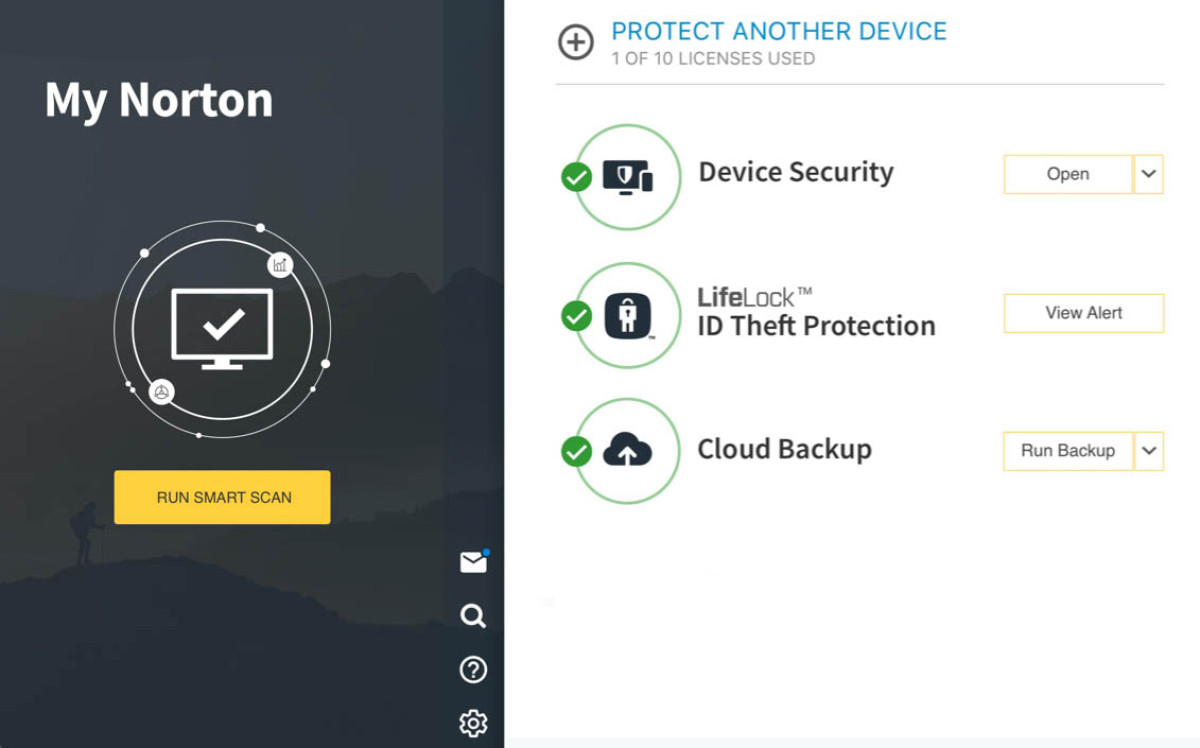 Norton on Windows.
For old users who are used to the Classic view, you can switch back whenever you want, but there are some features that will only work on My Norton.
You can quickly run a scan by clicking the Scan Now button on the main screen of Norton. Many users have complained that Norton's desktop app can be slow sometimes, which is why they prefer using its online dashboard.
While we didn't run into any serious problems when using Norton, we have to agree with the users. Norton's online dashboard is much easier to use.
McAfee's desktop app doesn't look much different at a glance, but we found it to be slightly better than Norton's. You don't have to switch between two different UIs to gain access to features and everything is available on the main dashboard.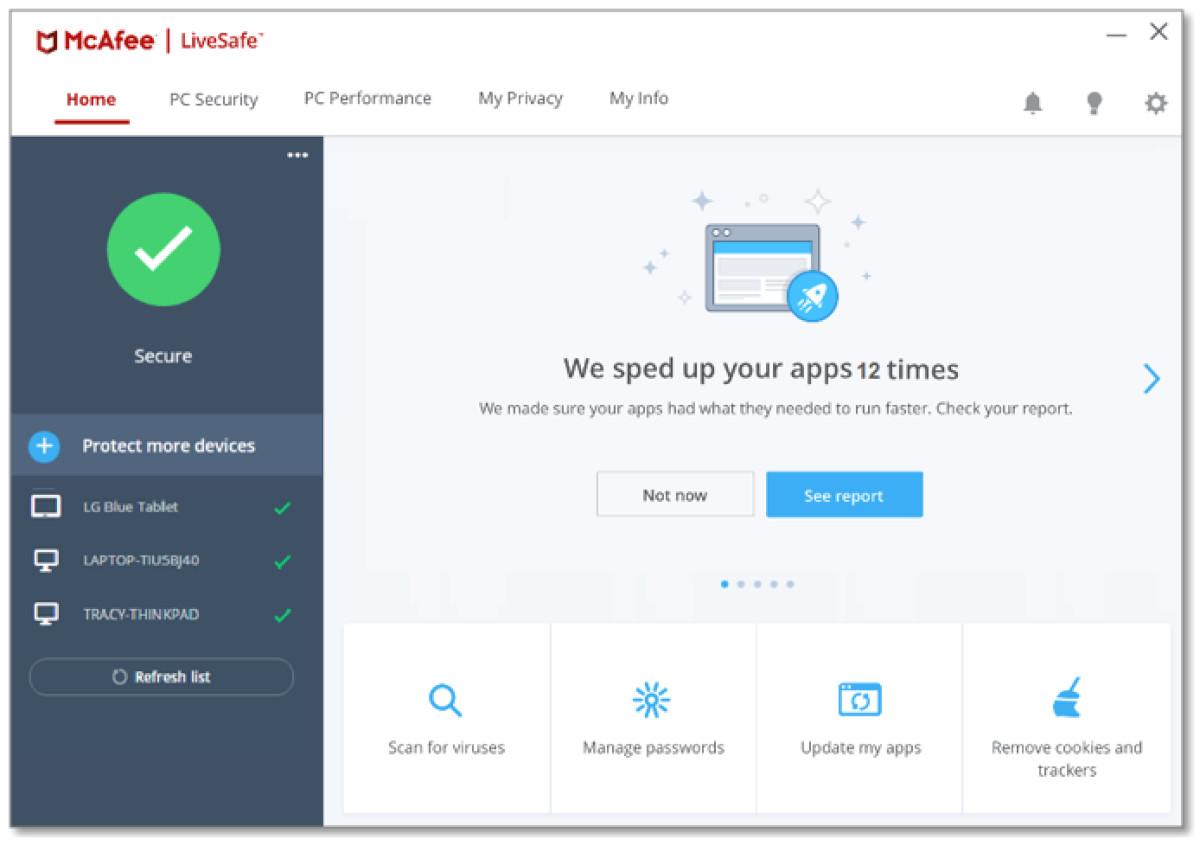 McAfee running on Windows 11. (Source: McAfee)
You can easily enable the VPN, set up ID protection, remove trackers, and check your "protection score" on the main screen of McAfee.
With that being said, we enjoyed using both antivirus software and found them both to be simple and user-friendly.
Smartphone apps
What we like the most about McAfee is that it doesn't have separate smartphone apps for its VPN, password manager, and parental controls. All of these features are included in the McAfee Mobile Security app and there's no need to fill up your phone's storage with other apps.
Norton and McAfee Mobile Security are both user-friendly and they have similar features as their desktop counterparts. McAfee's smartphone app has more features than Norton's, most of which are system optimization tools like storage cleaner and memory booster.
Both apps come with web protection to make your browsing experience safe and secure.
We found Norton's smartphone app to be simpler since you can easily see all the features on a single screen.
McAfee's app might be confusing for some users. When you open the app, you're presented with some helpful tips on where to find important features like VPN and Safe Browsing. But there are so many options on the main screen that it becomes difficult to understand what you're supposed to do.
Nevertheless, it's a great app and after a while, navigating through all the options on the screen becomes easier.
Customer support
Both Norton and McAfee provide you with multiple ways to contact their customer support teams. Email and phone support are some of the easiest ways to talk to an expert from their teams, and they also have support communities, articles, and videos on their official sites that you can consult if you run into any problem.

Norton and McAfee have many guides on their sites which you can read to solve whatever problems you might be facing.
Their live chat support isn't that great and requires tons of improvement.
With Norton, it's difficult to even connect to a live agent. McAfee's agents tend to be a bit slow at times, but they're knowledgeable and actually respond to your question.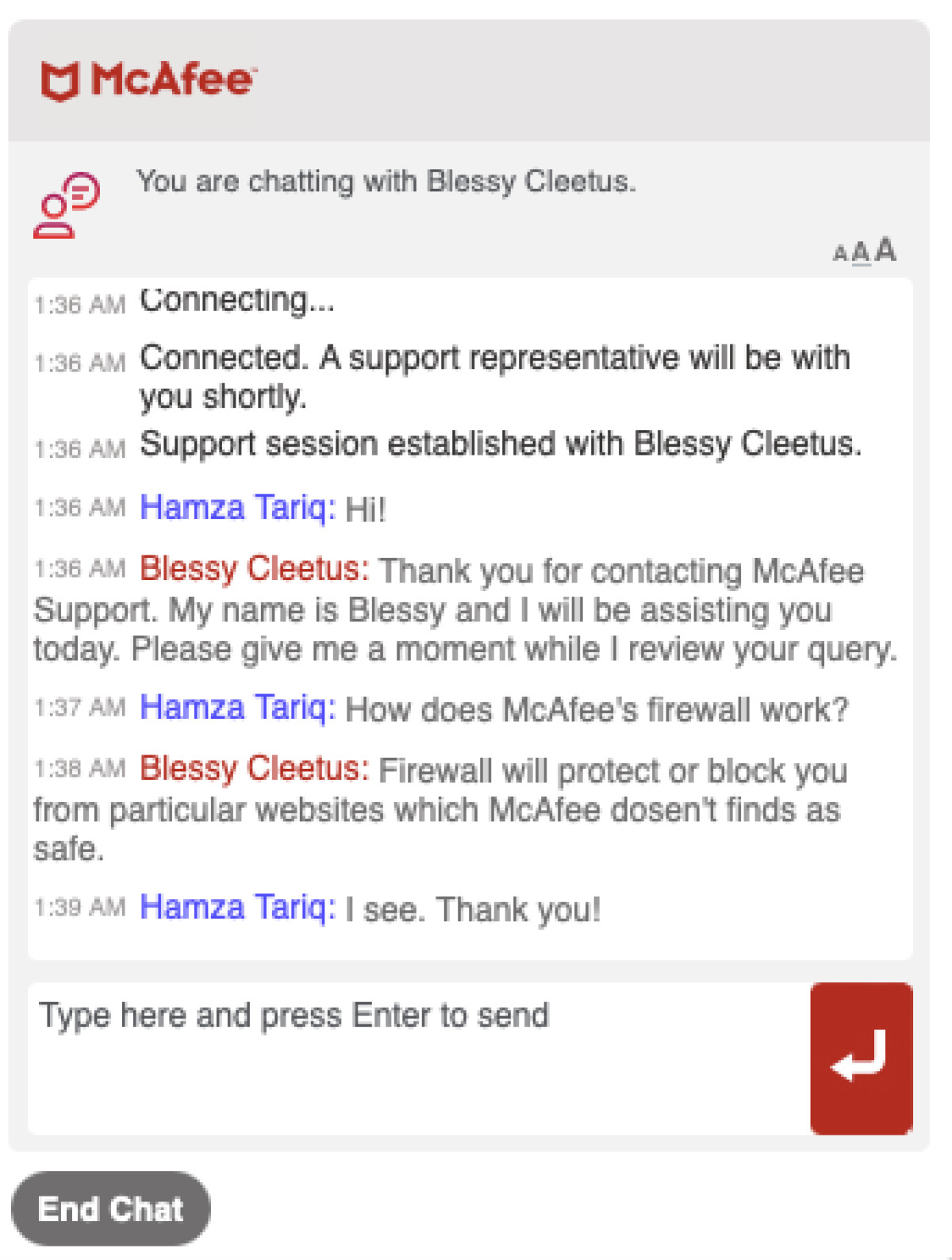 McAfee's live chat is slightly better than Norton's.
McAfee's support community is also helpful. You can discuss your problems with other users and they'll try their best to help you.
All in all, both antivirus programs have great customer support, though their live chat requires improvements.
Which is better: Norton or McAfee?
Norton is superior to McAfee because it's better at protecting your system from malware and it's cheaper. McAfee's basic plan starts at $29.99/year while Norton's only costs $19.99/year.
Both antivirus programs have been around for decades and are well-respected in the cybersecurity industry, having received a number of awards by independent testing labs because of their performance and security features.
McAfee has less bonus features than Norton and the latter has better anti-phishing tools, so you don't accidentally become a victim of phishing sites.
The two antivirus software provide great customer support, though the live chat feature could benefit from some improvements.
Overall, McAfee does a good job of blocking viruses and protecting your data, but Norton is better and cheaper.
Frequently asked questions
McAfee and Norton are both easy to use on desktop and smartphones. They have minimalistic apps with a user-friendly UI that makes it easier to find whatever you're looking for.
No, you should only use one antivirus and we recommend getting Norton. Using two antivirus software at the same time can damage your files and cause them to not function properly. Contrary to what you may think, using two antiviruses simultaneously won't give you extra protection.
No, McAfee doesn't always slow down your computer, though there have been reports of users experiencing lag because of it. The antivirus didn't have any impact on our PC when we tested it. But it's important to mention that it depends on a lot of things, so it's possible for your system to slow down because of McAfee (or any other antivirus!).