We may receive commissions for purchases made through links on our website. We appreciate your support.

In today's digital landscape, finding antivirus without auto-renewal can be challenging. Auto-renewal is a common feature that simplifies subscription extension but comes with some drawbacks.

For example, users may face difficulties in canceling or switching services. Financially speaking, auto-renewal can also lead to unexpected changes such as higher renewal fees.

Additionally, it may limit your ability to explore alternative antivirus options. Understandably then, while auto-renewal offers convenience, it compromises user control, poses financial risks, and restricts market competition.

Keeping these concerns in mind, it is beneficial for users to opt for non-auto-renewing antivirus software and make the decision to continue the subscription on their own. We've compiled a list of the best 5 antivirus apps without subscription or auto-renewal below:
Top 5 Antiviruses Without Subscription
The Best Antivirus Without Auto-renewal for 2023
While any option from our top 5 list will do the job just fine, the best antivirus is one that doesn't compromise on any features and has a clear, transparent policy about subscription renewal. Let's evaluate each of the antiviruses in more detail:
1. TotalAV – Best overall antivirus without auto-renewal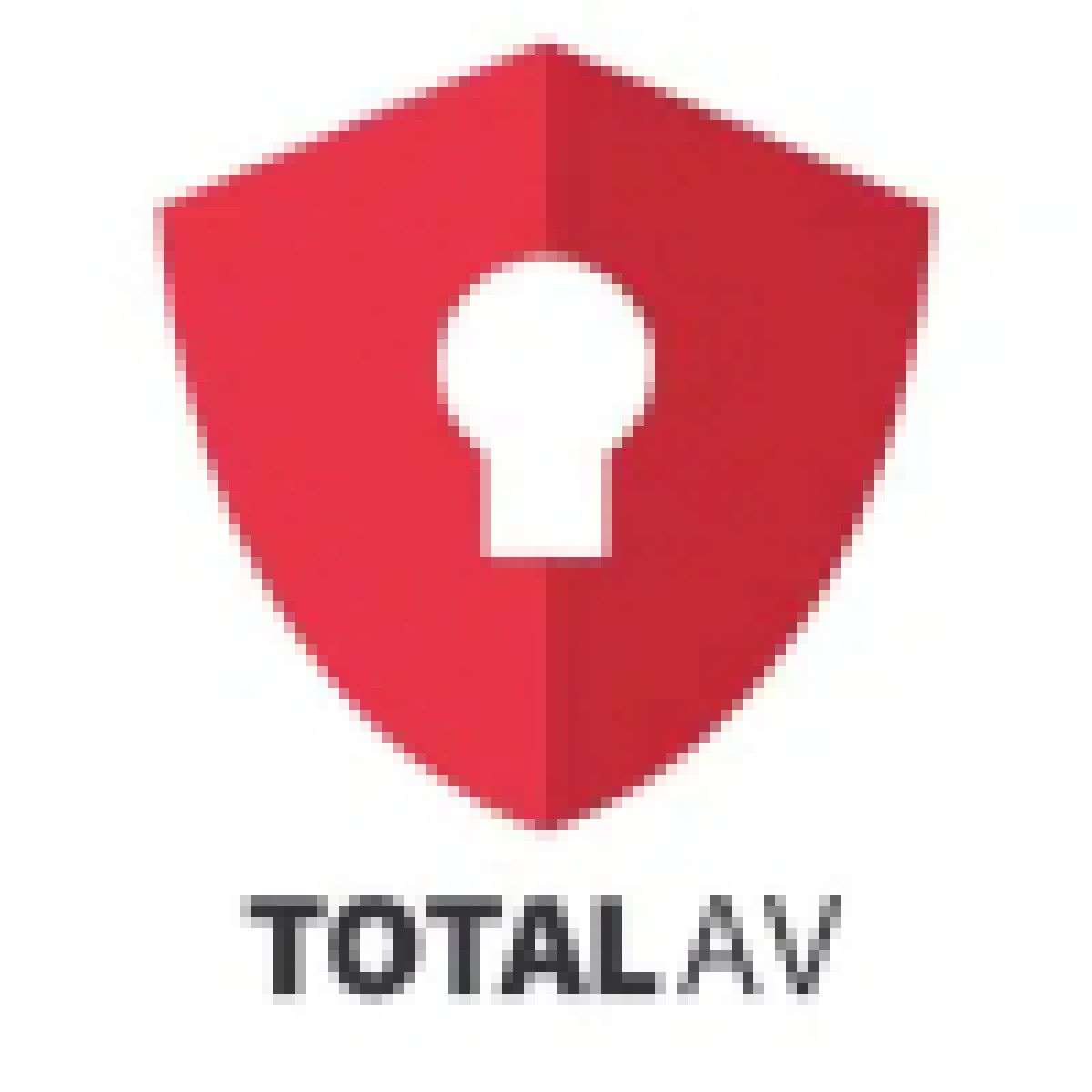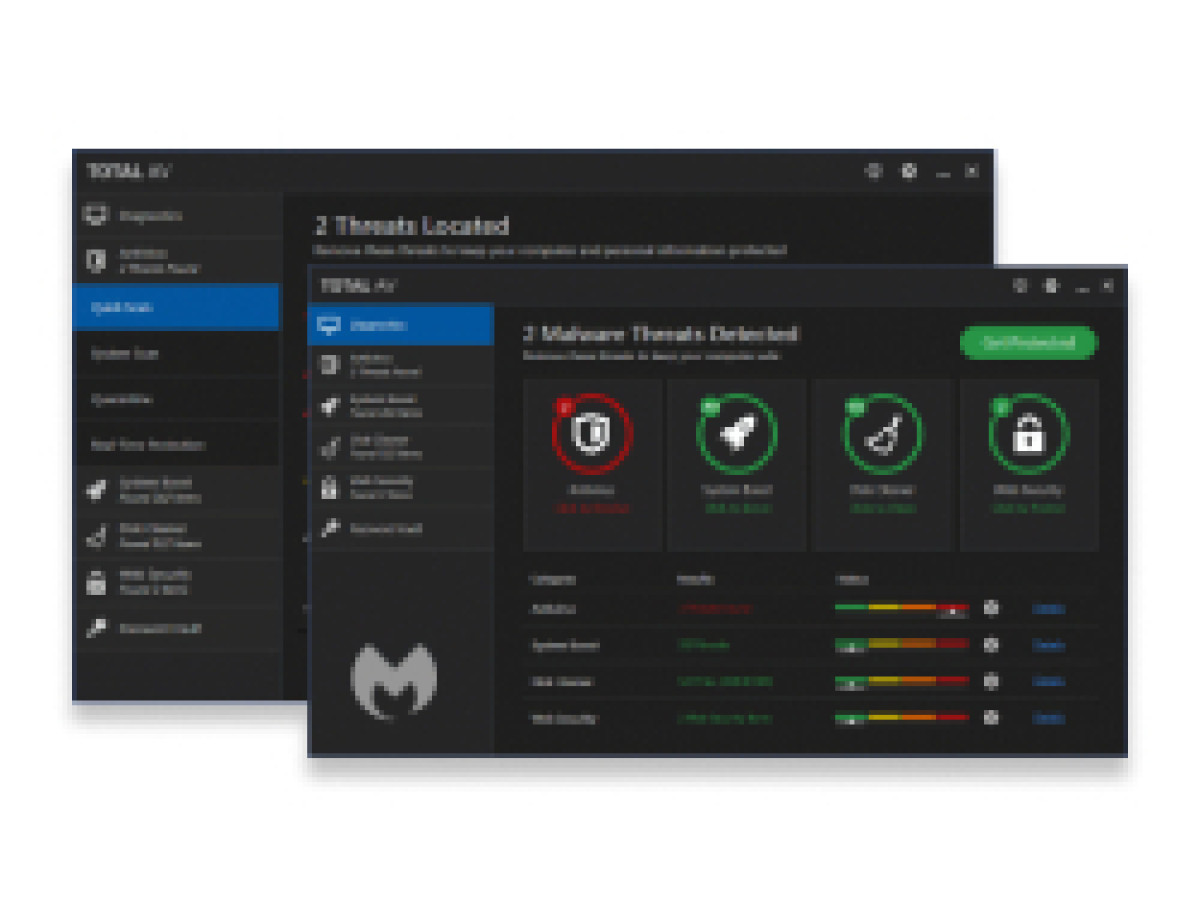 Pros & cons
Offers a free version
Includes an ad-blocker
Protects you from phishing scams
Free version doesn't have a lot of features
TotalAV is the best antivirus provider in 2023, mainly because it has a simple opt-out policy for disabling auto-renewals. The antivirus is known for its comprehensive protection against malware, user-friendly interface, system performance optimization tools, additional features like a password manager and an ad-blocker.
| | |
| --- | --- |
| Free version | Yes |
| Price | Starts from $29/year |
In our testing, it blocked all 5 of the malicious files we attempted to download and flagged 11 out of 13 total threats that were already present on the test computer.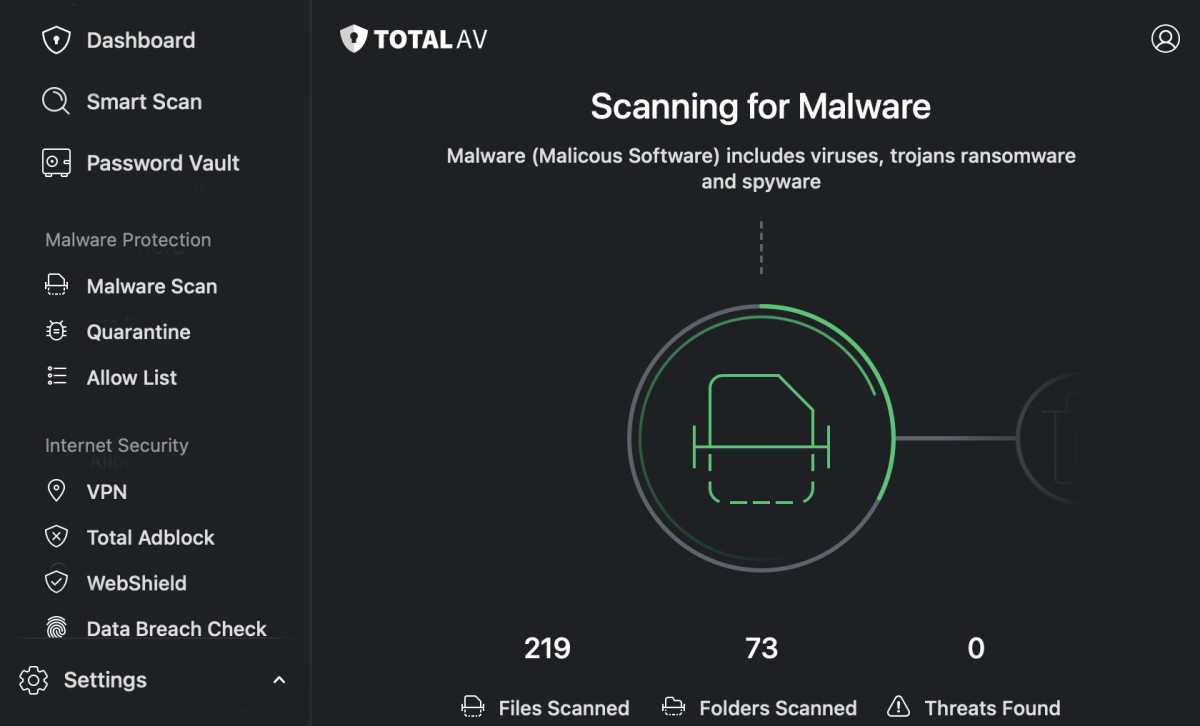 TotalAV running on a Mac.
It also actively scans files and web pages for viruses and malware, and with web protection and safe browsing features, it helps you stay safe online by blocking dangerous websites and preventing phishing attempts.
TotalAV also includes ransomware protection, a firewall, and performance optimization tools to enhance your device's security and performance.
Coupled with its extensive list of features, TotalAV also has excellent results in evaluations from antivirus testing labs. AV-Comparatives has given many different awards to the antivirus.
The most basic plan offered by TotalAV starts at $29 per year, but it also has a free version.
2. Bitdefender – Powerful renewal-free antivirus with multiple plans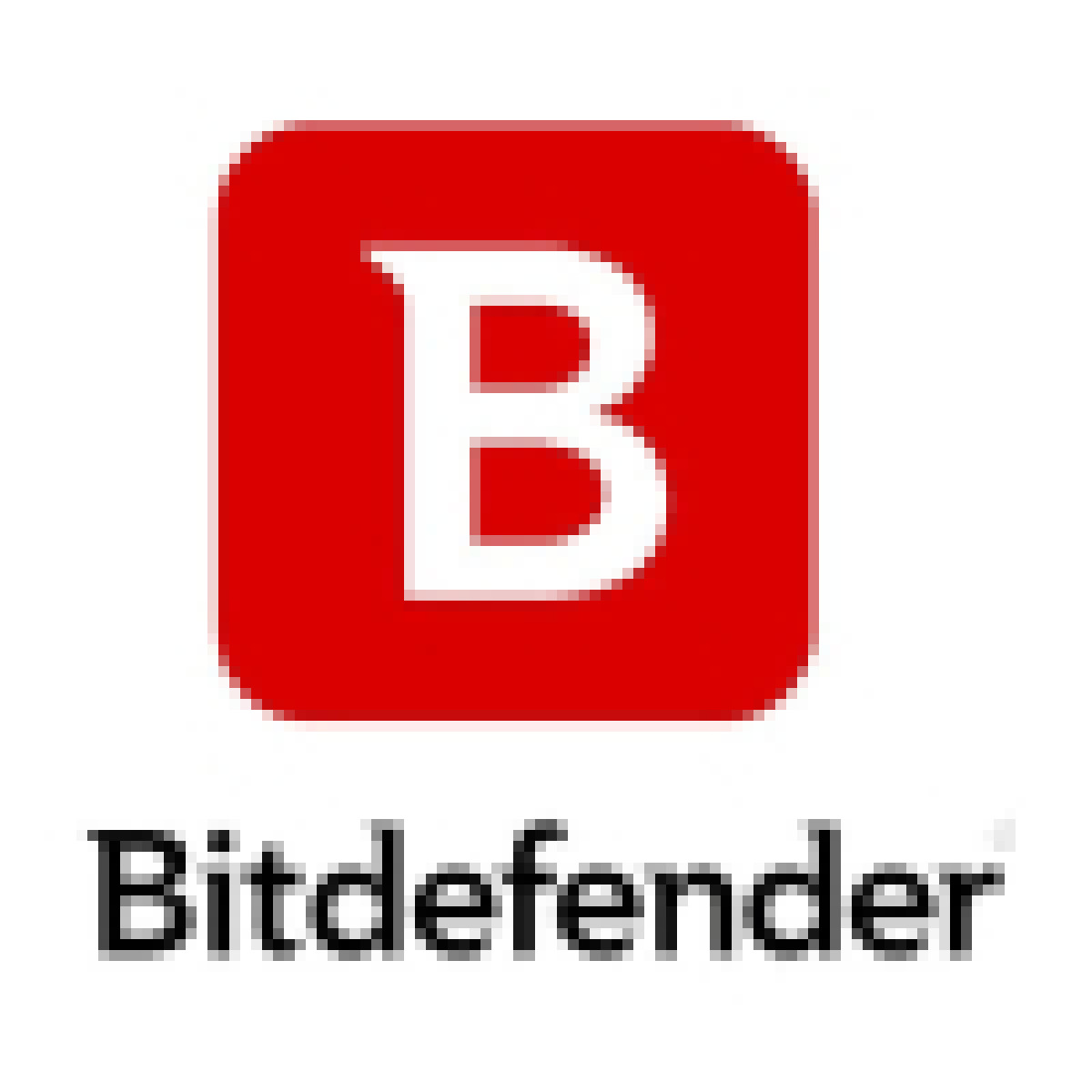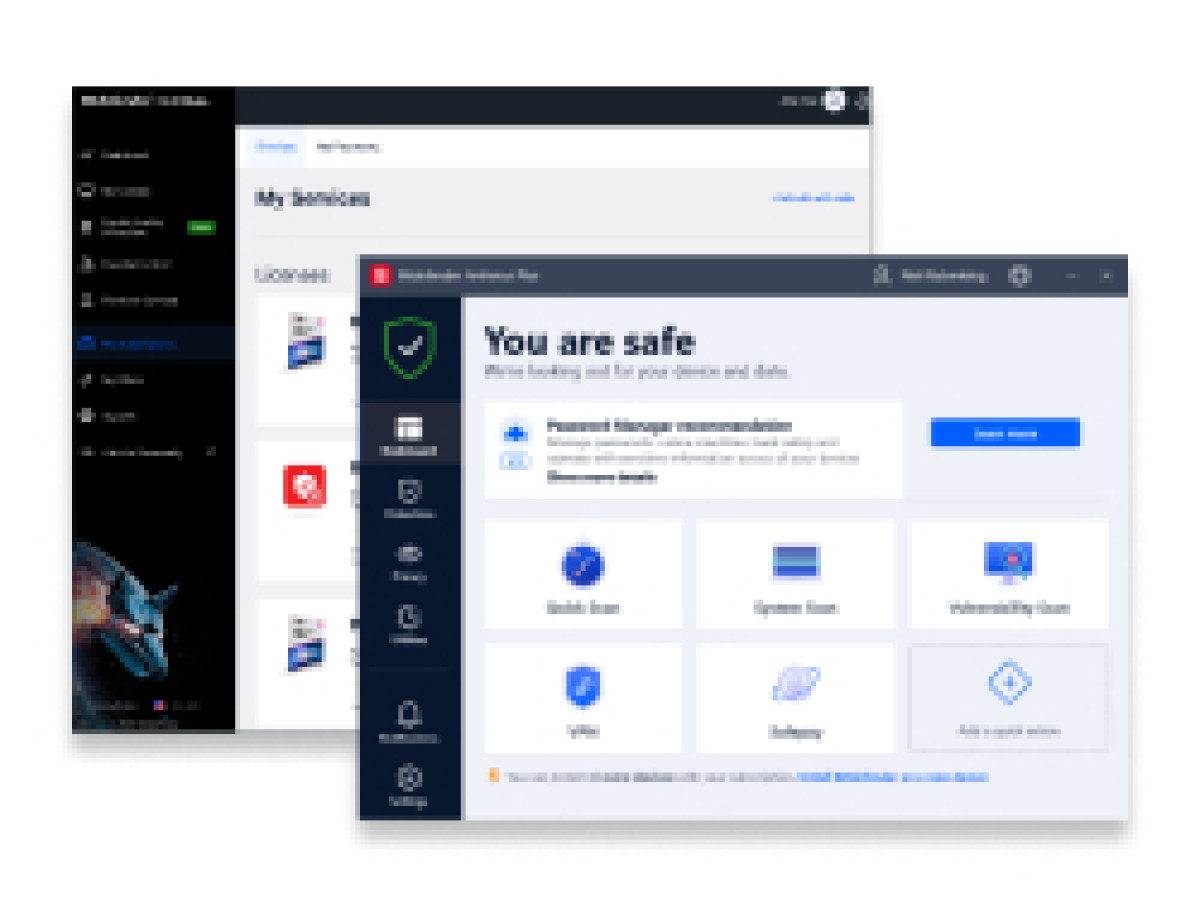 Pros & cons
Turn off auto-renewal after buying the antivirus
Has a free version
Offers an extensive list of features
Free version lacks key antivirus features (virus scanner only)
Bitdefender is widely regarded as one of the best antivirus providers for several reasons. It allows you to disable auto-renewal right after purchasing it and also offers top-notch malware protection. Tests by AV-Comparatives have shown that it has a high detection rate.
| | |
| --- | --- |
| Free version | Yes |
| Price | Starts from $19.99/year |
Its user-friendly interface is another plus, making it accessible to all users, with intuitive navigation and easy-to-understand settings. Another thing we like about it is that it has minimal impact on system performance.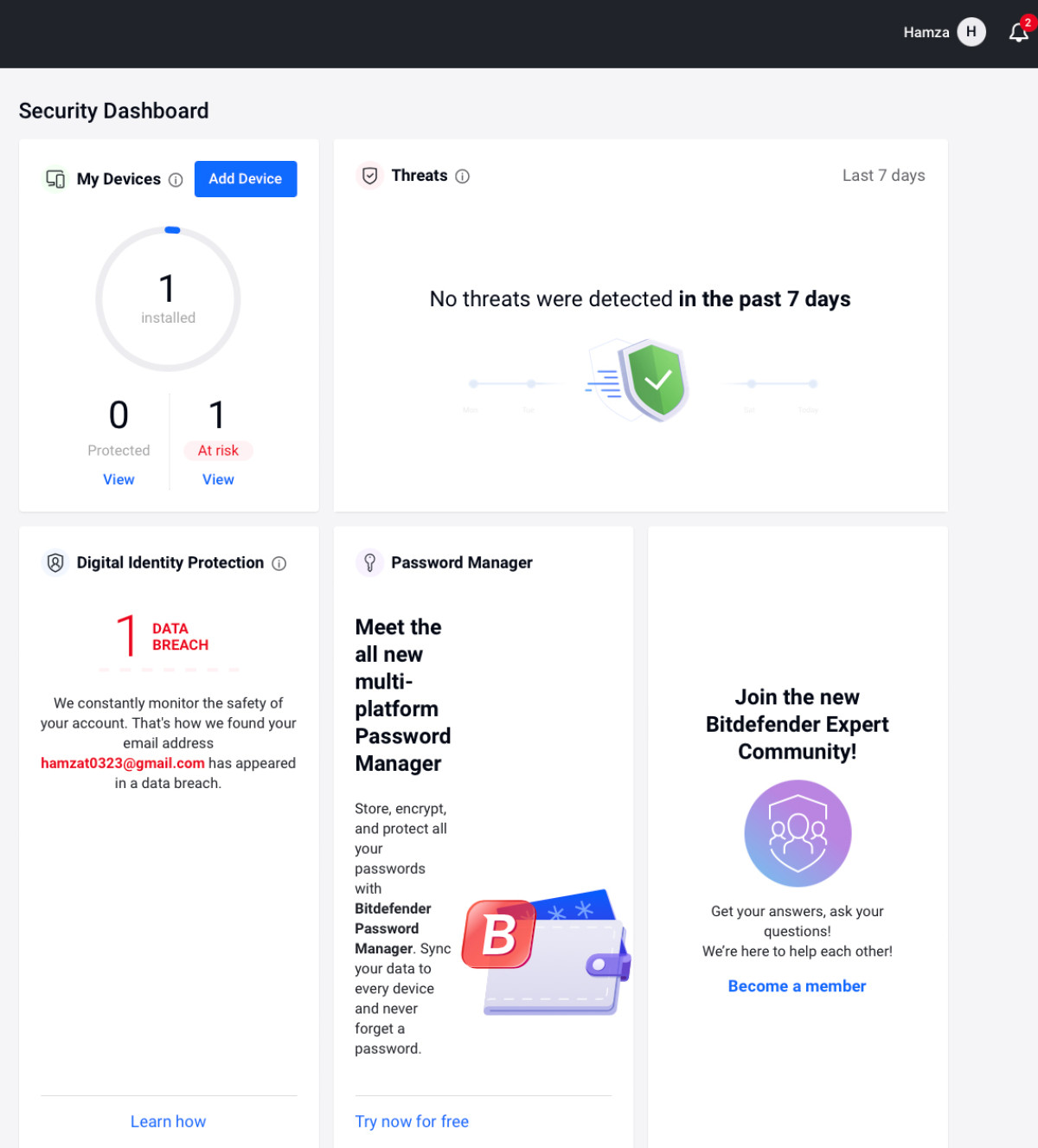 Bitdefender's online dashboard.
Bitdefender's reputation is further bolstered by its reliable customer support and competitive pricing options, including easy disabling of auto-renewal. At $19.99/year, the antivirus provides great value for the features it offers.
3. Norton 360 – Top antivirus that comes with several advanced features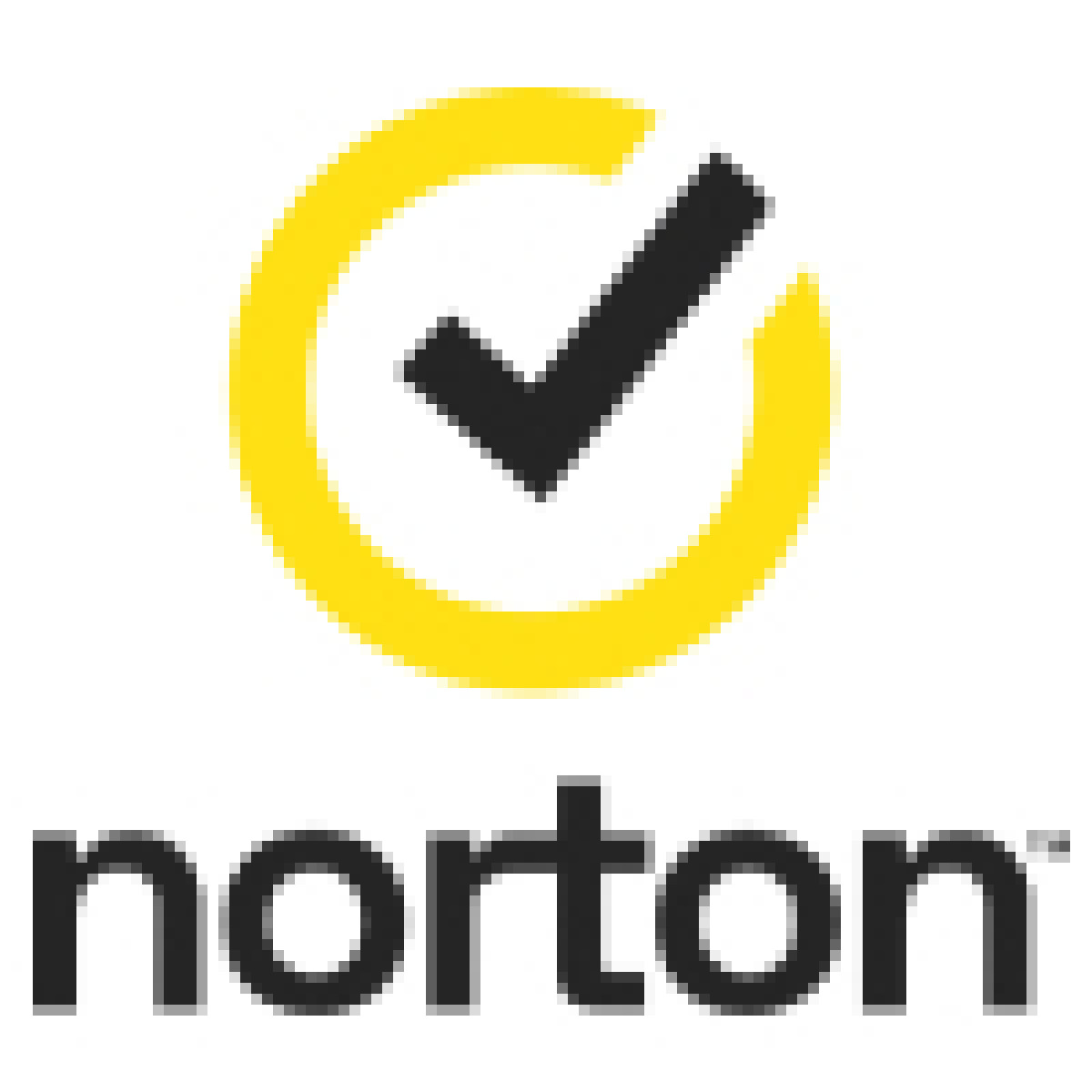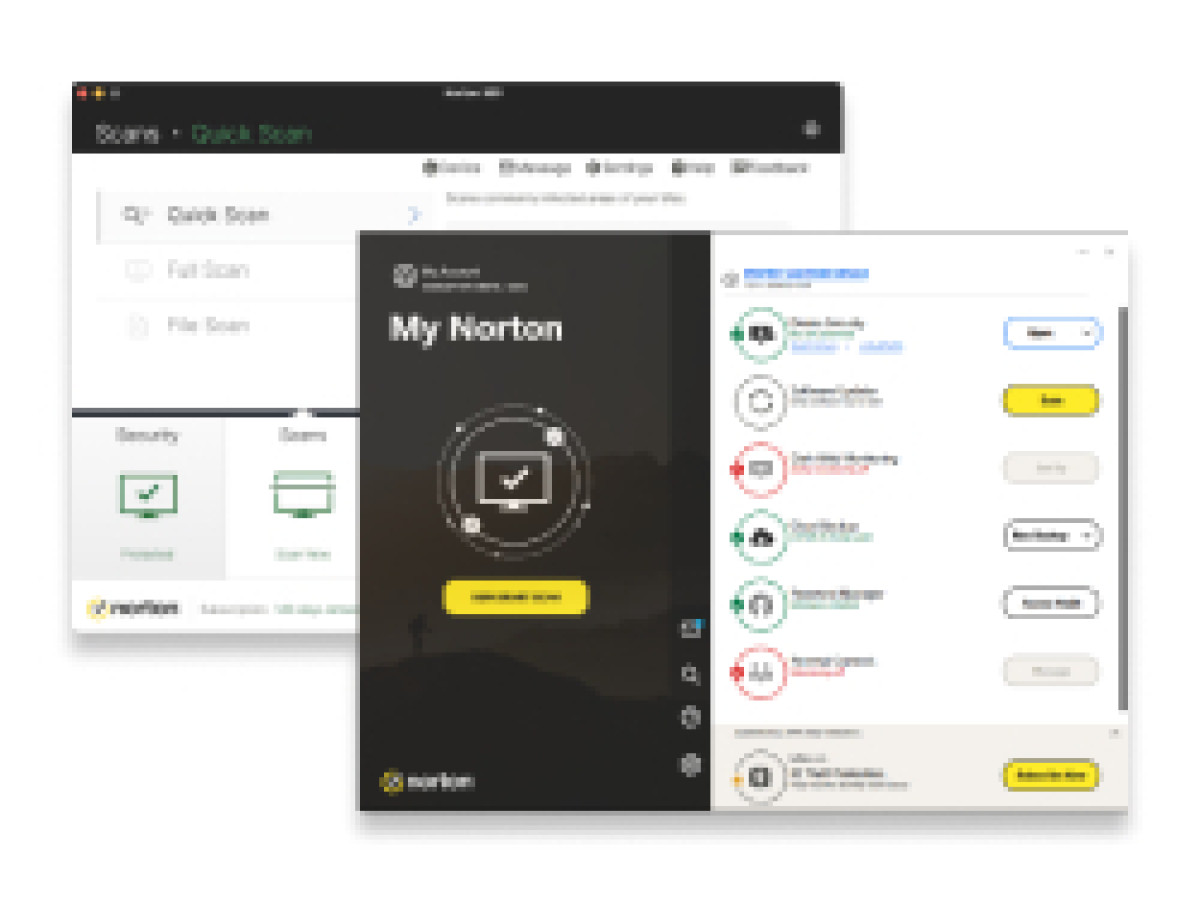 Pros & cons
Easy to opt-out of auto-renewal
Includes VPN and tracker protection
Includes a password manager and a firewall
Norton 360 is a well-known name in the antivirus software market and for good reason. It is considered one of the best due to its comprehensive protection against malware, viruses, ransomware, and other cyber threats.
| | |
| --- | --- |
| Free version | No |
| Price | Starts from $19.99/year |
The antivirus offers many advanced features such as real-time threat detection, proactive malware scanning, and a powerful firewall to safeguard your devices and personal information. Along with all this, you can easily cancel your renewal at any point after initially subscribing.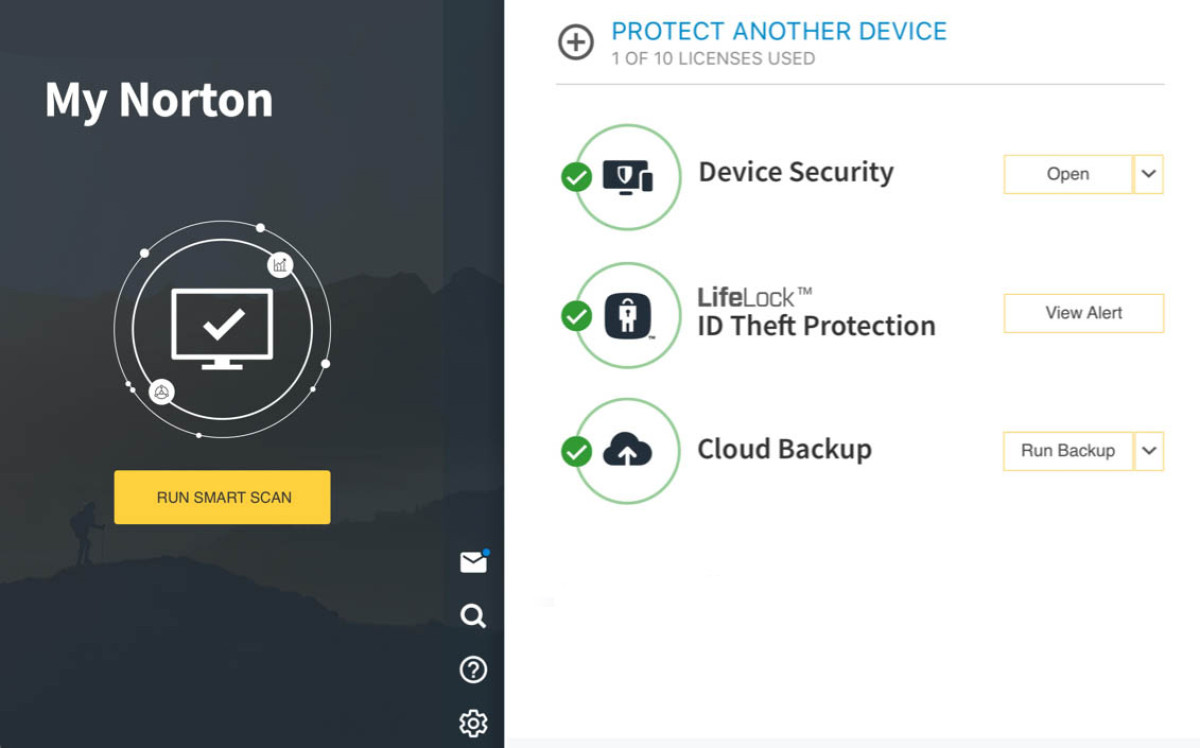 Norton 360 Lifelock.
Through our in-house testing, we were able to verify its effectiveness and found a success rate of all 10 malicious files being blocked by Norton.
Norton's reputation for strong malware detection rates and reliable performance contributes to its status as a top antivirus provider. It's won several awards from the independent testing lab AV-Comparatives.
There are many other features Norton provides, such as a secure VPN, password manager, and cloud backup, offering users a well-rounded suite of security and privacy tools.
You can get the antivirus for $19.99 per year with a money-back guarantee of 60 days.
4. NordVPN Threat Protection – Renewal-free antivirus that provides protection against cybersecurity threats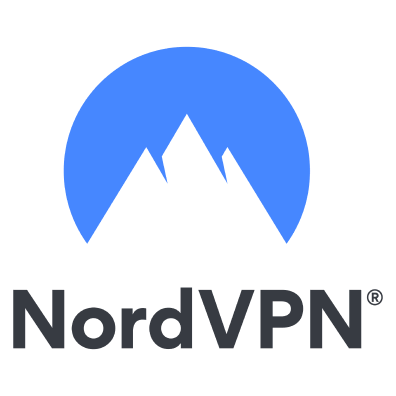 NordVPN Threat Protection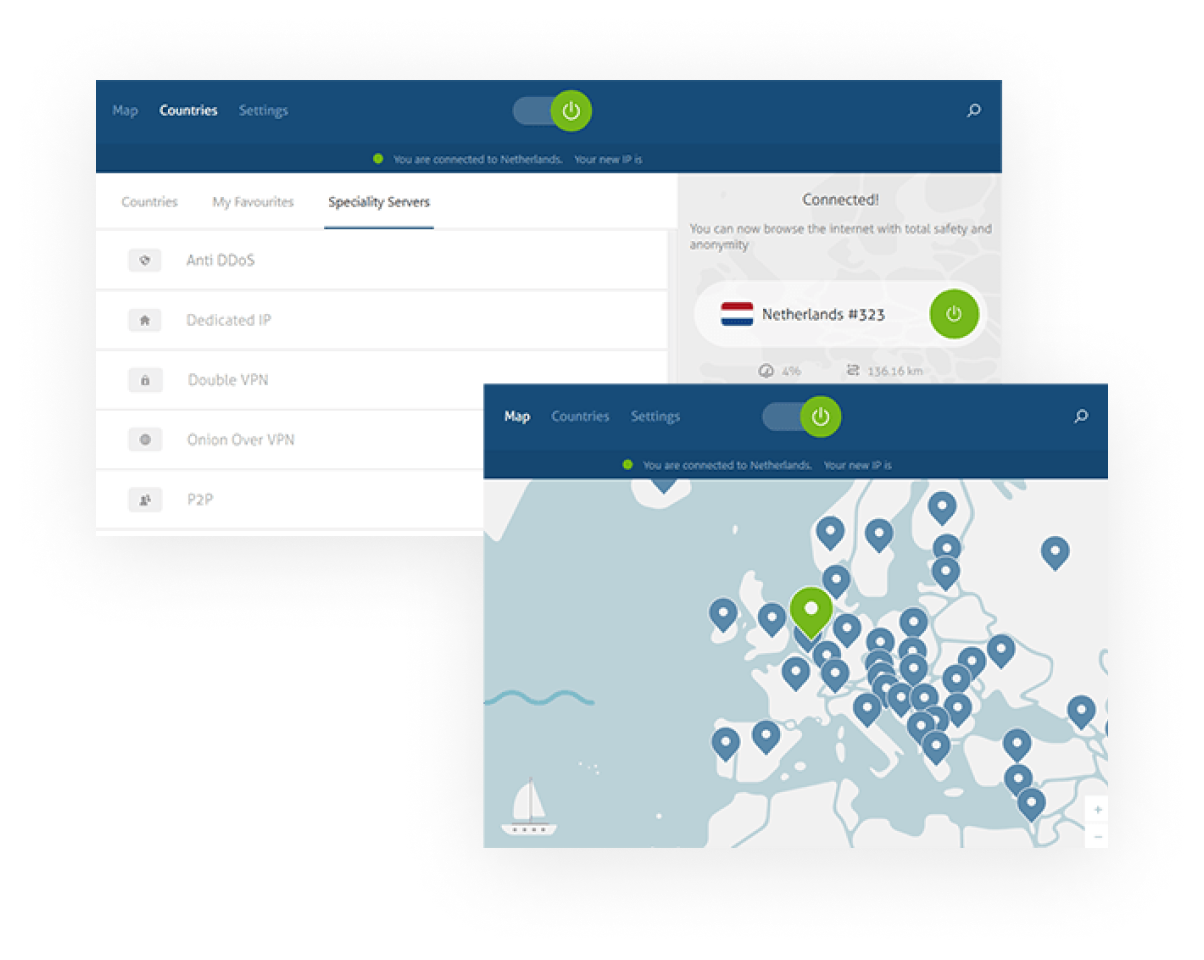 Pros & cons
You can easily disable auto-renewal
Doubles as a VPN application
Keeps you safe from trackers
No real-time protection
No free version
NordVPN has built a reputation as a powerful VPN, but most people don't know that the provider has an antivirus as well. It's often endorsed by content creators due to its simple and easy method of disabling auto-renewal subscriptions and security features.
| | |
| --- | --- |
| Free version | No |
| Price | Starts at $2.29 per month |
Other reasons for its popularity include the fact that it offers a high level of security and privacy, utilizing robust encryption protocols to protect your online data and activities. While NordVPN is not strictly an antivirus, it was still able to achieve an in-house test result of 9/10 threats being blocked.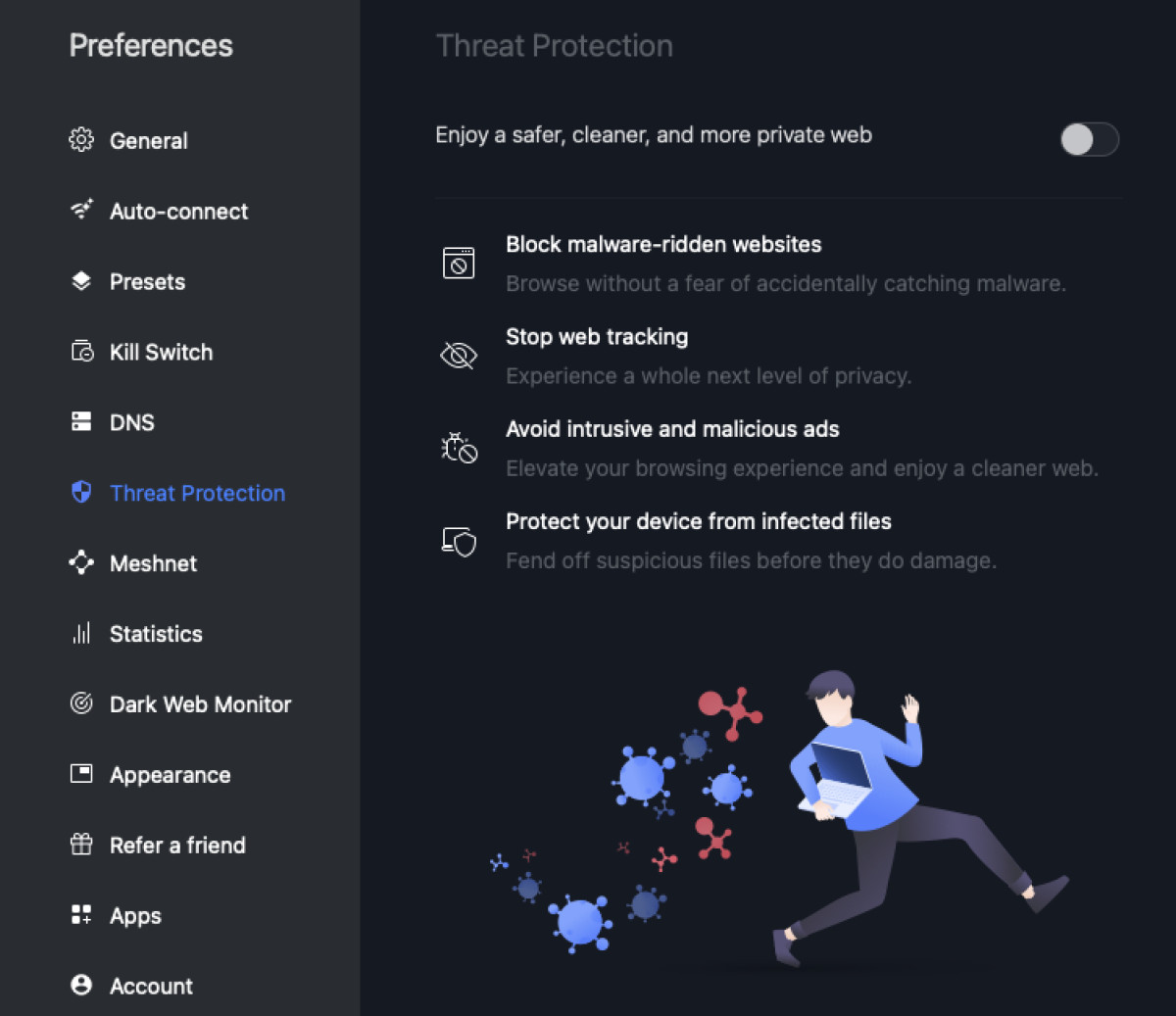 NordVPN's Threat Protection.
The antivirus/VPN stands out for its user-friendly interface – users are met with a simple "Quick Connect" button upon launch, and the service maintains a strict no-log policy, ensuring that your browsing history and personal information are not stored.
Another great thing about it is that it provides reliable customer support and offers competitive pricing plans, thus being an appealing choice for users seeking a secure and trustworthy antivirus/VPN. If you want to read more about it, we recommend checking out our in-depth review of NordVPN.
As it's primarily a VPN, NordVPN doesn't have a lot of the antivirus features that you'd expect from other top applications. However, with plans starting at only $2.29 per month, it is a really good value option on a budget.
5. Surfshark Antivirus – Antivirus without auto-renewal that sends reminders to prevent automatic subscription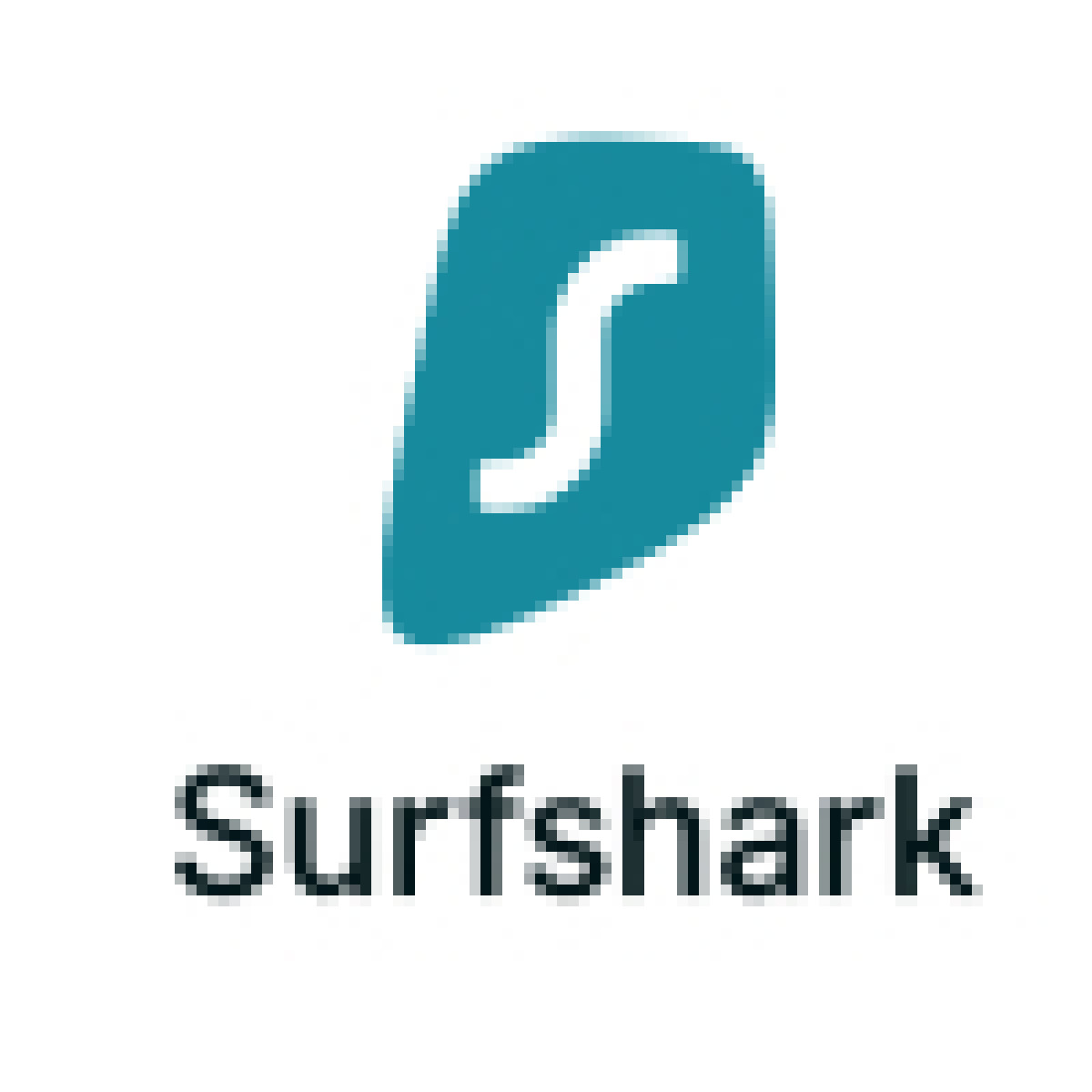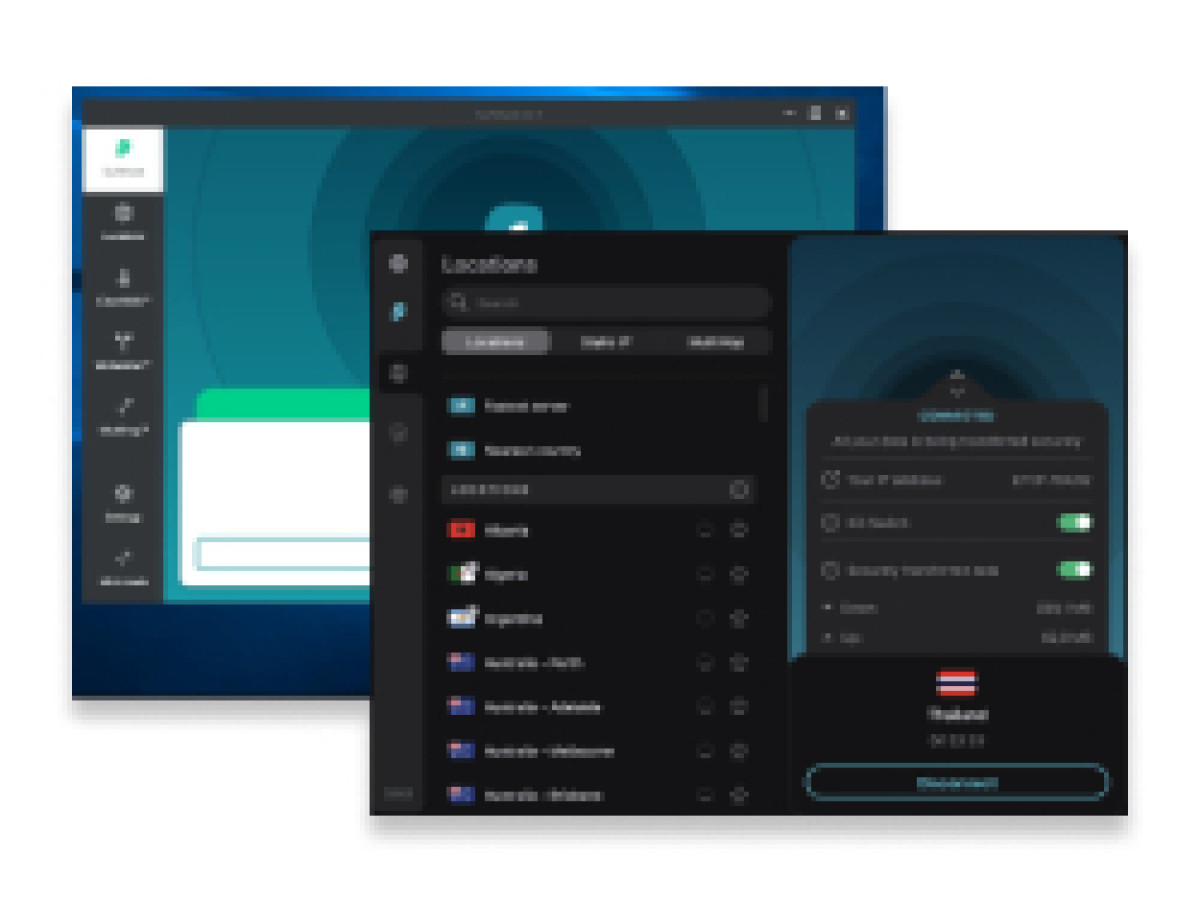 Pros & cons
Sends reminders before auto-renewal date
Includes a VPN
Offers many different features for protection against cybersecurity threats
Doesn't have a trial version on Windows
No firewall protection
Surfshark has one of the best auto-renewal opt-out policies of any service out there. You get a reminder before your billing date to make sure there are no accidental charges on your account.
| | |
| --- | --- |
| Free version | No |
| Price | Starts at $2.39 per month |
It offers a range of features that contribute to its excellent reputation. Surfshark utilizes strong encryption protocols to protect your internet traffic, ensuring that your online activities remain private and secure.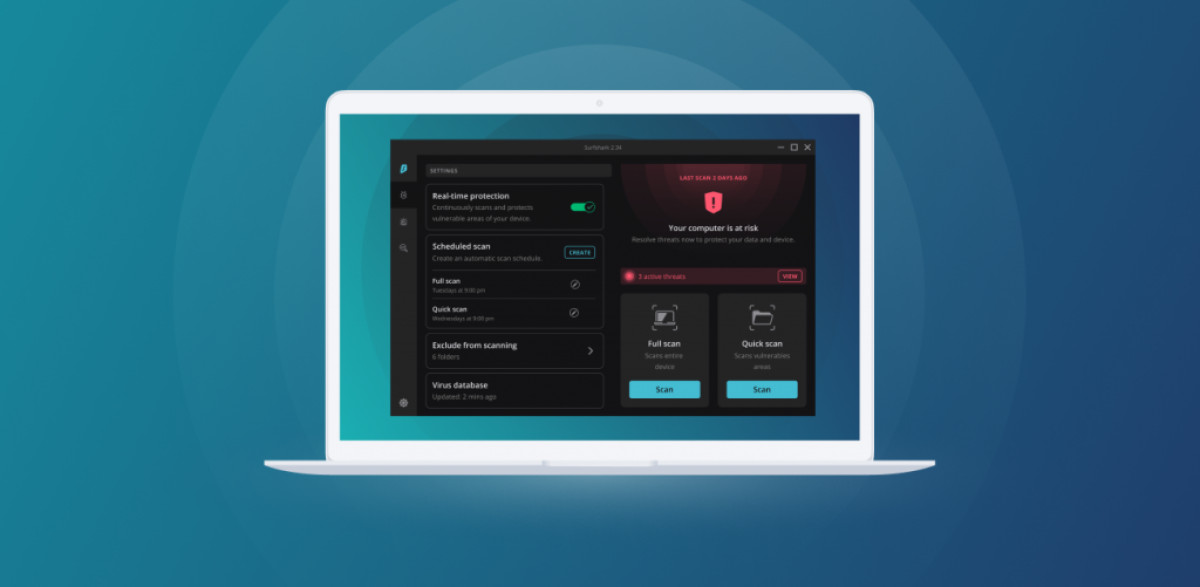 Surfshark's antivirus. (Source: surfshark.com)
With a vast network of servers spread across numerous countries, Surfshark allows users to bypass geo-restrictions and access content from around the world and offers a 30-day money-back guarantee.
It also offers additional features like ad-blocking, malware and phishing protection, and a built-in kill switch for enhanced security. In our own testing, we found that Surfshark was able to block all of the threats and malicious files included in the test.
The most basic plan offered by Surfshark Antivirus starts at $2.39 per month, making it an excellent value option.
Comparison of the Best Antiviruses Without Auto-Renewal
Don't have the time to read about every antivirus in detail? Don't worry, we've added a table below that highlights some of the main features of our top 5 renewal-free antiviruses:
| | | | | | |
| --- | --- | --- | --- | --- | --- |
| | TotalAV | Bitdefender | Norton 360 | NordVPN Threat Protection | Surfshark |
| Free version | Yes | Yes | No | No | No |
| VPN | Yes | Yes | Yes | Yes | Yes |
| Additional features | WebShield, system optimization tools, and more | Bitdefender Photon, Game Mode, Vulnerability Assessment, and more | Dark web monitoring, Over 200 GB of cloud storage, and more | Multi-Hop routing, dark web monitoring, | IP rotation, dark web monitoring, phishing protection |
| Money-back guarantee | 30 days | 30 days | 60 days | 30 days | 30 days |
| Starting price | $29/year | $19.99/year | $19.99/year | $2.29/month | $2.39/month |
Methodology: How we tested these antiviruses
Testing antivirus software can be a complicated and time-consuming process, so we made sure to cover all our bases when testing software for this article. The methodology was applied to 10 antivirus software without auto-renewal, and these were all tested on multiple platforms for a comprehensive evaluation.
The first factor to evaluate was the ease of opting-out from the auto-renewal of the subscription, which is the primary appeal of these antiviruses over others. This was tested by subscribing and then going through the process of canceling auto-renewal on each of the tested antiviruses.
Following this, we evaluated the performance of the antiviruses in terms of threat blocking as well as maintaining the smooth-running of the test machine.
Then, we looked at the results of independent AV-testing labs (AV-Test, AV-Comparatives, etc) and also ran the software through our own test-suite of malicious files and threats. This entire process was repeated on multiple platforms to ensure consistency of results.
Other factors that we evaluated included the features, user-friendly interfaces, pricing, and money-back guarantees to make sure all of the selected VPNs meet our minimum requirements.
An antivirus that doesn't have a money-back guarantee, for instance, would get disqualified from selection in the top 5.
Is it necessary to renew antivirus subscription?
Yes, it is necessary for you to renew your antivirus software subscription to ensure protection from threats. Antivirus software plays a crucial role in protecting your computer and personal data from various online threats such as viruses, malware, ransomware, and phishing attacks.
By renewing your antivirus subscriptions, you ensure that you have access to the latest virus databases, security updates, and features provided by the antivirus vendor.
Antivirus software relies on a database of known threats to identify and eliminate malware. Cybercriminals constantly develop new viruses and malware, which requires antivirus vendors to regularly update their threat databases.
It's essential for you to receive these updates, allowing your antivirus software to detect and defend against the latest threats. Renewing your subscription ensures that you continue to receive real-time protection and stay safe from evolving threats.
Lastly, antivirus vendors usually introduce new features and improvements to their software overtime. These features can include advanced scanning techniques, behavioral analysis, web protection, firewall, and more. Renewing your subscription allows you to take advantage of these additional layers of security and enhance your overall protection.
What happens if I don't renew antivirus?
If you choose not to renew your antivirus subscription, you could be exposing yourself to a number of threats. These include the following:
Lack of updated protection – Antivirus software relies on regular updates to its virus definitions and security features to effectively detect and block new and emerging threats. Without these updates, your antivirus software becomes outdated and less capable of protecting your system against the latest malware and viruses.
Reduced malware detection – As new types of malware are created by cybercriminals, your outdated antivirus software will struggle to identify and remove these threats. Malware can infiltrate your system, compromise your data, slow down your computer's performance, or even grant unauthorized access to hackers.
Limited or no support – Many antivirus subscriptions include technical support from the vendor. If you encounter any issues or have questions regarding your antivirus software, you may not have access to support services without an active subscription.
How do I turn off antivirus auto-renewal
The process for turning off auto-renewal varies from software to software. Generally speaking, the option to disable it will be present in the online dashboard or the app of the antivirus.
With that being said, here are the steps for TotalAV:
Log into your account on the TotalAV's site.
Click on Account and go to Billing.
Click on Manage.
Then, select Manage Billing Preferences in the top-right corner.
Click on Disable to turn off auto-renewal.
Bottom line
When it comes to subscription services, the more control you have, the better it is. With antivirus software that doesn't have auto-renewal, you can have the flexibility and control to make a conscious decision about renewing your subscription.
It provides you with the flexibility to switch to different antivirus solutions if you find a more suitable one or if your needs change over time as well.
Auto-renewal also often simplifies the subscription process, ensuring continuous protection without interruption. While that sounds nice in theory, it may also result in automatic charges to your payment method.
By manually renewing your antivirus subscription, you have the opportunity to explore pricing options, discounts, or promotions that may be available at the time of renewal.
Without auto-renewal, you also get a chance to evaluate factors such as the software's impact on system performance, user-friendliness, detection rates, and overall satisfaction.
If you feel dissatisfied at any point, non-renewing software gives you the option to cancel at your own discretion. Therefore, it is definitely worth going for an antivirus without auto-renewal, such as TotalAV.
Frequently asked questions
There are a number of antivirus software out there that feature the option to disable auto-renewal of subscriptions. We recommend checking out TotalAV because it makes it very simple to disable the option.
Yes, Norton offers a simple and easy method to opt out of their automatic renewal process. There are a few simple steps that you must follow in order to cancel your auto-renewing subscription to Norton. The cancellation is then confirmed, and your new plan is implemented.
Choosing not to renew your antivirus can leave you vulnerable to several security concerns. These include, but are not limited to, lack of updated protection, reduced malware detection, limited or no support, lack of additional security features, and non-compliance with certain professional standards. To avoid these concerns, antivirus software is necessary.