We may receive commissions for purchases made through links on our website. We appreciate your support.

Online and offline threats have evolved in complexity, because of which an antivirus is no longer enough to keep you safe from them. Luckily, most antivirus applications today come bundled with a VPN to provide you a more holistic security against them.

A good VPN not only encrypts your online traffic, but also helps you browse the Internet anonymously and equips you with advanced security features.

It can be difficult to find the right VPN and antivirus combo, simply because there are too many on the market now. That's why we undertook the task to test multiple options and share with you the best picks for 2023.

In this article, you'll find a list of the 5 best antivirus with a VPN, along with valuable information on why you should use both simultaneously.
Top 5 best VPN with antivirus packages
The best antivirus with VPN included in 2023
To find the best antivirus with VPN, we tested multiple options and took into consideration various factors. Here are out top 5 picks:
1. TotalAV – Best antivirus with a VPN In 2023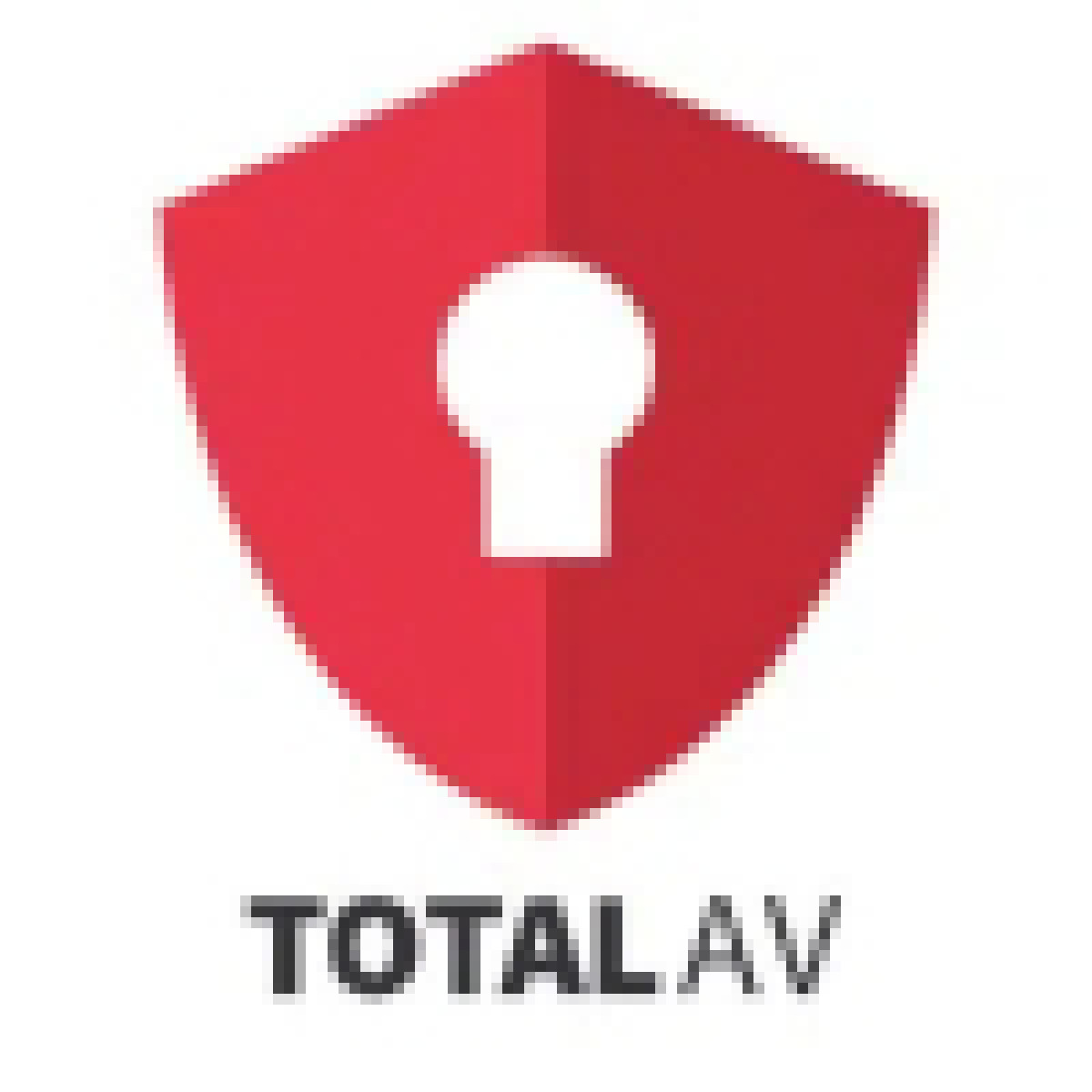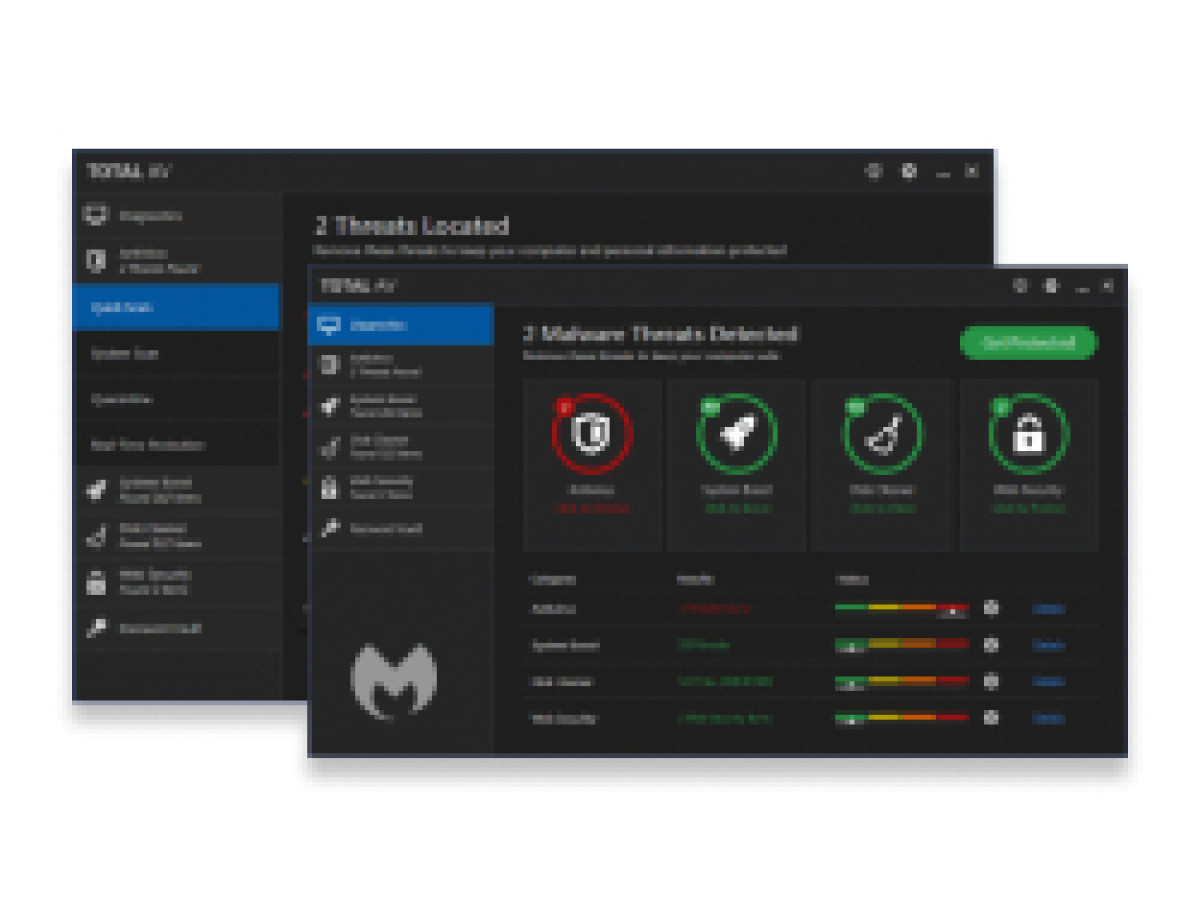 Pros & cons
VPN is available as separate product
Has real-time protection and other security features
Has won awards from independent AV testing labs
No VPN in the free version
VPN doesn't have WireGuard
TotalAV is the best antivirus and VPN combo you can use in 2023. It provides real-time protection, a password manager, and even an ad-blocker. TotalAV has received multiple awards from AV-Comparatives.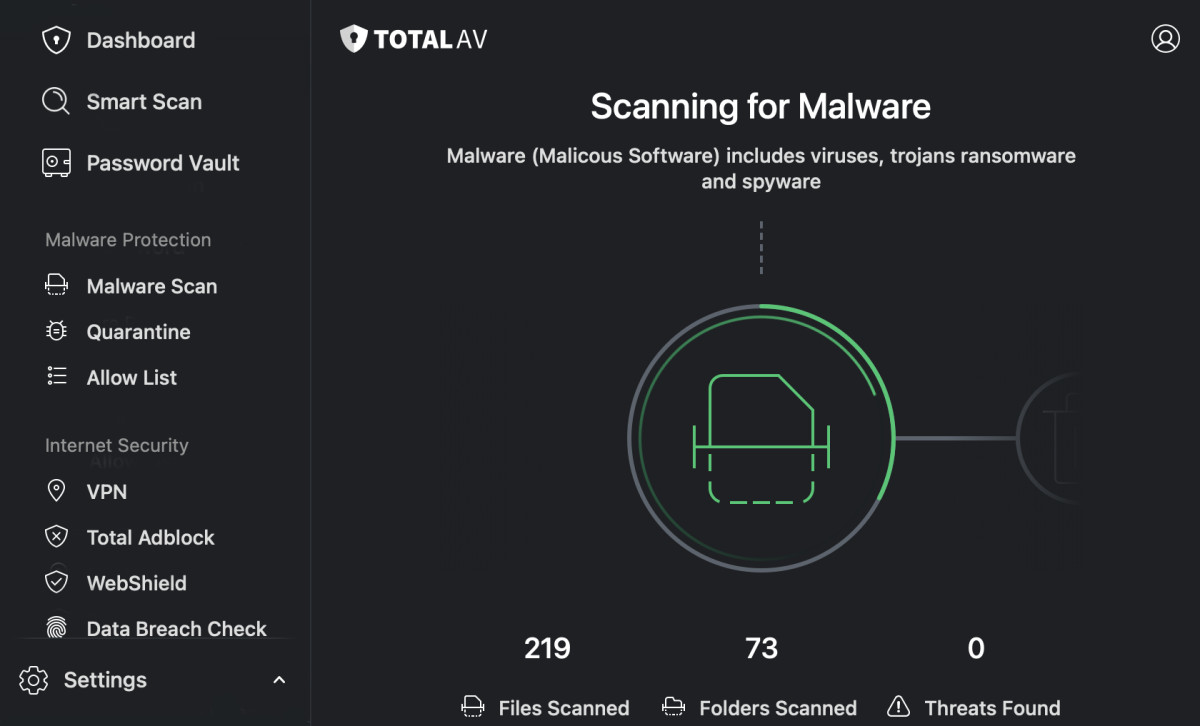 TotalAV app on macOS with a VPN.
Note that the VPN isn't included in the TotalAV Antivirus Pro plan, but you can get it separately for just $1.59 per month. It has unlimited data and uses OpenVPN as its primary protocol. You can connect to almost 500 servers from 69 countries.
The VPN also comes with a kill switch and is capable of unblocking many streaming sites such as Netflix, BBC iPlayer, and Disney+.
You can get TotalAV for $19 per year for 3 devices. It comes with a 30-day money-back guarantee.
| | |
| --- | --- |
| Free version | Yes |
| Prices starting from | $29/year |
2. Surfshark Antivirus – Safe and secure antivirus with a user-friendly VPN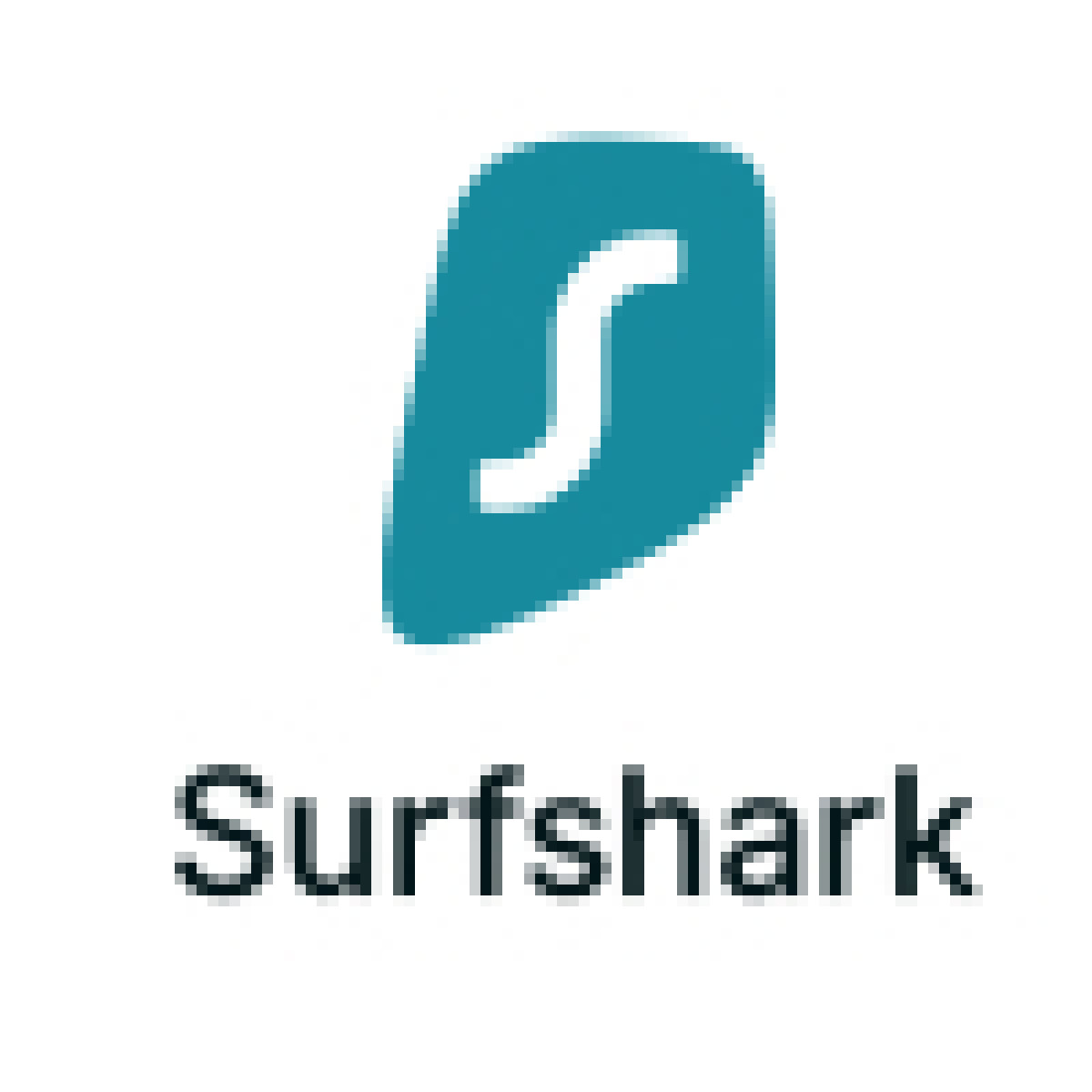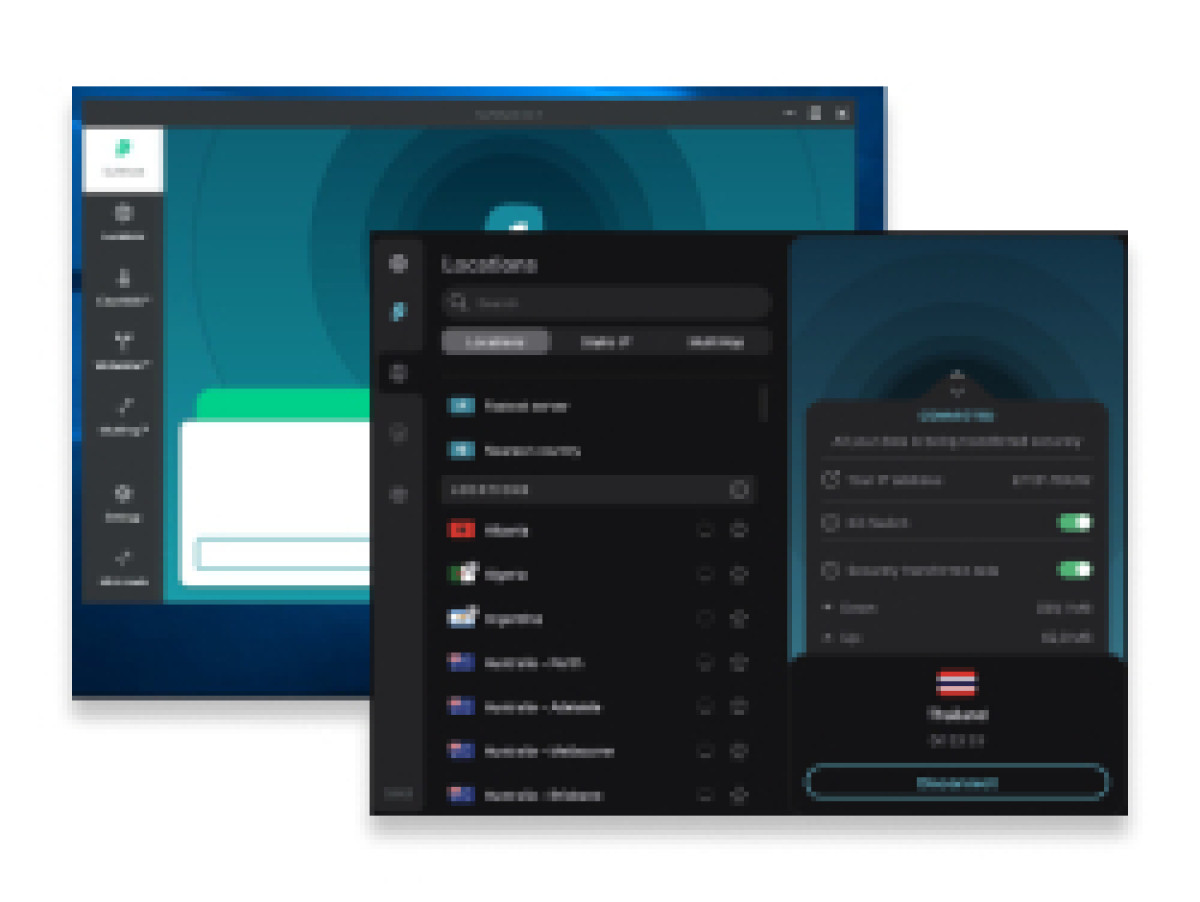 Pros & cons
Protects you from offline and online threats
VPN has 3200+ servers in 100 countries
Uses WireGuard to give fast speeds and tight security
Doesn't have firewall protection
Surfshark has a package called "Surfshark One," which includes an antivirus, a VPN, and a search tool. When combined, these tools provide the ultimate security solution. It keeps your online activities anonymous with its military-grade encryption and DNS leak protection. The antivirus protects you from malware and phishing scams.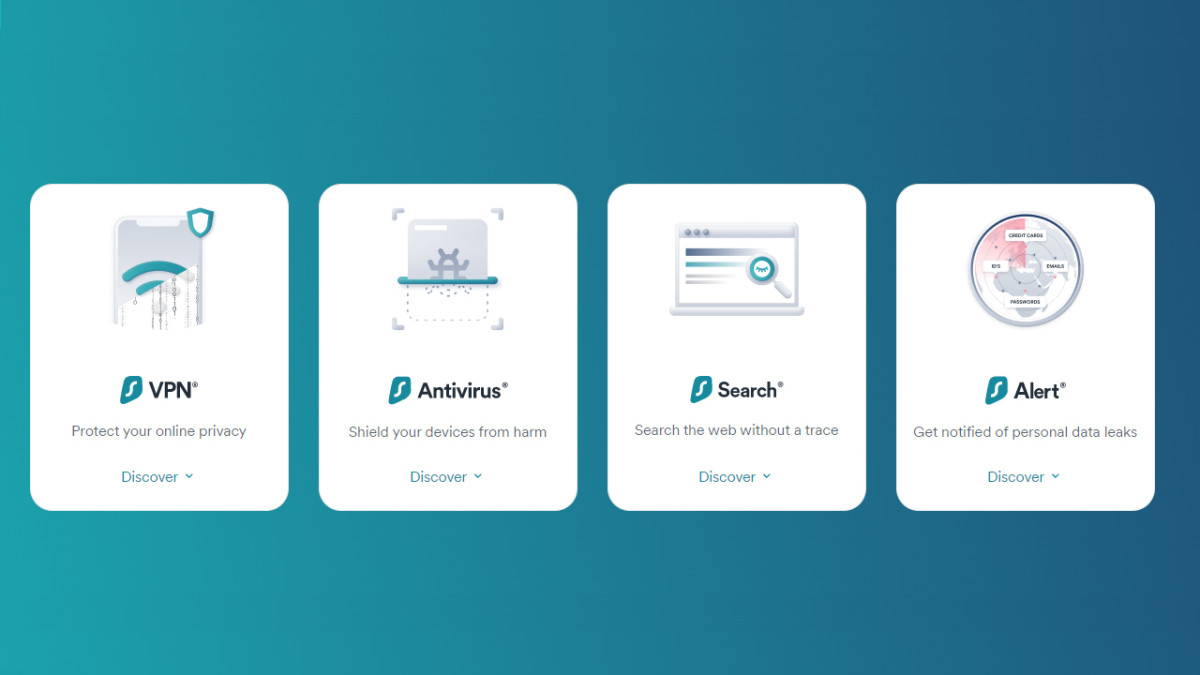 Surfshark One includes a VPN and an antivirus, along with other useful tools.
The antivirus is almost just as powerful as other standalone applications such as TotalAV. It includes real-time protection, customizable security, webcam protection, and more.
Surfshark VPN lets you connect to over 3200 servers in 100 countries. It uses WireGuard, which is one of the fastest and most secure protocols in the VPN industry. It includes various security features such as Multi-Hop servers, dark web monitoring, and an ad-blocker.
You can get Surfshark One for $3.35 per month with a 30-day money-back guarantee.
| | |
| --- | --- |
| Free version | Yes |
| Prices starting from | $3.35 per month |
3. NordVPN Threat Protection – Lightweight antivirus with a popular VPN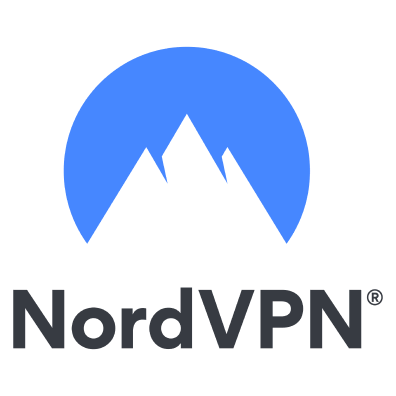 NordVPN Threat protection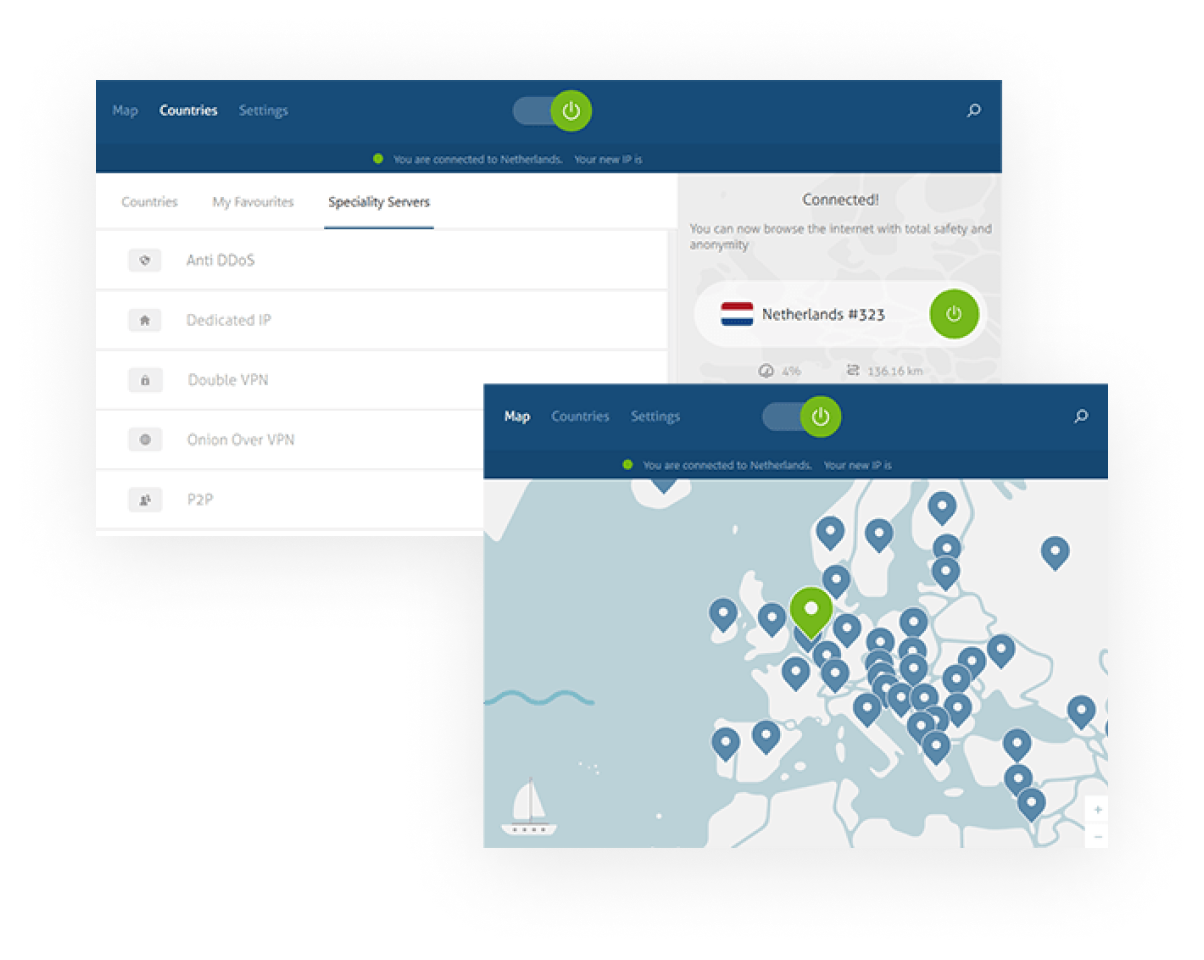 Pros & cons
Keeps you safe from malware by scanning newly downloaded files
Has an ad and tracker blocker
Lets you connect to over 5000 servers in 59 countries
Antivirus doesn't offer a lot of advanced features
NordVPN is more popular for its VPN, but it also offers a powerful antivirus application. It uses military-grade encryption and several other features to keep you anonymous on the Internet. Threat Protection, the antivirus tool, blocks malware, trackers, and ads you encounter online.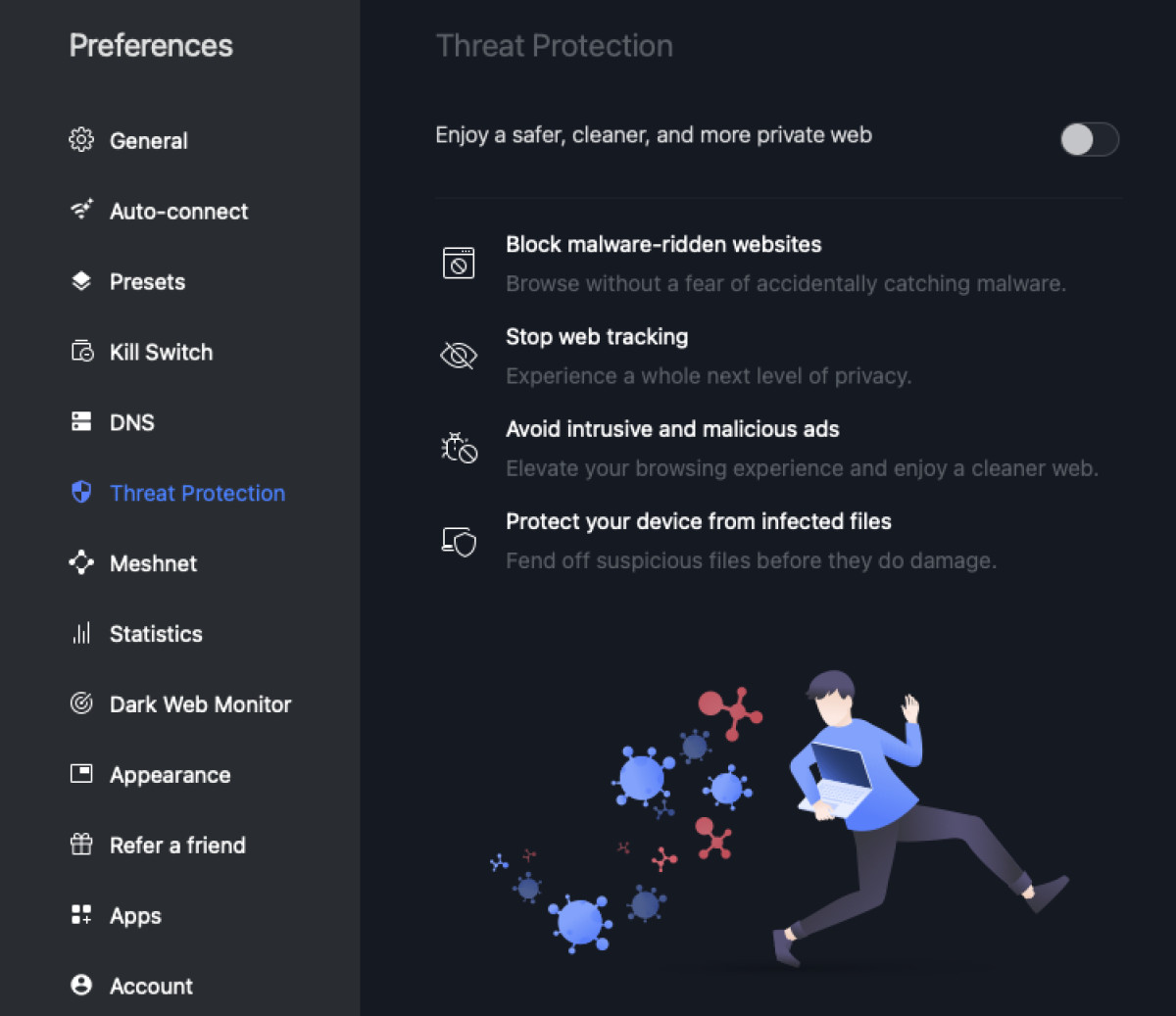 NordVPN's Threat Protection feature, which is included in the VPN client.
While the antivirus isn't as powerful as other dedicated applications, it's still capable of handling most common threats with ease.
It actively scans the files you download to make sure they don't contain malware. If they do, it immediately blocks them from making any changes to your computer.
The mobile version of the antivirus is called Threat Protection Lite and only works when you're connected to a VPN server. The desktop version lets you take advantage of its features even when you're not connected to the VPN.
NordVPN gives you access to over 5000 servers in 59 countries. You can get it along with Threat Protection for $4.99 per month.
| | |
| --- | --- |
| Free version | No |
| Prices starting from | $4.99 per month |
4. Bitdefender – Advanced antivirus with a VPN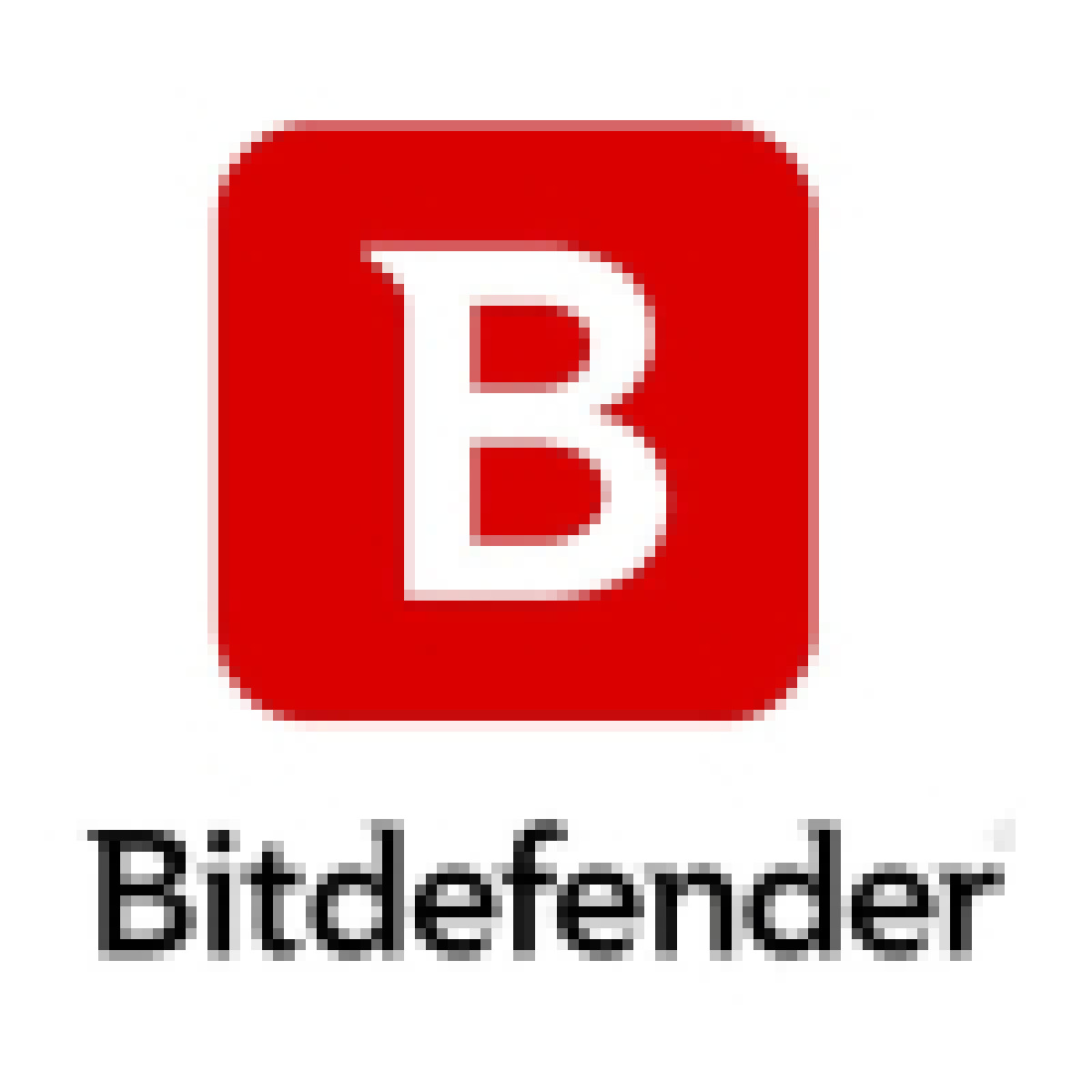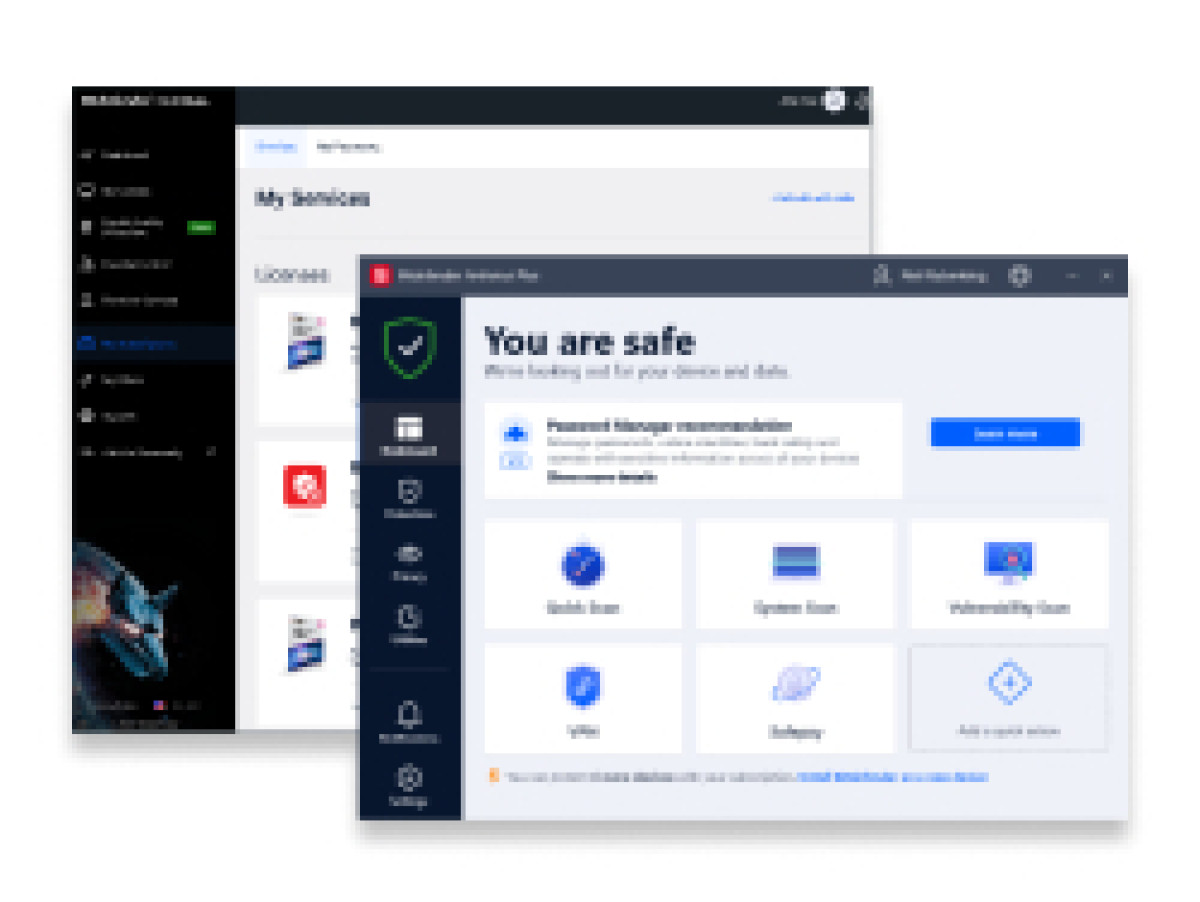 Pros & cons
Offers a free version
Includes various features such as real-time protection and anti-phishing tools
Consistently scores high in independent AV tests.
VPN is limited to 200 MB/day on most plans
Unlimited VPN is too expensive
Bitdefender is an antivirus that's known all over the world for its powerful and robust security features. It routinely receives three stars and an Advanced rating by the independent AV-testing lab AV-Comparatives. Most plans offered by Bitdefender include a VPN that has a daily limit of 200 MB.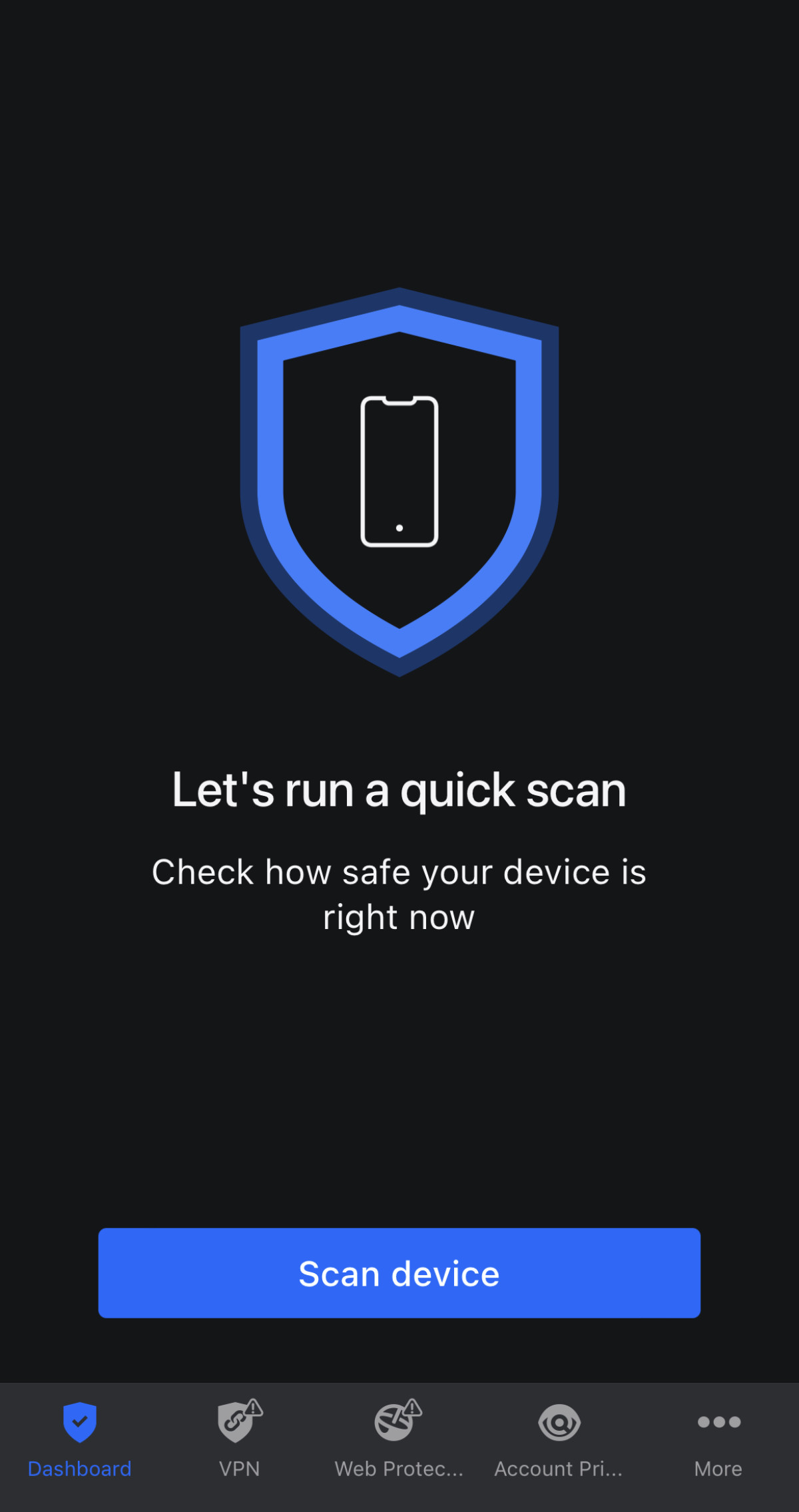 Bitdefender's iOS app.
The antivirus has real-time protection, multi-layer ransomware protection, anti-phishing tools, and more. The VPN has over 4000 servers in 53 countries and includes all the essential features, such as a kill switch, military-grade encryption, and DNS leak protection.
You can get unlimited data for the VPN if you opt for one of the more expensive plans (Bitdefender Premium Security, for example). Bitdefender also offers a dedicated browser for safe online banking.
You can get Bitdefender with a VPN for $19.99 per year.
| | |
| --- | --- |
| Free version | Yes |
| Prices starting from | $19.99/year |
5. Norton 360 – One of the most popular antivirus applications that comes with a VPN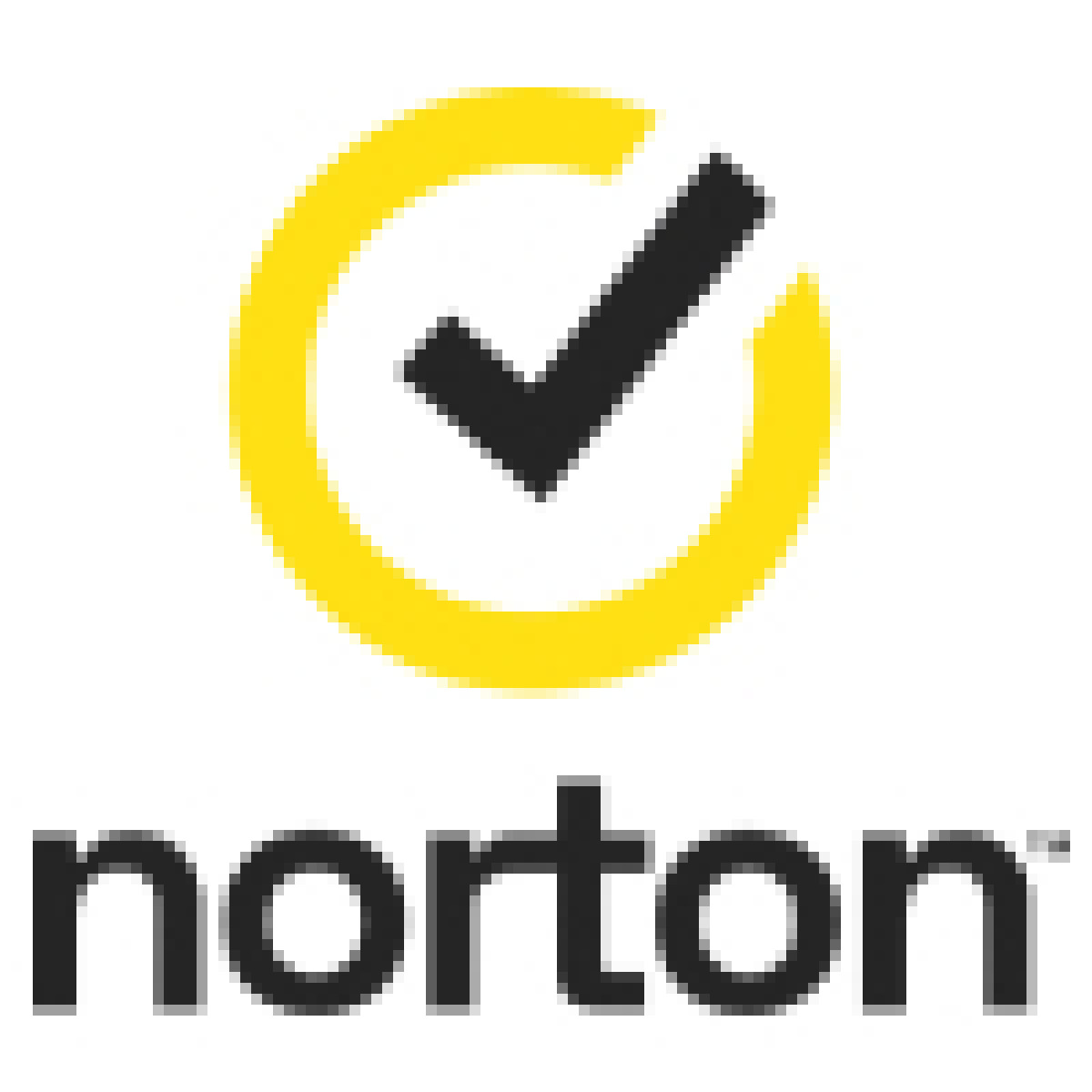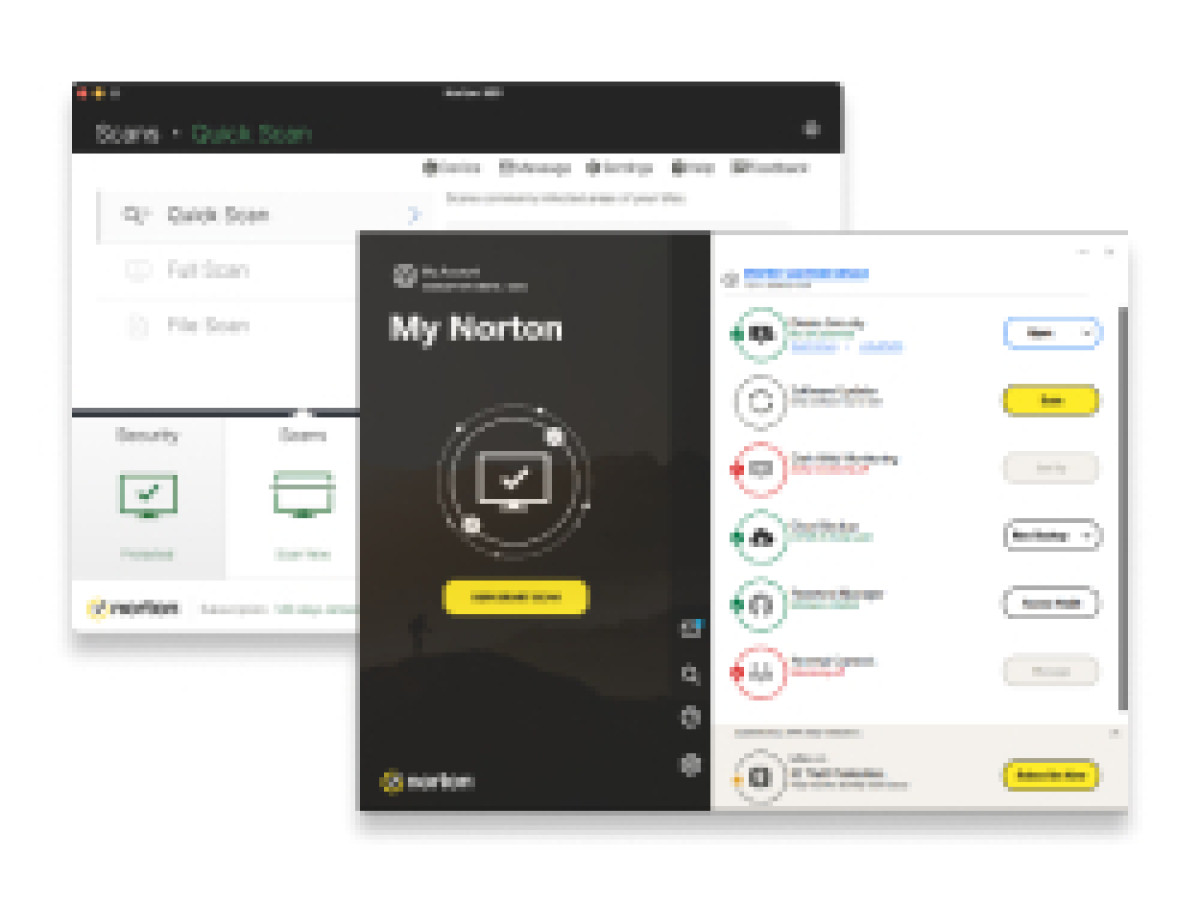 Pros & cons
Has real-time protection
Offers a firewall and many other features
VPN has unlimited data and 2000+ servers
VPN as a standalone product is very expensive
No free version available
There's no antivirus that's as widely known as Norton 360. Just like Bitdefender, Norton has won multiple awards from AV-Comparatives. It has many features which protect your data from online and offline threats, including a VPN, cloud backup, dark web monitoring, and ransomware protection.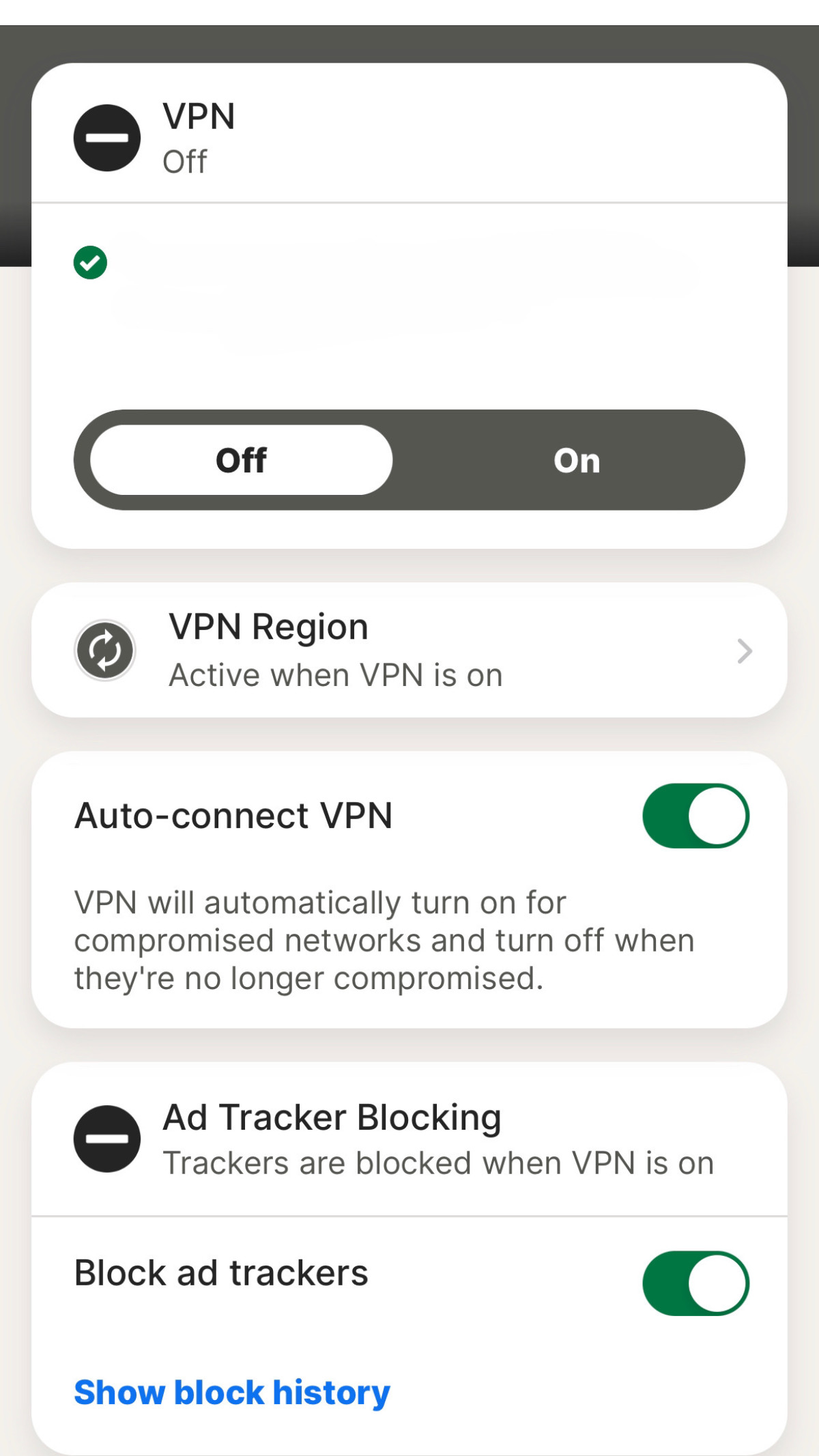 Norton 360's VPN on the iPhone.
The VPN has over 2000 servers, and some of them are optimized for torrenting. It has a kill switch, split tunneling, and a clear no-log policy. You can easily bypass geo-restrictions with Norton's VPN on sites like Netflix, Amazon Prime Video, and BBC iPlayer.
Norton antivirus has multiple plans that you can choose from. Most of them come with dark web monitoring, 10GB+ cloud backup, 100% virus protection promise, and parental controls.
The Standard package, which includes the VPN, is available for $29.99 per year.
| | |
| --- | --- |
| Free version | No |
| Prices starting from | $29.99/year |
Comparison of the best antivirus with a VPN
If you're short on time, we recommend taking a look at the table we've added below. It includes highlights of the antivirus applications with a VPN we've reviewed above.
| | | | | | |
| --- | --- | --- | --- | --- | --- |
| | TotalAV | Surfshark | NordVPN Threat Protection | Bitdefender | Norton 360 |
| Free version | Yes | No | No | Yes | No |
| VPN | Yes | Yes | Yes | Yes | Yes |
| Operating systems | Windows, macOS, iOS, Android, and Linux | Windows, iOS, Android, and macOS | Windows, iOS, Android, and macOS | Windows, macOS, Android, and iOS | Windows, macOS, iOS, and Android |
| Additional features | WebShield, system optimization tools, and more | IP rotation, dark web monitoring, phishing protection | Multi-Hop routing, dark web monitoring, | Bitdefender Photon, Game Mode, Vulnerability Assessment, and more | Dark web monitoring, Over 200 GB of cloud storage, and more |
| Money-back guarantee | 30 days | 30 days | 30 days | 30 days | 60 days |
| Starting price | $29/year | $2.39/month | $2.29/month | $19.99/year | $19.99/year |
Methodology: how we tested these bundles
There were many things we looked at while testing antivirus applications that are bundled with a VPN. Here's a detailed look at some of those factors:
Independent testing labs – To make sure the antivirus software we include in the list are reliable and secure, we looked at the results published by independent testing labs. We also tested these applications ourselves to make sure they work as advertised.
VPN features – We tested the features offered by the VPNs these antivirus tools come with to see how good they are at protecting your online traffic.
Security features – We also tried out the security features that come with the antivirus to evaluate their effectiveness and reliability.
User review – We read reviews from various sources to understand what other users think about these applications.
Price – Antivirus software can be expensive. We looked at the prices of the applications along with their VPNs to make sure they offer good value for money.
VPN vs antivirus: what's the difference?
The main difference between an antivirus and a VPN is that the former is designed to shield you from offline threats such as malware, while the latter is made to hide your online traffic and keep you anonymous on the Internet.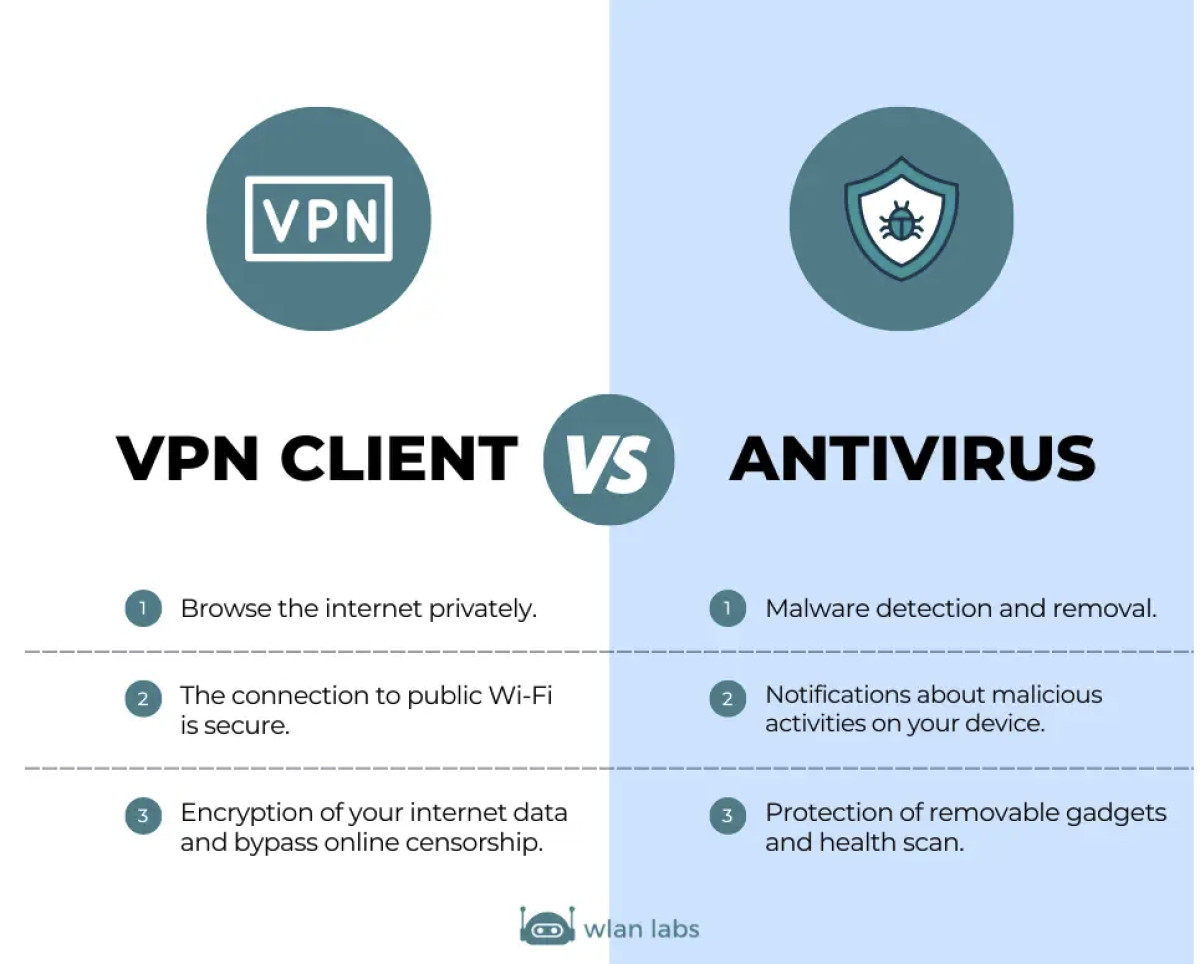 Some differences between an antivirus and a VPN. (Source: wlan.org)
Here's a table that summarizes the differences between a VPN and an antivirus:
| | | |
| --- | --- | --- |
| Features | VPN | Antivirus |
| Primary purpose | Changes your IP address and encrypts your online traffic | Protects you from viruses and malware |
| Anti-phishing tools | Not available in most VPNs | Offered by almost every antivirus application |
| Real-time protection | Not available | Most modern antivirus software have real-time protection |
| Bypassing geo-restrictions | Most premium VPNs can bypass geo-restrictions | No |
| Network security | Provides military-grade encryption | Usually only protects you from offline threats |
| Ransomware protection | No | Yes |
| Active scans of viruses | No | Yes |
Do I really need antivirus together with a VPN?
Yes, using an antivirus and a VPN together can greatly improve your online security and privacy. An antivirus is designed to protect your device from multiple kinds of threats including malware, ransomware, and phishing. A VPN, on the other hand, is supposed to encrypt your online traffic and spoof your real online identity.
These things make it harder for malicious parties to get access to your data. For example, if you use an antivirus but not a VPN, you won't be able to protect your online traffic from public Wi-Fi hotspots.
If you use a VPN but not an antivirus, you could end up becoming a victim of a phishing scam. When you combine the powers and security of both tools, you can bypass geo-restrictions, keep your devices safe from malware, and avoid visiting phishing and malicious sites.
Is there any free antivirus with a VPN?
Yes, there are some free antivirus applications that come with a VPN, but we don't recommend using them. Most free antivirus software and VPNs have very limited features and they're not the best at keeping your device safe.
Free VPNs often show ads and sell your data to advertisers. They also have a limited number of servers you can connect to, so you can't bypass geo-restrictions with them.
Avast is a free antivirus that also lets you use its VPN for 60 days. While it's a good option, we recommend sticking to a premium antivirus and VPN like TotalAV as you'll get much better and powerful features.
Moreover, most premium antivirus software and VPNs come with a money-back guarantee, which means you can request a refund if you don't enjoy using the applications.
Final thoughts
Keeping your online and offline data safe in today's digital age is paramount. Using an antivirus is simply not enough anymore and you also need a VPN to keep you anonymous and safe on the Internet.
We've listed our top 5 picks, but our absolute favorite is TotalAV. It's a powerful antivirus and its VPN is equally effective and reliable. It's a bit more expensive than some other options like NordVPN and Surfshark, but the comprehensive security it provides is worth the investment.
Almost every premium antivirus and VPNs have a money-back guarantee. Some even have free trial versions, so you can easily test them out. Just make sure you don't turn to free applications as they don't have all the features of their premium counterparts!
Frequently asked questions
Yes, antivirus can work with a VPN. This combination will give you even better security and privacy. The antivirus will protect you from malware and other types of threats, while the VPN will encrypt your online traffic and hide your original online information.
Yes, you should use an antivirus if you have a VPN as this will keep you safe from offline as well as online threats. VPNs don't have real-time protection and other tools to protect you from phishing and ransomware threats.
TotalAV is the best antivirus with a VPN. It has various security features that keep you safe from malware and the VPN lets you connect to servers in 69 countries.