We may receive commissions for purchases made through links on our website. We appreciate your support.

In the realm of VPN services, NordVPN and CyberGhost are popular options known for protecting online privacy and providing access to restricted content. As both are premium services in terms of privacy features, security protocols, connection speeds, server networks, and streaming capabilities, we are here to help you determine which service offers the best overall experience.

By examining the strengths and weaknesses of each provider, you can make an informed decision that aligns with your specific online needs and preferences. Join us as we delve into the details to help you decide between NordVPN vs CyberGhost VPN services.
Overview: NordVPN vs CyberGhost
| | | |
| --- | --- | --- |
| | NordVPN | CyberGhost |
| Location | Panama | Romania |
| Servers | Over 5,000 in 59 countries | 9000+ in 91 countries |
| Log policy | No log policy | No log policy |
| Price | Starting from $3.69 per month | Starting from $2.03 per month |
| Money-back guarantee | Yes | Yes |
| Compatibility | Android, iOS, Windows, Mac, Linux, Android TV | Android, iOS, Mac, Windows, Linux, Android TV |
| Streaming | Works with platforms like Netflix, BBC iPlayer, Hulu, ABC iView, and Amazon Prime | Supports most platforms including Netflix, Disney+, Amazon Prime, and Hulu |
| Number of devices | 6 | 7 |
| Website | | |
CyberGhost vs NordVPN: encryption & security
NordVPN and CyberGhost are reliable options as both of them offer military-grade AES-256 encryption and fast reliable WireGuard and OpenVPN protocols as well as additional security features from kill switch to ad-blocker.
Overall, NordVPN is a more reliable choice in this category for having more additional security layers and features (Double VPN, Onion Over VPN, and others).

| | | |
| --- | --- | --- |
| | NordVPN | CyberGhost |
| Encryption | 256-bit AES encryption | 256-bit AES encryption |
| RAM servers | Yes | Yes |
| Kill switch | Yes | Yes |
| Leak protection | Yes | Yes |
Encryption and Protocols
NordVPN and CyberGhost employ AES-256 encryption, considered the gold standard in encryption. VPN services support protocols like OpenVPN and WireGuard. Moreover, NordVPN has introduced its proprietary NordLynx protocol, built on the WireGuard protocol, known for its speed and efficiency. This innovative technology combines the best of both worlds by offering a high-performance VPN experience without compromising on security.
On the other hand, CyberGhost also ensures that users can enjoy a secure and flexible VPN experience tailored to their needs. While NordLynx is a unique feature of NordVPN, CyberGhost focuses on delivering a user-friendly experience with its intuitive interface and extensive server network. CyberGhost emphasizes ease of use and comprehensive privacy features, making it a popular choice for VPN users seeking simplicity and reliability.
Kill switch and split tunneling
NordVPN and CyberGhost both offer crucial VPN features like kill switch and split tunneling, which enhance your VPN experience. NordVPN provides a kill switch feature across its applications, ensuring that your internet connection is immediately terminated if the VPN connection drops unexpectedly. This prevents any potential exposure of your data and keeps your online activities secure. NordVPN also offers split tunneling, allowing you to selectively route specific traffic through the VPN while allowing other traffic to bypass the VPN connection.
Similarly, CyberGhost also includes a kill switch feature, which acts as a fail-safe to protect your privacy in case of VPN disconnections. While NordVPN provides a kill switch feature and split tunneling across its applications, it's important to note that it may not be available on all devices or operating systems of the CyberGhost app which can be concerning. Additionally, split tunneling is not supported on CyberGhost across all of its applications.
Additional security features
In addition to encryption and protocol options, NordVPN and CyberGhost offer additional security features to enhance user protection such as ad-blocker and leak protection. NordVPN stands out with features like Double VPN, which routes your traffic through two servers for an extra layer of encryption. It also provides Onion Over VPN functionality, combining the VPN with the Tor network for heightened privacy. Also, NordVPN offers additional security features such as Threat Protection, automatic malware, and ad blocker.
CyberGhost also offers features like malware and ad-blocking, as they have a built-in ad/tracker/malware blocker. It mostly blocks malware but often has some difficulties when it comes to ads compared to NordVPN. Additionally, CyberGhost offers a dedicated IP address which is a great way to improve your safety.
NordVPN vs CyberGhost VPN: Privacy
NordVPN and CyberGhost VPN prioritize user privacy and protect data with strict no-logs policies and both of them are located outside of the 5 Eyes alliance which is a good sign for any VPN service. As both of them are audited, we can state that both of these VPN services are excellent choices in terms of users' privacy.

| | | |
| --- | --- | --- |
| | NordVPN | CyberGhost |
| Logging policy | No logs | No logs |
| Location | Panama | Romania |
| Member of 5 Eyes alliance | No | No |
| External audits | Yes | Yes |
Privacy
NordVPN, headquartered in Panama, and CyberGhost, based in Romania, are both VPN providers known for their commitment to user privacy. Panama and Romania have favorable privacy laws, which contribute to ensuring the protection of user data. Both services strive to respect user privacy and implement measures to safeguard personal information.
However, it is important to note that the level of privacy can vary depending on individual preferences and requirements. Considering their respective countries of origin and dedication to privacy, both NordVPN and CyberGhost are solid choices for users seeking reliable privacy protection.
Logging
CyberGhost VPN and NordVPN have strict no-logs policies in place. This means that they do not collect or store any logs of your online activities, ensuring your privacy and anonymity. Both providers have established a strong reputation for their privacy-focused approach, making them reliable choices for users who prioritize keeping their online activities private and secure.
Both services have their no-log policy independently audited – NordVPN has undergone an independent audit by PricewaterhouseCoopers (PwC) to validate their no-logs claim. CyberGhost has been audited by one of the Big Four firms Deloitte. The audit confirmed that the VPN service adheres to its no-log policy and doesn't retain any information.
Plans & pricing
When comparing the plans and pricing of CyberGhost and NordVPN, it's important to consider your budget and the value offered by each service. While both providers offer various subscription options, CyberGhost tends to have more affordable pricing overall, making it an attractive option for those seeking a cost-effective VPN solution.

| | | |
| --- | --- | --- |
| | NordVPN | CyberGhost |
| Number of plans | 3 | 1 |
| Monthly price | $11.99 per month | $12.99 per month |
| Semi-annual | None | $6.99 per month |
| 1-year plan | $4.49 per month | None |
| 2-year plan | $3.69 per month | $2.03 per month |
| Cryptocurrency payment | Yes | Yes |
| Money-back guarantee | 30 days | 45 days |
| Trial version | 7 days on Android | 24 hours on Windows and macOS, 3 days on Android, and 7 days on iOS |
NordVPN provides several subscription plans, including monthly, yearly, and multi-year options. The pricing varies depending on the duration of the plan, with longer-term subscriptions offering more significant discounts. CyberGhost offers similar subscription plans, including monthly, and bi-year options. Like NordVPN, the longer-term plans generally offer better value for money.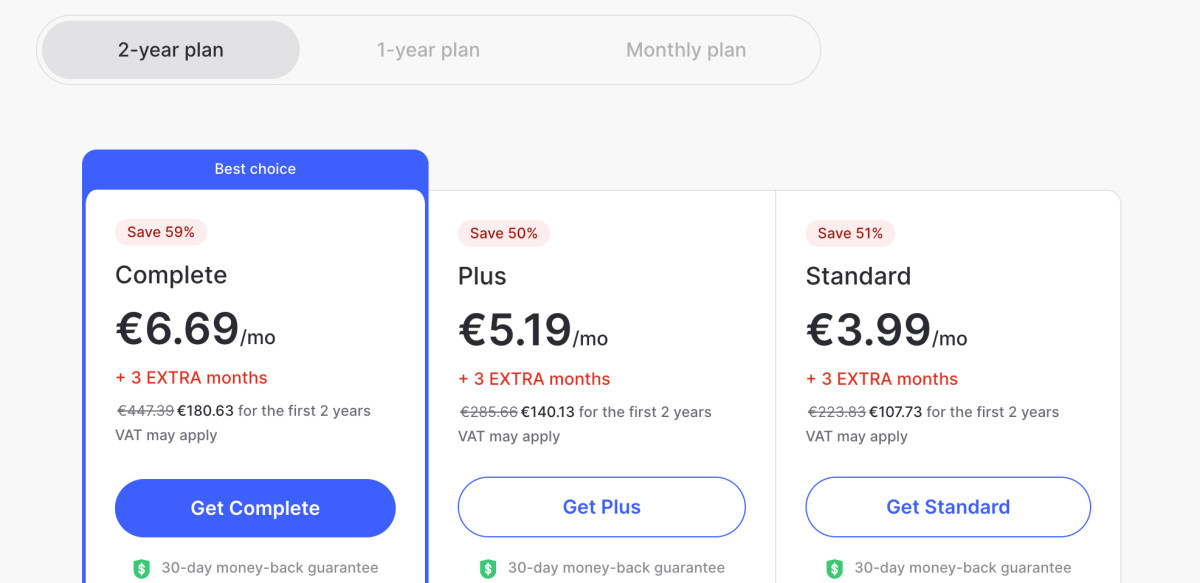 NordVPN offers customer-friendly prices. (source: nordvpn.com)
Both VPN providers let you pay in various methods including cryptocurrencies and offer you generous risk-free trials to make sure that you get everything you need from a VPN service.

CyberGhost VPN is reliable and affordable. (source: cyberghostvpn.com)
Speed performance: NordVPN vs CyberGhost
While both services strive to provide solid speeds, NordVPN's consistent reputation for faster performance sets it apart. NordVPN boasts an optimized infrastructure and advanced technologies to deliver fast and reliable connections compared to CyberGhost.

We have conducted speed tests in Europe, the United Kingdom, and the United States to determine the actual speed of each VPN. The average results of the download speed test are in the table below:
| | | |
| --- | --- | --- |
| | NordVPN | CyberGhost |
| US download speed | 57 Mbps | 46 Mbps |
| UK download speed | 59 Mbps | 48 Mbps |
| France download speed | 60 Mbps | 49 Mbps |
| VPN protocol | WireGuard | WireGuard |
To ensure a fair and accurate comparison of the speed performance between NordVPN and CyberGhost, we conducted our tests under controlled conditions. We utilized both the Mac desktop app and the iOS mobile app for consistency. Testing was carried out at various times of the day to account for potential fluctuations in server load and user traffic, as these factors can impact VPN speed. By conducting tests in this manner, we aimed to provide reliable insights into the performance of each VPN service and offer a fair evaluation of their speed capabilities.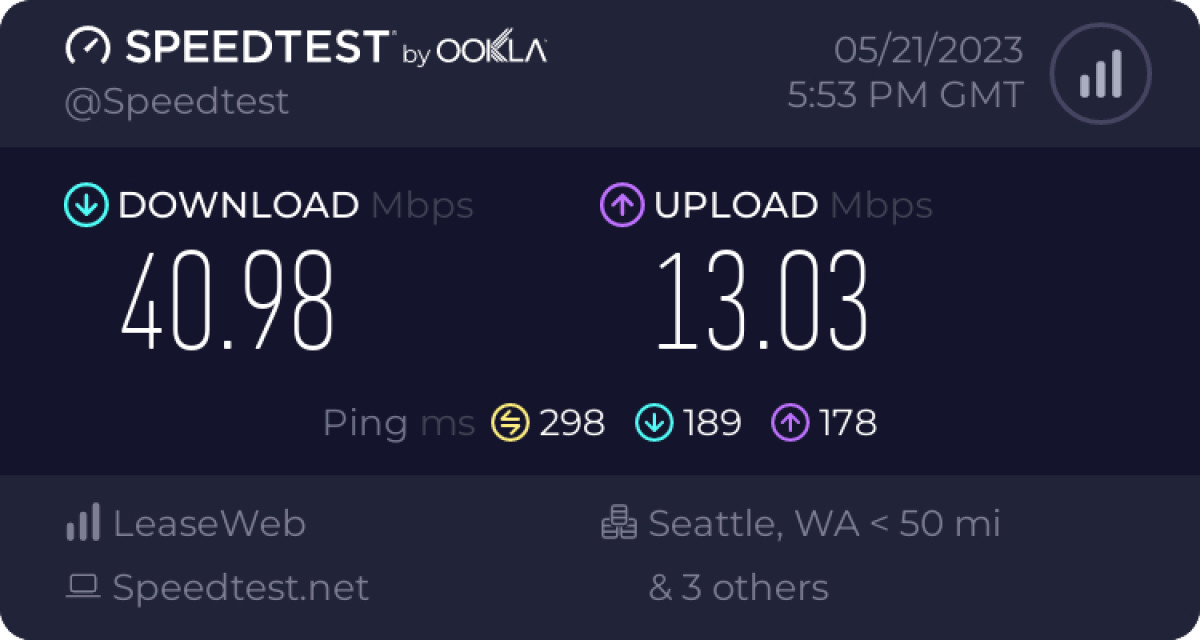 NordVPN offers the best speeds.
While both providers performed well, NordVPN's unique technology, NordLynx, demonstrated faster connection speeds, even to servers located far from the user's actual location. Although the performance of CyberGhost was stable and commendable, the slight advantage of NordVPN could make a noticeable difference for activities like streaming or gaming, where buffering can be frustrating.
CyberGhost vs NordVPN: Streaming
CyberGhost and NordVPN are formidable streaming contenders with many servers that unlocks a lot of platforms but NordVPN excels with its speeds which makes it the perfect choice for streaming.

Nonetheless, both providers world with the most popular streaming platforms like Netflix, Hulu, Amazon Prime Video, and more, and offer specialized servers for specific streaming services, ensuring a seamless and buffer-free experience.
| | | |
| --- | --- | --- |
| | NordVPN | CyberGhost |
| Netflix | Yes | Yes |
| BBC iPlayer | Yes | Yes |
| Amazon Prime | Yes | Yes |
| Hulu | Yes | Yes |
| HBO | Yes | Yes |
NordVPN is often considered the better option for accessing geo-restricted content and enjoying a smooth streaming experience with its fast speeds as it doesn't buffer even watching with the highest quality. NordVPN has a large network of servers optimized for streaming, allowing users to bypass geographical restrictions and access popular platforms like Netflix, Hulu, Amazon Prime Video, and more. They also offer specialized servers designed for specific streaming services, ensuring reliable and high-quality streaming performance.
CyberGhost also supports streaming and provides dedicated streaming servers. While it may successfully unblock some streaming platforms, it may not be as consistent or extensive in its streaming capabilities as NordVPN. However, CyberGhost does have a streaming-friendly server network that can still provide reliable access to certain streaming services.
Servers and locations
CyberGhost VPN and NordVPN have impressive server networks and offer a wide range of server locations worldwide. CyberGhost has more than 9000 servers in 91 locations which makes it a clear winner compared to NordVPN's 5000 servers in 59 countries.

| | | |
| --- | --- | --- |
| | NordVPN | CyberGhost |
| Number of servers | Over 5,000 | Over 9000 |
| Number of countries | 59 countries | 91 countries |
NordVPN boasts a vast network of servers, with over 5,000 servers spread across 59 countries. These servers are strategically located to provide optimal coverage and allow users to connect to servers in various regions, including popular locations in the Americas, Europe, Asia Pacific, and more.
CyberGhost, on the other hand, operates a server network of around 9,000 servers in 91 countries. Their servers are also strategically placed, providing a broad global reach and offering users a diverse range of server locations to choose from.
Both services offer servers in popular locations and frequently expand their server networks to provide users with more options and better performance.
Platforms, interface, and ease of use
When it comes to platforms, interface, and ease of use, both CyberGhost and NordVPN offer user-friendly experiences across various devices and operating systems. Both providers prioritize ease of use, offering intuitive interfaces and smooth navigation. Nonetheless, NordVPN seems to have better functionality as CyberGhost doesn't offer some essential features in some of its apps.

| | | |
| --- | --- | --- |
| | NordVPN | CyberGhost |
| Number of devices/simultaneous connections | 6 | 10 |
| Desktop compatibility | Windows, macOS, and Linux | Windows, macOS, and Linux |
| Mobile compatibility | Android and iOS | Android and iOS |
| Router compatibility | Yes | Yes |
| Streaming devices | Android TV, Fire TV, and Apple TV | Android TV and Amazon Fire TV |
Desktop apps
NordVPN provides desktop apps for Windows and macOS, ensuring compatibility with the two most popular operating systems. Their apps feature a user-friendly interface with a simple and intuitive design and essentials like a kill switch. You can easily connect to servers, select protocols, and access advanced features like Double VPN and Onion Over VPN directly from the desktop app.
Similarly, CyberGhost offers desktop apps for Windows and macOS, allowing users of these platforms to enjoy their VPN services. The apps provide a straightforward interface, making it easy to connect to servers and navigate through the available features. CyberGhost's desktop apps have a built-in system-wide kill switch and DNS leak protection but it lacks a split tunneling feature.
Mobile apps
NordVPN and CyberGhost recognize the importance of mobile security and offer well-designed apps for iOS and Android users. NordVPN provides mobile apps for both iOS and Android devices. Their mobile apps are designed to be user-friendly and intuitive, offering a seamless experience for VPN usage on smartphones and tablets, all of the apps have a kill switch and the option to pick NordLynx protocol.
CyberGhost offers mobile apps with an intuitive interface for iOS and Android platforms. Unfortunately, there are limited options to change protocols, split tunneling is only available on Android apps and the kill switch isn't integrated into any of the apps which isn't ideal.
Customer support
CyberGhost and NordVPN offer reliable customer support to assist users with any questions or issues they may encounter. As for the speed of the answer, NordVPN is a better option.
NordVPN provides 24/7 customer support through live chat, allowing users to communicate directly with their support team in real time. They also offer a comprehensive help center with articles, tutorials, and troubleshooting guides to address common queries. Additionally, NordVPN has an email support option for more specific or complex inquiries.
CyberGhost also offers 24/7 customer support through live chat, ensuring prompt assistance for users. They have an extensive knowledge base that covers various topics and provides step-by-step instructions. CyberGhost's support website includes FAQs, setup guides, and troubleshooting resources to help users find answers to their questions.
We tried both services' customer support abilities and NordVPN had better answer time as well as their guidance was more efficient and helpful compared to CyberGhost.
CyberGhost VPN vs NordVPN: which is better?
While both CyberGhost VPN and NordVPN are reputable providers with strong security features and user-friendly interfaces, NordVPN emerges as the better choice overall. NordVPN offers faster speeds, a larger server network, specialized features (like double VPN and Onion Over VPN), better app functionality, and more user-friendly customer support.
CyberGhost VPN has its strengths, such as affordable pricing and dedicated streaming servers but NordVPN's superior performance and advanced features make it the recommended option for users seeking a comprehensive and reliable VPN solution.

Frequently asked questions
Both NordVPN and CyberGhost are reputable VPN services that offer strong security features and large server networks. The better choice depends on individual preferences and needs, but NordVPN is considered to be a better pick for its safety features and speed.
NordVPN and CyberGhost VPN both offer fast connection speeds, but actual performance may vary based on factors like server location and network congestion. Generally, NordVPN shows better speeds than CybergGhost in most cases.
Both CyberGhost and NordVPN offer user-friendly apps for various platforms, including Windows, macOS, iOS, and Android. Both apps provide intuitive interfaces and similar features, such as server selection, kill switch, and ad-blocking. Although the NordVPN app is a bit more friendly to users compared to CyberGhost VPN.