We may receive commissions for purchases made through links on our website. We appreciate your support.

ExpressVPN and CyberGhost are two great VPNs for beginners and advanced users alike, which is why it may be difficult to decide which one you should pick. Both have certain features that are exclusive to them and make them stand out from other services.

To figure out which VPN is better, we put both providers to the test and see how they perform in different categories. Some of the things we took into consideration during our tests include security features, connection speed, privacy policy, reliability, and streaming capabilities.

In our ExpressVPN vs. CyberGhost review, we'll explain how the two VPNs differ from each other and which one is better. To help you understand the main differences between the two, we've added a table below that compares them in different categories.
Overview: ExpressVPN vs CyberGhost
| | | |
| --- | --- | --- |
| | ExpressVPN | CyberGhost |
| Location | British Virgin Islands | Romania |
| Servers | 3000+ in 94 countries | 9000+ in 91 countries |
| Log policy | No log | No log |
| Price | Starting from $6.67 per month | Starting from $2.03 per month |
| Money-back guarantee | 30 days | 45 days |
| Compatibility | Windows, macOS, Linux, iOS, Android, Fire TV, and routers | Windows, macOS, Linux, iOS, Android, smart TVs, and routers |
| Streaming | Netflix, Amazon Prime, Disney+, BBC iPlayer, and more | Netflix, BBC iPlayer, Disney+, Hulu, and more |
| Number of devices | 5 | 7 |
| 24/7 support | Yes | Yes |
| Website | | |
ExpressVPN vs CyberGhost: encryption and security
When it comes to encryption and security, ExpressVPN is the better VPN. Both allow you to use multiple protocols and have various security features, but CyberGhost often fails to provide complete security. Most websites can see you're protected by a VPN when you're using CyberGhost, while DNS leaks are uncommon when using ExpressVPN.

Here's a table to help you understand how ExpressVPN and CyberGhost differ in terms of encryption and security:
| | | |
| --- | --- | --- |
| | ExpressVPN | CyberGhost |
| Encryption | AES-256 encryption | AES-256 encryption |
| RAM servers | Yes | Yes |
| Kill switch | Yes (System-wide and application-level) | Yes (System-wide) |
| Ad and tracker blocker | Only blocks trackers | Yes |
| DNS leak protection | Yes | Yes |
Encryption and protocols
ExpressVPN and CyberGhost both have military-grade AES-256 encryption. They both allow you to use multiple protocols like OpenVPN and IKEv2. CyberGhost recently added WireGuard to its repertoire of protocols, which is known for being faster and more secure than other protocols.
ExpressVPN uses its proprietary protocol called Lightway. Currently, there's no other VPN that uses it, so it hasn't been as widely adopted as WireGuard. Lightway was designed to be faster, lighter, and more secure than other protocols.
With that being said, it's important to mention that the protection and speed WireGuard offers also depend on what VPN you use. CyberGhost isn't as advanced when it comes to encryption and protocols, so even with WireGuard, it's often slower and less secure than ExpressVPN.
Kill switch and split tunneling
Kill switch and split tunneling are essential VPN features and luckily, they're present in both ExpressVPN and CyberGhost.
CyberGhost has a system-wide kill switch only, while ExpressVPN allows you to choose specific apps to disconnect from the Internet when the VPN connection drops. This way, you get more control over your security, but it also leaves some room for human error.
For example, if you forget to include background processes that have your personal information in the kill switch, they could get leaked if your VPN suddenly stops working.
A system-wide kill switch is often more secure because it disconnects your entire device from the Internet, reducing the chances of any accidental leaks occurring to zero. Kill switch is enabled by default on both VPNs.
ExpressVPN has split tunneling on Windows, macOS, Android, and routers. The only platform CyberGhost has split tunneling on is Android. It's unclear when the VPN provider will bring it to other platforms.
Additional security features
CyberGhost VPN is more geared towards beginners so it doesn't have too many advanced security features like ExpressVPN. The only good additional feature it has is a dedicated IP address which you can get for an additional fee.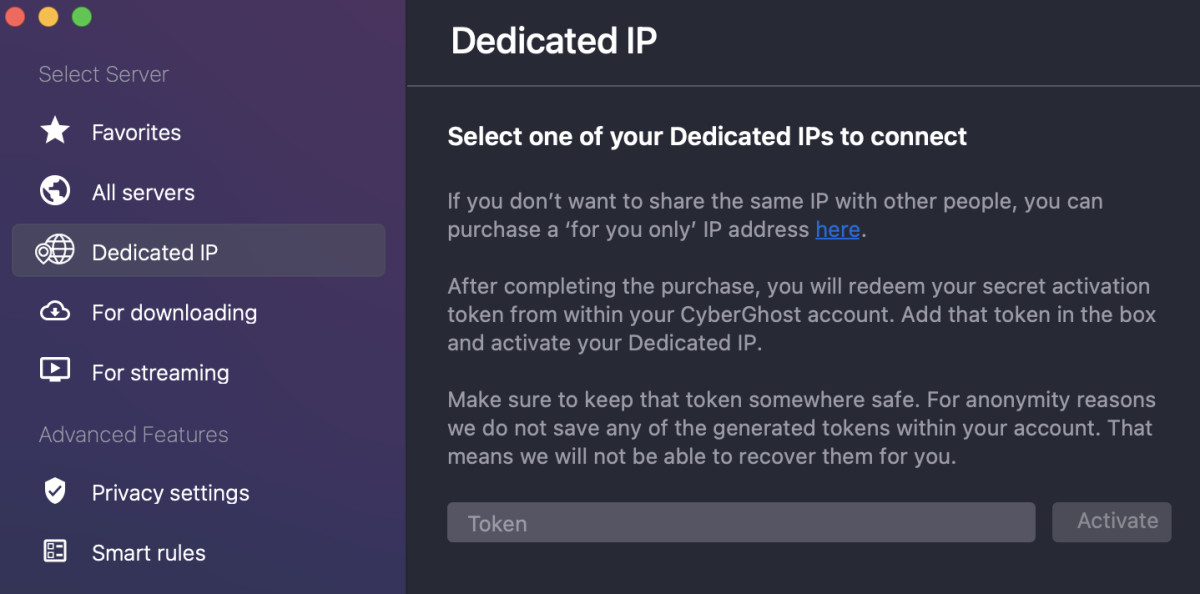 Dedicated IP on CyberGhost.
ExpressVPN has a feature called Threat Manager that blocks trackers and stops websites from learning about your browsing habits. It works surprisingly well, while CyberGhost VPN's built-in ad and tracker blocker doesn't always stop sites from tracking you.
Another additional feature provided by ExpressVPN is called obfuscation and it essentially hides your VPN activities from sites and other parties. This, among some other reasons, is why it's considered one of the best VPNs to use in China.
Check out our detailed ExpressVPN review if you want to learn more about its security features.
ExpressVPN vs CyberGhost: privacy
Both ExpressVPN and CyberGhost are great when it comes to privacy. The former is based in the British Virgin Islands and the latter in Romania, both of which are non-5/9/14 Eyes regions. Both of the VPN services also have RAM-based servers and a strict no-log policy that's been externally audited, so they don't retain any data.

As always, here's a table that compares the two VPN services' privacy features:
| | | |
| --- | --- | --- |
| | ExpressVPN | CyberGhost |
| Logging policy | No logs | No logs |
| Location | British Virgin Islands | Romania |
| Member of 14 Eyes alliance | No | No |
| External audits | Yes | Yes |
Privacy
ExpressVPN and CyberGhost are both located outside the jurisdiction of the 5/9/14 Eyes alliances. These alliances are groups of countries that share intelligence data with each other and have strict data retention laws, making them some of the worst places for VPN companies.
The two VPN services aren't obligated to share any data with government agencies, so they're both ideal for people who care about privacy.
Logging
ExpressVPN's most recent external audit was carried out by the cybersecurity firm Cure53 and it confirmed that the VPN service doesn't keep any logs and all of its features function as the provider describes them.
CyberGhost is one of the few VPNs that's had an external audit of its no-log policy performed by one of the Big Four firms Deloitte. It was also found to be working just as the company had described it.
Both VPNs have RAM-based servers, which means any data that's stored during a VPN session is immediately deleted once you disconnect from the VPN server.
Plans and pricing
It's easy to beat ExpressVPN when it comes to pricing because it's one of the most expensive VPNs on the market. It's much easier to save with CyberGhost as one of its biggest advantages is its low price tag. It also has a 45-day money-back guarantee while ExpressVPN lets you get a refund within 30 days of the purchase. Both have free trial versions, but ExpressVPN only offers one on Android and iOS.

To help you understand how the prices differ, we've added a table below:
| | | |
| --- | --- | --- |
| | ExpressVPN | CyberGhost |
| Monthly price | $12.95 per month | $12.99 per month |
| Semi-annual plan | $9.99 per month | $6.99 per month |
| 1-year plan | $6.67 per month | None |
| 2-year plan | None | $2.03 per month |
| Cryptocurrency payment | Yes | Yes |
| Money-back guarantee | 30 days | 45 days |
| Trial version | 7 days on iOS and Android | 24 hours on Windows and macOS, 3 days on Android, and 7 days on iOS |
The monthly package of CyberGhost is more expensive than ExpressVPN's. You can save the most money if you get CyberGhost's 2-year plan, which only costs $2.03 per month.
Both VPNs have a money-back guarantee and offer trial versions, though ExpressVPN only has one for Android and iOS. CyberGhost offers a 24-hour one for Windows and macOS and it doesn't even require your credit card details. You can also get a 3-day one for Android and a 7-day one for iOS.
Payment can be made with cryptocurrency on both VPN services.
Speed performance: ExpressVPN vs. CyberGhost
Generally, WireGuard tends to be faster than other protocols, but in the case of ExpressVPN vs. CyberGhost, Lightway seems to perform better and gives more consistent speeds. During our tests, we connected to servers in the US, the UK, and Italy, to see the difference in the speeds of the two VPNs. ExpressVPN was marginally better in all of our tests. CyberGhost was inconsistent and wasn't always as fast as ExpressVPN's Lightway.

The table below lists the exact speeds the two VPNs gave us on our 50 Mbps connection:
| | | |
| --- | --- | --- |
| | ExpressVPN | CyberGhost |
| US download speed | 48.43 Mbps | 45.23 Mbps |
| UK download speed | 47.79 Mbps | 43.64 Mbps |
| Italy download speed | 46.24 Mbps | 39.23 Mbps |
| VPN protocol | Lightway | WireGuard |
As you can tell, CyberGhost isn't as fast as ExpressVPN despite using WireGuard tunneling protocol. WireGuard usually outperforms every other protocol including Lightway, which is why NordVPN, which also uses WireGuard, is faster. You can check out our comparison of NordVPN and ExpressVPN to see the speed difference in the two VPNs.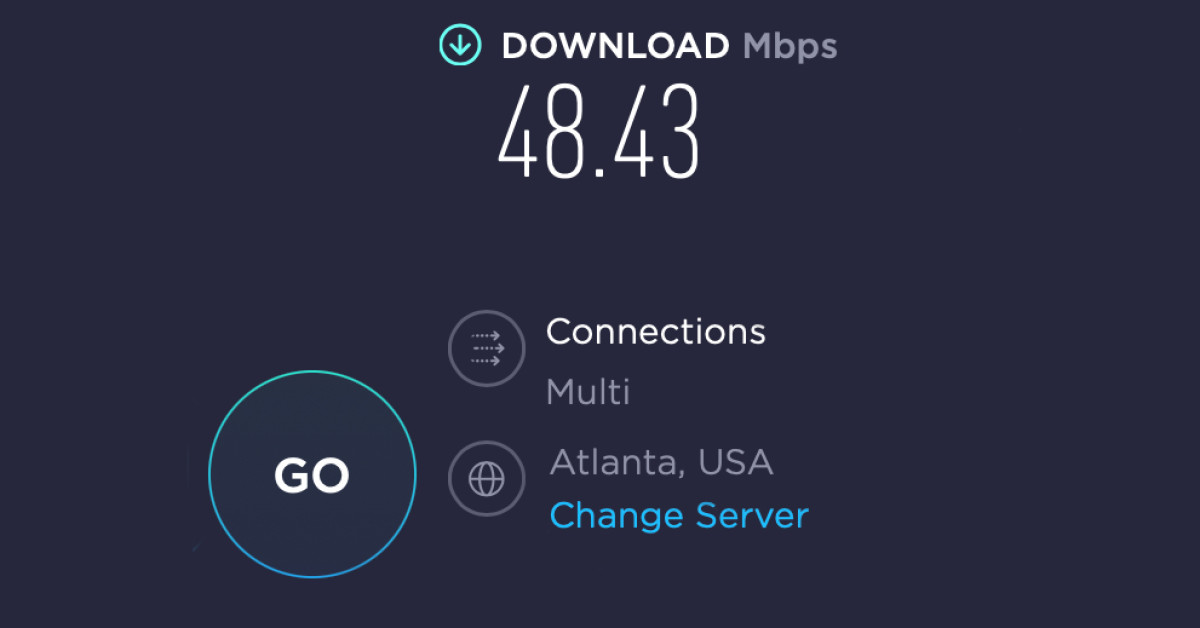 ExpressVPN's speed when connected to a server in the USA.
We tested some servers in Japan, too, on CyberGhost and only got around 30 Mbps, while ExpressVPN clocked at 43 Mbps.
Speed is one of the most important factors when choosing a VPN and it's clear that CyberGhost still has a lot of improvements to make in that department.
You can also use OpenVPN and IKEv2 on both VPNs. ExpressVPN beats CyberGhost in speeds no matter which protocol you use, though.
The only disadvantage that ExpressVPN has is that Lightway is relatively new and isn't used by any other VPN, but that doesn't mean it can't be trusted. It's an open-source protocol and its security was confirmed in an external audit by Cure53.
CyberGhost vs ExpressVPN: Streaming
ExpressVPN is one of the best VPNs for streaming. CyberGhost has more servers, but they're not as stable as ExpressVPN's and they get blocked rather quickly. It took us some time to find the right servers on CyberGhost for streaming platforms, but with ExpressVPN, it took only a few seconds. Both VPNs are capable of unblocking major streaming platforms, but if you want consistency, pick ExpressVPN.

We've added a table below to show which streaming platforms the two VPNs work with:
| | | |
| --- | --- | --- |
| | ExpressVPN | CyberGhost |
| Netflix | Yes | Yes |
| BBC iPlayer | Yes | Yes |
| Amazon Prime | Yes | Yes |
| Hulu | Yes | Yes |
| Mubi | Yes | Yes |
Accessing geo-restricted content shouldn't be a problem with either VPN, but it's easier and faster with ExpressVPN. CyberGhost can be a bit slow and many of its servers may not always work with streaming platforms, especially Netflix which tends to block servers regularly.
If you can't find a working server, you can contact the customer support team and they'll tell you which one to connect to.
Both VPNs are compatible with Android TV and Fire TV Stick, and they also allow you to use Smart DNS to configure the DNS settings of incompatible streaming devices like Apple TV.
Servers and locations
CyberGhost has more servers in total but ExpressVPN's server network is spread out in more countries. All of their servers run on RAM, so no data is recorded, and they're also optimized for torrenting. ExpressVPN's quick connect feature is slightly faster than CyberGhost's, but they're both equally good when it comes to servers and locations.

Most of the servers of ExpressVPN and CyberGhost are based in North America and Europe. All of their infrastructure runs on RAM and is P2P-optimized. ExpressVPN has server obfuscation which makes it ideal for countries where Internet freedom is stifled, but CyberGhost will perform well, too, in most cases.
| | | |
| --- | --- | --- |
| | ExpressVPN | CyberGhost |
| Number of servers | Over 3,000 | Over 9000 |
| Number of countries | 94 countries | 91 countries |
Platforms, interface, and ease of use
Both VPNs have native apps for all platforms, but ExpressVPN is more user-friendly and consistent in terms of design and UI. It works seamlessly on all platforms and has a minimalistic look that makes it less intimidating than other VPNs.

Here's a table that shows what devices the ExpressVPN and CyberGhost are compatible with:
| | | |
| --- | --- | --- |
| | ExpressVPN | CyberGhost |
| Number of devices/simultaneous connections | 5 | 7 |
| Desktop compatibility | Windows, macOS, and Linux | Windows, macOS, and Linux |
| Mobile compatibility | Android and iOS | Android and iOS |
| Router compatibility | Yes | Yes |
| Browser extensions | Google Chrome and Firefox | Google Chrome and Firefox |
| Streaming devices | Android TV and Fire TV | Android TV and Fire TV |
| Smart DNS | Yes | Yes |
Desktop apps
The desktop app of any VPN has all the essential features it offers. Both CyberGhost and ExpressVPN have intuitive apps for Windows and macOS that are easy to use.
Unfortunately, neither VPN has a graphical user interface (GUI) on Linux and you have to use a command-line interface.
ExpressVPN's desktop app has a much cleaner look and is more user-friendly. As soon as you open the app, you know where to click to quickly connect to a server, unlike CyberGhost which displays the list of servers in the center, settings on the left, and the quick connect button on the right.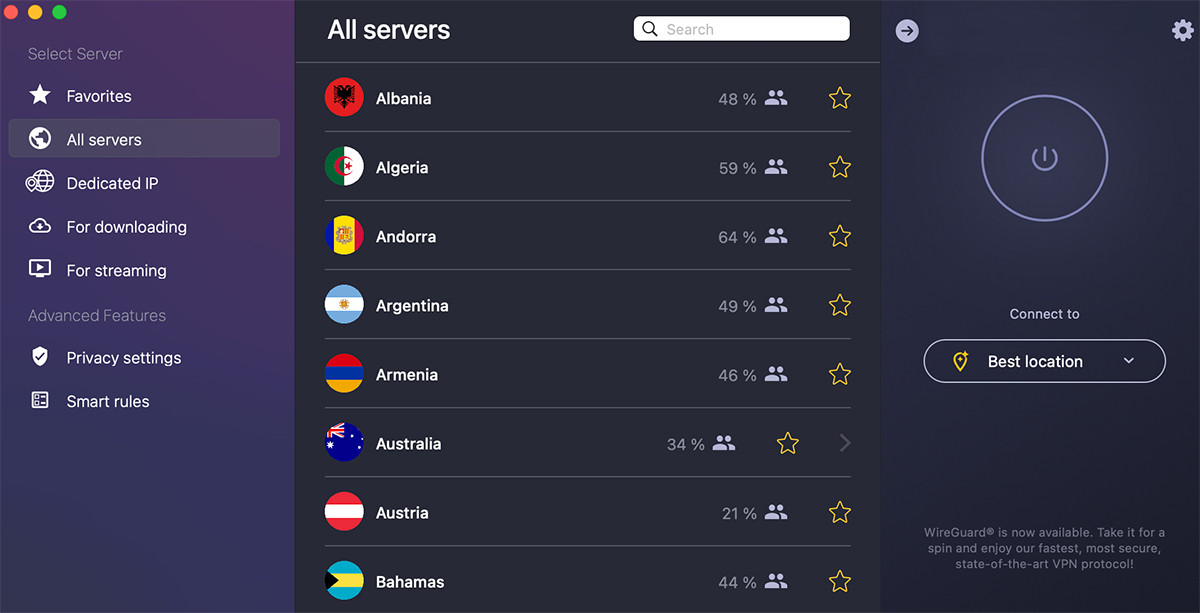 CyberGhost on macOS.
Both VPNs have a kill switch and DNS leak protection on their desktop apps. ExpressVPN also has split tunneling, but for unknown reasons, CyberGhost doesn't.
Mobile apps
ExpressVPN has a consistent design across all platforms, so when you switch from desktop to smartphones, you won't notice any big difference. To quickly connect to a server, tap the power button in the center.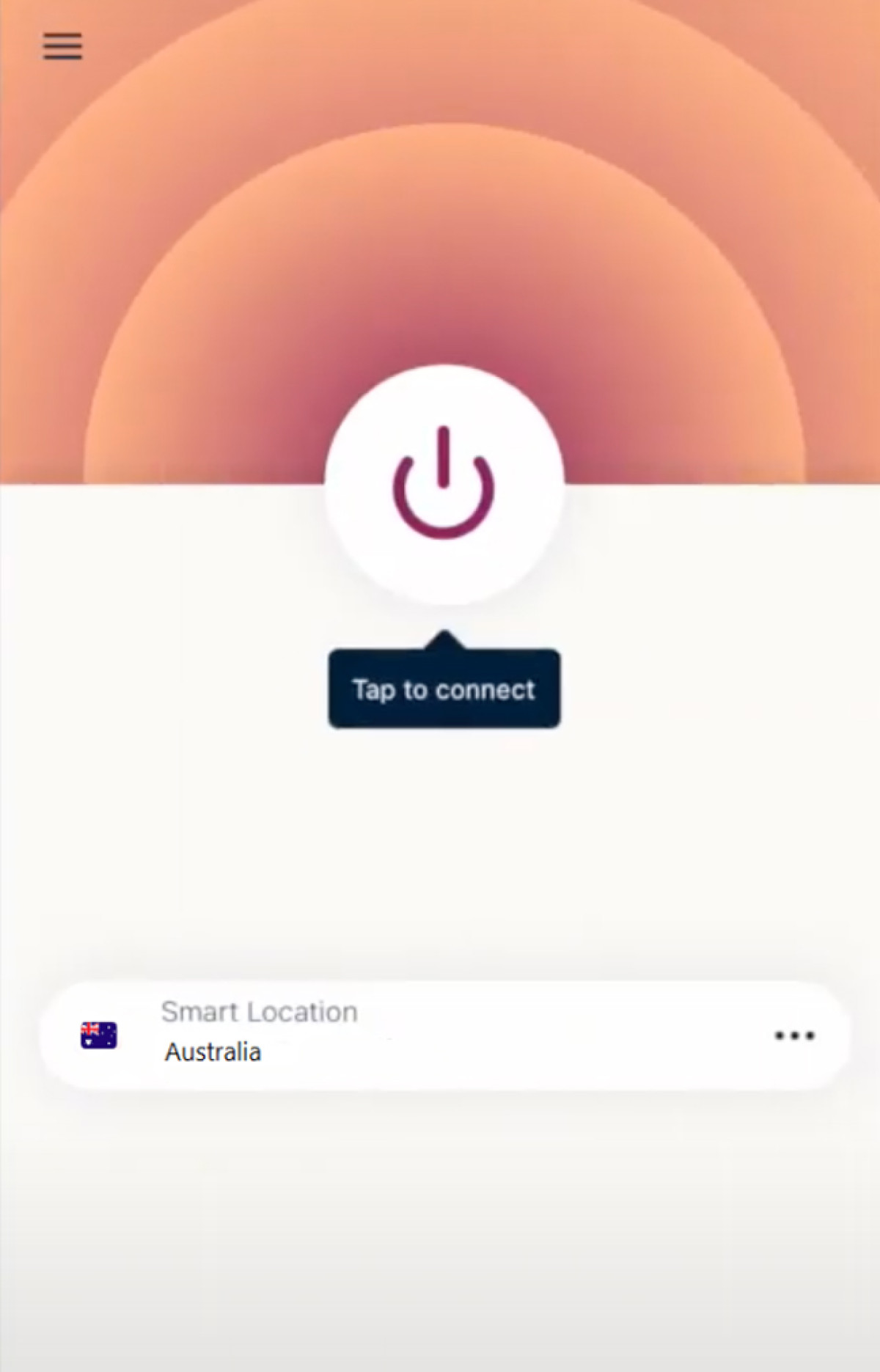 ExpressVPN on iOS.
CyberGhost's smartphone app is more user-friendly than its desktop counterpart. It doesn't display all the servers when you launch the app and instead has a clean UI with just the quick connect button in the center.
The Android apps of both VPNs have a kill switch and split tunneling. The latter isn't available on the iOS version due to restrictions by Apple.
Customer support
ExpressVPN is better in terms of customer support because their agents take less time to respond and they're more knowledgeable. You can get in touch with their customer support teams via email and 24/7 live chat. Both VPNs also have extensive guides on their site which explain in detail how to use the services.

To open CyberGhost's 24/7 live chat, you have to visit a specific page, which is frustrating. Their live agents are often slow and sound as if they're reading off a script.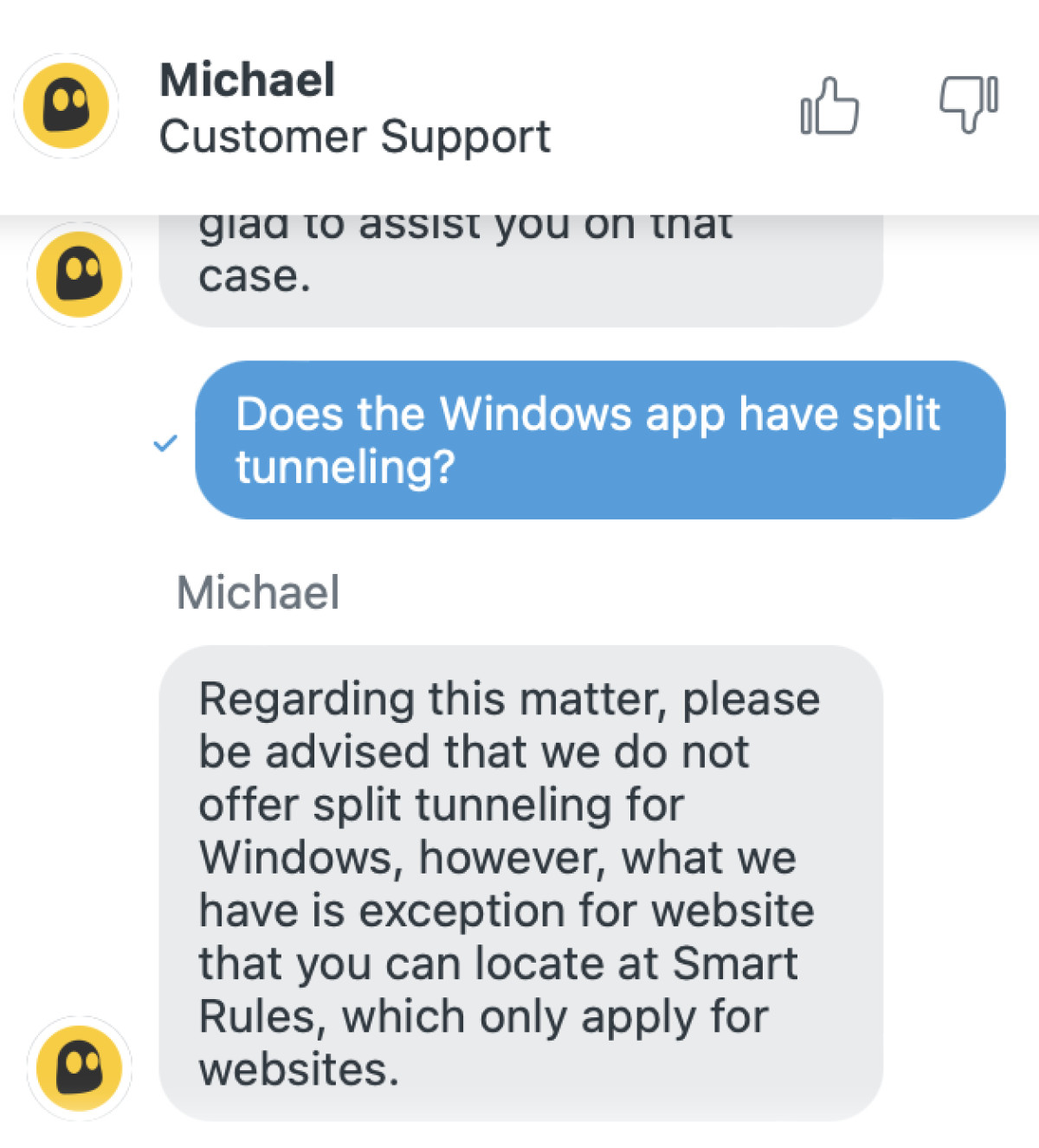 CyberGhost's live chat isn't always quick to respond.
ExpressVPN's live chat agents know what they're talking about and they respond quickly. You can also consult the guides on their official sites if you don't want to talk to anyone. Both VPNs have email support that responds within 24 hours.
ExpressVPN vs CyberGhost: which is better?
ExpressVPN is the clear winner as it trumps CyberGhost in many different categories. It's more expensive, but it offers more features, better security, and faster connection speeds.
Both VPNs are located outside the 5/9/14 Eyes countries and all of their servers are RAM-based, but ExpressVPN has better quality servers that almost never fail to unblock geo-restricted content.
The desktop and smartphone apps of both VPNs are easy to use, but ExpressVPN's are slightly better as they're more minimalistic and consistent in design.
You'll save more money with CyberGhost, but if you want to keep your data safe and watch your favorite movies from different regions, then we recommend using ExpressVPN.
Frequently asked questions
Yes, ExpressVPN is better than CyberGhost because it's more secure and gives faster connection speeds. It uses its proprietary protocol Lightway to keep your online traffic secure and its RAM-based servers are better at unblocking geo-restricted content.
Yes, we ran a few speed tests and found that ExpressVPN is faster and more consistent than CyberGhost. During our tests, we connected to servers in the US, the UK, and Italy and ExpressVPN performed better on all of the servers.
ExpressVPN's apps are better than CyberGhost's. Their design is consistent across all platforms and they're easier to use thanks to their minimalistic UI. The desktop apps of CyberGhost don't have split tunneling and the inconsistency in the design may be confusing for some users when they switch to the smartphone version.