We may receive commissions for purchases made through links on our website. We appreciate your support.

Downloading torrents can be a helpful way of getting any file, but it might come with many cyber threats. Using an unencrypted internet connection, you are in danger of malware, viruses, and even legal issues if you download copyrighted content. Moreover, your ISP can track your download activity or even limit your bandwidth by reducing the internet speed.

The easiest way to protect yourself while torrenting is to use a reliable VPN. It will help to stay anonymous online by hiding your IP. Look for the most reliable and secure VPN, and you can download torrents safely in a few moments.

Finding the right VPN can take some time, but the solution of how to safely torrent is right here – ExpressVPN is fast, safe, and perfect for torrenting. It has all the essential torrenting features and is considered one of the best – you can try it risk-free with a 30-day money-back guarantee.
A quick way to download torrents safely:
Get a reliable VPN suitable for torrenting. We recommend ExpressVPN.
Connect to a server of your choice.
Choose safe torrent clients and torrenting sites.
You are ready to download torrents safely!
Guide to torrenting safely with a VPN
The basics of how not to get caught torrenting are combining a reliable VPN, safe torrent client, and antivirus – this way, you can get any file you want as safely as possible.
Use a reliable VPN
When choosing the best VPN that suits your requirements, you should consider a few crucial details. Some of the providers are offering VPNs made for torrenting – this could be your first pick as those have everything you need to be safe and private while downloading torrents.
One of the most important is speed – pick a fast service that won't throttle your connection speed to certain limits. It's essential while transferring big files, as most torrents are. Other necessary features you should look for are the kill switch, secure protocols, and no-logs policy. Configure these settings to be safe from your IP leaking and experience the best way to torrent anonymously. To ensure your IP is hidden, you can test it with an IP leak test tool. That's it – now you know how to use a VPN for torrenting.
To be sure that you are torrenting safely, consider a VPN with built-in malware blockers – extra safety is what you should look for when doing something considered dangerous.
Configure your VPN
Another tip to be safe while torrenting is to properly configure your VPN before downloading any file. The main settings you need to keep an eye on are:
Kill switch. Always check if it is turned on before torrenting – it will disconnect you from the internet if your VPN crashes.
Leak protection. Switch DNS and IP leak protection on – it will prevent exposing your data to third parties.
Highest encryption. Use AES-256-bit encryption which is the strongest level of encryption – it will keep your data as safe as possible.
Secure protocol. Enable protocol that is proven to be the best for torrenting – OpenVPN or WireGuard, and do not use the older ones like PPTP.
Split tunneling. It is a useful tool to define which apps are going to use encrypted traffic – this way you can torrent with hidden IP and use your real IP on other sites like online banking.
Choose the right torrent client
If you already know how to use a VPN to download anonymously, you need to get a reliable and safe torrent client. It is essential as one torrent file is sent in many small pieces from different locations; hence you can't just send a .torrent file directly to your device. A torrent client is a program or application that will manage every file fragment and put them together, so you can have a complete file after downloading a torrent.
It would be best to look for torrent clients that are easy to use, trustworthy, and fast. It's best to use the ones with a wide range of functions that will keep you safe and make torrenting as simple as possible. The excellent match has a user-friendly interface and customizable options such as scheduling, built-in search, adjustable bandwidth limits, and extensions. Some of the services are ads and malware free – it's a nice perk you should also consider. The most popular reliable torrent clients are uTorrent, BitTorrent, qBittorrent, Deluge, and Vuze.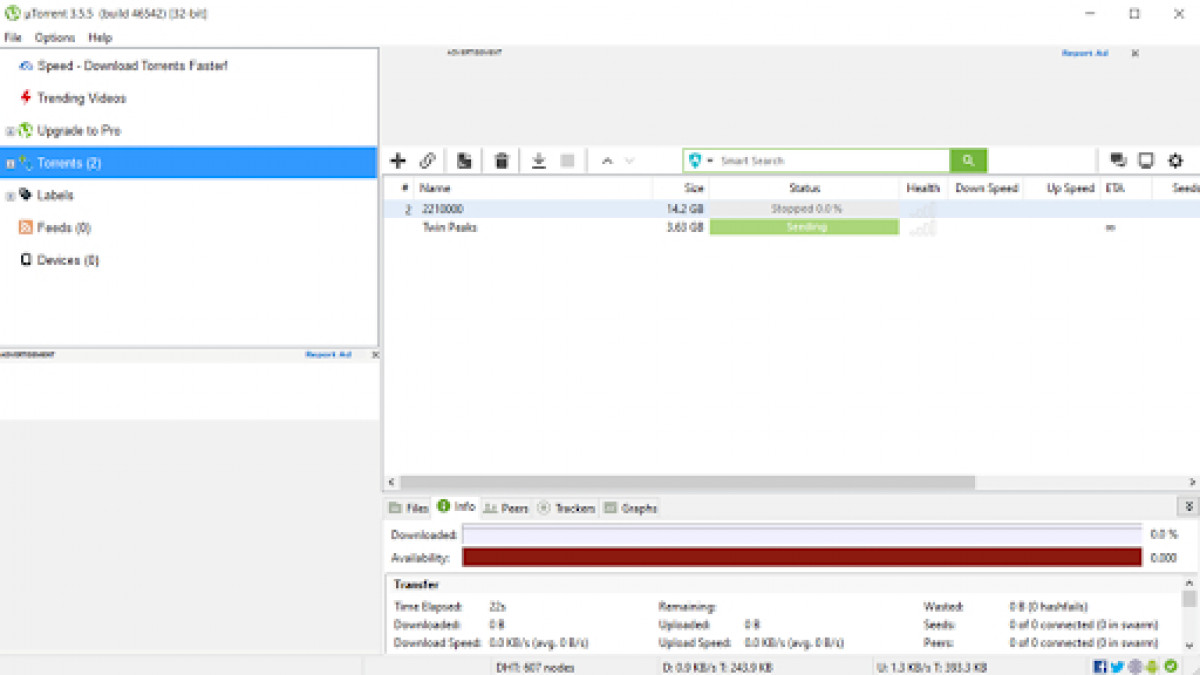 Before using a torrent client, you should pay attention to its settings to be sure that you download torrents anonymously. It's better not to let the program automatically open once you turn your device on if you are not constantly using it. Enable the IP binding function that allows torrenting from only one IP address – it works as a kill switch.
Choose the right torrent site
It's impossible to overstate how cautious you should be when torrenting, so your main goal is to do that as safely as possible. There are many torrenting sites all over the internet, but you shouldn't carelessly visit one without proper research.
Unsafe torrent sites can lead you to fake links or virus-ridden files – this is a perfect opportunity for all the snoopers online. You should look for verified torrent sites – those will be the safest option. The most common and safest are The Pirate Bay, YTS, EZTV, Watchsomuch, and Limetorrents.
The problem with the most popular torrent sites is that many of them are blocked by ISPs. Your internet service provider can not only throttle your connection while downloading large files but also block the torrent site as it sees your traffic online. That's why you should consider getting a VPN – it will hide your IP address and keep you safe online. So, if you still think, 'do I need a VPN to torrent' this is your answer.
Use a good antivirus software
Whether you are doing something considered risky or not, you should always have well-functioning antivirus software. It will help you keep safe from malware, spyware, or cyber-attacks – all the things that can happen while torrenting without safety precautions.
If you are wondering how to avoid viruses when torrenting, consider investing in a reliable one that will let you forget about any threats. A good antivirus will not only alert you about any malware or viruses but also remove them before it has done anything threatening. While downloading torrents with antivirus, you should maintain healthy online habits – scanning every file you have downloaded, turning on daily scans, and monitoring the website.
As it would take only one malicious torrent to break through your device, be sure that your antivirus is always on and ready to shield you. Don't forget that VPN services could be your extra layer of safety and consider using it with antivirus software.
Choose trustworthy torrents
If you are ready to download torrents safely with a VPN, reliable torrent client, and credible torrent site, it's time to download torrents. Don't forget to be wary and take all possible safety precautions.
The main rule for finding trustworthy torrents is to avoid any suspiciousness and check all the possible information about a specific torrent you want to download. It would help you if the torrent site of your choice has verified a particular torrent – always look for those.
The most popular torrents are usually the first ones to show up on torrent sites and the most dangerous ones. It can be watched by copyright trolls that will take action against those who have downloaded illegal copyrighted files.
Another tip for finding only reliable torrents is to avoid hot files that have been released recently. Keep a watchful eye on files that end in .exe or .bat, as those are the most common way of getting viruses or other threatening malware. You should always read comments on every torrent you want to download and avoid anything that mentions viruses or anything doubtful.
To help you be safe, here is a list of 5 best trustworthy torrent sites:
The Pirate Bay.
YTS.
EZTV.
Watchsomuch.
Limetorrents.
VPNs that are good with torrenting
If you are searching for the best VPN services, pay attention to a few crucial features for torrenting: kill switch, P2P servers, and no-logs policy. Here are the ones that will keep you safe and anonymous while torrenting:
1. ExpressVPN – one of the best VPNs for torrenting on the market
ExpressVPN is the best choice if you want to torrent without getting caught – it has all the essential features, lots of extras, and is incredibly safe. It has over 3000 servers worldwide, all of which support P2P, which means you can hardly find a more torrenting-friendly service than this.
This VPN will take your security to another level with solid encryption and robust safety protocols. It has plenty of essential safety elements, such as private DNS servers, split tunneling, and WebRTC leak protection. Perfect Forward Secrecy protects you by regularly rearranging keys to save you from cyber-attacks. You can be sure that your safety is a top priority.
This VPN offers plenty of valuable elements if you want to torrent without getting caught. You will be amazed by its speed when downloading a file – it has unlimited bandwidth and is a perfect solution for those still wondering how to safely torrent but are afraid of the cons. If you are worried about your connection being disrupted – it has a very effective kill switch that will ensure your information won't leak. If you are facing any difficulties, contact customer support which will take care of you 24/7.
2. NordVPN – the most secure, reliable, and high-speed VPN for torrenting
If security is your priority number one – NordVPN is the service that won't disappoint even those with the highest standards. Because it is crucial when torrenting, you will be in safe hands before any download. Although not all servers are P2P supported, you just have to choose the P2P option, which will direct you to the best from hundreds scattered around the globe.
This VPN offers strong encryption and prevents any data from leaking outside the encrypted tunnel, which is strengthened by features like Double VPN, Meshnet, and split tunneling. It won't log any of your information, a powerful kill switch ensures your connection security, and you will be free from any worries. Its speed is one of the fastest – processes of downloading torrents will be as smooth as possible.
Nonetheless, it has fantastic customer service that is always ready to help with any trouble. If you are wondering about prices – those are affordable and friendly too.
3. Surfshark – fast, safe, and low-priced VPN to torrent with
Surshark is a VPN that comes to mind first thinking about high-speed services and user-friendly prices. It is just a few of its advantages – it protects you by split tunneling, protocol switching, and other safety features. Many of the servers are P2P supported, so you can start torrenting safely immediately.
This VPN may have fewer options, but it is still a decent VPN for anyone worried about their safety. It has everything you need to torrent anonymously – an effective kill switch on all platforms, a strict no-logs policy, and Double Hop that will leave you untraceable online. Additionally, it has an ad blocker, a useful tool for safer torrenting.
The best part is that it is one of the lowest-priced VPNs on the market, making it very cost-effective. And if you need to consult anyone about any difficulties – its customer support is waiting for you.
Why VPN is necessary for safe torrenting
How to avoid getting caught torrenting? Short answer – use a VPN. Here are some of the benefits of using a VPN for safe torrenting:
1. Avoid ISP throttling. Your ISP sees everything you do online if you don't use an encrypted connection. If you are torrenting and downloading large files, it might throttle your connection – limit bandwidth and reduce speed.
How to download torrents without ISP knowing? A VPN hides your online activity and traffic from your internet service provider. Therefore, it won't have any reason to throttle your connection.
2. Protect your IP. ISP can collect your data and leak your personal and sensitive information to third parties if you are not using an encrypted connection. Using peer-to-peer (P2P) file-sharing without proper security measurements is especially dangerous. In the so-called "swarm," everyone sees each other IP addresses, which can lead you to the dangers of third parties.
That can answer the question, 'is it safe to torrent without a VPN?' – without a hidden IP address and encrypted data, you are too vulnerable to torrenting without worries, so you should consider getting one.
3. Blocked content. Most IPSs blocks many popular and reliable torrenting sites, leaving you at considerable risk if you still want to download torrents. It may not be the only reason you can't reach torrenting sites – in some countries, torrenting is banned by law.
If you are pondering how to mask torrenting, the best solution is to find a reliable VPN – your connection and IP address will be protected and hidden from the ISP and the authorities. A VPN will let you choose servers for safe jurisdiction and open the gates to all the restricted content, including torrenting sites.
What are the dangers of torrents?
Torrenting is often associated with many risks that could affect your connection or even damage your device. If you are wondering, why it is dangerous, here are some of the most common examples:
Malware and viruses. Downloading torrent files can be a significant risk as they could be virus-affected or damage your computer with various malware, spyware, or trojans. If you inspect the torrents you download, you could get a malicious program instead your wanted file. If you don't know how to protect yourself while torrenting – it is easy: use a reliable VPN that will block any malware right away.
Throttling. If you are using unencrypted traffic, ISP are not only watching your every step but also ready to act. Torrenting can be why ISP throttle your connection, noticeably reduce your internet speed, and limit your bandwidth. That can be not too dangerous but will affect the quality of your time on the internet as the browser will be highly slower than before. How to download torrents without getting caught by ISP? Try a VPN that will hide your activity online.
Hackers. Torrenting with unencrypted traffic is an excellent way for everyone to see your IP address and use this information for bad intentions. Your sensitive information, like location, could be a good tool for hackers who could plan cyber-attacks. A VPN could be your solution to preempt any dangerous activity – get one and learn how to torrent anonymously.
Legal risks. Some torrent users download files that are copyrighted and protected by legal law. Knowing how full of various traps torrent sites are, it's no wonder that sometimes this can happen by an honest mistake which will result in fines. It's better not to risk it and protect your connection with VPN – it will help you to stay anonymous.
Conclusion
To sum up, there is one main principle of how to hide torrent downloads – protect yourself as much as possible. This way, downloading torrents will be a way of getting your files fast and efficiently.
To keep yourself safe, follow a few ground rules:
Use a reliable VPN and antivirus program.
Always choose credible torrent clients and sites.
That will help you to stay anonymous and hidden from dangers like malware, spyware, or widely spread viruses.
A VPN won't let your ISP watch your traffic and throttle your connection, and your sensitive information will be safe because of strong encryption. It will save you from dangers like hackers and copyright problems. That's why you should pick only the safest VPNs that are P2P compatible.
Frequently asked questions
Torrenting itself is simply a way of getting files and is perfectly legal. However, some content of torrents can be copyrighted, and you could get into legal trouble if you have downloaded one.
The easiest way to avoid legal issues is not to visit illegal torrenting sites and not download illegal torrents. If you want to keep any dangers as far as possible – use a VPN's encrypted traffic so no one can see what you are doing online.
A VPN is the first and best solution if you are wondering how to download torrents safely. It effectively encrypts your data, hides your IP, and keeps you generally safe from DDoS attacks, annoying pop-ups, or malicious sites.