We may receive commissions for purchases made through links on our website. We appreciate your support.

Do you sometimes see McAfee pop-ups in your Mac telling you to purchase a subscription so you can protect yourself from viruses? These pop-ups are often fake and are designed to get you to enter your personal and financial information.

Not only are these pop-ups malicious in nature, but they can also be annoying. They're often a result of you accidentally allowing push notifications from certain sites.

The McAfee logo on the pop-up is meant to trick you into believing it's a legit message and clicking on it may result in phishing attacks, download of malicious files, and data breach.

In this article, you'll learn how to get rid of McAfee pop-ups using multiple methods. One of the best ways to protect yourself is to use a legit antivirus such as TotalAV. First, let's take a look at why you might be seeing these pop-ups.

Remove fake McAfee pop-ups with TotalAV
TotalAV is antivirus software that 100% removes fake McAfee pop-ap alerts from your Mac or Windows. This top-notch security suite can protect you from various types of malware.
WebShield blocks dangerous websites
Has a free version
Included VPN and an ad blocker
Why does McAfee keep popping up?
The reason why you keep seeing McAfee pop-ups in your computer is most likely because you allowed push notifications in your browser. Here are some of the main reasons that cause these pop-ups to appear:
Malicious site – If you accidentally visited a malicious site (for example, one that has tons of ads in it), it might have asked you to allow notifications. Most people aren't aware of what these notifications are, so they just click on the allow button. In most cases, this is the reason why people see fake pop-ups.
Downloading corrupted files – If you downloaded corrupted or infected files from unverified sources (torrents, for example), then that could be the reason why you're seeing fake McAfee pop-ups.
Using infected browser extensions – Browser extensions are almost always behind hijackers and they could also be causing the fake pop-ups to appear. Make sure you always read user reviews before downloading a new extension.
What is the McAfee virus pop-up scam?
The McAfee virus pop-up scam is a notification that disguises itself as a legit message from the antivirus software so you may click on it and give up important personal information. It usually tells people that their antivirus subscription has ended and they have to renew it as soon as possible, otherwise their device will remain unprotected.

An example of a fake McAfee pop-up. (Source: trendmicro.com)
You'll be given two options: to either "accept the risk" or "get protection." Both of which are, of course, fake. The best thing to do in this situation is to just ignore the message. Clicking on the get protection button will redirect you to a phishing page, which is designed to steal your information.
The notification may also ask you to call the scammers behind it or download a free software, both of which will result in you compromising confidential information.
Note that McAfee itself is a legitimate antivirus software and receiving notifications from it isn't a cause for concern. It's the pop-ups and notifications that use the McAfee logo you should watch out for.
One of the easiest ways to remove the fake McAfee pop-up for good is to use an antivirus such as TotalAV.
How to get rid of McAfee pop-ups?
There are various ways to get rid of fake McAfee pop-ups. Below, we've explained some of them. From removing unnecessary browser extensions to scanning your Mac with an antivirus, let's take a look at each of these in detail:
1. Block notifications
The very first thing you should do is block notifications from suspicious sites in your browser. Here's how you can do that in Safari:
Click on Safari in the menu bar and go to Settings.
Click on Websites.
Scroll down a little and click on Pop-up Windows.
Here, you'll see a list of sites that have permission to open pop-up windows. Click on the drop-down field next to the site that seems suspicious to you and select Block.


Now to go to Notifications and repeat the previous step.
Here's how to block notifications and pop-ups in Chrome:
First, click on Chrome in the menu bar and select Settings.
In the sidebar, click on Privacy and security.
Scroll down and click on Site settings.
Under "Permissions," click on Notifications.
Under the list of sites that are allowed to send notifications, you'll be able to block any site that seems suspicious by clicking on the three dots and choosing Block.


2. Remove unwanted browser extensions
There are hundreds of browser extensions on the Internet that contain viruses and malware. To delete or block unwanted extensions in Chrome, follow the steps below:
Click on the three dots in the top-right corner and go to Extensions > Manage Extensions.

If you see any extension that seems suspicious, click on Remove.

You'll be asked to confirm your decision. Click on Remove again.
Here are the steps required to remove extensions in Safari:
Click on Safari and then Settings.
Click on Extensions.
Select any extension that seems suspicious and click on Uninstall.
3. Reset the browser's settings
If you're still seeing malicious pop-ups even after removing unwanted browser extensions and blocking notifications, then it's time to reset your browser's settings. Follow the steps below:
Go to the settings of Chrome by clicking on the three dots and selecting Settings.
Click on Reset Settings in the sidebar.
Now choose Restore settings to their original defaults. This option will reset your browser's startup page, search engine, new tab page, delete temporary data like cookies, and turn off extensions.
Click on Reset settings.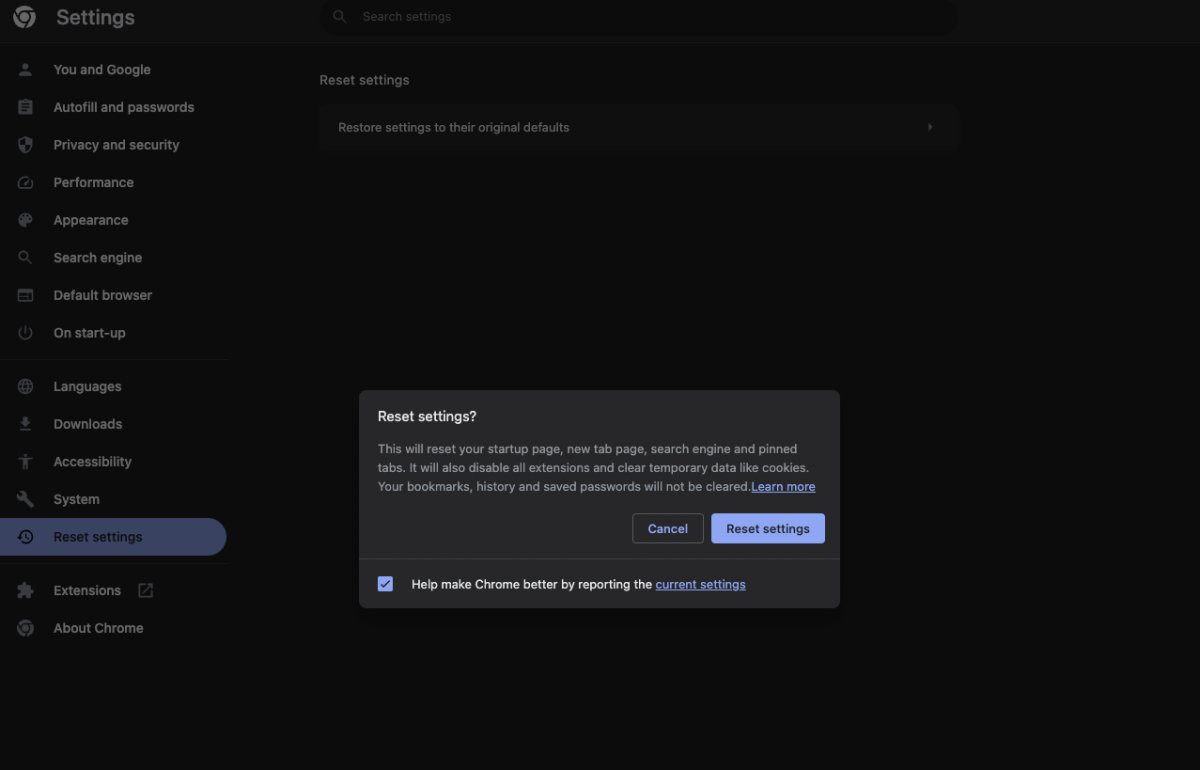 4. Use an antivirus to remove fake pop-ups
As mentioned above, installing an antivirus is the best way to protect your Mac from multiple kinds of threats. You won't ever have to worry about any type of malware sneaking into your system, as an antivirus software will actively scan your computer.
We recommend checking out TotalAV as it's one of the best antivirus suites that's available on macOS. It would be impossible to list all of its features here, because there are so many. We suggest giving our TotalAV review a read to explore its features in detail.
With TotalAV's real-time protection feature, you'll always be protected and any file you download will first be scanned by the software to make sure it doesn't contain any virus.
Here's what you should do to remove the fake McAfee pop-ups with an antivirus:
First, choose an antivirus that meets your needs. We recommend TotalAV.
When you install the antivirus, it'll run an initial scan, which can take about an hour to finish.
You'll be able to see all the infected files in your computer after the initial scan is finished. You can choose to delete these files.
Now you're free to take advantage of the antivirus' features. You can run a system-wide scan, use an ad-blocker to block pop-ups, and put infected files in quarantine.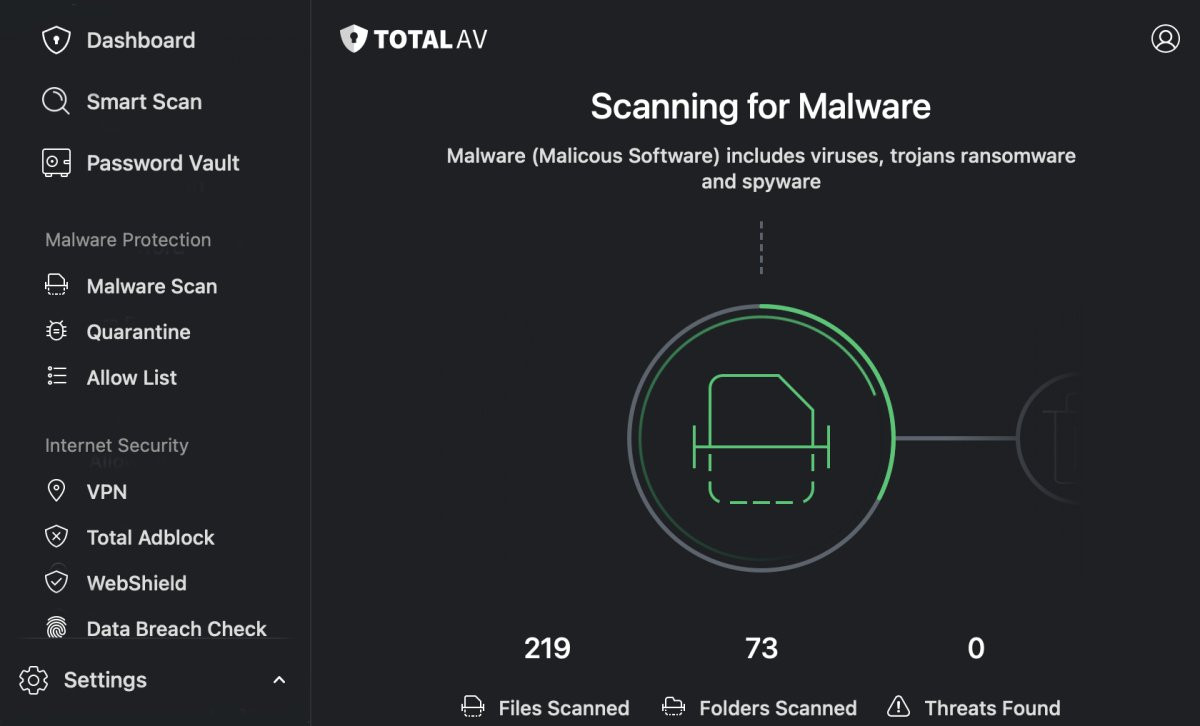 How to avoid pop-up viruses?
To avoid getting pop-up viruses in the future, here are some things you can do:
Don't allow notifications from suspicious sites – If you ever get a pop-up message asking you to allow push notifications from a site, never accept it. Push notifications tend to be annoying anyway, so there's no point in letting them through.
Clear your browser's settings – It's important to clear your browser's settings regularly if you frequently get pop-up viruses or browser hijackers such as Search Marquis on Mac.Clear the cache, cookies, and other settings such as startup page and unnecessary extensions.
Only download from trusted sources – Don't download pirated versions of expensive software as they often contain viruses and other malicious files. If it's too good to be true, then it's best to avoid it.
Update your browser – Always keep your browser updated to the latest version to make sure its previous security vulnerabilities have been patched.
Use an antivirus – Using an antivirus is perhaps the best way to stay protected. Use TotalAV and keep it on all the time to ensure it doesn't let any malicious file pass through its security.
Frequently asked questions
No, the McAfee virus warning isn't real. It's a fake pop-up that's meant to entice you into giving up your credit card details and other personal information. It's created by scammers and uses the real McAfee logo, which is why it looks real, but is in fact, a fake.
No, McAfee itself is a legit antivirus software, but if you see any pop up that asks you to enter confidential information, then it's very likely a virus. McAfee would never ask for your personal or financial details and they'll certainly never ask you to call them
To get rid of McAfee pop-ups, we recommend using an antivirus software such as TotalAV. It'll scan your entire system for viruses and you can then remove them easily. We also suggest clearing your browser's data and blocking notifications from suspicious sites.